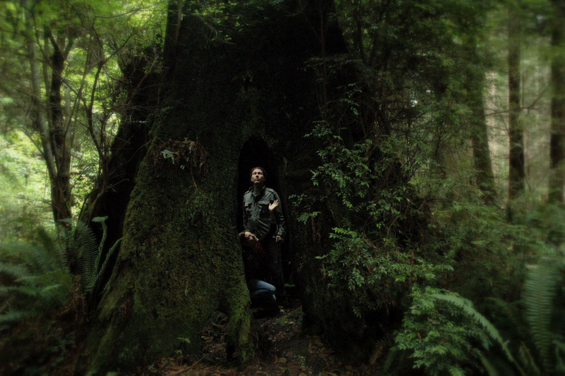 Arborea (photo: Liam Curran)
2011 TOP 10s & 20s
For the eighth time, we present our annual year-end picks of the music that most captivated us during the calendar year. As always, the selections were made in accordance with a simple principle: only those releases that were submitted for review consideration to textura during 2011 were considered eligible. What follows are the recordings to which we repeatedly returned and which repeatedly rewarded that return.
TOP 20 ALBUMS • 20 HONOURABLE MENTIONS • 10 COMPILATIONS AND MIXES • 20 EPS / SINGLES / 12-INCH DISCS • THANK YOUS

SPECIAL MENTION: The Beach Boys: Smile Sessions (Capitol / EMI)
It would have been rather perverse to select an album created in 1966-67 as the album of the year, yet there's no question the release of the Beach Boys' long-lost Smile qualifies as a major event, especially when the material lives up to whatever outlandish expectations one might have harboured for it. Of course, much of it's been with us in one way or another for decades, but, even so, having it finally released into the world as it was originally intended is more than cause for celebration. If ever a recording deserved a category unto itself in a year-end list, Smile is most definitely it.




01. Fovea Hex: Here is Where We Used to Sing (Janet/Die Stadt)
Here Is Where We Used To Sing is, formally speaking, the debut full-length by Fovea Hex, ostensibly leader Clodagh Simonds (vocals, keyboards, harmonium, psaltery, lyre, kalimba) joined by Laura Sheeran (vocals, saw), Cora Venus Lunny (violin, viola), Colin Potter (electronics), and Michael Begg (electronics, keyboards). The album includes ethereal, spellbinding songcraft that melds, with inexplicable ease, ambient-electronic sound design and vocal-based balladry. Rooted in a foundation of voices and keyboards and liberally fleshed out with a wealth of complementary idiosyncratic sounds, Fovea Hex's songs are haunting lamentations and incantations, shimmering wonderlands of magic and mystery. (read the original review here)
02. Lucy: Wordplay For Working Bees (Stroboscopic Artefacts)
Wordplay For Working Bees, a stunning collection by Stroboscopic Artefacts founder Luca Mortellaro aka Lucy, is one of those albums that's so good, it seems like a completely new re-imagining of its genre; it also holds the distinction of being both Lucy's debut album and the Berlin-based label's premiere full-length release. Calling Wordplay For Working Bees triumphant isn't, in this case, hyperbole. (read the original review here)
03. Arborea: Red Planet (Strange Attractors)
Arborea's fourth album, Red Planet, captures the group—multi-instrumentalists Shanti and Buck Curran as always, with cellist Helena Espvall (of Espers) guesting—in perfect form. The Maine-based group's sound has matured and reached a stage of refinement without becoming overly polished, and there's still a raw quality to the material but a rawness that feels natural and honest. The album's a rich stylistic tapestry that includes instrumentals, incantations, covers, and folk-drones, with the Currans assembling the songs' arrangements using a rich array of string instruments (banjo, tenor ukulele, guitar, violin) and exotica (harmonium, hammered dulcimer, music box, flute, kalimba). (read the original review here)
04. FareWell Poetry: Hoping For the Invisible to Ignite (Gizeh)
Hoping for the Invisible to Ignite is the debut album from FareWell Poetry, a mini-collective that pairs Parisian musicians Frederic D. Oberland (electric guitar, autoharp, field recordings, music box, keyboards, crystal glass), Eat Gas (electric guitar, bass, glockenspiel), Colin Johnco (machines), and Stanislas Grimbert (drums, percussions) with Anglo-saxon poet Jayne Amara Ross. In some ways, the group's approach updates the spoken word tradition associated with the 1960s NY bohemian scene where beat poets accompanied by improvising jazz musicians unleashed stream-of-consciousness raps in smoke-filled basement cafes. Listening to Hoping for the Invisible to Ignite, one might also be reminded of The Velvet Underground performing at The Factory, with all of the visual spectacle attendant upon such a "happening." (read the original review here)




05. bvdub: I Remember (translations of 'Mørketid') (Glacial Movements)
Brock Van Wey's contribution to the Glacial Movements imprint is interesting on many levels, starting with the background details for the recording. For I Remember—though its wistful title is very much in keeping with other bvdub titles—isn't an original collection in the strict sense but rather Van Wey's sonic response to an invitation the label extended to him in 2010 to create a "translation" of Netherworld's 2007 album Mørketid. Van Wey emphasizes that the resultant collection is, properly speaking, a translation as opposed to remixes, and in this regard he's entirely accurate. The result is suffused to the fullest degree with the spirit and stylistic personality of bvdub, that is, an epic form of slow-motion ambient that's permeated by longing. (read the original review here)
06. Akira Kosemura: How My Heart Sings (Schole)
I wonder how the world would change if a copy of Akira Kosemura's How My Heart Sings were to be slipped into the mail boxes of all of our war-obsessed leaders. Call me a naive simpleton, but there's one side of me that would like to believe some greater semblance of harmony and sanity might begin to prevail. A silly thought, I know, but it's the kind that a beautiful recording like Kosemura's naturally engenders. Though I've probably said much the same thing when reviewing the Tokyo-based musician's past releases, I'll say it anyway: this latest may be the most beautiful one to date. (read the original review here)
07. The Lickets: Here (On Earth) (International Corporation)
Once again, the San Francisco-based The Lickets dazzles us with music of the utmost magic and wonderment, just as the group has done since 2005's Fake Universe Man and 2007's Journey In Caldecott first brought its luminous music to the masses. In some ways, the album can be seen as a microcosmic distillation of The Lickets' two late-2010 full-lengths, Song of the Clouds and Eidolons, as many of the new album's pieces would have fit comfortably on the latter while the new album's closing meditation, "Here (On Earth)," is similar in epic tone to the former's nearly album-long "Song of the Clouds" but condensed to a seven-minute form. (read the original review here)
08. Jody Redhage: Of Minutiae and Memory (New Amsterdam)
There's much to admire about this forty-seven-minute recording, but perhaps its greatest feat is the ease with which the classical and experimental are so seamlessly married. To her credit, Redhage makes it all sound effortless. She's clearly no dabbler testing the experimental waters, so to speak, during the off-hours beyond the safe confines of her day job, but rather a bold adventurer charting an intensely personalized course through her own ethereal sound-world. The album finds her breathing its electroacoustic air as if born to it. (read the original review here)




09. Randy Gibson: Aqua Madora (Avant Media)
Not many recordings include a credit for the piano tuner, but in the case of Randy Gibson's Aqua Madora, it seems entirely appropriate, as it's a recording featuring Gibson playing in just intonation using a just intonation Estonia 190 piano (its full title is Aqua Madora - for Just Intonation Piano and Sine Waves). Begun in 2005, the work is notable on mulitple counts: it's heavily influenced by the compositional studies Gibson initiated with La Monte Young in 2003 plus Gibson's raga studies in the Kirana tradition with Young and Marian Zazeela; and it's a work that grew out of a video-dance collaboration Gibson undertook with Ana Baer-Carrillo. (read the original review here)
10. Talvihorros: Descent Into Delta (Hibernate)
Add Descent Into Delta to Ben Chatwin's ongoing run of spectacular Talvihorros releases. This five-part recording for the esteemed Hibernate label contributes to a growing body of soundscape-related work from the London-based guitarist that's distinguished by its high quality and gradual development; the project clearly has come a long way in a short time, as Talvihorros only came into being in 2008. Certainly Chatwin's music has an in-the-moment feel that lends it an organic character, and though the material isn't improvisation in the purest sense, it nevertheless feels like a living, breathing organism that's being brought to life in the moment. (read the original review here)
11. orchestramaxfieldparrish: Crossing of Shadows (Faith Strange)
Improvised and recorded "at the Luna County Observatory and outdoors within the shadows of Hell Gate," orchestramaxfieldparrish's Crossing Of Shadows was recorded during the summer of 2006 and subsequently released in a private pressing in summer of 2007, and now appears in a fully remastered form for public consumption. It wouldn't be stretching things too much to say that the respective characters of the recording locales are manifested by the music, given that its six dark lamentations are both ethereal and earthy. It also wouldn't be reading too much into the album's elegiac tone in noting that the album is dedicated to Jeff Ladd, a dear friend of Fazio's who co-founded Faith Strange, played with him in Life With The Lions (among many group ventures), and passed away on May 21st, 2010. As such, one could quite legitimately hear Crossing Of Shadows as a memento mori, though one whose journey might begin in darkness and despair but is finally imbued with hope. (read the original review here)
12. A Winged Victory for the Sullen: S/T (kranky)
Given the involvement of Stars of the Lid member Adam Wiltzie and composer-pianist extraordinaire Dustin O'Halloran, A Winged Victory For The Sullen offers a collaboration that will no doubt have immediate and automatic appeal for electronic-classical music devotees. Listeners familiar with the work of the participants won't be surprised by the music's stately and oft-reverent character, with the album's seven exquisite settings filled with longing. Like the music of Stars of the Lid, A Winged Victory For The Sullen is music of quiet grandeur that's all the more powerful for being delivered with such understatement. (read the original review here)




13. Mats Eilertsen: Skydive (Hubro)
Recorded at the famous Rainbow Studios, Oslo, Mats Eilertsen's sixth album SkyDive is about as fine an example of contemporary European jazz as one might hope to hear. Eilertsen's music unfolds with an assurance and grace that clearly comes from years of playing and study. The changes within a given composition occur organically, never feeling predictable yet nevertheless inevitable in the melodic trajectories they pursue. His music also locates a perfect middle ground between through-composition and soloing—the latter emerging out of the former, of course, but doing so with a naturalness not always heard. In its own understated way, SkyDive impresses as one of the most accomplished and all-around satisfying releases of the year, regardless of genre. (read the original review here)
14. Alexander Berne: Flickers of Mine / Death of Memes (Innova)
On Flickers of Mime / Death of Memes, Berne and his so-called Abandoned Orchestra create mesmerizing sound-paintings by augmenting his saxophone (tenor, alto, and soprano) and saduk (a self-created instrument that combines a flute and reed instrument) with piano, lap steel guitar, ocarina, Chinese bamboo flute, recorder, Irish whistle, conch shells, and guttural vocal effects (his other invented instruments include the tridoulaphone—another flute-reed hybrid—and the shakuhachophone, a shakuhachi-saxophone creation).Technically, one could call Berne a virtuoso but that would miss the point: instead, his energies are directed towards alchemizing sound into ravishing settings that often suggest states of feverish possession. (read the original review here)
15. Veio Abiungo: And the World is Still Yawning (Lost Tribe Sound)
In isolated moments, And the World is Still Yawning reminds me of nothing so much as Mike Oldfield's Ommadawn, despite the decades separating the releases. Like Oldfield's still-powerful work, William Ryan Fritch's second full-length Vieo Abiungo album brings together multiple stylistic strands from different parts of the globe and turns them into transporting, acoustic-oriented set-pieces that in the final analysis transcend any one stylistic association. Without wishing to stretch the analogy too far, it's conceivable that had Oldfield been born twenty-five years later and been less inclined towards crafting twenty-minute epics, he might have produced something similar to And the World is Still Yawning. (read the original review here)
16. Phillip Schroeder: Passage Through a Dream (Innova)
Passage Through a Dream, Phillip Schroeder's follow-up to his 2006 album Move in the Changing Light, proves to be as satisfying as that earlier release, with five premiere recordings presenting euphonious music of crystalline beauty. Though subtle differences in instrument groupings create contrast from one piece to the next, the five form a unified whole, due in large part to their shared style and the omnipresence of Schroeder's multi-tracked piano playing, a sound rendered even gauzier via the addition of digital delay. Processing the instruments' sounds using delay results in lush fields of sound, and the resultant music assumes a dream-like, slightly out-of-focus character when the echo of its elements continues to resonate after they're played. (read the original review here)




17. Balmorhea: Live at Sint-Elisabethkerk (Western Vinyl)
Some live recordings play like note-for-note replications of the studio originals—with overly polite applause perfunctorily added. Balmorhea's live set, needless to say, is the splendid exception to the rule that finds the band's studio sound invigorated by the in-concert presentation. That shouldn't be interpreted to mean that the group's studio recordings have been found wanting, as Balmorhea's previous recordings have been distinguished by superb compositional writing and arrangements. But it's often true that the live context brings out a band's earthier side, and that's precisely the case here. (read the original review here)
18. Mem1: Tetra (Estuary)
Having performed together under the Mem1 name since 2003, Mark (analogue modular and electronics) and Laura Cetilia (cello and electronics) have developed a symbiotic and highly personalized approach to experimental music-making that's commendably uncompromising, and ample evidence of their approach is captured on the duo's fourth full-length album, which was recorded during the spring months of 2010. Using custom hardware and software, the pair manipulates the cello's natural timbre using real-time modular synthesis patching, a process that results in a sound that's unique and immediately identifiable as Mem1. (read the original review here)
19. Sleepingdog: With Our Heads in the Clouds and Our Hearts in the Fields (Gizeh)
Now here's a brilliant idea: take Stars of the Lid's Adam Wiltzie, with all of the production and compositional promise that that brings with it, and pair him with chanteuse Chantal Acda, who contributes beautiful vocalizing and a well-honed song sensibility, and what results is a stunning collection of electronic-folk balladry called With Our Heads in the Clouds and Our Hearts in the Fields. The album's title is well-chosen, given how much its material combines the ethereal and the emotional into a haunting, forty-three-minute collection that ends up sounding both earthy and heavenly. (read the original review here)
20. Deadbeat: Drawn and Quartered (BLKRTZ)
Every recording Scott Monteith has issued during his Deadbeat project's twelve-year run has been a surprise in one way or another. To be frank, I'd expected his new release, Drawn and Quartered (on his own newly established BLKRTZ imprint) to perpetuate the high-energy attack of his most recently issued material so was initially taken aback to discover its five tracks to be not only long-form (each pushing beyond the ten-minute mark) but also relatively laid-back and heavily rootsy in character. Drawn and Quartered reveals that Monteith hasn't let his sound be pulled into dubstep's orbit but if anything has plunged even more deeply into dub in its purer form. (read the original review here)
21. Steffi: Yours & Mine (Ostgut Ton)
22. Gusgus: Arabian Horse (Kompakt)
23. DJ W!LD: Palace (W Records)
24. Stephan Mathieu: A Static Place (12k)
25. Maceo Plex: Life Index (Crosstown Rebels)
27. Kate Simko: Lights Out (Hello? Repeat)
28. Art Department: The Drawing Board (Crosstown Rebels)
29. Alexander Turnquist: Hallway Of Mirrors (VHF)
30. Andy Vaz: Straight Vacationing (Yore)
31. offthesky: The Beautiful Nowhere (Hibernate)
32. Richard Knox & Frederic Oberland: The Rustle Of The Stars (Gizeh)
33. Fjordne: Charles Rendition (Kitchen.)
34. itsnotyouitsme: Everybody's Pain Is Magnificent (New Amsterdam)
35. Sense: Selected Moments Volume 1 (Psychonavigation)
36. Message To Bears: Departures (Dead Pilot)
37. Silkie: City Limits Volume 2 (Deep Medi)
38. May Roosevelt: Haunted (May Roosevelt)
39. Scott Solter: One River (Hidden Shoal)
40. Melodium: Coloribus (Abandon Buildings)




01. VA: Rebel Rave 2: Droog (Crosstown Rebels)
To these ears, no label better embodies the spirit of underground club music than Crosstown Rebels. Anything but antiseptic, the sweat-drenched material Damian Lazarus issues on his imprint has more than a little dirt under its fingernails and is all the better for it. 2011 has been a banner year for the label, too, given the calibre of the releases that have come from Maceo Plex (Life Index), Art Department (The Drawing Board), Deniz Kurtel (Music Watching Over Me), and Lazarus himself (Get Lost 4). Topping it off, we get a three-disc Rebel Rave set (the second edition in the series) featuring B-sides, re-edits, and remixes from some of this year's biggest releases on the first two discs and a choice mix assembled by LA's Droog (a three-member collective featuring Andrei Osyka, Brett Griffin, and Justin Sloe) on the third. (read the original review here)
02. VA: Soma Records 20 Years (Soma Records)
03. Priestly-Smith: 10 Years Of Secretsundaze (Secretsundaze)
04. VA: Macrospective (Macro)
05. VA: Air Texture Vol. 1 (Air Texture)
06. VA: Get Lost 4 Mixed by Damian Lazarus (Crosstown Rebels)
07. VA: Deep Medi Music Volume 3 (Deep Medi)
08. VA: 116 & Rising (Hessle Audio)
09. VA: 20 F@#&Ing Years - We Ain't Dead Yet (Planet E)
10. VA: Brownswood Electric 2 (Brownswood Recordings)
20 EPS / SINGLES / 12-INCH DISCS




01. James Blackshaw: Holly EP (Important)
As much as James Blackshaw's 2010 full-length release All Is Falling warranted admiration, its material nevertheless emphasized meticulously composed arrangements to such a degree that his renowned guitar-playing gifts ended up being rather shortchanged in the process. That imbalance has been rectified on the British artist's latest release, a beautiful two-track collection that he recorded during the first three months of 2011 after an intense year of touring in support of his eighth album. If anything, the balance Blackshaw strikes on the EP calls to mind the equally perfect balance heard on The Glass Bead Game, his full-length precursor to All Is Falling. Taken together, the two acoustic settings provide a magnificent twenty-one-minute portrait of Blackshaw's artistry. (read the original review here)
02. David Ahlen: New Jerusalem (thehourislate)
03. Agoria: Panta Rei Remixes (InFiné)
04. Orlando B: Future Resist (Yore)
05. Bnjmn: 141 (Svetlana)
06. Gulls: Boom Miami EP (Boomarm Nation)
07. Tracy Thorn: Night Time (Buzzin' Fly)
08. Agoria featuring Kid A: Heart Beating (Remixes) (InFiné)
09. DJ Duke: Summer Madness (Yore)
10. Quiroga: Really Swing Vol. 2 (Really Swing)
11. Semtek: West Acyd Shelter (Don't Be Afraid)
12. Alton Miller: Light Years Away (Mixed Signals)
13. Sepalcure: Fleur (Hotflush Recordings)
14. Antonymes meets Slow Dancing Society: We Don't Look Back For Very Long (Hidden Shoal)
15. Bop Singlayer: Volume 3 (Really Swing)
16. Rone: So So So (InFiné)
17. Semtek: Pizza (Don't Be Afraid)
18. Ceremony: Not Tonight (Custom Made Music)
19. Gang Colours: In Your Gut EP (Brownswood Recordings)
20. Strategy: Super Awareness is Fruit (Under The Spire)
THANK YOUS
We wish to thank the many individuals who generously supported textura during 2011: Gamall Awad, Alexander Berne, Jeremy Bible, Caleb Burhans, Laura and Mark Cetilia, Michael Jason Corder, Daniel Crossley, Shanti and Buck Curran, Keith Downey, Mats Eilertsen, Roland Etzin, Mike Fazio, Brian Foote, William Ryan Fritch, Julien Gagnebien, Randy Gibson, Stefan Goldmann, Elektro Guzzi, Stephen Hitchell, Ezekiel Honig, Nick Höppner, Marielle Jakobsons, Michael Jantz, Finn Johannsen, Andrew Khedoori, Richard Knox, Ted Laderas, Jonathan Lees, The Lickets, Will Long, Grey Mcmurray, Cam Merton, Scott Monteith, Luca Mortellaro, Frédéric D. Oberland, Ryan Potts, Adam Raisbeck, Jody Redhage, Lasse-Marc Riek, Charles Sage, Phillip Schroeder, Kate Simko, Clodagh Simonds, Michael Smith, Vanese Smith, Sarah Kirkland Snider, Agnes Szelag, Mark Templeton, Christopher Tignor, Francesco Tristano, Christina Vantzou, Andy Vaz, and Wei.
December 2011