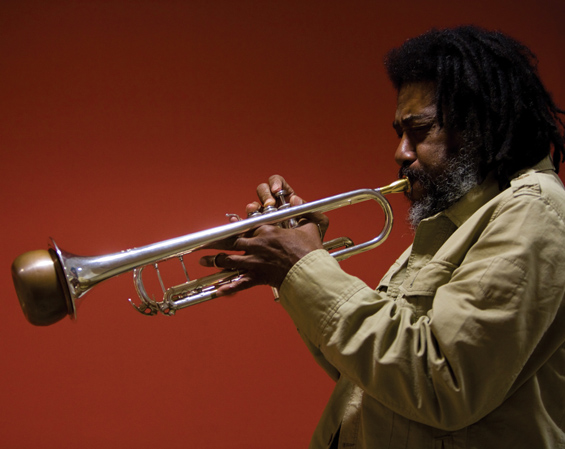 2012 TOP 10s & 20s
If no revolutionary, game-changing releases appeared during 2012, there were still many exceptionally satisfying ones. It's always fascinating to methodically undertake a review of a year's releases and then discover, often surprisingly, what emerges as the top choices. Like the lists that have come before, this ninth selection of year-end picks represents the music that most captivated textura's ears during the calendar year. As always, the selections were made in accordance with one simple principle: only those releases that were submitted to textura for review consideration during 2012 were considered eligible. Shown below are the recordings to which we repeatedly returned and which repeatedly rewarded that return.
TOP 20 ALBUMS • 20 HONOURABLE MENTIONS • 10 COMPILATIONS AND MIXES • 10 EPS / SINGLES / 12-INCH DISCS • 5 REISSUES • THANK YOUS




01. Wadada Leo Smith: Ten Freedom Summers (Cuneiform)
Describing the remarkable four-disc set Ten Freedom Summers as the culmination of a life's work isn't far off the mark. Written over more than a thirty-year period by composer-trumpeter Wadada Leo Smith, the work covers key events in recent American history (e.g., the Civil Rights movement) and pays tribute to such seminal figures as Rosa Parks, Medgar Evers, and Martin Luther King Jr. Ten Freedom Summers' nineteen long-form works integrate chamber classical and avant-garde jazz in the service of a bold and eloquently expressed vision, making it a towering achievement on thematic and compositional grounds (original review).
02. Roomful of Teeth: Roomful of Teeth (New Amsterdam Records)
To some degree, the virtuosic vocal octet Roomful of Teeth reinvents the vocal rule-book on its self-titled debut album. Not content to simply tackle modern compositions by the likes of New Amsterdam co-directors Judd Greenstein, Sarah Kirkland Snider, and William Brittelle (as well as group member Caroline Shaw), Roomful of Teeth also took on the challenge of learning a number of new vocal techniques for the recording, including Tuvan throat singing, yodeling, Inuit throat singing, and techniques originating from Sardinia and Korea. The seventy-four-minute set is a constant marvel of vocal invention that amply rewards repeated listens (original review).
03. Tin Hat: the rain is a handsome animal (New Amsterdam Records)
The sound produced by San Francisco-based quartet Tin Hat—Carla Kihlstedt (vocals, violin), Mark Orton (acoustic guitar, dobro), Ben Goldberg (clarinets), and Rob Reich (accordion, piano)—is a thing of beauty, and never has that been more apparent than on its sixth album, whose song lyrics are derived from the poetry of e.e. cummings and whose words act as perfect springboards for the album's seventeen wondrous flights of fancy. Anything but precious, the rain is a handsome animal impresses as a riveting collection of ballads, theatrical set-pieces, funereal dirges, and rapturous songs (original review).
04. Parallel41: Parallel41 (Baskaru)
Parallel 41 is both a provocative group project and self-titled recording from Barbara De Dominicis (voice, field recordings, electronics) and Julia Kent (cello, looping, effects); in addition to a CD presenting the duo's nine improvised settings, Parallel 41 also includes a DVD featuring Faraway Close, a thirty-five minute video by Davide Lonardi featuring footage shot in Naples and New York that effectively documents the project's development and scope. The release beautifully captures the bold marriage of De Dominicis' vocalizing and Kent's beautiful, full-bodied tone. Baskaru presented the project superbly, too, with the discs housed within a sturdy, large format sleeve design and covered by a protective box (original review).




05. Alexander Berne and The Abandoned Orchestra: Self Referentials Vols. 1 & 2 (Innova)
Credited to Alexander Berne and The Abandoned Orchestra (even though the so-called orchestra is actually Berne alone), the two-disc set Self Referentials Vols. 1 & 2 serves as a fantastic showcase for Berne's instrumental proficiency, with the musician acting convincingly as a global mini-orchestra of woodwinds, dulcimer, percussion, strings, and piano. Less straight-laced Western composer than global shaman, Berne's incantations and lamentations seep into one's innermost being and alter it as dramatically as a peyote-influenced dreamstate. Adding to the release's distinction, Berne created an original abstract cover painting for each one of the 800 units issued (original review).
06. Missy Mazzoli: Song from the Uproar (New Amsterdam Records)
Missy Mazzoli's first opera, Song from the Uproar: The Lives and Deaths of Isabelle Eberhardt, is a chamber vocal work of ravishing melodic character and narrative design. Conceived in collaboration with filmmaker Stephen Taylor, director Gia Forakis, and librettist Royce Vavrek, Mazzoli's work is brought into glorious recorded being by mezzo-soprano Abigail Fischer, Now Ensemble, and a vocal quintet. The score often exudes a tone of desperation, anguish, and yearning—not surprising, perhaps, given the tragically short life of Eberhardt, who left Switzerland at the age of twenty following the deaths of her mother, brother, and father for a nomadic life in the deserts of North Africa, before drowning at twenty-seven in a flash flood in the desert (original review).
07. Motion Sickness Of Time Travel: Motion Sickness Of Time Travel (Spectrum Spools)
Rachel Evans stepped out in spectacular fashion on this superb self-titled and double-disc effort under the Motion Sickness Of Time Travel moniker. In this case, the artist's reach has most definitely not exceeded her grasp, as the release is a consistently stunning affair, something that especially impresses when one considers that its four pieces of heady synthesizer music are all in the twenty- to twenty-five-minute range. Throughout, she opts for a radiant sound that's bright and airy, one teeming with addictive melodies and spacious atmosphere. In a typical piece, synthetic pulsations and Evans' ethereal murmur filter in and out of the reverberant haze, lulling the listener with its hypnotic drift as they do so (original review).
08. Talvihorros: And It Was So (Denovali)
Ben Chatwin's ongoing maturation as a composer and sound designer is clearly evident on the forty-eight-minute And It Was So. Following on in the spirit of Descent Into Delta, his latest is a concept album of sorts that is intended to be, in his own words, a "loose interpretation of the Book of Genesis and the seven days of creation." The addition of drummer Jordan Chatwin to six of the seven tracks and the presence of violinist Christoph Berg (Field Rotation), violist Anais Lalange, and cellist Oliver Barrett (Petrels) on three makes a huge difference to the album's impact. Texturally, the merging of strings and drums with Chatwin's painterly handling of the guitar makes for a powerful combination, and music of intense dramatic weight and multi-dimensionality is the result (original review).




09. Aspidistrafly: A Little Fable (Kitchen. Label)
In the visual presentation of its releases, Kitchen. always stands out from the crowd, and A Little Fable, the second album from Aspidistrafly (April Lee and Ricks Ang) is no exception in that regard, given that it's presented in a forty-eight-page art-book edition sporting a die-cut cover and featuring photographs, collages, and lyrics. It's a long-form serenade of delicate, organic sounds, primarily featuring whispered vocals, acoustic guitar, piano, and strings, and complemented by an array of time-worn textural detail. Kitchen. would close out the year with two more splendidly realized releases, Pill-oh's Vanishing Mirror and Szymon Kaliski's From Scattered Accidents (original review).
10. Terrence Dixon: From The Far Future Pt. 2 (Tresor Records)
Detroit native Terrence Dixon issues material infrequently (his last full-length was the marvelous Train of Thought issued by Yore in 2007), which made the release of From The Far Future Pt. 2 an even greater event than usual. Better yet, the album's luminescent sound is full, deep, and rich, and it teems with sonic colour and overflows with imagination. While the album has its share of full-on techno bangers, it also extends dramatically into multiple other zones—dub-techno and synth-heavy space-techno among them (original review).
11. Lone: Galaxy Garden (R&S Records)
Fresh, radiant, impassioned—such words come to mind as one listens to Galaxy Garden from Lone (Manchester-based producer Matt Cutler). The album's title is well-chosen: the twelve-track collection is, most definitely, a galaxy garden of sound that draws from the Chicago House and Detroit Techno traditions and is infused with fresh dollops of soul and the euphoric spirit of rave. There's a pronounced synthetic focus in play throughout, and Cutler isn't shy about presenting his music in as luscious and wide-screen a manner as possible (original review).
12. Robert Hood: Motor: Nighttime World 3 (Music Man)
Motor: Nighttime World 3 can be broached on purely sonic grounds as an endlessly resourceful exploration of artful future-techno or on related thematic grounds as an extended meditation on Detroit's history, from the status it once enjoyed as a major industrial force to its current dilapidated state and the possible rebirth looming on the horizon. As a founding member, along with Jeff Mills and Mike Banks, of the Underground Resistance label, Hood, of course, needs no introduction, but suffice it to say he's one of those responsible for Detroit techno in its fundamental form. The recording's dozen tracks burst with vitality and purpose, and they present an entire library of synthetic sounds, making Motor: Nighttime World 3 something of a defining collection on sonic grounds (original review).




13. Eleanor Hovda: The Eleanor Hovda Collection (Innova)
Eleanor Hovda (1940–2009) was a full professor and composer-in-residence at Princeton, Yale, and Bard College who suffered a debilitating illness that led to her eventual death in Arkansas in 2009. Her wilfully outsider sensibility is captured in rich, textural compositions that allude to and in many ways anticipate drone, microsound, and soundscaping genres. This marvelous collection is revelatory in the encompassing way it documents Hovda's artistry, and Innova has done adventurous listeners a great service by issuing this definitive four-CD overview of her work (original review).
14. William Brittelle: Loving the Chambered Nautilus (New Amsterdam Records)
Born in 1976, Brooklyn-based William Brittelle is very much a New Wave classical composer, as evidenced by his third album Loving the Chambered Nautilus. The seven-track recording of intoxicating electroacoustic music is realized by the American Contemporary Music Ensemble (ACME) and Brittelle himself, who's credited with synths and drum programming. What makes it particularly striking, however, is the deft manner by which it fuses the classical chamber music tradition and electronic pop genre. Regardless of the particular makeup of a given piece, his polyrhythmic sound is always melodically rich and sonically alluring (original review).
15. Godspeed You! Black Emperor: Allelujah! Don't Bend! Ascend! (Constellation)
With almost a full decade having passed since the release of Yanqui U.X.O., the likelihood of a new Godspeed You! Black Emperor album seemed remote at best. How wonderful it was, then, to be presented with the fifth full-length release from the Montreal-based collective. The disastrous state of our current world suggests, in fact, that the band's previous period of concentrated activity was slightly ahead of its time, not artistically so much as socio-politically, and, consequently, Allelujah! Don't Bend! Ascend! feels like the perfect soundtrack to today, especially when the incendiary opening piece, "Mladic," unleashes fury of mesmerizing force (original review).
16. Hammock: Departure Songs (Hammock Music)
Departure Songs, the fifth album from Hammock duo Marc Byrd and Andrew Thompson, is a triumph on songwriting, production, and performance levels. The double-disc, 110-minute set comes at the listener in wave upon uplifting wave of reverb-soaked guitars in a way that recalls the earlier Sigur Ros albums in particular—minus, of course, Jonsi Birgisson's vocals. Departure Songs' entire tone is soundly established by the opener, "Cold Front," a towering exercise in atmospheric slow-burn and soaring guitar textures. Here and elsewhere, the guitars swell to a gloriously reverberant pitch with, in this case, wordless vocals adding to the music's euphoric character and Matt Slocum's cello playing enhancing its emotive power (original review).




17. Orcas: Orcas (Morr Music)
This very fine self-titled pooling of talents between Orcas duo Thomas Meluch (aka Benoît Pioulard) and Rafael Anton Irisarri (aka The Sight Below) presents a forty-minute suite of electronic vocal pop songs that embed piano, vocals, and guitar within texturally opaque masses of processed sounds. Meluch's vocals naturally act as a focal point in the songs, but Irisarri more than makes his presence felt in the dense blocks of sound that accompany the singing and are as integral to the songs' impact. Orcas is a satisfying and cohesive recording that integrates both artists' sensibilities and styles in balanced manner (original review).
18. 17 Pygmies: Celestina III: Even Celestina Gets The Blues (Trakwerx)
Celestina III: Even Celestina Gets The Blues (A Tale of Love and Quantum Physics) brings to a close an ambitious trilogy initiated in 2008 by Jackson Del Rey (vocals, synthesizer, guitar, bass), Meg Maryatt (vocals, synthesizer, guitar, piano), Jeff Brenneman (guitar, synthesizer), and Dirk Doucette (drums, synthesizer, guitar). The final part, which musically might be described as sci-fi balladry complemented by a generous helping of prog-rock, concerns the final flight aboard the Celestina. The strikingly packaged recording is a marvelous song-cycle that can be enjoyed on its own terms or as the concluding chapter in the trilogy (original review).
19. Akira Kosemura: Manon (Schole Recordings)
Akira Kosemura's Manon is an eighty-minute, double-CD release that's also a two-act soundtrack for the dance theater production Manon, which was choreographed by Kimiho Hulbert and is based on the 18th-century French literary work Manon Lescaut. How it differs from Kosemura's previous output, however, is in its stylistic diversity and in its arrangements. Whereas his previous album How My Heart Sings was solo piano-based, the melodically rich Manon includes piano pieces but also a vocal setting, electronic pieces, sound programming treatments, and small-group settings (original review).
20. Birds Of Passage: Winter Lady (Denovali)
Winter Lady, Alicia Merz's sophomore release under the Birds Of Passage name, captivates with seven forlorn invocations and chants that haunt the listener long after the recording's done. Its songs, subtly sprinkled as they are with electronics and field recordings, are closer in spirit to vocal-based meditations than anything conventionally pop-related. Though the album title conveys an image of remoteness and frigidity, the songstress's incantatory dirges are distinguished by their powerfully intimate and vulnerable qualities. Dramatic but not pretentious and overwrought, her magical songs act upon the soul like evocative poetry (original review).
21. Balmorhea: Stranger (Western Vinyl)
22. Stefan Goldmann: 17:50 (Macro)
23. Glissando: The World Without Us (Gizeh Records)
24. bvdub: All Is Forgiven (n5MD)
25. Gareth Dickson: Quite A Way Away (12k)
26. The Green Kingdom: Egress (Nomadic Kids Republic)
27. Michael Mizrahi: The Bright Motion (New Amsterdam Records)
28. Basic Soul Unit: Motional Response (Still Music Chicago)
29. Rone: Tohu Bohu (InFiné)
30. Monolake: Ghosts (Imbalance Computer Music)
31. Deadbeat: Eight (BLKRTZ)
32. Marvin Ayres: Harmogram Suite (Burning Shed)
33. Bersarin Quartett: II (Denovali)
34. Mirrorring: Foreign Body (kranky)
35. Marielle V Jakobsons: Glass Canyon (Students of Decay)
36. Paul Corley: Disquiet (Bedroom Community)
37. Vieo Abiungo & Peter Monro: Thunder May Have Ruined the Moment (Lost Tribe Sound)
38. Taylor Deupree: Faint (12k)
39. Slow Dancing Society: Laterna Magica (Hidden Shoal)
40. Cello+Laptop: Parallel Paths (Envelope Collective)




01. Maya Jane Coles: DJ-Kicks (!K7)
There's definitely some small amount of irony in having Maya Jane Coles helm a DJ-Kicks mix. By her own admission, the East Londoner hated house music when she first started banging out hip-hop tunes in her bedroom at the age of fifteen—not that anyone would ever have suspected as much after listening to this choice installment in the esteemed DJ-Kicks series. To be precise, the object of her derision was the cheesy vocal side of house, not the forward-thinking kind of underground house and techno that she discovered at seventeen and is featured on her first commercially available DJ mix. Twenty-two tracks rich and featuring two exclusives by Coles herself (one under the Nocturnal Sunshine name), the mix is diverse, with Coles drawing from a wide range of musics, not just techno and house but soul, funk, acid, garage, and dubstep, too (original review).
02. Nicholas: Nu Groove: Back On Track (Needwant)
03. Fritz Kalkbrenner: Suol Mates (Suol)
04. VA: Cold Blue 2 (Cold Blue)
05. VA: Tall Black Guy Presents… Tempo Dreams Vol. 1 (Bastard Jazz Recordings)
06. VA: Future Disco vol. 5 (Downtown Express Compiled and Mixed by Sean Brosnan) (Needwant)
07. Photek: DJ-Kicks (!K7)
08. VA: Future Disco Presents: Poolside Sounds (Needwant)
09. VA: Eskimonde (Eskimo)
10. VA: Air Texture Volume II (loscil and Rafael Anton Irisarri) (Air Texture)
10 EPs / SINGLES / 12-INCH DISCS



01. Birds of Passage & I've Lost: Split (Heat Death Records)
Gender considerations aside, Alicia Merz's touch is definitely King Midas-like, as evidenced by the wonder and enchantment that emerges whenever the New Zealand-based songstress behind the Birds of Passage screen puts her voice to wax. Both split and collaboration, the release pairs a fourteen-minute joint effort by Merz and Oregon's Bobby Jones (aka I've Lost) on side A with separate shorter pieces by each on side B. When her voice appears during their collaboration, "I Was All You Are," it does so as an ethereal presence, something so spirit-based it's hard to picture a body conjoined to the voice. Like time-lapsed nature photography, the music itself drifts in dream-like fashion, delicately wrapping itself around the fragile voice as it does so (original review).
02. Poppy Ackroyd: Escapement (Denovali)
03. Maya Jane Coles: Easier To Hide (I Am Me)
04. Gulls: Running Times (Boomarm Nation)
05. Quiroga: Really Swing Vol. 4 (Really Swing)
06. Stephan Mathieu: Coda (For WK) (12k)
07. VA: Time Dilation (Soiree Records International)
08. Elektro Guzzi: Allegro EP (Pomelo)
09. Strategy: Dub In My System / Hardware Dub (ZamZam)
10. VA: Aqua Marine (Soiree Records International)




01. Roxy Music: The Complete Studio Recordings (Virgin/EMI)
Is there another band whose total album output holds up as strongly as Roxy Music's? There aren't many, and certainly any doubts in that regard are laid soundly to rest by this ten-CD collection that features remastered versions of the band's eight studio albums and two discs containing non-album singles, B-sides, and remixes. The band's retro-futuristic sound, born in 1971, was like nothing heard before, and its impact was bolstered by a disarming visual presentation and lyric writing that was urbane, wry, and witty. Bryan Ferry and company distilled a number of influences—fashion, movies, and '50s rock'n'roll, to name a few—into an art-rock style that rightfully came to be known as nothing else but Roxy Music (original review).
02. William Basinski: The Disintegration Loops (Temporary Residence Ltd.)
03. Grouper: A I A (kranky)
04. Jethro Tull: Thick As A Brick (EMI)
05. Drexciya: The Journey of the Deep Sea Dweller Vol. II (Clone)
A very sincere thanks to the many individuals who generously contributed to textura during 2012: Ian Anderson, Ricks Ang, Marvin Ayres, Bersarin Quartett (Thomas Bücker), Birds of Passage (Alicia Merz), Mike Cadoo, Dan Crossley, Terrence Dixon, Mike Fazio, Brian Foote, From the Mouth of the Sun (Aaron Martin and Dag Rosenqvist), Gideon Wolf (Tristan Shorr), Stefan Goldmann, Hallock Hill (Tom Lecky), Kingbastard (Chris Weeks), Michael Mizrahi, Olan Mill (Alex Smalley), Bruno Lasnier, Orcas (Benoît Pioulard and Rafael Anton Irisarri), Parallel 41 (Julia Kent and Barbara De Dominicis), Petrels (Oliver Barrett), Roomful of Teeth, Session Victim (Hauke Freer and Matthias Reiling), Talvihorros (Ben Chatwin), Tin Hat, Damian Valles, and Yair Yona.

RIP: Chris Marker (1921-2012)
January 2013