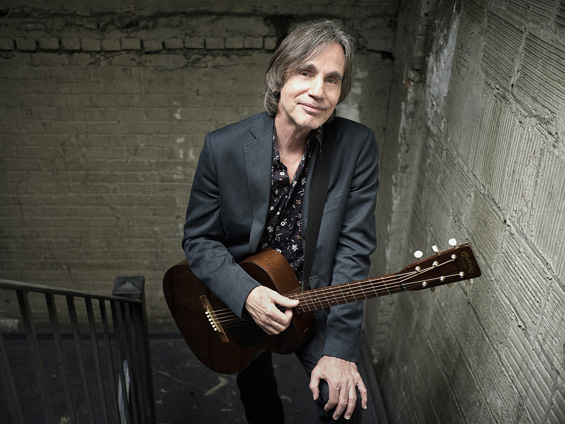 JACKSON BROWNE: ALIVE IN THE WORLD
We tend to regard youth as a time of open-mindedness and old age as a period when positions harden and resistance to new ideas grows. I can think of at least one case where the reverse applies, or at least it's done so in my experience. When I was fifteen, I was, I'll confess, a bit of a musical snob, someone quick to categorize others in my age group by their listening choices; devoted to prog and jazz fusion, I dismissed more traditional forms as unadventurous, even retrograde. Who would possibly choose to listen to The Eagles, my reasoning went, when King Crimson and The Mahavishnu Orchestra were available. It turned out that the only loser in this game was, of course, yours truly; by dismissing musics that didn't align with my so-called progressive taste, I deprived myself of the satisfactions that whole areas of music could have provided had I been less judgmental.
Jackson Browne was one of those artists for whom I had little interest; as a teenager, I viewed him as emblematic of Los Angeles' singer-songwriter scene and thus unworthy of attention. Sure, I was familiar with "Doctor My Eyes" and later "The Load Out/Stay" and "Running on Empty," but for the most part such material was peripheral to my listening interests. As the years passed, I would hear on occasion about Browne, about his many romantic relationships (Nico and Darryl Hannah among his better-known partners) and the suicide of his first wife, Phyllis Major, but musically nothing captivated me enough to prompt a serious study of his catalogue. (As biographical details about his personal life and activism are available in plentiful supply elsewhere, I won't include them here, my focus being primarily on the music.)
That changed, though, when Glenn Frey died. As we often do when such figures pass, I turned my attention to Frey and his work, and to that end happened upon History of The Eagles, a career-spanning documentary from 2013. One of the things that struck me was a segment where Frey recounted his beginnings as a songwriter and described a time when he lived above Browne in a building in Echo Park in Central LA, the latter having ceded his apartment to Frey and J.D. Souther so that he could grab cheaper digs in the basement below. From that upper floor, Frey recalled hearing Browne on the piano, dedicating countless hours to a song until it was finished, and came to realize that only with such unwavering commitment could the level of artistry Browne was aiming for be achieved (I also learned that he co-wrote "Take It Easy" with Frey, a detail that helped clarify why it was Browne who guested with the remaining Eagles on the song at the 2015 Grammy Awards for their Frey tribute).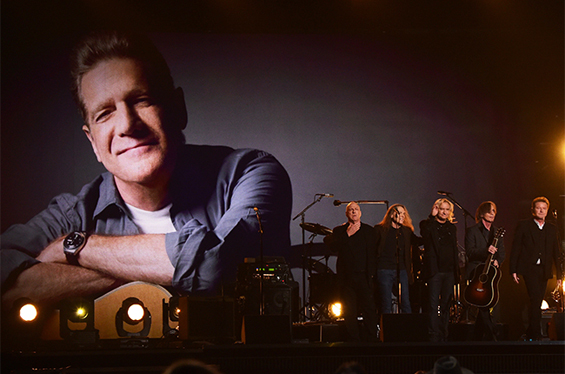 It was at this point that I began to look in Browne's direction and give his music attention I had long denied it. Randomly sampling YouTube clips, I quickly arrived at "These Days," one of Browne's best-known songs and often singled out for having been written when he was a mere sixteen years old. Preternaturally worldly for someone so young, the song holds up remarkably well more than fifty years later, its wry lyrical content bolstered by its distinctive melodic patterns, something especially audible when Browne performs the song solo on acoustic guitar. Performance clips abound of him playing in various live contexts, among them one featuring a solo medley of "These Days" and "Running On Empty" from a 2004 Later ... with Jools Holland episode to one of Browne doing a guest performance of "The Pretender" at a 2009 Crosby, Stills, & Nash show in New York.
I soon began absorbing entire albums and familiarized myself with his eponymous 1972 debut, as well as For Everyman, The Pretender, Running On Empty, and Late For the Sky. As I made my way through his catalogue, one song would declare itself the favourite until another quickly took its place. The title track of 1974's Late For the Sky (which some were introduced to via Scorsese's Taxi Driver two years later) serves as a good representative example of Browne's artistry. In a near-perfect melding of words and music, he captures a relationship's collapse and the crippling loneliness that follows, and one visualizes two people, partners moments ago and now suddenly strangers, attempting to figure out what went wrong and determine when delusion set in:
The words had all been spoken
And somehow the feeling still wasn't right
And still we continued on through the night
Tracing our steps from the beginning
Until they vanished into the air
Trying to understand how our lives has led us there
Looking hard into your eyes
There was nobody I'd ever known
Such an empty surprise to feel so alone
The plaintive tone of the song is magnificently captured when Browne's vocal is deepened by a classic guitar break (presumably by David Lindley) that's so powerful, it conveys the sadness of the song all by itself.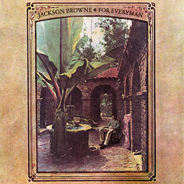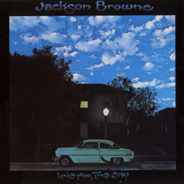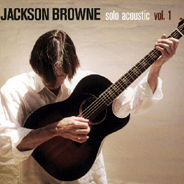 A familiar knock against Browne's studio albums has to do with slickness, and the criticism isn't without merit. Some of the earlier songs are weakened by arrangements and production values that are very much of their time, and consequently his material is better served by the comparatively timeless solo format. Further to that, the character of certain songs is better matched by the starker presentation, a song such as "Fountain of Sorrow," for instance, less effective when presented in almost rousing fashion as it is on Late For the Sky than in the more forlorn rendering on the solo recording.
If you study the peak songwriting period of many a popular artist, you'll often discover a brief pocket of time where the artist produces his or her greatest work and does so with seeming ease. Yet when that period ends, it's almost impossible for that artist to achieve such glorious heights again, no matter how concerted the effort (the parallel with the professional athlete is obvious). Here, then, is something else that separates Browne from others: the man has sustained an exceptionally high calibre of songwriting for half a century. If there's a drop in quality between "My Stunning Mystery Companion," from 2012's The Naked Ride Home, and "The Birds of St. Marks," which, though written in 1967, first appeared in recorded form on 2005's solo acoustic release and later in a studio version on 2014's Standing in the Breach, it's minor indeed.
To these ears, the best introduction to his music are the live sets, Solo Acoustic, Vol. 1 (2005) and Vol. 2 (2008), for the way in which the material is presented in its purest form. With only acoustic guitar or piano as accompaniment, the recordings provide the best way to appreciate the calibre of his songwriting, singing, and lyrics (it's also worth noting that though Browne won't be remembered necessarily for his guitar work, his playing, always marked by sensitivity of touch, impresses throughout). As these sets demonstrate, he has a remarkable gift for matching words to music, and when his singing is accompanied by solo piano, the hymnal character of many songs becomes apparent, especially when embellishment is eschewed. His special rapport with the audience is evident throughout, never more so than during the segments where he offers background commentary on certain songs, and the sober tone of some material is leavened by humorous anecdotes. The youthful quality in his voice on the early albums has faded, of course, but the naturally rougher edge in his singing today deepens the music. We are, after all, talking about the difference between an artist in his early twenties versus one closing in on seventy—even if the individual in question still looks startlingly young, his frame lean and his hairstyle, though flecked with grey, largely unchanged since the beginning.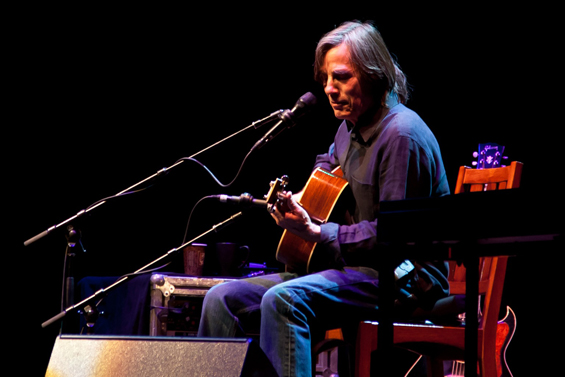 Many listeners prefer Browne's relationship-based songs to the overtly political ones, but to these ears the lyrical content of the latter present the perspective of an astute observer more than someone bellowing stridently. Regardless, his lyrics strike a fine balance between the particular and the universal, and are poetic without being pretentious or maudlin. The opening lines of "Fountain of Sorrow," for instance, conjure the kind of scenario one might encounter in a modern American short story:
Looking through some photographs I found inside a drawer
I was taken by a photograph of you
There were one or two I know that you would have liked a little more
But they didn't show your spirit quite as true
You were turning 'round to see who was behind you
And I took your childish laughter by surprise
And at the moment that my camera happened to find you
There was just a trace of sorrow in your eyes
As evocative are the lyrics to "Alive in the World" (from 1996's Looking East), which resonate at both personal and public levels. Anyone feeling imprisoned, be it by physical or spiritual circumstances, can relate to the following:
I want to live in the world, not behind some wall
I want to live in the world, where I will hear if another voice should call
To the prisoner inside me
To the captive of my doubt
Who among his fantasies harbors the dream of breaking out
And taking his chances
Alive in the world
And consider further how timely the following is considering the many acts of terror and violence presently darkening our days:
With its beauty and its cruelty
With its heartbreak and its joy
With it constantly giving birth to life and to forces that destroy
And the infinite power of change
Alive in the world
Having absorbed his recordings for months and eager to hear the material live, I attended New York's Beacon Theater for a June 18th concert by Browne and his band. While the genuine affection felt by his fans comes through loud and clear on the live solo recording, it's even more passionately felt in person. Yet while such an expression from fan to artist isn't uncommon, it's considerably more heartening to see the feeling expressed so genuinely in the other direction. One doesn't have to look far to find stories about spoiled rock star behaviour, but nothing of the kind characterizes Browne's relationship to his audience. In my experience, it's rare to witness an artist communicate gratitude and appreciation with such sincerity.
The concert offered a veritable run-through of Browne's material, with most of the best-known songs included and many others besides (he even granted a fan's request for "Linda Paloma"). In a set list that included " Rock Me on the Water," "For a Dancer," and "In the Shape of a Heart," Browne balanced heavier material with crowd-pleasers such as "Doctor My Eyes," "Somebody's Baby," and "Redneck Friend." "Barricades of Heaven" took on a brooding quality that brought it close in spirit to a typical Dire Straits track (how great it would have been to see Mark Knopfler guesting on the song), and the concert rolled on until the second encore "I Am a Patriot" sent the crowd on its way.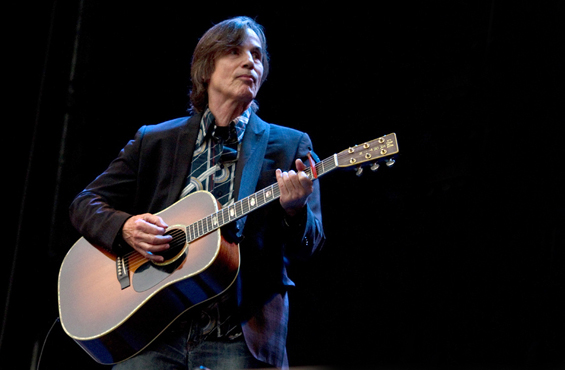 I'm guessing that a typical millennial would have found the sight of a concert hall packed with fifty-year-olds dancing, shouting, and carrying on in uninhibited abandon to be nothing short of embarrassing, and truth be told it was a bit cringe-inducing. Yet it was also undeniably touching in revealing how deep the bond is between Browne and his audience. When the opportunity finally arises for a concertgoer to see an artist who has enriched his or her life beyond measure, it's understandable that the experience will have an enormous impact. In all likelihood, there were people in that crowd who had waited decades to hear "Late For the Sky," "These Days," or "Fountain of Sorrow" and who wanted so desperately to express their own gratitude to Browne for the profound difference his music has made in their lives.
Chances are much of what I've written here will be old news to Browne fans of long-standing, and if they're reading this they're probably shaking their heads, bemused at the thought of someone unaware of this singular artist's gifts for so long. I also, however, imagine that most of us, if we're being honest, have had similar kinds of experience where we happened upon something long after others, whether it be, say, the films of Eric Rohmer, the stories of H.P. Lovecraft, or the songs of Nick Drake. Perhaps you too have belatedly discovered the work of a great novelist, filmmaker, or musical artist and wondered how you could possibly have remained unaware of it for so long.
August 2016