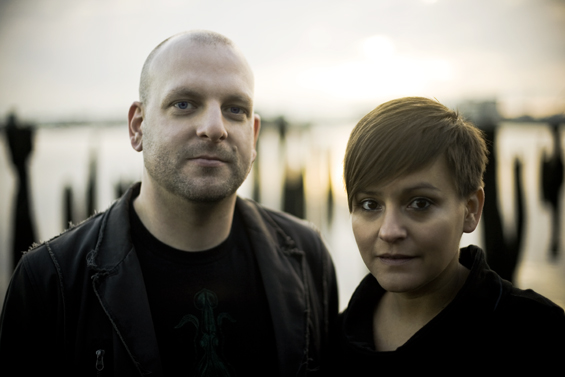 photo: Jori Ketten
MEM1'S TOP 10 MOST INFLUENTIAL LIVE PERFORMANCES
One of textura's favourite outfits, Mem1 produces an ethereal and uncompromisingly bold blend of cello and electronic music that's wholly engrossing. The improvisation-based material jointly brought to life by Mark (analogue modular and electronics) and Laura Cetilia (cello and electronics) represents an organic fusion of natural and electronic sounds that defies easy categorization and ultimately sounds like nothing else but Mem1. Founded in Los Angeles in 2003, the group has performed far and wide, and collaborated with a front-line assortment of kindred spirits, among them Steve Roden, Jan Jelenik, Frank Bretschneider, and Stephen Vitiello. Their discography includes the standout releases Alexipharmaca (Interval, 2006), Stationary Drift (Resting Bell, 2009), and +1 (which features Mem1 collaborating with nine artists, among them Jelinek, Ido Govrin, Area C, and Jen Boyd) (Interval, 2009), and the Cetilias recently issued their excellent fourth full-length album, Tetra, on their own newly established Estuary Ltd. label; May 2011 will also see the release of Age of Insects, a full-length collaboration with Vitiello on Dragon's Eye Recordings. textura is honoured to include Mem1's top 10 in this month's issue and grateful to the Cetilias (who, in addition to everything else with which they're involved, are the co-curators of the experimental music series CTRL+ALT+REPEAT) for generously composing the text that follows.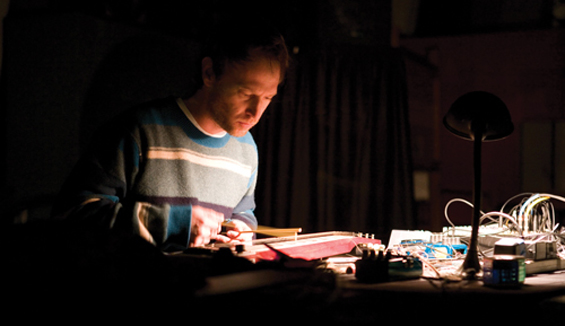 1. Steve Roden performance at the e/i Magazine Launch Event | March 30, 2003
The Derby | 4500 Los Feliz Blvd. | Los Angeles, CA
Hearing Steve Roden is always a pleasure, and one that we've had many occasions to share while living in Los Angeles. This performance stands out, however, as it was not only a typically beautiful set by Steve (performing on a small, hammered string instrument with subtle electronic manipulation), but also the night we met. The entire event was something of a singularity, featuring performances by Akira Rabelais, j. frede, and Kit Clayton with Sue Costabile alongside Steve's quintessentially "lowercase" moment. Few other concerts that we've been to have left us with such a feeling of community. Our shared experience of this event has played a large role in shaping our own curatorial practice, proving to us that bringing together artists and audiences from a varied pool of interests in an unpretentious and non-threatening atmosphere can lead to the unexpected—and the unforgettable.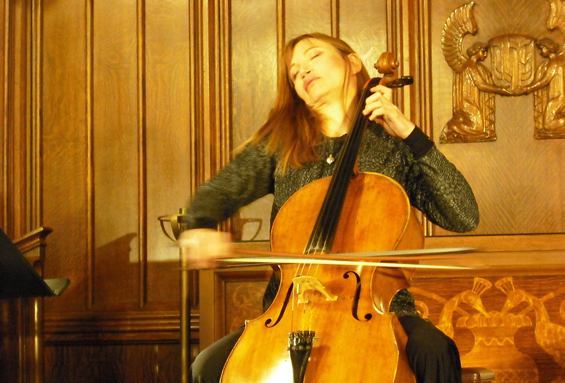 2. Monday Evening Concerts | October 17, 2005
Homage to Giacinto Scelsi: Frances-Marie Uitti & Stefano Scodanibbio
LACMA | 5905 Wilshire Boulevard | Los Angeles, CA
From 2002 to 2006, Laura worked for the Music Programs department at the Los Angeles County Museum of Art. Monday Evening Concerts, the oldest new music series on the West Coast, provided many incredible listening opportunities for us—but the concert that featured Frances-Marie and Stefano was an exceptional moment in time. This concert featured the music of the Italian count and reclusive mystic Giacinto Scelsi in addition to improvisations and compositions by the performers themselves. Scelsi's work is not programmed enough in most "new music" series, so it was a rare treat to hear it performed by two musicians with such demanding stage presence and command of their instruments who also intimately worked with Scelsi himself. We were equally blown away by Scodanibbio's own piece for solo bass, Voyage Interrupted, a must-have for connoisseurs of solo string music. And, of course, Uitti's two-bow technique, which Laura first experienced at MEC a decade earlier, is a uniquely beautiful and otherworldly occurrence that can sadly only be experienced once in a blue moon.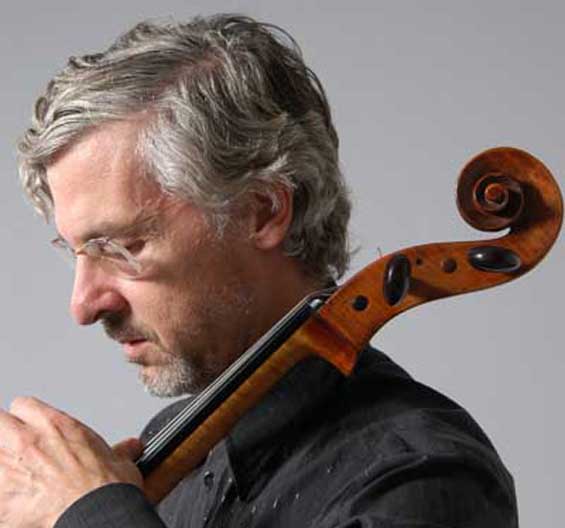 3. Charles Curtis performing Eliane Radigue's Naldjorlak at the 2006 CEAIT Festival | Jan. 27, 2006
REDCAT Theater in Walt Disney Concert Hall | 631 West 2nd Street | Los Angeles, CA
We have been fortunate enough to see Naldjorlak, Radigue's first completely acoustic composition, performed not once but twice—the second time as part of the Non-Event series in Boston. Although the Boston performance was breathtaking in its own right, we have to say that the REDCAT one took the cake, perhaps because it caught us completely off guard. The 300-seat and stark black box theater was somehow transformed into an etherworld of swirling overtones. The piece, which is "structured around a tuning of the cello which seeks to consolidate, as nearly as possible, all of the resonating parts of the instrument" is a mind-bending manipulation of technology. With results of such incredible complexity, it was hard to believe that the performance was actually for solo cello without the intervention of any electronics or spatialization techniques.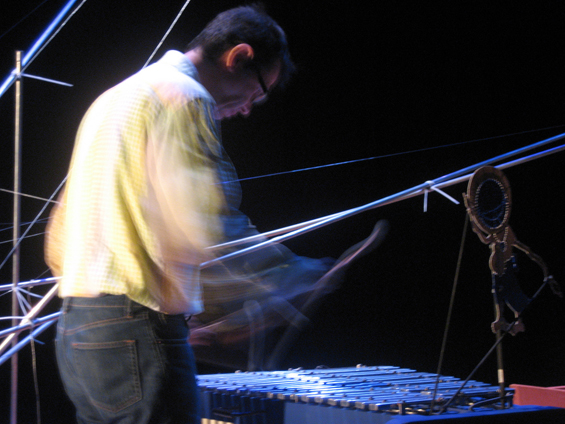 4. Kraig Grady at Ctrl+Alt+Repeat [Winter 2006] | February 18, 2006
Inmo Gallery | 114 W. Fifth Street | Los Angeles, CA
Kraig Grady is not only a composer and performer of microtonal music but has been nominated four times for the LA Weekly Music Awards best uncategorizable artist and was chosen by Buzz Magazine as one of the "100 coolest people in Los Angeles." We were honoured to have him play on our Ctrl+Alt+Repeat series in early 2006, where he treated everyone to an improvisation on his own handmade "Meta Slendro" Vibraphone. A true artist through and through, Kraig was able to find the acoustic sweet spot in the gallery and milked it for all it was worth, and then some. His improvisation was a barrage of arpeggiated tonalities, buzzing and resonating throughout the entire space. It was one of those rare occasions where you physically felt some notes rushing by your head while others sat above you, basking in their glory.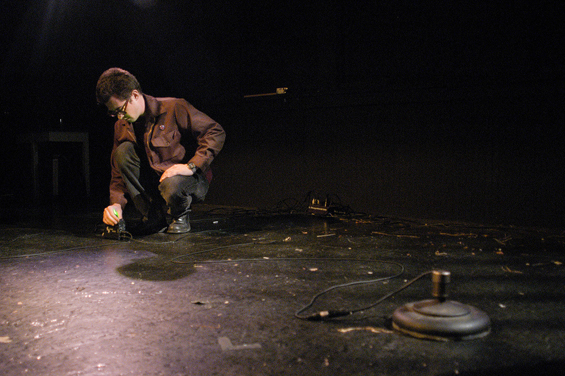 5. Damion Romero at Ctrl+Alt+Repeat [Summer 2006] | June 24, 2006
Dangerous Curve | 1020 E. Fourth Place | Los Angeles, CA
While Damion Romero is perhaps best known as a "noise" musician, he refers to himself as a "sound artist / sculptor." If you have ever had a chance to see him perform live, you would understand why. Damion works with "resonant electroacoustic feedback systems … audio power amplifiers and a variety of transducers and 'feedback regenerators' of his own design." He uses gigantic waves of sub-audible frequencies as a means of acoustic analysis—methodically working his way through a given space and building in intensity until the resonant frequencies of everything in the room (including those inside a listener's body) have been excited. His 2006 performance at Ctrl+Alt+Repeat took place in Dangerous Curve, a sadly now-defunct alternative arts space in downtown Los Angeles where a huge steam engine designed by Australian artist Brett Goldstone was on display. From the dull rattling of the steam engine to the incessant buzz of the venue's metal roll-up door to the tiny, crystalline sounds coming from a halogen bulb in an unused lamp in the back of the gallery, Romero breathed life into inanimate objects, drawing out the essence of our surroundings and painting a portrait of the room with sound.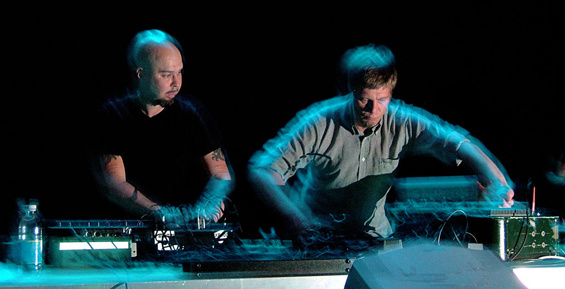 6. Pan Sonic at Non-Event | September 7, 2006
Great Scott | 1222 Commonwealth Ave. | Allston, MA
In the time that we have lived in New England, Non-Event has hosted such a wide variety of high caliber performances that it seems unfair to pick just one, but Pan Sonic's set at Great Scott in 2006 was an especially rare treat. The duo made dexterous use of handmade synthesizers of their own design to generate enormous fields of unfiltered raw energy along skull-crushing rhythmic patterns, and the visual accompaniment, provided by a video camera pointed at an oscilloscope connected to the group's line outputs, was stupefyingly effective. Sad to think that we may never be able to experience them live again; hopefully the rumours of their demise have been greatly exaggerated.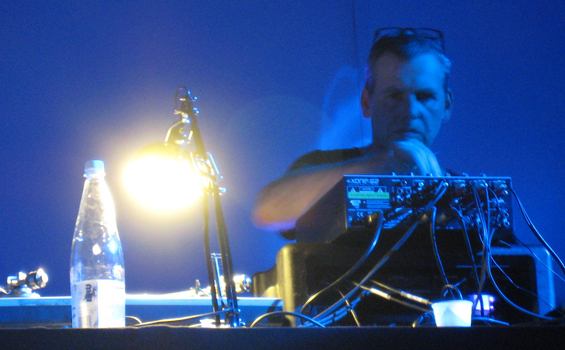 7. Thomas Brinkmann at sonic.focus.2 | November 15, 2007
RISD Tap Room | 226 Benefit Street | Providence, RI

This concert technically shouldn't be considered a public performance at all, due to its incredibly poor publicity, which resulted in a meager audience of ten or so people (including the two of us and a close friend). The whole festival was so under-promoted that we didn't even know that Jan Jelinek had been in town giving a talk and performance the month prior. But despite (or perhaps in reaction to) the small number of listeners and an embarrassingly horrible "local" opening act, Brinkmann gave it his all. He gave so much, in fact, that he managed to blow the electricity for the entire building, drawing on massive reserves of power and filling the room with a visceral presence of sub-bass. What a strange sight for the security guards that came to see the cause of the blowout: one disgruntled German behind a laptop between gargantuan stacks of speakers in front of a handful of people hurting for more, more, more…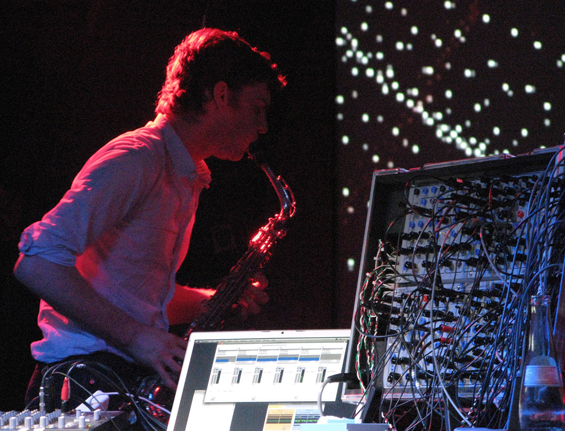 8. Thomas Ankersmit at the 2008 November Music Festival | November 14, 2008
Verkadefabriek Kleine Zaal | Boschdijkstraat 45 | 's-Hertogenbosch, NL
November Music is hosted every year in Den Bosch, renowned not only for being the birthplace of Hieronymus Bosch, but also that of the lekkerste dessert known to humankind, the Bossche bol. Stationed in the Netherlands as part of a series of artist residencies in 2008, we found out that the November Music festival was to present works on the Institute of Sonology's 192-channel Wave Field Synthesis system, so we gladly hopped on the NS to check it out in person. While waiting for the Wave Field Synthesis portion of the program to begin (and basking in the afterglow of Bossche bollen from the Jan de Groot bakery), we stopped by Verkadefabriek to check out a performance by Phil Niblock and Thomas Ankersmit. Unfortunately, we had to catch the last train out of town before his performance with Niblock (which probably would've also made it onto this list), but we ended up having the privilege of hearing Ankersmit play an extensive solo set for laptop and Serge modular. Ankersmit's performance consisted of a dense field of complex waveforms cascading ever upward into the ceiling high above, perhaps making the best use of vertical spatialization that we have experienced. About halfway through his set, Ankersmit switched from modular synth to saxophone (still accompanied by his laptop), and made his way through the room, taking advantage of the directionality of his instrument by literally playing against the walls, creating and breaking down standing waves in the space—proving once again that innovative spatialization strategies do not require 192 speakers but simply an attentive ear and a creative mind.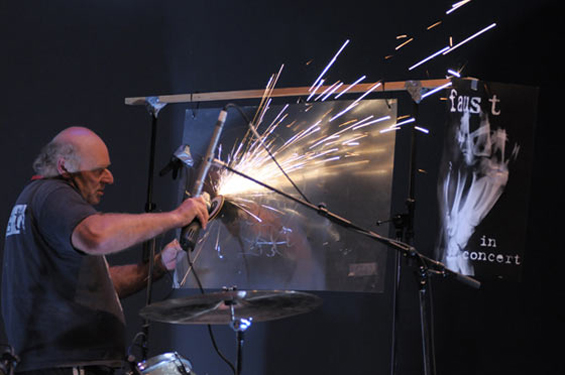 9. Faust at the 2009 Borealis Festival | March 27, 2009
Logen Teater AS | Øvre Ole Bulls plass 6 | Bergen, NO

The Borealis Festival, in which we had the great honour to play as an opening act for Faust, is quite possibly one of the greatest music festivals in existence. In fact, two of our top tens happened there in 2009 (not surprising—the Norwegian government is actually supportive of the arts). Never before had we been treated to such non-pretentious spectacle. The multifarious activities played out by the 40-year-old (!) group ranged from live painting to demolition-hammering an oil drum to cabaret songs complete with piano, candlelight, and pajamas, naturally. Our jaws were dropped for the whole performance, as we constantly wondered what would come next. We were so taken with the relentless extravagance that we stopped worrying about our precious gear sitting under the stage that seemed way too small for such huge personalities and their glorious antics.
10. Fire & Ignorance at the 2009 Borealis Festival | March 28, 2009
Bergen Kunsthall No. 5 | Rasmus Meyers Allé 5 | Bergen, NO
Fire & Ignorance is a collaboration between Norwegian musicians Anders Hana and Morten J. Olsen of MoHa! and visual artists Idan Hayosh (Israel) and Anu Vahtra (Estonia). MoHa!'s impressive setup of amps, cabinets, drums, keyboard, guitar, electronics, and computer was equally matched by a ten-foot-tall welded grid of thirty lamps built and mastered by artists Hayosh and Vahtra. Audience members were subjected to a relentless onslaught of dense pulsing noise and blinding light, all manually synchronized by the performers in real time. The amount of rehearsal that must have gone into such a rhythmically complex and tightly choreographed performance is truly mind-boggling. Though the performance lasted under fifteen minutes, we left exhilarated by the intensity and precision of this uniquely effective collaboration between visual artists and musicians in which neither discipline acted as background for the other. For all the talk of "synaesthesia" in the academic world and clamor for integration between the latest multitouch interface or 3d motion capture system, fancy new gesturally-controlled synthesis or spatialization engines and spiffy computer graphics utilizing a massive library of open source code of your choice, performances such as those by Fire & Ignorance prove that there is simply no substitute for time spent rehearsing or the use of sound and light as purely physical phenomena.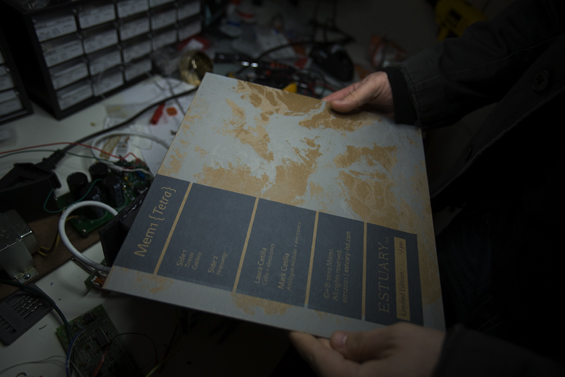 February 2011