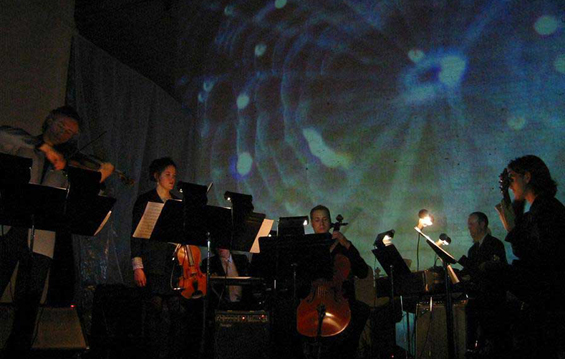 Slow Six
FROM PROG-ROCK TO CHAMBER-ELECTRONIC: A BRIEF HISTORY OF CLASSICAL FUSIONS
Classical music is as self-contained and self-sustaining a genre as one could imagine, an omnipresent sonic realm that hardly needs to extend its gaze beyond itself for life-support. In spite of that, its influence has seeped into multiple strands of contemporary music-making, and nowhere is that more evident than in the chamber-electronic field and the works of Slow Six, Sylvain Chauveau, Max Richter, Mico Nonet, and others. But how did this recent development come about? Certainly the evolution of prog-rock had something to do with it (even if indirectly), so any appreciation of this recent development must contend with prog's rise and fall during the 1970s, its subsequent banishment to the hinterlands, and resurrection in the post-rock and chamber-electronic genres.
Because classical's influence has been so pervasive and wide-spread, any hope of cataloguing in one article its impact upon other genres is doomed from the outset; the road is dotted with so much detail and so many artists, only something book-length could do the topic justice. Consequently, though its influence has been felt in jazz, for example, with Duke Ellington nudging his music in that direction with Black, Brown and Beige, Miles's Sketches of Spain featuring the trumpeter's rendition of the Adagio from Joaquín Rodrigo's Concierto de Aranjuez, and full-fledged forays into the classical repertoire by Wynton Marsalis (Hummel, Haydn, Mozart: Trumpet Concertos one example) and Keith Jarrett (Bach's Goldberg Variations and Shostakovich's 24 Preludes And Fugues two of many), this article will limit its focus to the connections between classical music and the prog, classical-rock, and electronic music idioms. The humble goal, then, is to offer a personalized history borne out of a sometimes immersive and sometimes tangential involvement with the genres, with the understanding duly recognized that every listener with a comparable background would compose a different "history."
Regardless, right away we're tripped up by nomenclature and the degree to which terms overlap or diverge. Though classical-rock and prog aren't necessarily synonymous—a band's style could be classified as the former minus stereotypical characteristics of the latter (fantasy-based lyrics, twenty-minute song lengths, etc.)—, the two terms are often used interchangeably and to keep things simple we'll continue the practice here. Having that laid to rest, is there another word in the contemporary music lexicon more tainted than prog? One utters the four-letter word at considerable risk to one's critical reputation (and social standing) despite the seemingly ineradicable form's tendency to perennially re-surface.
Classical and rock have always been uneasy bedfellows. For decades, classical's influence has emerged within its more popular counterpart in myriad ways: sometimes it's the inevitable result of a musician's classical training threading its way into the material's compositional form, sometimes it's a consequence of the artist's lofty aspirations borne out of a desire to give the music in question greater artistic credibility, the implication being that the one form is more lasting and profound—more important, put simply—than the other.
The pairing of classical and electronic music, on the other hand, seems a more natural fit. The embrace of electronics by Karlheinz Stockhausen and Philip Glass, to name two, and incorporation into their works helped electronics gain legitimacy within "higher" musical circles, and today's classical composers use digital tools and methods when performing and composing as a matter of course. In short, the lines separating the genres have never been less clearly drawn than they are today, and occasionally collapse altogether, Glass's orchestrated versions of Bowie's Low and Heroes two examples and the earlier John Cale & Terry Riley collaboration, The Church of Anthrax, another. But before looking at chamber-electronic music in its current incarnation, we must consider the circuitous trajectory that led up to it.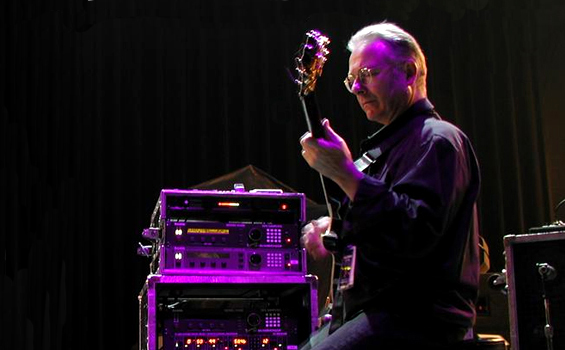 Robert Fripp
Prog's Heyday
I was, like many, a card-carrying member of the prog fraternity, and squeezed into my ever-expanding collection albums by The Moody Blues, Pink Floyd, Genesis, Jethro Tull, Yes, King Crimson, Caravan, Renaissance, Gentle Giant, and Emerson, Lake, and Palmer (ELP). Supplementing those predominantly UK artists' albums were recordings from Holland (Focus, Ekseption), Germany (Triumvirat), France (Gong), Italy (PFM), and the US (Utopia). A true fanatic, I longed for news about the latest Yes tour and Genesis release, and not only devoured Yessongs and took that Journey to the Center of the Earth but was the proud owner of Chris Squire's Fish Out of Water, Patrick Moraz's Story of I, and—yes, I confess—volumes one and two of ELP's Works. Not satisfied with the three-album colossus Welcome Back My Friends To the Show That Never Ends (truer words never spoken), I hunted down whatever Triumvirat albums I could find, and when Photos of Ghosts by PFM (Premiata Forneria Marconi) washed up on Western shores in 1973, my young legs couldn't carry me fast enough to the local shop, money in hand and a helpless look in my eyes. But that's all ancient history and whatever serious connection I had to the genre faded long ago—depending, that is, on how one defines prog. Let's first enumerate some of the key characteristics that define the genre.
For starters, prog artists, aspiring to transcend the limitations of the verse-chorus structures of the standard pop song, struck out for more ambitious territory, the presumption being that accomplishing said goal would provide a more transformative experience for both artist and listener. The prototypical composition was episodic, long, instrumental, often one part of a larger conceptual whole; prog devotees salivated at the prospect of suite-styled opuses that occupied twenty-minute album sides. Bored by prosaic, real-world topics, prog lyricists feasted on Tolkien-like fantasy, mythology, and ancient folk-lore—Renaissance even devoting an entire album side to Scheherazade—and invested their lyrics with "literary" quality—the lyrics of ELP's "Jerusalem" by William Blake and Gentle Giant's "Knots" inspired by the writings of R.D. Laing, two instances of many.
Not content with rock's traditional guitar-bass-drums set-up, prog bands exploited their music's orchestral and sonorous potential by incorporating woodwinds (Ian Anderson's flute), strings (David Cross's viola), and—most fundamental to the genre—electronic keyboards, especially synthesizers, of which the Moog became the one most emblematic with the Mellotron not far behind (Keith Emerson for the former and Starless and Bible Black-era King Crimson the latter). Nothing as straightforward as 4/4 could hold the Prog virtuoso's interest for long, and the more unusual the time signature—15/8, 9/4—the better. There was often an elaborate visual dimension too: the monstrous Slipperman costume Peter Gabriel donned during The Lamb Lies Down On Broadway tour exemplifies the kind of theatrics for which Prog bands became famous, and it's impossible to mention stage visuals and not think of Pink Floyd's floating pig (Animals). Sometimes groups literally incorporated classical elements into their music, Procol Harum's "A Whiter Shade of Pale" with its Bach-inspired organ melody a familiar case, Ekseption's treatments of Beethoven's "Fifth" and Khachaturian's "Sabre Dance" less well-known.
Though Sgt. Pepper's Lonely Hearts Club Band is oft cited as a critical moment in prog's evolution, The Beatles had already moved into progressive territory with Revolver's "Tomorrow Never Knows" and by incorporating Eastern influences into their music, though, of course, the pairing of McCartney's vocal with strings in "Yesterday" preceded those developments too. Obviously "Lucy in the Sky with Diamonds," "Strawberry Fields Forever," and "A Day in the Life" exerted a profound influence on The Beatles' contemporaries and the next wave of progressive rock artists. Brian Wilson famously moved on from writing three-minute odes to surfer girls to composing Pet Sounds' and Smile's mini-symphonies, and The Who's "rock operas" Tommy and Quadrophenia were light years removed—at least in terms of ambition—from "I Can't Explain." That Pink Floyd issued its own two-disc opus The Wall doesn't seem as much of a leap, considering that the group had already indulged in long-form pieces on Ummugumma and Meddle.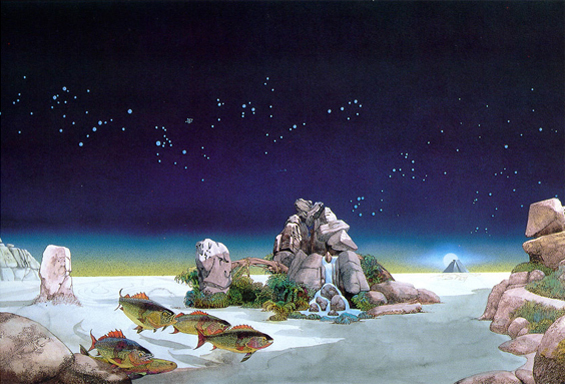 Roger Dean's artwork for Tales from Topographic Oceans
And so it was that ELP devoted an entire album to Mussorgsky's Pictures at an Exhibition, covered Alberto Ginastera on Brain Salad Surgery ("Toccata"), and—courting the tsunami of critical disdain sure to come—issued Works Volume 1, a two-album collection of solo pieces (and one group side), among them a Piano Concerto by Keith Emerson and a Prokofiev cover ("The Enemy God Dances With The Black Spirits" from The Scythian Suite) by Carl Palmer. Dutch group Focus stumbled in giving an otherwise decent album the regrettable title (and the side-long suite therein) Hamburger Concerto, and, after garnering justifiable acclaim for Fragile and Close to the Edge, Yes plunged into (the less charitable would say drowned in) four side-long Tales from Topographic Oceans. In similar manner, Jethro Tull decided that Aqualung's concise song structures no longer suited its needs and turned to the forty-five minute epics Thick as a Brick and Passion Play.
And what of the music itself? Often bloated, overly-complex, structurally unwieldy, and melodically wanting, these groups' ambitious efforts more often than not ended up impressing far less than their level-headed earlier efforts. Interestingly, Yes and Jethro Tull realized a nadir of sorts had been reached with Tales from Topographic Oceans and Passion Play and gradually retreated from such grandiosity for a comparatively modest song-based format, in Yes's case Going for the One (though not without first releasing Relayer and its side-long "The Gates of Delirium") and in Tull's War Child. Prog can even be blamed for pulling Todd Rundgren away from creating pop jewels like "It Wouldn't Have Made Any Difference" and "I Saw the Light" to fashion "A Treatise on Cosmic Fire" (whose thirty-six minutes holds side two of Initiation hostage) and pursue the indulgent musings of Utopia.
Unfortunately the sour aftertaste of those missteps tends to prompt a hyperbolic dismissal of the genre as a whole which overlooks the fact that a fair number of great recordings were released that still hold up. Critics winced when David Hemmings helmed the narrator's chair in Rick Wakeman's Journey to the Center of the Earth and groaned at the ice-production extravagance of The Myths and Legends of King Arthur and the Knights of the Round Table. But one shouldn't forget that Wakeman's earlier The Six Wives of Henry VIII features a credible set of shorter keyboard compositions. When Renaissance followed the enchanting Turn of the Cards with Scheherazade and Other Stories and its side-long titular epic, fans might have braced themselves for the worst, but in fact the more ambitious album offered just as many musical pleasures as its predecessor. To a large degree, the prog albums that hold up best are those where rawness remains a key factor—King Crimson's Red, Starless and Bible Black, and The Great Deceiver (the definitive in-concert document of the Cross-Wetton-Fripp-Bruford incarnation) come to mind, as does Close to the Edge ("I Get Up I Get Down," the title piece's third part, still sounds lovely). Crimson's "Fracture" is as monumental today as it was in 1972, as is "Red" whose metallic roar could pass as a blueprint for any number of instrumental metal outfits.
By the mid-'70s, the artists' penchant for overkill coupled with the rise of punk sounded prog's rapid demise. Some bands abandoned ship before the hammer fell: following Gabriel's departure, The Trick of the Tail found Genesis reincarnated into a song-based act, and, with guitarist Trevor Rabin on board, Yes scored a hit single in 1983 with 90125's "Owner of a Lonely Heart." Though regularly derided and ridiculed, prog remains as difficult to exterminate as a cockroach, and bands like The Mars Volta and Tool have openly acknowledged its influence (the latter even had King Crimson open for the band on a 2001 tour).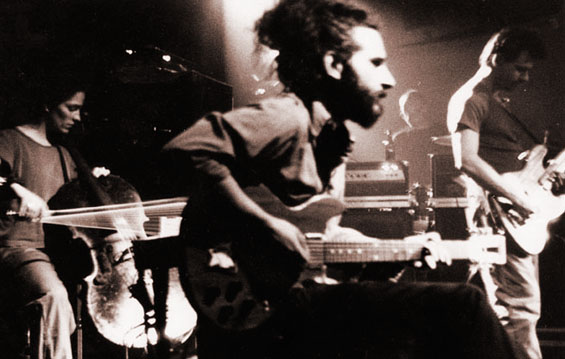 Godspeed You! Black Emperor
Resurrection
So when did the resurrection occur and how did it come about? Though there may be others, two watershed moments in particular helped make prog acceptable again, even if no one dared utter the word itself: the 1997 LP release of F#A#8 (the CD version followed a year later) by Godspeed You! Black Emperor (known at that time as Godspeed You Black Emperor!) and the 1996 release of Tortoise's Millions Now Living Will Never Die and in particular its side-long, twenty-minute "Djed." Post-rock enabled prog to surreptitiously re-surface minus the baggage that had accumulated during a quarter-century of existence.
Godspeed You! Black Emperor would likely spurn any association with the prog label, and post-rock too for that matter. Categorized more safely as instrumental rock, the Quebec collective—in essence, a neo-chamber group featuring string players alongside the conventional set-up of bass, drums, and guitars—created long-form, multi-movement suites of immense dynamic range, and the release of 2000's Lift Your Skinny Fists Like Antennas to Heaven (aka Levez Vos Skinny Fists Comme Antennas to Heaven)—each of its four sides a twenty-minute composition—only makes the association with prog all the harder to deny. Certain things about the group allowed it to disassociate itself from pretentious prog outfits of years past: GY!BE rejected the fantastical and ethereal and instead oriented itself around relevant real-world issues such as poverty, politics, and corporate greed. The group reinvigorated the genre by stripping away the classical pretense, contrivance, and "complexity for complexity's sake" ethos and grounded its music in an emotional rawness that felt honest and natural (currently inactive, the band has been on hiatus since 2003).
It's important to note that, though today's chamber-electronic artists aren't necessarily stylistic descendants of GY!BE and Tortoise, such groups wiped the progressive slate clean, so to speak, and helped reconfigure the mindsets of artists, critics, and listeners so that the very idea of ambitious music-making (of the kind currently practiced by chamber-electronic artists) could be regarded once again as palatable. Max Richter makes a similar point in his own comment: "The flowering of post-rock in the '80s and '90s lead to a "classical" interest in timbre and structure while at the same time "classical" musicians were looking to the visceral dynamics of these bands." Asked whether prog's classical-rock fusion seems like a less natural fit compared to today's classical-electronic model, Richter agrees: "The music of that time was really not about a concentrated vision of its content (which is what I try to do) but rather about building large and imposing structures with borrowed materials, which somehow never fitted properly. Think of, say, Rick Wakeman's Six Wives of Henry the VIII or Deep Purple's Concerto for Group and Orchestra; it just seems a little weird really." Though he concedes that prog was never a part of his background ("I have listened only to one or two King Crimson records"), Sylvain Chauveau, on the other hand, sees little connection between '70s prog and today's chamber-electronic music: "It sounds to me like prog was about changing rhythms and chords every minute, while the new "classical" (I hate this word) is much more about stasis and quietness." His aversion to the label has merit; after all, not all of the music we might call chamber-electronic fits the label, including some of his own. His recent Nuage, for example, which features nineteen romantic miniatures performed by a small ensemble of viola, violin, piano, and electric guitar, is certainly chamber-like but there's nary an electronic sound heard throughout the collection. Christopher Tignor, the leader of the Brooklyn-based chamber outfit Slow Six, echoes Chauveau's sentiments: "Prog is really a dirty word for those of us in my segment of the generation. My values really come from the lineage of punk rock which arrived to kick dirt at the pretensions of prog and glam metal, arena rock, and so on. The electronics used in prog—which in my understanding were basically just different kinds of synthesizers used to make showy intergalactic-type sounds—seem very effective in expressing what the music seems to be about. It's the aesthetic goals themselves that rub so many of us the wrong way."
Concurrent with the rise of Tortoise and GY!BE were equally ambitious outfits such as Mogwai, Explosions In The Sky, and MONO while exciting changes also occurred in the classical field with the emergence of Michael Torke, Steve Martland, Graham Fitkin, and Mark-Antony Turnage. Certain classical composers had long embraced the idea of fusing traditional orchestral instrumentation with electronics: Messiaen's incorporation of ondes martinot into his Turangalîla Symphony was a critical move, and Glass's Einstein On the Beach, Ingram Marshall's Fog Tropes, and Steve Reich's Different Trains must be acknowledged as key moments in their deployment of electronics and sampling strategies.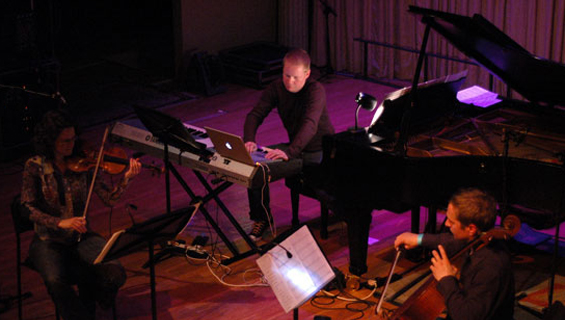 Max Richter
Revitalization
Which brings us to today's chamber-electronic artists and their highly individualized approaches to the fusing of classical and electronic forms. The range of approaches is both staggering and seemingly unlimited. In one corner, there's the influential GAS, which finds Wolfgang Voigt combining amorphous orchestral samples and muffled techno beats, smothering them in gauze, and then letting them unspool in grandiose ten-minute doses to work their magic on the spellbound listener. In another, there's Cécile Schott's Colleen project which has moved from a sampled-based approach (Everyone Alive Wants Answers) to one intent on exploring the sonorous potential of acoustic instruments (music boxes on Colleen et les boîtes à musique EP and viola da gamba, spinet, clarinet, and acoustic guitar on Les ondes silencieuses). Schott's recent material sounds more natural than ever before, with whatever electronic enhancements deployed in its construction verging on inaudible (Schott herself has described her music as "minimal acoustic"). Similarly, while computer technology may have contributed to the assembly of Richter's The Blue Notebooks, its exquisite material, reminiscent at times of the music of Arvo Pärt and Michael Nyman, is performed by Richter on piano accompanied by five string players and Tilda Swinton's reading of Kafka and Milosz texts. Richter's subsequent Songs From Before largely perpetuates the elegiac style and overall approach of its predecessor though this time Robert Wyatt recites passages by Haruki Murakami and the electronic dimension is more noticeable in the music's sound design. More conspicuously electronic in style is Fernando Corona's Murcof material which merges classical samples with minimal tech-house rhythms and subtle electronic treatments. The tracks on his debut album, 2002's Martes, draw upon the works of Arvo Pärt, Henryck Górecki, and Giya Kancheli, while its follow-up Remembranza weaves traditional sounds of piano, harp, and strings recorded especially for the album into funereal settings. Others producing work of note in the chamber-electronic field include Marsen Jules (Herbstlaub, Les Fleurs) and Eluvium (Copia) but, in truth, the number of artists is large and ever-growing.
Each contemporary chamber-electronic practitioner offers a decidedly different take on the genre and its development. Mico Nonet, which merges electronics with strings, French horn, and oboe, offers a quietly intoxicating ambient-classical fusion on The Marmalade Balloon. The group's leader, synthesizer player, and producer Joshua Lee Kramer describes the genre as "a mash-up and mash-apart that flowed from many sources: late '60s and '70s music that's equal parts ambient, classical minimalist, rock, and film soundtrack, and '90s music that's both post-rock and electronic." Richter mentions "the increasing availability of music via file sharing" as one reason for the development but cites the computer's rise as the most important. "Once the sounds are in the machine, they're all available for re-configuration in exactly the same way," he says, "so all sorts of music have become "available" as raw material for new work, including "classical" music." (Richter's accompanying comment "I'm using all these inverted commas because I regard these genre terms as really obsolete!" is in itself telling as it acknowledges the degree to which the boundaries between categories once regarded as distinct have evaporated.)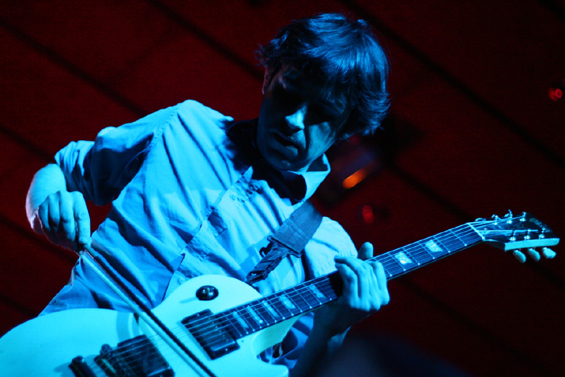 Sylvain Chauveau
Reinforcing Richter's observations, Chauveau says, "I see two reasons for this upsurge: one technical, one cultural. The technical is the incredible development of computers, which, since the '90s, has granted users access to a huge range of instrument sounds and programming software at home for a cheap price. Now, anyone in a rich country can own equipment that is maybe fifty times more powerful than what Brian Eno had in 1980. The cultural reason," he continues, "is that the second half of the '90s witnessed the triumph of pure electronic music and an eclipse of electric and acoustic instruments. In experimental music, all of the exciting things came out of electronica—Pan Sonic, Fennesz, Oval, Scanner, Pita, Ikeda, Autechre, Aphex Twin—but the beauty of abstraction has limits and, as I expected it would, the need for "real" instruments returned in the 2000s after several years of banishment. Neo-classical electronic music emerged as a way to challenge the tyranny of the beat, and to bring back a sense of melody in the abstract sounds of the experimental scene."
Clearly the computer's liberating impact is instantiated by the compositional approach used to produce the songs on The Marmalade Balloon. ("I'm not classically trained," Kramer admits, "so in Mico Nonet you have the interaction of one self-taught indie musician improvising with orchestra musicians.") The process involved having the four orchestral players (violist Carrie Dennis, cellist Efe Baltacigil, French horn player Paul Lafollette, and oboist Katherine Needleman) individually improvise over a long synth track Kramer created for a given piece and also over whatever other orchestral parts he'd already edited, a process that allowed him to "chop things up and slide them around. So the process was derived from electronic recording and production techniques," he explains, "and not through traditional classical composing methodology."
Richter cites minimal and post-minimal composers (on a spectrum from Glass to Part) as key artists influencing the development of the chamber-electronic genre, while Kramer lists Erik Satie, Otto Luening and Vladimir Ussachevsky (1960's Concerted Piece for Tape Recorder and Orchestra), John Pfeiffer (the track "Reflection of a String" on the 1968 album Electronomusic-9 Images), Morton Subotnick (his "ghost score" technique), Cluster, Eno, Harold Budd, and Pärt. Tignor credits the amplified energy of minimalists Young, Glass, and Conrad and also stresses the impact of experimental rock musicians like Tortoise and Aerial M. Though he acknowledges the influence of Gorecki, Giya, and Pärt on the chamber-electronic scene, Chauveau gives one group in particular its due: "Rachel's are the forgotten heroes. When they appeared, playing their classical compositions in rock venues in the mid-'90s, it was like nineteenth-century music that seemed brand new because it was played with a modern sensibility, mixed with a post-rock touch, and presented to a younger audience."
In fact, Rachel's Music for Egon Schiele proved to be more than just a revelatory listen for Chauveau. "At the time, I was trying to devise strategies to get out of the rock idiom," he says, "and this record gave me the courage to use piano, viola, and cello which I did a few months later and for the next ten years. With Rachel's, for the first time, I could hear an American band imitating French music. And so I decided: I would no longer follow English and American music but take inspiration from my own country's composers and learn from the past: Goodbye indie-rock! Hello Debussy, Satie, Ravel, and Fauré!"
Of all the outfits operating today, Slow Six offers one of the most successfully-realized integrations of classical and electronic music; certainly its polished full-lengths Private Times in Public Places and the slightly harder-edged Nor'easter attest to the group's seamless melding of the forms. Tignor and company generally eschew the systems-based repetitiveness one finds in some minimalism works for a more organic style that emphasizes lyricism. Strings alternately serenade the listener and agitatedly swoop heavenward, all the while augmented by electric guitar, keyboards, and subtle electronic textures. Occasional echoes of Debussy, Bartok, and Schoenberg may resonate within the group's material but the end result sounds like Slow Six alone.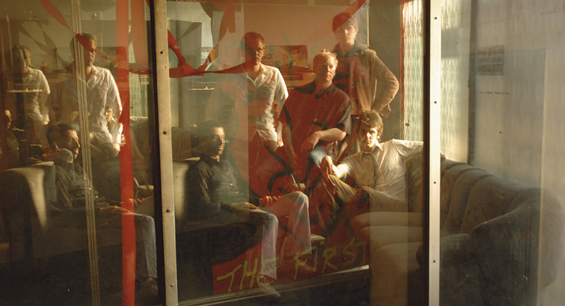 Slow Six
Tignor's perspective on the classical-electronic topic proves both informed and insightful. After acknowledging that electronics and classical music have been bedfellows for the better part of the twentieth century (Edgard Varese cited as a representative example), he emphasizes that working with electronics often means working in a way that's much different from creating a classical score. "Either the expressive nature of the sounds falls outside the black-and-white pitch and rhythm layout of this device (e.g., filter-sweeps) or the electronics are too unpredictable or aleatoric to have much performance control (e.g., most interactive music)," he says. "I can't stress strongly enough that the difficult fit here has always been the cult(ure) surrounding the classical score object. All that Western classical composers have learned and what they hope to offer is found in the score. That's the promise they've been given and, obviously, those elements that don't lend themselves to this mechanism threaten that promise.
"It's not a matter of electronics playing a role in art-music, it's really a matter of how they're being used and why they're being embraced more now which I think are related topics. Basically, there is a shift in values happening. For the first time, I think the assumption that art-music is somehow qualitatively better than popular music is getting worn out. It doesn't make much sense for the popular music you love to not play an active role in your creational process. Popular musicians are not bound to the score mentality. They're used to dealing with sound first and foremost and are not trapped within a maze of modernist ideas either. They're pragmatists who are more often letting their ears and not rhetoric inform how they work."
Slow Six's distinctive fusing of genres developed naturally too. "I'm really an interloper in this classical tradition," Tignor says. "As a young lad, the only way I understood how to make original music was to form a band and start playing shows. I think this is true of most musicians that haven't been exposed to the culture of classical professionalism that music school provides—that is, making scores to hand off to paid professionals. When I discovered what you could do with interactive electronics while messing around on my own at school, my first instinct was to form a band where I could do that live and make that my instrument in a meaningful way. But along with that came envisioning the music and composition arrived as a necessity to realize the detailed vision of these songs.
"When most other composers add electronic elements into their instrumental work it often feels like an addendum to me, as if mixed in after the fact—a kind of window dressing for colour. All the sounds in my own work are created live, whether through instrumental playing or live reprocessing of the sound, and I eschew the use of pre-recorded samples and believe wholeheartedly in the power of the live moment and instrumentalism as an ideology. The classical world's use of live electronics is really still in its infancy," he concludes, "and things will no doubt become more interesting as composers get more experience working with acoustic and electronic elements naturally. It's only in the classical world that people seem so hyper-sensitive about these "cross-cultural" issues. Everyone else is excited to make music wherever they can find it without feeling the need to constantly be double-checking their musical sources."
September 2008