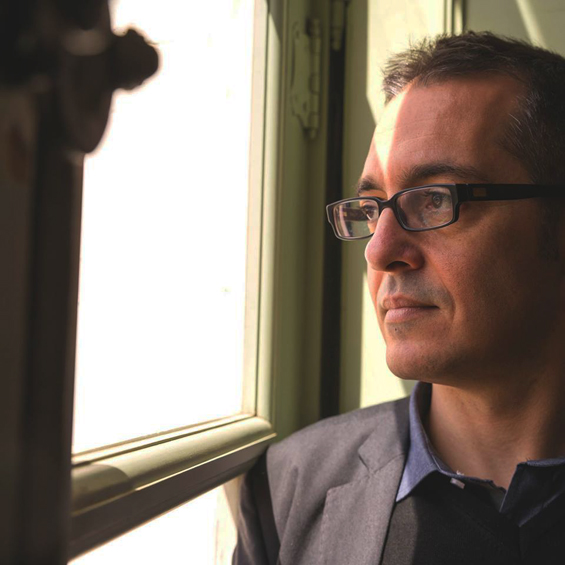 QUESTIONNAIRE 4: ELINTSEEKER / STEFANO GUZZETTI / CARA STACEY
It gives textura great pleasure to feature in its fourth questionnaire three highly regarded artists, ellntseeker, Stefano Guzzetti, and Cara Stacey, all of who have recently issued splendid new recordings: Geography Of The Heart by elint.seeker; Ensemble by Guzetti; and Things That Grow by Stacey.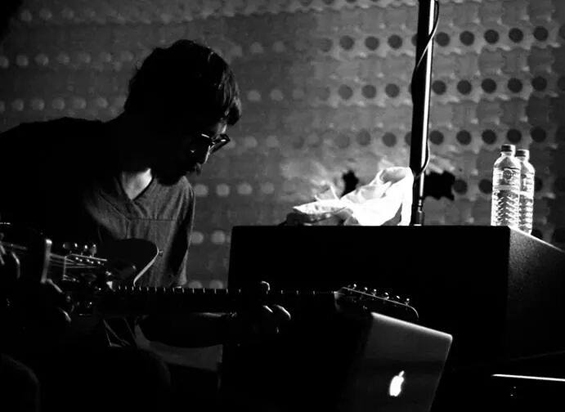 ELINTSEEKER
Singapore-based musician/composer Fuzz Lee, who produces music under the elintseeker alias, started out playing in indie bands and switched from drums to guitar when he joined SteelCitySkies in the late '90s. He's been a member of the electroacoustic trio Life Without Dreams and the improv-oriented Amino Acid Orchestra and has released two albums under the elintseeker name: 2012's By the Sea (Somehow Recordings) and the just-issued Geography of the Heart (Plop).
My latest recording: Geography Of The Heart, a musical journal recorded between 2011 to 2013 featuring various collaborators from Japan, Singapore, the US, Canada, Australia, France, and Macedonia.
On the horizon: I don't usually perform live but am considering playing a small solo show in Tokyo this September. I'm also taking a break from music-making for a few months (the album was released in June 2015), but I have some collaborative albums in the works. One is with the techno producer Wataru Abe. We are looking to experiment and merge two extremely contrasting styles together. The other is an ambitious 'guitar' album with three other guitar players of different genres that I respect and love. It's only in the planning stage now, so I can't provide any details yet. I hope to complete it within two years. I'm a slow worker.
The biggest change in my music since my career began: As elintseeker, that would have to be going back to playing the guitar properly. I've been hiding behind drones since the first album (By The Sea). So it was nice and rather challenging to go back to being 'musical' in the traditional sense. In fact, the process ended up being more experimental than making the usual drone/heavily effected stuff, maybe because the latter became too easy. It became second nature or routine, thus losing the experimentation aspect. Also, having vocals in the music.
The thing that most distinguishes my music or sound from others: I would rather other people tell me about that, but bearing in mind the kind of genres I would be lumped with, I'd say the music has a certain kind of brightness, melancholy, and joyfulness that is uniquely Asian in nature. I am, after all, a product of my landscape.
The thing I'm most trying to communicate in my music: The most accurate vision or feeling of the music I heard in my head when it first came to me. It's like trying to write the most accurate and detailed memory of a strange dream you had.
What musically I'm most proud of: Making music that marriages form and function, and to be able to make people feel calm, to forget the daily battles that we all face. To make a child fall asleep.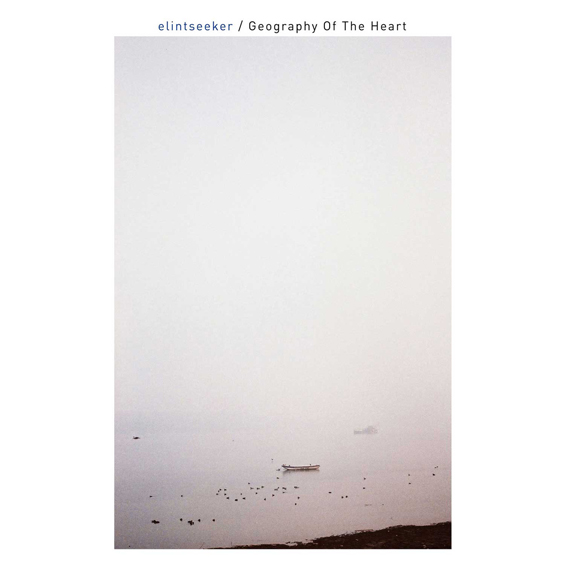 A favourite piece of music when I was a child: I loved many songs as a child but I would have to single out A-ha's first album Hunting High And Low. The influence is there in my music, even though you can't really hear it.
A piece of music I wish I'd written: This is a difficult one because I wish I wrote many of those songs that I love so much. Right off my head, it has to be Eiichi Ohtaki's "Ame No Wednesday" ("Wednesday's Rain") from the seminal 1981 album Long Vacation. Summer pop songcrafting at its masterful best.
A memorable concert I attended: A small show that noise musician Lucas Abela (I believe he's called Justice Yeldham these days) performed at a record store in Singapore. It was a small space and there were about twenty people in there. I didn't know him then or his music but my friend who was running the record store told me that I must come and witness his live performance. So this man with a rather soulful-looking face appeared and proceeded to produce noise from a piece of glass (with contact mics) hooked up to a PA system. The noise was produced when he pressed the piece of glass against his face. Of course the glass broke into smaller pieces after a while and thus cut his face. It was the most intense, exciting, and bloodiest show I've ever seen. It was only fifteen minutes long but, hands down, the most memorable thing I've ever attended.
The artist with whom I'd love to collaborate: A dream choice would be Ryuichi Sakamoto. He's such a big influence on me.
The artist or musical piece people would be surprised to learn I love: Generally speaking, '80s thrash metal. People who are not my friends are always surprised when they realize that I listen to a lot of that stuff because they always assume that music-makers only listen to the kind of music that they would make. I am a music fan first and foremost, not just an ambient music or experimental music fan.
Who I've been influenced by most: All my collaborators, and the following people: David Sylvian, Ryuichi Sakamoto, A-ha, Flying Saucer Attack, Talk Talk (last two albums), Erik Satie, Leslie Low, Mark Hollis, Bark Psychosis, Claude Debussy, Red House Painters, Yellow Magic Orchestra, Zai Kuning, Henryk Górecki, Fennesz, Steve Reich, Andrew Chalk, Tim Hecker, and many others, really.
The best advice I've received: "Don't be afraid to let the note die out." This was told to me by Zai Kuning, a renowned Singapore artist who I worked with in a trio called Amino Acid Orchestra. He made me play an improvised solo piece in an empty squash court for an hour, and he noted that I was afraid of silence because there was never a quiet moment. So he told me those words.
What I'm listening to now: Satomimagae: Koko; Fjordne: Moonlit Invocations; The Observatory: Continuum; Nas El Ghiwane: Best Of.
My idea of perfect happiness: I am a realist, so I would say it is to be content with what I have.
If I could time-travel and give my fourteen-year-old self one bit of advice, it would be: I wouldn't say anything really. Let that fourteen-year-old kid do whatever he wants. He will have to figure it out on his own.
The music I want played at my funeral: Tomaso Albinoni's "Adagio" and Ryuichi Sakamoto's "Women Without Men" would be nice choices I think.
My motto or philosophy: The art/music must come from a life; otherwise it's just posturing.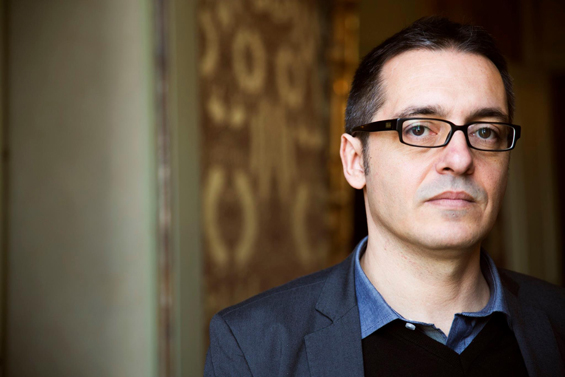 STEFANO GUZZETTI
Sardinia-based composer/pianist Stefano Guzzetti has contributed to compilations and created soundtracks and sound design for movies and video-games. But the two recordings most representative of his melodic neo-classical stye, however, are arguably the solo piano collection he issued on Home Normal in 2014 and the just-released Ensemble (Stella Recordings), a collection designed to physically capture the live performance of his quartet.
My latest recording: Ensemble, a straightforward studio rendition of what my Ensemble and I play at our concerts. It is a deluxe limited-edition of 250 copies, featuring a six-page booklet, two postcards, and a download ticket. Everything is inside a 300 gram ivory-hammered cardboard folding sleeve, which is then bound by an external obi / fascia. All the copies sold out in a few weeks, but in September there will be another deluxe treatment of this release. It will be a double ten-inch vinyl edition (200 copies), featuring the design of Vaughan Oliver and artwork of Shinro Ohtake. It will feature very precious materials as well so it will be beautiful and lush, I'd say nearly more an art object rather than a music physical format.
On the horizon: At this moment I've just started the writing process for two soundtracks. At the end of the year, or maybe at the beginning of 2016, I will release my new album, entitled Leaf and will play some concerts in UK and maybe some solo-piano sets in Japan. In September I will also start writing a new body of work, possibly for another album in late 2016.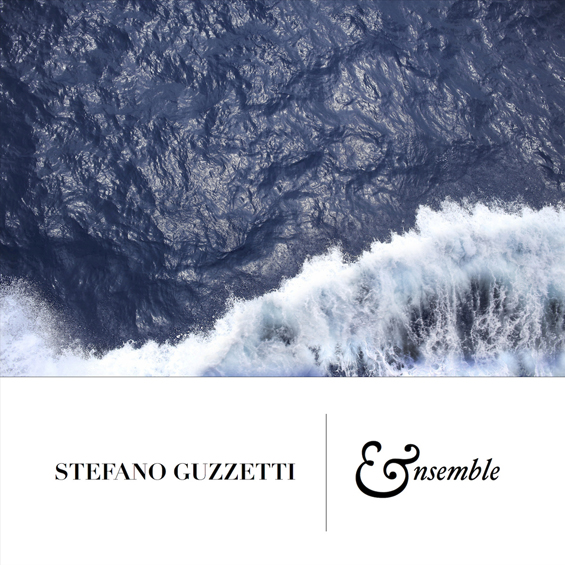 The biggest change in my music since my career began: Not being interested anymore in electronic music. In the next album, for instance, I use some sine waves in just two tracks, and they are simple colours, not functional elements in the arrangement. There is still so much to be said with acoustic sounds, rather than tweaking parameters in this Ableton Live era—at least for me. I am not judging anyone's position of course, nor I am feeling superior, and I say this having a degree in Electronic Music at the Conservatory of my town. It's just that the older I get, the more I love simple things. Less is more, someone said. And to me this is something I deeply believe.
The thing that most distinguishes my music or sound from others: In one way or another, my Mediterranean origins and belongings are always there.
The thing I'm most trying to communicate in my music: Consciousness of the soul. At all levels, from the darkest to the lightest ones. Possibly the wider palette of emotions.
What musically I'm most proud of: A recent thing I'm proud of is that I asked the Manuel De Falla Foundation permission to include our version of "Nana" in the Ensemble release (it's one of our encores). So they asked me to listen to the track before granting its use, and they really loved it. To me that piece of music means so much; it makes me cry, it makes me think about my mother, so being able to make it someway mine makes me really proud. Another recent thing I am proud of is my signing to Mute Song Ltd.
A favourite piece of music when I was a child: J. S. Bach's "Toccata and Fugue in D minor." An obsession still.
A piece of music I wish I'd written: Arvo Pärt's "Cantus in memoriam Benjamin Britten." No words needed here.
A memorable concert I attended: Wim Mertens and his Ensemble in 1998. I was literally in tears, especially when they played "As Hay in the Sun" (from the album Jardin Clos). Since then, it was quite clear to me that one day or another I had to reach a point where I was able to write and produce that kind of music.
The artist with whom I'd love to collaborate: Hildur Gudnadóttir, but also Christoph Berg. I'd better let them know, anyway.
The artist or musical piece people would be surprised to learn I love: I really have a soft spot for ABC's "Be Near Me," which, to me, is a sort of perfect pop song. But I consider The Cure's "In Between Days" more or less the same. Or Scritti Politti's "Wood Beez." Mmm, now that you make me think about it, this list could be very long… What about Propaganda's "Duel," for instance? Okay, let's stop.
Who I've been influenced by most: I'd say J.S. Bach, Erik Satie, Arvo Part, Wim Mertens, Vaughan Oliver and Nigel Grierson (23 Envelope), Ivo Watts-Russell, Krzysztof Kieslowski, Éric Rohmer, Nanni Moretti, Erich Fromm, Italo Calvino, Yukio Mishima, Haruki Murakami.
The best advice I've received: When I decided to make music as my only job, someone told me: "Whatever will happen, don't be scared; it will be okay anyway. Just keep doing what you have to do."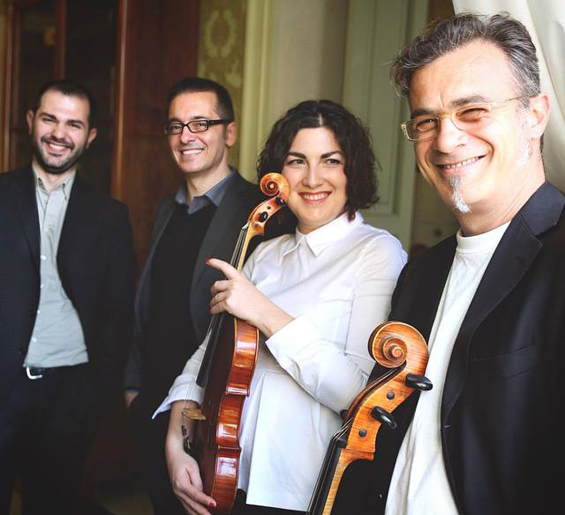 Stefano Guzzetti Ensemble: Simone Soro (violin), Guzzetti (piano), Giulia Dessy (viola), Gianluca Pischedda (cello)
What I'm listening to now: Again, for the millionth time, Cocteau Twins' Victorialand. A timeless masterpiece.
My idea of perfect happiness: To look in they eyes of someone and not needing any words to communicate.
If I could time-travel and give my fourteen-year-old self one bit of advice, it would be: This world sucks. I'll build my own one and it will be much better. (Ah, youth… )
The music I want played at my funeral: This Mortal Coil's "Ivy and Neet" (from the album Filigree & Shadow). This is basically a track by Simon Raymonde (back then bassist and a third of the Cocteau Twins, nowadays head of Bella Union).
My motto or philosophy: Just don't worry. Sooner or later, it will always rain.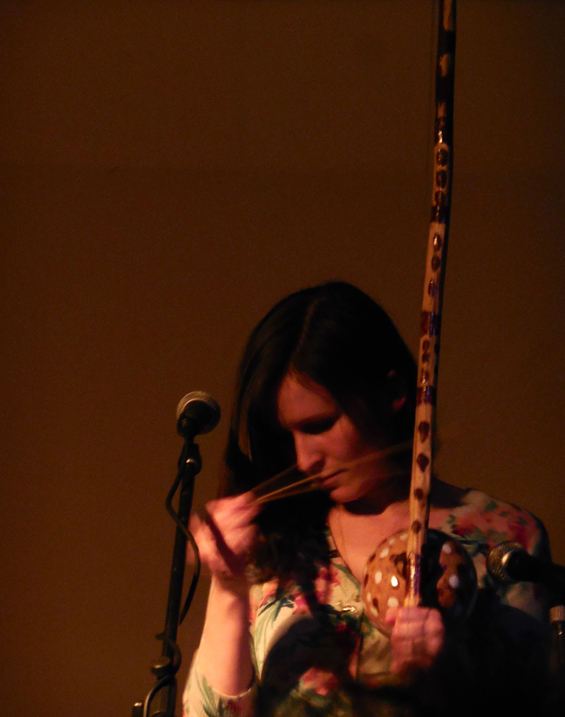 CARA STACEY
South African multi-instrumentalist, composer, and researcher Cara Stacey is a classically trained pianist who also specializes in different southern African musical bows (umrhubhe, uhadi, makhoyane) and vocal traditions. Her debut album Things That Grow not only features her playing these distinctive instruments, it presents her doing so alongside highly regarded musicians such as Shabaka Hutchings, Seb Rochford, and Ruth Goller.
My latest recording: Things That Grow, soon out on Kit Records. This album represents the coming together of a group of my favourite musicians in London. It features Shabaka Hutchings on sax and clarinet, Seb Rochford on drums, Ruth Goller on bass, and Hugh Jones on his concertronica. Recording it was a beautiful experiment of sorts—seeing where these musical bows can go in different duo, trio, and ensemble settings. Dan Leavers mixed it at TRC in Dalston, London, and he also contributed a lot to the final sound.
This year I have also been involved in producing recordings of traditional instrumentalists in Swaziland (Bashayi Bengoma, Gogo Mphila & Phayinaphu Mcina, available soon via Bandcamp). I didn't play on these albums but had an incredible time working with these musicians and helping the projects come together.
On the horizon: Aside from the upcoming album launch, I'm concluding my doctoral research in Swaziland. I have a lot of composing to do relating to my ethnographic fieldwork and will be discussing my compositions in Birmingham at the Royal Musical Association annual conference in September. I'm also playing in Durban, South Africa, later in September and have some things in the pipeline for early 2016.
The biggest change in my music since my career began: Learning to play musical bows. I was a classical pianist before that and grappling with that repertoire alone for a long time. I started playing the umrhubhe mouthbow and uhadi gourd-resonated bows with an incredible South African musician, Dizu Plaatjies. He taught me to play and is himself a phenomenal bow player. After that, I started learning a lot of different African instruments, and it changed substantially the way I hear and play music.
The thing that most distinguishes my music or sound from others: In southern Africa, there are many incredible bow players (and in Brazil and India, etc.). A lot of the South African and Swazi players are based in the rural areas, and these musical instruments originate from these places. While based in London, I worked on learning this music from the many important recordings made by David Dargie, David Rycroft, Hugh Tracey, etc.—quite an academic approach as I couldn't work directly with the players. Now I try to focus on my own strengths and compositional/improvisational influences when I play. I'm trying to innovate just as these great musicians do and have in the past, and that means (I hope) my own diverse musical interests come through. I feel a direct connection between the possibilities in bow music (especially the umrhubhe) and the work of artists like Tim Hecker, Susumu Yokota, Colin Stetson, etc. I think there is a lot of room to experiment with electronics, electro-acoustic composition, and free improvisation with these instruments.
The thing I'm most trying to communicate in my music: I would want listeners to hear the potential in different acoustic, so-called 'traditional' instruments. Through commercial recording, we get used to a certain sound palette, but there are so many interesting sounding instruments in the world. I love where that can take you as an improviser or composer, and I especially love to hear other musicians experimenting in the same way.
What musically I'm most proud of: Probably the track "Fox" off the album. It was partially composed, partially improvised, and it shows to me how these different sonic spaces can come together. It feels fresh and dark at the same time.
A favourite piece of music when I was a child: "Agolo" by Angelique Kidjo. All about '90s West African pop. It makes me think of my mother and growing up in Yeoville, Johannesburg.
A piece of music I wish I'd written: A tie between "Sara 70" by Balla Et Ses Balladins and Bjork's "Aurora."
A memorable concert I attended: I recently went to the Hilliard Ensemble's final concert. It was amazingly beautiful and sad. It was the kind of classical musical experience that we miss out on in South Africa. There is so much incredible music-making of all types in South Africa, but we are also quite far away from the concert circuits of the Global North.
The artist with whom I'd love to collaborate: There are too many. If I had to choose one it would be Colleen. I love the delicacy and texture in her work.
The artist or musical piece people would be surprised to learn I love: I really love Pete Rock and CL Smooth's albums. The Main Ingredient and Mecca and the Soul Brother are timeless for me. I probably will always have a weakness for early '90s hip-hop.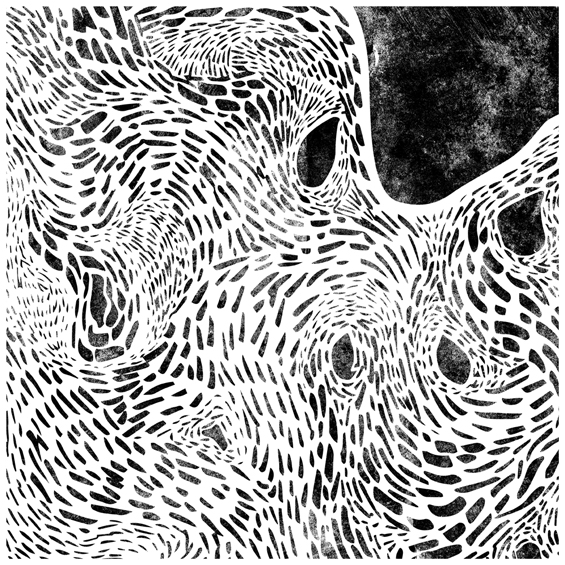 Who I've been influenced by most: So many people. The musicians I have worked with regularly over the years have shaped my thoughts greatly: Shabaka Hutchings, Galina Juritz, Natalie Mason, Sarathy Korwar, Juliana Venter.
The best advice I've received: There are a few people around me who just get things done. Shabaka Hutchings is one of those people and he has often helped inspire me to throw angst to the wind and commit to ambitious projects.
What I'm listening to now: I've been listening to the new SZA album Z and Sarathy Korwar's new album Day to Da . Sarathy is a great drummer and tabla player based in London. We've worked together for many years now and perform together as the duo Pergola.
My idea of perfect happiness: The beautiful valley in Swaziland where my family live. Every morning you can hear a pair of eagles whistling to each other as they fly up and down. It is a life much closer to nature, the sun, and mountains.
If I could time-travel and give my fourteen-year-old self one bit of advice, it would be: Practice more. I had way too much fun out and about as a youngster.
The music I want played at my funeral: I've often thought about this. The top of the list would be Dinu Lipatti's final recording of Bach's Partita No. 1 BWV 825. Maybe J. Dilla's "So Far to Go" and then a whole lot of Al Bowlly. I listen to a lot of 1930s and '40s music, and feel Mozambican-born Al Bowlly is a kindred spirit of sorts.
My motto or philosophy: I don't have a motto, but a brilliant man called Vusi Sibandze once called me 'self-raising flour' (as in you get things done and don't need to rely on others necessarily) and that has stuck with me. I like the idea of being self-sufficient creatively and otherwise. There are risks and it requires some courage, but you learn so much in the long run.
September 2015