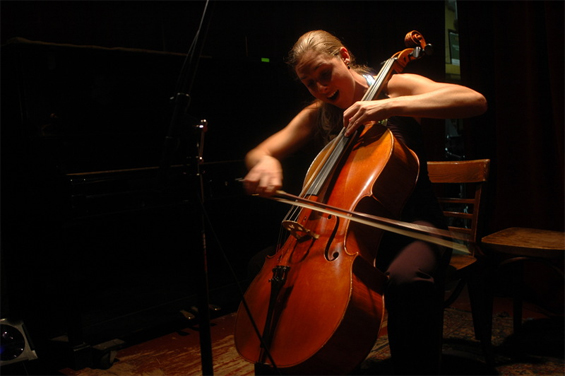 SPOTLIGHT II: MUSKOX, OFFTHESKY, JODY REDHAGE
No better three artists could have been selected for the second chapter in the Spotlight series: the Toronto-based outfit Muskox has just released Invocation/Transformations, as fine a modern-day fusion of post-rock, prog, and krautrock as one might hope to find; while Michael Jason Corder has been enriching listeners' lives for many years with his guitar-based offthesky explorations, his recent The Beautiful Nowhere might be his most affecting collection to date; and, if there's any justice, cellist Jody Redhage will find herself the subject of a great many more profiles in the coming days, given the incredible music presented on her electroacoustic recording, Of Minutiae and Memory. Needless to say, we're honoured to be able to feature the words of these innovative artists in our pages, and we thank them for their generous contributions to the article.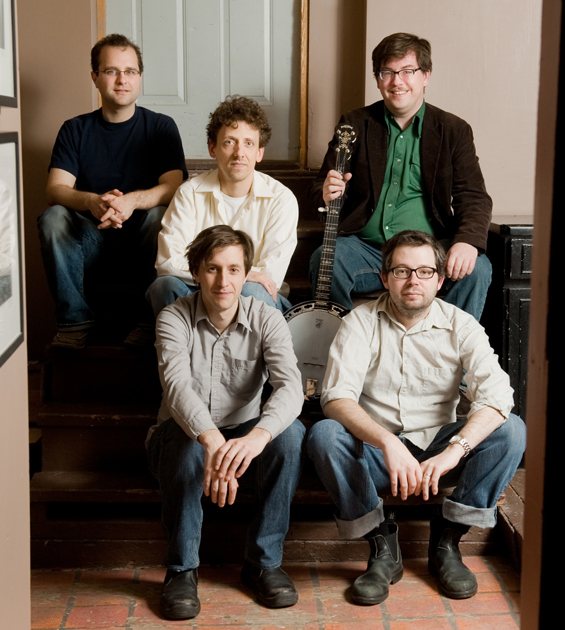 MUSKOX
Who: Michael Smith, Toronto, 1979. I studied jazz bass at the University of Toronto and gradually let that meld into a multi-faceted discipline of electric bass playing, gradually more competent banjo playing, and composition. My principal musical outlet is Muskox, a group I have led and composed for since 2006. The group is comprised of pianist Ali Berkok, bassist Pete Johnston, guitarist Jeremy Strachan, and drummer Jake Oelrichs. We are all sort of part of the same nerdy demographic.
What: Muskox plays instrumental music that floats simple themes over tricky rhythms and vaguely consonant harmonies in logical structures. Ensemble takes precedent over any individual lead voice, although the presence of banjo often contributes the defining quality to the group's sound. The music is complicated but without undue pretence or gymnastics.
When: We are currently playing a string of shows in and around Toronto to promote our new album Invocation/Transformations and are planning a Canada-wide tour for summer 2012.
Currently: Invocation/Transformations is an attempt to recreate my own adolescent fantasy band, imagined in solitary summers full of Michael Moorcock novels and doodles recreating the inside cover of Burnt Weeny Sandwich. Muskox is cast as an early-'70s prog band, as best as it can be disguised, and the compositions are designed as miniature snapshots of past-future fantasy.
Musical philosophy: In composing instrumental music, I attempt to make the same sort of emotional or narrative connection with the listener that one might do with lyrics. Each collection of pieces I write is done so under a particular theme—Invocation/Transformations is to fantasy as Five Pieces was to Fibonacci, as Gallantries was to baroque dance. I have a definite aversion to aggressive timbres or purposefully destructive instrumental actions; I feel music should draw a listener in to the composer's ideas, rather than present arms.
Influences and inspirations: My own musical development continues to be influenced by heroes and role models which always seem to be embarrassingly obvious in the music. That said, five years of a dedicated group playing my music is more inspiration than I could ever find elsewhere.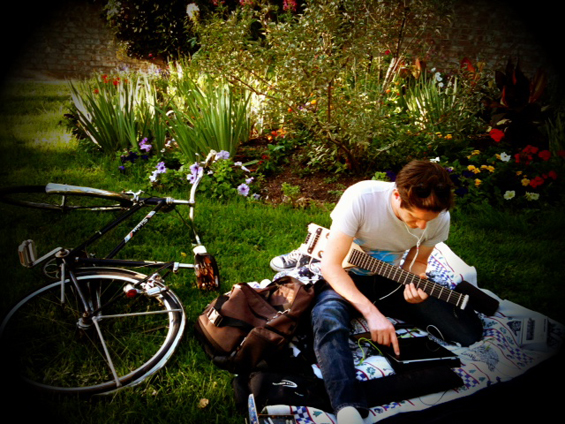 photo: Sarah Chung
OFFTHESKY
Who: Michael Jason Corder. I began experimenting with ambient music in the womb by plucking quietly on the umbilical chord and then forged an elaborate escape plan in 1977. Following that incident, I upgraded the umbilical-rig to a sterling pots-and-pans kitchen floor setup. Around the age of six I discovered the wonders of melody through countless hours meandering in front of the family Steinway. I was typically an over-active child.
Orchestral and spiritual music of all kinds (as well as The Beatles) permeated my ears from a very early age. At 16 I got serious and invested in my first guitar/effects rig (some pedals of which I still use today) and began to teach myself the complicated intricacies of grunge and industrial music. An obsession with 8-bit .mod tracker software on a 386 super-computer festered during this period as well. All the while I filled my mind with endless hours of classical music, hollywood/video game soundtrack, rap, grunge, industrial, christian, and techno... or whatever was pissing the locals off on the college late night radio station.
Through college, I continued to listen carefully to various electronic music tapes while drawing, drafting, and toying with turpentine (painting: my academic focus at the time). After formal schooling, I began a career creating in Graphic Design and lost all interest in the passions of painting. Thus began the personal search for an ever-evolving passion in musical creation.
Today my moniker is often mis-heard in conversation as the 'office-guy.' This misnomer is partly true since during the day I work in a LEGO office/studio as a composer of game music and sound fx and at night, I work into the owl hours forging on down the 'offthesky'' road. Now onto the serious stuff...
What: Over the past ten-plus years, I've experimented with a wide weird palette of styles, all involving some form of acoustic instrumentation married with electronic experimentation. From techno/IDM on into ambient and electronic-folk, I feel it's been extremely important to allow diversification to thrive in what I do. Not only does it keep the creative life fresh, it's provided some amazing opportunities.
As my current focus, offthesky will always entail some form of wide-ranged atmospheric composition stirred around with loose-knit lite-noise, texture, and field recording. My main instruments of choice are the piano, vibraphone, guitar, and microphone. I'm a 'digi-log' purist so I believe that utilizing all forms of analog and digital medium is crucial. I see no point in shunning technology or embracing a close-minded approach.
My moniker used to consist of three words—'off the sky'—but as I worked to integrate ideas of evolution into my process, I decided to evolve the title into a morpheme: offthesky. I initially created some pretty electronic and spacey records so long ago; however, my sound has definitely evolved over the years to a more stripped-down acoustic sound. Evolution plays a huge role in what I'm trying to do sonically.
When: I have no plans at the moment to tour as I'm currently focusing on offthesky projects as well as a career in game sound fx/music. However, I love communicating with an audience through live performance so a light rain of special shows in the next few years is inevitable. Currently, I'd like to hone in on collaborative efforts with various artists. Plus I have a house full of—or I should say a haven of half-broke instruments littering my living room (I turn no noise maker down), and they all really need a good dustin' off of late.
Currently: I'm working with Hibernate records and Ian Hawgood's various labels as well as SEM records in order to promote several current offthesky releases: The Beautiful Nowhere, Endless Yonder, Subtle Trees, ... and even an awesome side project: Kinder Scout (a collaboration with Ian Hawgood and Danny Norburry). Our recent debut release is titled The Writing Life. They're calling it jazz in Japan; however, I think if falls a bit outside of those lines. I'm really excited to be working with such top-ace artists. Our next release is a, humorously, Kinder Scout / offthesky split release featuring Danny and Ian on every track with a heavy leaning towards that offthesky production. I've also been working on music with the band Pillow Garden on some more folky ambient-type music.
Musical philosophy: Existential evolution plays a huge role in all my work, especially the music—generative concepts as well. But ultimately it's important to me that I maintain a malleable philosophy (and production style) with an open mind. There's no point in becoming caged within ideas or processes; there's a gold mine of creative freedom that exists outside the world of over-thinking and over-analyzing things. Ultimately I want to stay humble and create art until I die; this is what keeps me going.
Influences and inspirations: There have been so many individuals along the way who have inspired me. Lewis Carroll has done amazing things with words, especially combining them to make new ones. Ben Franklin was an incredibly prolific genius who discovered and invented many things, including one of my favorite instruments: the glass harmonium (which was apparently shunned for causing people to go mad when they heard its pure sine tone-like notes). Claude Monet paints the most beautiful ambient scenes, and even though I don't like his music much, Johann Bach was incredibly prolific in his output, which has always blown me away.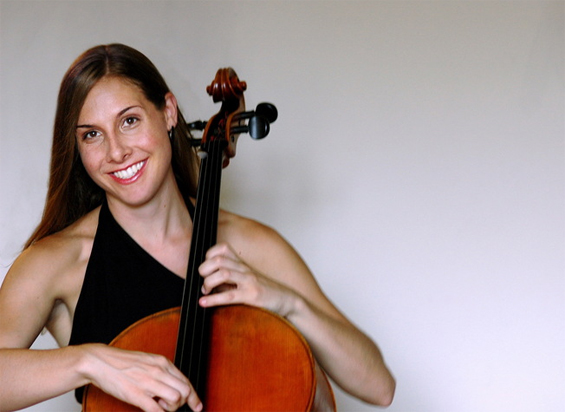 JODY REDHAGE
Who: I was born outside of Indianapolis, IN in 1979. I began piano at age four, singing in a choir at six, and cello at ten. When I was a child my mother taught private piano lessons from our home, and my father, an avid music listener and lover, had a vast music collection spanning many genres; I grew hearing the gamut blasting from the stereo, from Iron Butterfly to classical symphonies. My family lived in the midwest until I was eleven (IN, OH, MO), and then we moved to Raleigh, NC for my middle and high school years. I attended the Cleveland Institute of Music for two years of my undergraduate education, and then transferred to the University of California Berkeley for my last two years of college. At Berkeley I studied cello performance with Bonnie Hampton and Irene Sharp, and composition with Jorge Liderman, Olly Willson, John Thow, and Edwin Dugger. After two years of freelancing in the San Francisco area, I made the big leap to NYC and did a Masters degree in cello performance at the Manhattan School of Music. Although I intended to move back to CA after my degree was completed, I got bit by the creative music bug in NYC and have been in the area ever since. I lived in Manhattan for my first two years in New York, then moved to Brooklyn for the following six years. My husband, trombonist/composer Alan Ferber, and I moved to South Orange, NJ in March 2010, which is where we live now. We have a 150-year-old Red Oak in the yard, live a ten-minute run from the 2,000 acre South Mountain Reservation, a wilderness park with nineteen miles of hiking trails, and the real key: eighteen minutes from Newark International Airport (an essential component considering the amount of travel in our lives).
What: There are three main projects I pursue. The first is my commissioning project, where I've been compiling solo works for my voice, cello, and electronics from talented, emerging composers since 2005. I'm interested in the myriad directions composers will take the simple combination of my voice and cello; in short, my curiosity is peaked by what diversity of creative expression can be culled from a very limited palate. So far I have compiled about twenty-five pieces from different composers, spanning a wide range of genres. Some include electronics, ranging from tape parts to effects pedals, and some are acoustic. My new album, Of Minutiae and Memory , is a collection of eight electroacoustic works that have become mainstays of my performing repertoire.
Another project I do is also solo—exploring modern poetry through song—and features my own acoustic and electroacoustic compositions for voice and cello. I collaborate with libraries, high schools, universities, festivals, and other literary groups that focus on poetry. Each time I do the music and poetry residency/performance, I partner with two local poets in that area and use two of their poems as lyrics for new compositions that I premiere during the performance. Another feature of the residency/performance includes workshops with area literary and music students. We collaborate to create new musical works using their words, which are also featured in the culminating public performance for the community. The project encourages community-building between artistic entities in each locality ; for instance, it sparks dialogue and collaboration between English and Music majors at universities, or between professional poets and local music groups. The idea is to encourage the artists and students to further develop connections between words and music in their own communities.
The main outlet for my own compositions, however, is the band I lead. It's called The Buoyant Inner Imaginarium, and the genre-mixing music requires multi-skilled personnel equally experienced in the precision and sensitivity of chamber music, as with widely developed improvisation skills. We play regularly in NYC and are releasing our first album as a group in summer 2012. The project features some fabulous musicians I've worked with in other touring bands: Sara Caswell (violin), Laila Biali (piano and voice), Leala Cyr (voice and trumpet), and myself on voice & cello. I also released an album called Ancient Star in 2009 with the previous incarnation of my band, called Fire in July, which featured voice, cello, clarinet, trombone, vibes, piano, and percussion.
When: The CD release for Of Minutiae and Memory was a great event in Manhattan on Monday, Sept. 12 at the Lower East Side club Drom. My band, The Buoyant Inner Imaginarium, plays live in NYC on Oct. 24 and Nov. 20 (both in Brooklyn). In late September and most of October I'll be on the road with Esperanza Spalding's Chamber Music Society, with whom I've been touring internationally for over a year. We're going to Brazil in September, and then on to another month-long US tour, covering the country from West to East Coast. Other fall highlights in NYC include performances with Gino Sitson's VoCello project at Farafina in Harlem on Oct. 20, Nov. 17, and Dec. 15, featuring Gino Sitson (voice, percussion, compositions), Charenee Wade (voice, percussion), and myself on voice and cello. And another notable show is the Steve Hudson Chamber Ensemble at An Die Musik in Baltimore on Nov. 18 (Zach Brock, violin, Martin Urbach, percussion, Steve Hudson, piano & compositions, and me on voice and cello). I try to keep everything updated on my website's calendar page so hopefully folks can check out addresses and details there.
Currently: New Amsterdam Records just released my new solo album, Of Minutiae and Memory, featuring eight electroacoustic compositions for my voice, cello, and electronics that have become mainstays of my performing repertoire. The disc's works are by LA-based composer Joshua Penman, Chicago-based composer Anna Clyne, Wesleyan University professor Paula Matthusen, and NYC-based composers Missy Mazzoli, Wil Smith, Ryan Brown, Stefan Weisman, and Derek Muro. My goal in crafting this album was to form a cohesive statement, with a relatively seamless texture and an overall emotional balance of anxiety and hope. It was like connecting the dots among the pieces that I've commissioned to cultivate a multi-composer album that had a sense of continuity. It's available on iTunes and Amazon, and you can visit the New Amsterdam site to learn more about the label's diverse releases.
Musical philosophy: Bjork is my favorite, period. I can listen to her recordings over and over and continually hear new things. I especially love her albums Vespertine and Homogenic, with the big string sections arranged by Vince Mendoza. She has seamlessly integrated sophisticated composition with the innate attraction people have to beat-driven music. I also really admire Czech composer, vocalist, and singer Iva Bittova. The freedom of spirit and concept she infuses into her works is truly inspiring, and her music defies classification and comes across as simultaneously timeless and modern. As a classical cellist growing up, I fell in love with Ravel's compositions and orchestrations. To my ears, he seemed to prize sound itself as supreme, and this has always been my compass as well: I'm most interested in the combinations of sounds and textures. One of my favorite phenomena when listening to music is hearing something and thinking, "What is that?! I don't recognize what's making that sound!" I get excited when common instruments are combined to create unusual sounds. I also find the transformative potential of sound/vibration itself most engaging; i.e, the ways in which sounds and vibrations can influence and transform our bodies or consciousness. I feel lucky to participate in an art form whose medium, sound, exists in space and time, and therefore in each unfurling moment. Music transfers energy from moment to moment, and the intent behind that transference seems of utmost importance. I think we musicians are most effective when we are clear about the intent behind our music. Our level of consciousness affects the scope and effect our music has. As far as my next goals are concerned, I'm inspired by the expanding electroacoustic realm. I hope to encourage younger players of tradional classical, acoustic instruments to become involved with electroacoustic performance. It's a great and practical way to play a solo program full of varied textures, and in my experience, it's more fulfilling to be on the creative end of the compositional spectrum, rather than just the re-creative.
October 2011