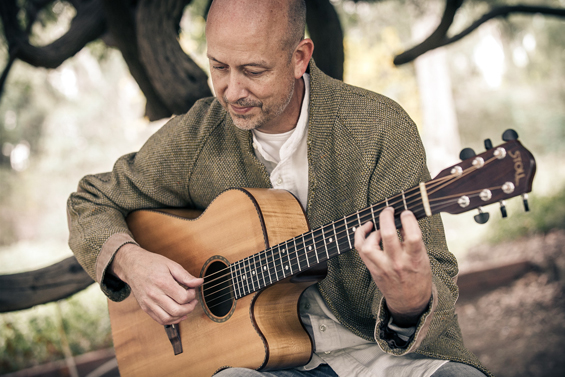 photo: Kimberly Daniels
SPOTLIGHT 18: TIM BRADY / REBEKAH DRISCOLL / JOHN GREGORIUS
textura is delighted to feature the following artists in its eighteenth Spotlight: Tim Brady, Rebekah Driscoll, and John Gregorius, all of whom have recently issued excellent albums: Brady's Instruments of Happiness, Driscoll's From Liberty and Fragrant Harbors, and Gregorius's Still Voice. We sincerely thank the artists for contributing to the article.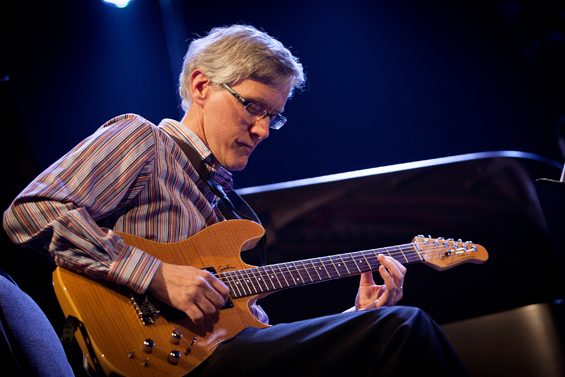 TIM BRADY
Who: I'm a composer, electric guitarist, producer, and cultural activist who was born in Montréal in 1956 and studied folk guitar from eleven to twelve with a local teacher. Between twelve and nineteen, I taught myself guitar, composition, and theory, and then earned my Bachelor's of Fine Arts (music) and Master's of Music at Concordia (Montréal) and the New England Conservatory (Boston) between the ages of nineteen and twenty-four. I currently live in Montréal where I work as a free-lance composer and performer as well as run my now new music company Bradyworks / Instruments of Happiness.
What: I produce some form of "new music," but my approach is very open. I've been influenced by rock, jazz, free improvisation, all the usual 20th-century trends, electro-acoustic, world music, etc. I always try to pick the right musical tool for the job; my music does not fit easily into one aesthetic camp, though I am often told I have a fairly personal style (collage isn't my thing).
Aside from stylistic breadth, the other distinguishing factor is that I use the electric guitar a lot in my work, not always, but much more than is normal for contemporary classical music. Solos, chamber music, concertos, operas, orchestral music—I've used electric guitar in all of them. I even have an electric guitar collective called Instruments of Happiness that performs works for four, twenty, and 100 guitars.
Currently: I've recently released three CDs (a bit nuts in 2015-16, but there you have it): The How and the Why of Memory, a full orchestral CD (no guitar!) with Symphony Nova Scotia (Centrediscs); Of Sound, Mind and Body, a live recording of my improv band (Redshift Records); and Instruments of Happiness - electric guitar quartet (Starkland Records).
As a composer, I'm currently working on a large-scale chamber opera called 6 Révolutions/Oct. 1970, to be premiered in Montréal in 2017, two very different chamber symphonies (for 2017 and 2018), a new concerto for electric guitar and ensemble to be premiered in 2017, and a new violin concerto for 2018. Several other ideas are percolating: more music/theatre ideas, some smaller chamber pieces, more 100 guitar pieces…it does not seem likely to stop any time soon, or, at least, I hope not!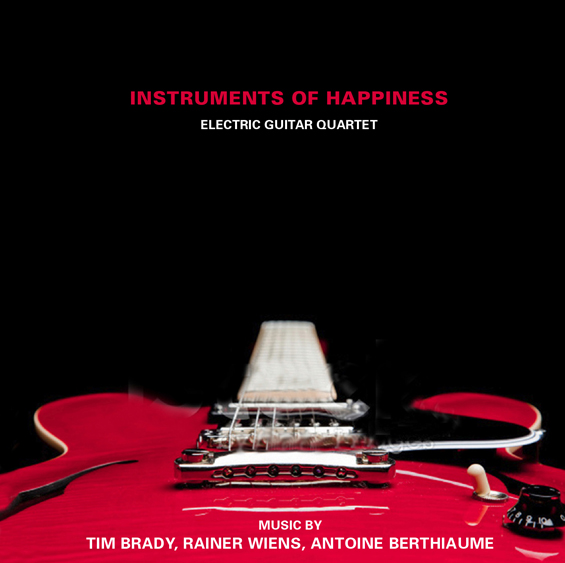 Musical philosophy: Art music (of all traditions) is about confronting our mortality; it's about time, and acknowledging the limited time we all have in life. My personal obsession in composition is sculpturing time, controlling our perception of time and emotions (the two are linked). So I increasingly choose the simplest possible musical material (though what is simple varies from piece to piece, and context to context), and I focus on the evolution of the material through time, rather than on the material itself.
Influential figures / works / events / experiences: Here is the list of major influences (no real surprises), in chronological order: The Beatles, Gordon Lightfoot, The Byrds, The Allman Brother Band, Derek and the Dominos, Todd Rundgren, John McLaughlin, Chick Corea, Miles Davis, Charles Mingus, Anthony Braxton, George Gershwin, Claude Debussy, Igor Stravinsky, Elliot Carter, Steve Reich, Bela Bartok, Dmitri Shostakovich, Crosby, Stills, Nash and Young, etc….
Web site: TIM BRADY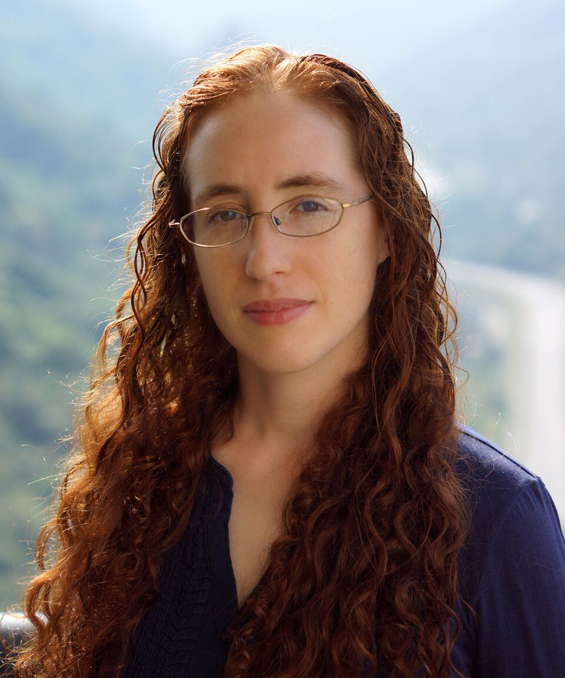 photo: Barnaby Kendall
REBEKAH DRISCOLL
Who: I grew up in a small town in New Hampshire and moved to the New York City area at age seventeen. I studied flute and composition (and a little voice and piano) in college, then got a masters degree in composition. I've lived in New York ever since, except for an amazing fifteen months in Hong Kong.
What: I write music for a wide variety of ensembles, mostly acoustic instruments and voices, generally for live performance. I'm particularly interested in unusual combinations of instruments and discovering unique textures. I love languages and working with words, either writing them myself or compiling them from various sources. Many of my compositions address issues that matter to me—equality, criminal justice, environmental stewardship—although others are more abstract.
Currently: From Liberty and Fragrant Harbors, an album of my recent vocal ensemble music, will be released April 22. It features the incredible GHOSTLIGHT Chorus and several other fantastic New York-based musicians, in combinations ranging from vocal quartet to full choir with viola. We've also just premiered Apart/ment, a song cycle for four singers and four instrumentalists on the theme of homelessness, with The Curiosity Cabinet in Brooklyn; I'm now looking at expanding that into a staged work.
Musical philosophy: I find the most value in music when it has my full attention. There is so much background music playing in public spaces that we get used to half-listening—it's impossible to talk to your friends in most restaurants if you don't learn to do this—but there is something really fulfilling in devoting myself entirely to listening, and doing nothing else for awhile. That practice has helped me appreciate music that at first seemed confusing and, I think, to be more patient and thoughtful in other areas of life. I've heard the argument that it's "unnatural" to just sit still and be receptive, to set aside expectations and try to meet the work on its own terms before deciding whether I like what I hear, but to me it can be profoundly enriching. Of course, music can have many other applications and I don't always want to expend so much effort. But I'm most interested in music that rewards this kind of focused listening, non-repetitive works that make me want to hang onto every sound.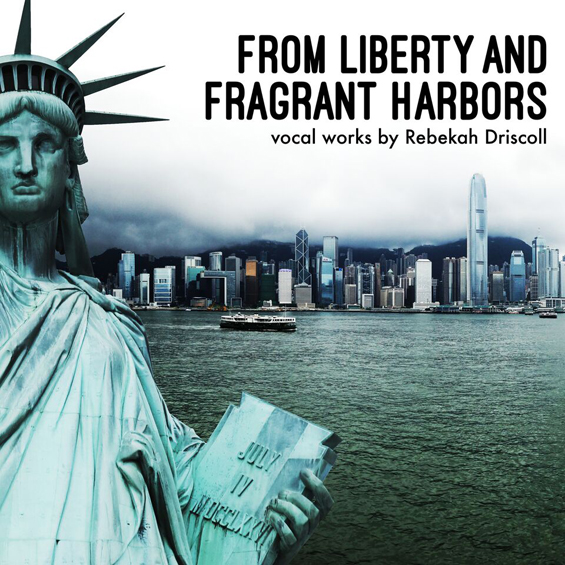 Influential figures / works / events / experiences: I can't be concise about influential figures and works so I'll talk about experiences. I am endlessly inspired by places I visit—even just walking down a street I haven't seen before can trigger a sense of wonder about that place's occupants, its history and future, what aspects of it might be static or cyclical and what evolves over time. A lot of my compositions started out as ideas that struck me while walking around or riding a bus. Studying foreign languages has also been a mind-opening process that has informed my musical work.
Probably most significantly, I have been chronically ill since eighteen, and that has caused me to concentrate more on composition as I lost the stamina and fine motor skill for performance. Because my life is so limited, I am always aware that time is precious; I want to get to the heart of things without a lot of filler; I want to make each moment count.
Web site: REBEKAH DRISCOLL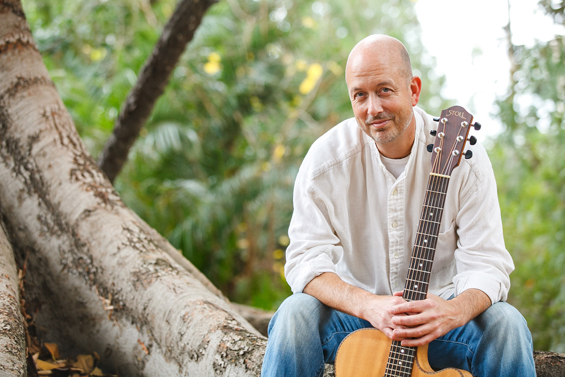 photo: Kimberly Daniels
JOHN GREGORIUS
Who John Gregorius, musician and art teacher. I have a liberal arts degree with a focus on music and art. My childhood was spent in Olympia Washington, fishing, hiking, and playing outdoors. I picked up the guitar for the first time in fifth grade, thanks to a teacher who invited me and a few classmates to try different instruments. When I turned nineteen, I moved to Southern California looking to pursue music and enjoy the sun. After thirty-nine years, I call California home, yet I still am a product of the natural beauty and wilderness of the Pacific Northwest.
What: I produce mostly instrumental music, which is both ambient and melodic. The guitar drives the composition and texture, but it's not just about the guitar. The space and emotion produced by the music is what matters most to me. I love to hear feedback from listeners like, "It helped me through a tough time" or "Your music is a part of my daily life" or even "The music helps me sleep." The mixture of finger style and ambient electric guitar gives the listener a varied yet cohesive listening experience.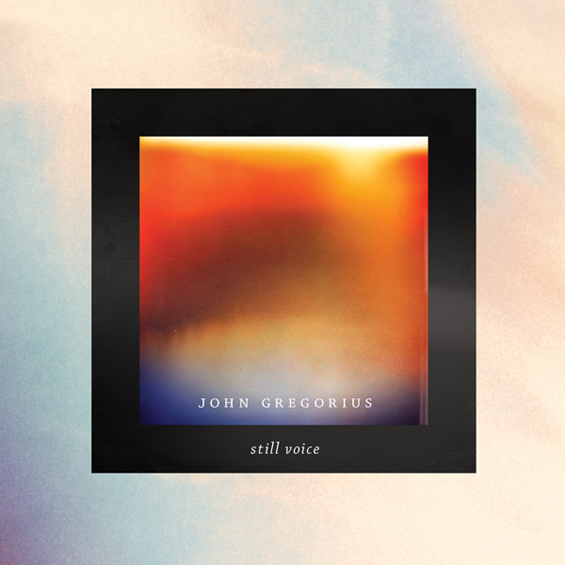 Currently: I've always had a love for ambient or contemplative music, so it felt natural to make my first recording called Under the Ice. From this, I discovered my music created a space for people to live into. Under the Ice was followed by Heaven and Earth, which was picked up by Spotted Peccary Music. Heaven and Earth has been played throughout the United States by the Echoes radio station, which is syndicated through public radio. Eventually, Heaven and Earth was voted number sixty-two out of the top 200 CDs for the last twenty years of Echoes. After this I recorded an independent release called Hours with John Wineglass on viola at Saint John's Episcopal Church. My interest in the contemplative spiritual life influenced the titles of the pieces to be based on the hours of monastic prayer. Capturing those songs live in that beautiful church was an amazing experience. Now, I'm excited about my next Spotted Peccary release called Still Voice. This recording features electric and acoustic ambient guitar with piano, cello, upright bass, drums, programming and vocals. Yet, with all of these elements, there remains a sense of minimalism and mystery.
Musical philosophy Music really can connect us with something bigger, mysterious and divine. For me, the whole of life moves and breathes around this reality of a greater purpose and deeper love. So I hope to be an instrument of this peace by the life I live and the music I make.
Influential figures / works / events / experiences: Not to sound pious but Jesus has been the greatest inspiration for me. This guides the whole of my life. Musically I'm moved greatly by Arvo Part, Morten Lauridsen, Brian Eno, Robert Fripp, Phil Keaggy, Pat Metheny, Hammock, Max Richter, and Michael Brook. Nature also has a great influence on the music I create.
Web site: JOHN GREGORIUS
May 2016