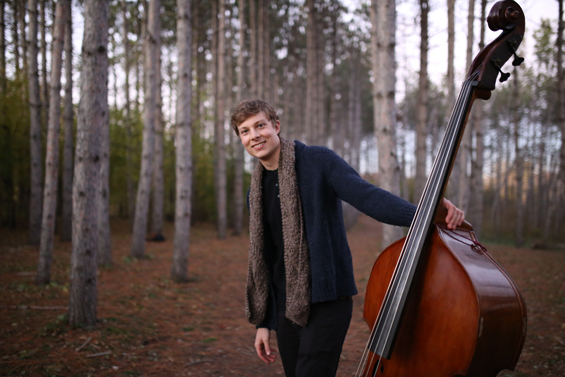 SPOTLIGHT 23: THE CARN DAVIDSON 9 / TOMÁS COTIK / SØREN NISSEN / MIKKEL PLOUG
textura is delighted to feature the following artists in its twenty-third 'Spotlight': The Carn Davidson 9, Tomás Cotik, Søren Nissen, and Mikkel Ploug, all of who have issued superb new albums: Murphy (The Carn Davidson 9), Legacy (Cotik), Departures (Nissen), and Alleviation (Ploug). textura is deeply grateful to the artists for contributing to the article.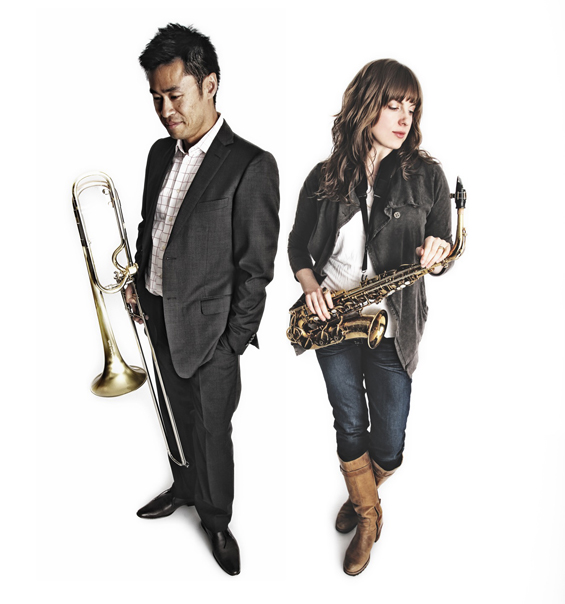 THE CARN DAVIDSON 9
Who: William Carn, based out of Toronto, Canada. I was actually born in Costa Rica, but my family immigrated to Toronto when I was a year old. I attended the University of Toronto where I now teach for the Jazz Program, and I also teach at Humber College. I stay fairly busy as a freelance trombonist.
What: Occupationally, I love playing many styles of music (salsa, rock, funk, classical, etc.). Creatively, I focus on writing original modern jazz compositions.
Currently: My wife and I have been co-leading a jazz nonet (seven horns plus bass and drums) for the past seven years called The Carn Davidson 9 and are about to release our second recording, Murphy.
Musical philosophy: Always strive for musical truth (in any style of music). This comes up in clinics all the time.
Favourite artists and strongest influences: Pat Metheny, Tom Harrell, Brad Mehldau
Recordings I return to repeatedly: These questions are insanely difficult for me. I'm just going through my Google Music history and picking three recordings I've enjoyed listening to lately: Supertramp's Breakfast In America; Kneebody's Low Electrical Worker; and Moonchild's Voyager
A memorable event, concert, or experience: I will never forget the first time hearing the Pat Metheny Group on one of its many visits to Toronto. It was amazing to me that these musicians were playing all these long-form compositions by memory and was inspirational to me as a teenage musician. Amazingly, I've still never attended a rock concert though I have played many on stage.
website: WILLIAM CARN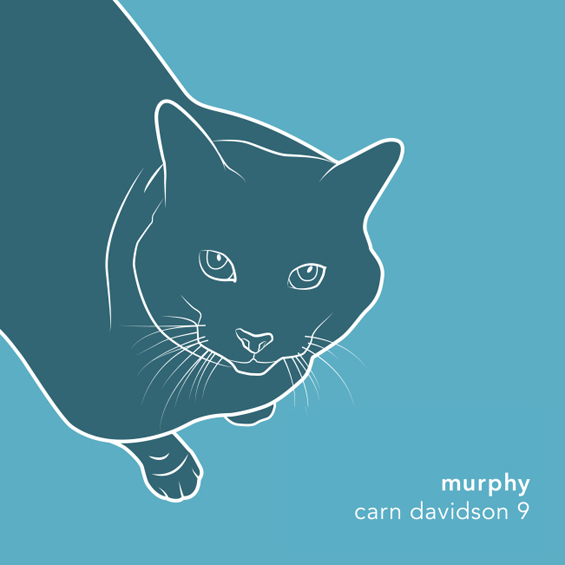 Who: Tara Davidson, born and raised in Brampton, Ontario. I graduated from the University of Toronto's Jazz Program in 2002. William and I met and became friends in 2003, started dating a couple of years later, were married in 2008, and now live in Mississauga. Since graduation, I've been working as a freelance saxophonist and have released four of my own recordings as a leader. I've taught at York University and the Humber Community Music School since 2010.
What: I'm happy playing any style of music, but my focus and passion lie under the jazz umbrella. I typically get called to play jazz, classical pops, and musicals.
Currently: I co-lead with my husband, William, the Carn Davidson 9. We've just released Murphy, the group's second recording and follow-up to our 2014 JUNO-nominated debut recording, NINE.
Musical philosophy: Never stop learning and growing.
Favourite artists and strongest influences: Mike Murley, Joshua Redman, Dick Oatts
Recordings I return to: Joshua Redman's Elastic, Søren Moller and Dick Oatts's The Clouds Above, and Brad Mehldau's Highway Ride
A memorable event, concert, or experience: Hearing Maria Schneider's Orchestra perform in 2001 in NYC at the International Association of Jazz Educators conference. She had just released Allégresse and was performing music from the record. I was moved to tears it was so beautiful.
website: TARA DAVIDSON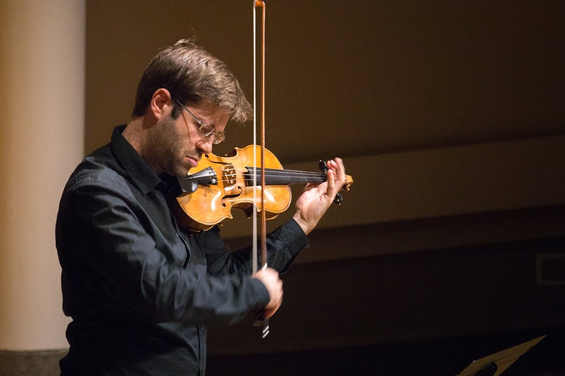 TOMÁS COTIK
Who: I was born and grew up in Buenos Aires. My early interest, as well as the main focus of my career, has been on classical music, the Viennese classics, in particular. People around the world associate the tango with Argentina, but when I was growing up, the traditional tango was not exactly fashionable or 'cool' for people my age, and perhaps classical music wasn't either. I would mostly hear tango in the background; it was present on TV and on the radio. I remember listening to it, played by busking bandoneon players or on an AM radio program.
When I left Argentina as an eighteen-year-old, I remember taking with me one cassette of Carlos Gardel. This music, like the mate and the dulce de leche, seems more Argentinean once you live abroad. I started becoming more interested in Piazzolla's music with the passing of the years, mainly while living in Germany. My chief focus remained classical music, but a few years later I wrote a thesis about Piazzolla's music at the University of Music Freiburg. I had already played some of his music, acquired many of his albums, and wanted to read as much as possible about him and his music. Later, when I was living and studying in Toronto, I unsuccessfully tried to learn how to dance tango from a Pakistani teacher for about six months. Next came Miami, then Texas, Miami again, and finally Portland, Oregon, where I live nowadays. As a member of the New World Symphony, several string quartets, and as a faculty member in the middle of Texas, the University of Miami, and now at Portland State University, I kept dabbling in the Nuevo Tango, including playing Piazzolla pieces in recitals and quartet concerts, fostering collaborations with dancers, and organizing big Piazzolla concerts.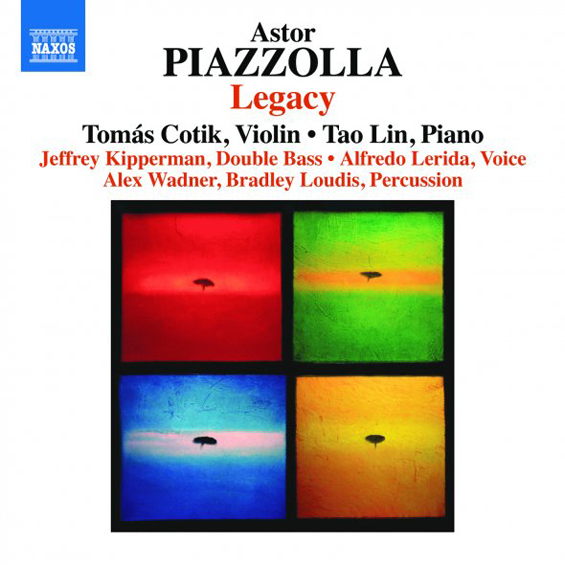 What: While placing an emphasis on the music of the first Viennese school and early Romantic music, I've also focused on a wide spectrum of music ranging from historically informed baroque performances to the works of my countryman, Piazzolla. I've also performed, recorded, and premiered dozens of works by contemporary composers and worked with musicians such as Richard Danielpour, Kenneth Fuchs, Augusta Read Thomas, Dimitri Tymoczko, Chinary Ung, and Kurt Cacioppo. Pop music collaborations have included recordings with Natalie Cole, Gloria Estefan, Barry Gibb, George Benson, and Alejandro Sanz as well as performances with Smokey Robinson, Donna Summer, Bobby McFerrin, Chick Corea, Dave Grusin, Frank Sinatra Jr., and Take 6.
Currently: My latest release is Legacy, which commemorates the twenty-fifth anniversary of Piazzolla's death. This album includes some of his most memorable works, like Cuatro Estaciones Porteñas, Milonga del ángel, Adiós nonino, and Balada para un loco, and is a follow-up to my previous album, Tango Nuevo, also on Naxos. My upcoming release will be a recording of Mozart's sixteen sonatas for violin and piano on Centaur Records.
Musical philosophy: I enjoy the musical and human interactions with my students and colleagues, and above all, the act of giving, which I accomplish through teaching and performing. I'm always learning.
Favorite artists and strongest influences: Bach, Mozart, Schubert
Recordings I return to repeatedly: In the last several years, I've been very busy actively performing, rehearsing, recording, and teaching. Besides for research purposes, I haven't had time to listen to many recordings. Growing up, I remember being fascinated by the recordings of Glenn Gould, Maria Callas, and Carlos Kleiber, to name a few.
A memorable event, concert, or experience: I will mention one of each. When I was five years old, I heard a chamber music vinyl record of the Zagreb Soloists. The sound of the violin and the music touched me in such a way that I asked my parents to play violin. A live performance of the Vermeer Quartet playing Shostakovich's Quartet No. 3 in Holland about ten years ago was simply transcendental. Finally, the release of my first album with music of Franz Schubert, which was a long-pending dream come true.
website: TOMÁS COTIK
SØREN NISSEN
Who: I was born and raised in Saskatoon, Saskatchewan where I started my musical journey with classical piano and acoustic bass lessons. I began focusing most of my musical attention on playing the bass in jazz and rock settings while in high school. I moved to Toronto in 2008 to study bass at Humber College and have been teaching, playing, and touring with a number of projects since graduating.
What: My main specialization is jazz, or at least that's what most of my friends and colleagues would say. I've spent a lot of time listening to and studying the genre so it naturally became where I find most of my work and focus most of my practice time. I love the rhythmic energy and freedom of expression that exists in jazz. It drew me in when I was younger and it still draws me in today. What many people don't know is how open-minded I am when it comes to other musical genres. I also love playing and listening to folk, rock, electronic, ambient, and world music. I was on tour this summer with an indie singer/songwriter, and I've recently been writing songs on guitar with lyrics simply for my own enjoyment.
Currently: I just released my first recording as a bandleader. The album is called Departures and features original compositions inspired from a period of time living, traveling, and teaching music in India. Prior to writing and recording this record, the focus of my musical career had been as a professional side-person. The journey through India had a profound impact on me, and I had a lot of life-processing to do after returning, which led me to write this music and take on the role of a bandleader for the first time. The record uses jazz as the primary medium, but I wanted to incorporate tabla as well as other musical influences that are meaningful to me.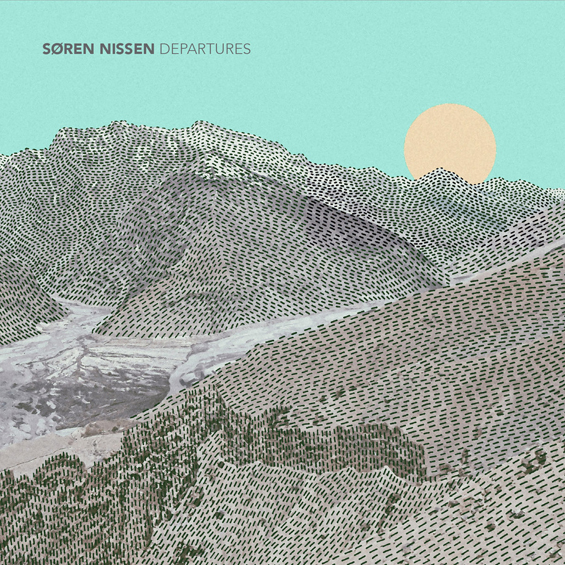 Musical philosophy: I've always connected to music that can change my emotional state and make me feel something. I think that this concept transcends any genre or aesthetic. My journey with music has always been synonymous with my life. I'm searching for something and working to find meaning. I'm trying to better understand myself and others. I have times of struggle and times of joy. I find that music has been a way to both express and better understand some of these aspects of the human experience.
Favourite artists and strongest influences: John Coltrane, Nick Drake, Ahmad Jamal, Brian Eno, Ravi Shankar, Four Tet, Miles Davis
Recordings I return to repeatedly: Nick Drake's Pink Moon, John Coltrane's A Love Supreme, and Brian Eno's Music for Airports
A memorable event, concert, or experience: I played at the Blue Note in NYC a few years ago with a band called the Outer Bridge Ensemble, and it was a surreal experience to be playing in a venue and city where I have derived so much inspiration over the years.
website: SØREN NISSEN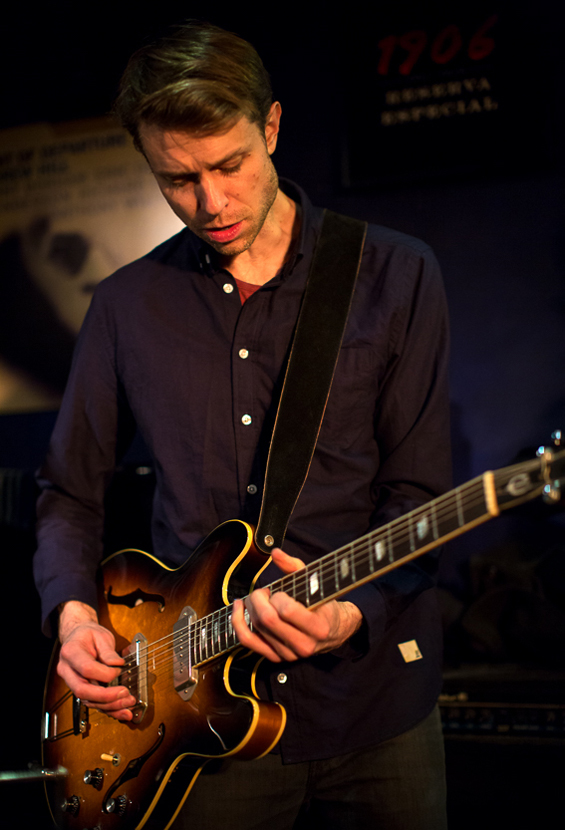 MIKKEL PLOUG
Who: I live in Copenhagen and have played music my whole life, starting on drums at four and then moving to guitar at twelve. I studied for a Master of Jazz Guitar degree at the Royal Conservatory in The Hague some ten years ago and in the years since have been touring all over the world with a number of different bands and constellations, but mostly my own groups Equilibrium and the Mikkel Ploug Group and Trio.
What: I guess some sort of contemporary jazz; lately I've started playing solo on acoustic, hence my new album Alleviation.
Currently: As mentioned, Alleviation. There's a duo with Mark Turner on the way on Sunnyside Records in 2018, a trio with Sean Carpion on drums and Jeppe Skovbakke on bass, and an Equilibrium trio with Sissel Vera Pettersen on vocals and Joachim Badenhorst on clarinet.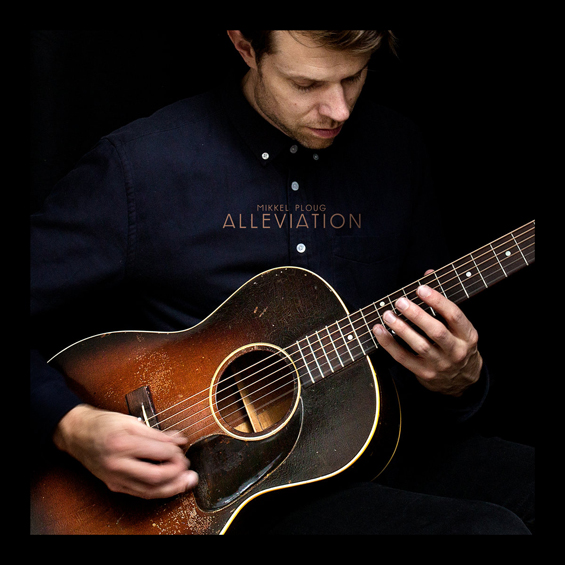 Musical philosophy: To try to stay in the zone where you don't really know what it is, but something led you there.
Favourite artists and strongest influences: Wayne Shorter, Frankie Dunlop, Olivier Messiaen
Recordings I return to repeatedly: Anything by Thelonious Monk, The Vastness of Space by Reid Anderson, and Joao Gilberto In Tokyo
A memorable event, concert, or experience: Seeing Bill Frisell and Joey Baron when I was seventeen, which was just amazing and made me decide I wanted to become a musician and learn to play some 'stranger notes' on the guitar.
website: MIKKEL PLOUG
November 2017