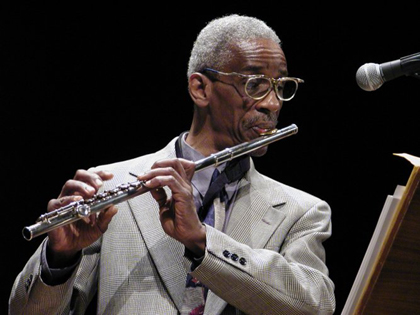 The Art Ensemble of Chicago
Guelph Jazz Festival, September 10, 2005
With appearances by Supersilent, Fire Into Music (Steve Swell, Jemeel Moondoc, William Parker, and Hamid Drake), Pauline Oliveros, and numerous others, the Guelph Jazz Festival scored some certifiably major coups during its twelfth presentation. It also honoured the AACM (The Association for the Advancement for Creative Musicians, established in Chicago 40 years ago) with featured performances by affiliated artists like Douglas Ewart, Nicole Mitchell, Matana Roberts, and, on this evening, The Art Ensemble of Chicago, the pioneering quintet famous for fusing avant-garde jazz, European art music, classic free-bop tunes, and indigenous African musics in theatrical manner.
The Guelph appearance was especially significant for being a concert that conceivably might never have happened. Following the deaths of originating members Lester Bowie in 1999 and Malachi Favors Maghostut a year ago, long-time fans would have understood had Roscoe Mitchell, Joseph Jarman, and Famoudou Don Moye decided to retire the AEC rather than carry on; instead, they've replenished it with trumpeter Corey Wilkes and bassist Jaribu Shahid. Needless to say, Bowie's brash style of smears and growls remains so indelibly a part of the AEC sound, filling his chair becomes an almost impossible proposition, for Wilkes or any other trumpeter: imitating Bowie's style, one is reduced to caricature, while not acknowledging it in some manner risks betraying the sound the group has developed over decades. Despite such challenges, Wilkes established himself credibly enough, even if the entrancing spell of Bowie's "New York is Full of Lonely People" wasn't cast during this night's performance.
The evening started with a bold 50-minute set of explorative interplay between Ewart (bassoon, flute, sax, didgeridoo), trumpeter Wadada Leo Smith, guitarist Jeff Parker, and drummer Hamid Drake. Throughout the set, Parker complemented Smith's braying splatter and Ewart's snake-charmer soprano with legato shadings and spiky runs, the collective sound enhanced by Drake's colouristic shadings.
After a brief intermission, the AEC took the stage, Wilkes and Shahid in casually hip dress, Mitchell dapper in a grey suit, and Jarman and Moye sporting their customary colourful robes and face-paint. Following a bluesy fanfare, the group tore into its opening piece with a swinging brio, the focus shifting from Jarman's burning tenor squeals to Wilkes' oblique jabs and Mitchell's slippery, roller-coaster runs; coming onstage, Moye may have slowly shuffled to his kit but stoked fierce heat once the music began. A delicately nurtured meditation followed that interleaved Jarman's duck calls, horns, conch, clarinet, and flute with Wilkes' plunger-laden horn, Mitchell's soprano and alto, Shahid's arco bowing, and Moye's drum brushes and congas. The third composition was the most incendiary, with playful honking eventually escalating into a volcanic roar of furious wails before settling into a more controlled dirge, Jarman offering a rare taste of the group's theatrical side by executing sit-ups while playing sax. Though he generally assumed a supporting role, Shahid nicely stepped out on the penultimate blues-funk tune which also featured a searing solo from Wilkes, his best of the night. A serviceable though hardly blazing soul-jazz rendering of "Odwalla/Theme" signaled the group's imminent departure, though a brief sing-song waltz was played as a brief encore.
When younger recruits join established elders within a group, one perhaps expects the former to be more aggressive and impassioned than the latter; in this particular case, however, Mitchell, Jarman, and Moye performed throughout with an inspired intensity that suggests younger blood isn't needed to spur them on. Currently celebrating a thirty-five year legacy of influential experimentalism, the group's 'Great Black Music—Ancient to the Future' credo still rings true.
October 2005