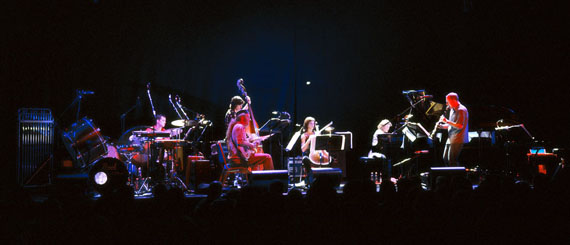 Bang On A Can All-Stars
Perimeter Institute for Theoretical Physics, Waterloo
April 21, 2005

While the Bang On A Can All-Stars' instrumentation—electric guitar, drums, bass, cello, keyboards, and woodwinds—superficially christens it an instrumental 'rock' ensemble, the NY-based group is closer in sensibility to the Kronos Quartet. Like its 'strings' counterpart, the group is a passionate advocate of contemporary classical music with works by Glass, Riley, Reich, Nancarrow, and Andriessen regularly inhabiting its concert programmes. Formed in 1989, the sextet enjoys an especially symbiotic relationship with composers Michael Gordon, David Lang, and Julia Wolfe, artistic directors of the Bang On A Can Festival. Not surprisingly, then, the All-Stars' Open Ears Festival date included works by Wolfe and Gordon in addition to pieces by Paul Lansky, Brian Eno, Glass, and Nancarrow.
Despite Wolfe's claim that Lick (1994) includes elements of Motown, funk, and rock, a first-time listener might have found the lurching stumble of its fractured groove jarring. However, Mark Stewart's chicken scratch guitar in the piece's middle dispelled any reservations about the piece's claim to 'soul' even if it was David Cossin's assured drumming that formed the performance's backbone. Lick proved an inspired opener, the group clearly familiar enough with it to have no difficulty navigating the tricky tempo stutters yet not so comfortable that the performance seemed routine. Immediate contrast followed with a lulling, synth-based sampling from Gordon's Light is Calling (2004) that found Wendy Sutter's cello, Stewart's guitar, and Evan Ziporyn's clarinet enriching the piece's tonal fabric. More experimental by comparison, an instrumental interpretation of Lansky's 2001 electronic work A is for … featured keyboardist Lisa Moore's dramatic readings of various 5-letter words (e.g., "a…l…i…v…e") against a portentous, dirge-like backing, with the players escalating the intensity of their attack from one 'word' section to another.
The concert closed with renditions of Philip Glass's Music in 5ths (1969) and, as an encore, Conlon Nancarrow's Study for Player Piano no. 3a (1948). Glass's repetitive "closed form" piece is written entirely in parallel fifths (a cardinal sin in the traditional counterpoint method he was taught by his teacher Nadia Boulanger), a detail rendered moot by the machine-like precision of the group's attack; cued by Stewart, the players soared through the work's changes like a six-headed monster. Exposing a more playful side of the group, Nancarrow's piece came across like a madcap boogie-woogie soundtrack to a Keystone Cops episode (in fact the piece, derived from Nancarrow's first works for player piano, is also known as the "Boogie-Woogie Suite") and proved an ideal finale, highlighted by Stewart's guitar skronk and Ziporyn's clarinet soloing.
The show's peak arrived following the intermission with the All-Stars' version of Eno's landmark Music for Airports. If its 'stillness' makes it an audacious selection for live performance (admittedly, it isn't as 'pure' an ambient work as Discreet Music (1975); there is development—even if glacial—in the later composition's "1/1" plus there's a subtle climax in its closing moments), there was nothing dull about the group's mesmerizing realization. Echoing Robert Wyatt's playing on the 1978 recording, Moore's minimal piano lines anchored the piece, but even more transfixing was hearing the others add fragments that collectively coalesced into the work's familiar form. The group honoured Eno's piece by faithfully adhering to the original's tempo though departed from it with a ravishing and lyrical arrangement.
One problem: only "1/1," the first 'movement' of Eno's four-part work, was performed. Nowhere in the program literature or in Ziporyn's onstage introduction was this tiny yet critical detail clarified. Though most attendees probably realized the group had played only one part, it's possible some left the concert convinced they'd heard the work in its entirety. Regardless, the spell the sextet so marvelously cast reigned but briefly before the spotlight shifted to the Glass piece.
To their credit, the All-Stars eschew individual grandstanding for group interplay and typically act as colourists more than soloists. Often the rhythmic pulse is sustained by the sextet collectively, in opposition to the conventional rhythm section-soloists dichotomy (in other words, borrowing from Ornette, a more 'harmolodic' approach). The concert showed the group ably moving between multiple styles—ambient, jazz, minimalism, new classical—though it would have been fascinating to discover whether the band could have extended the enrapturing quality of its Eno performance to the entire work.
June 2005