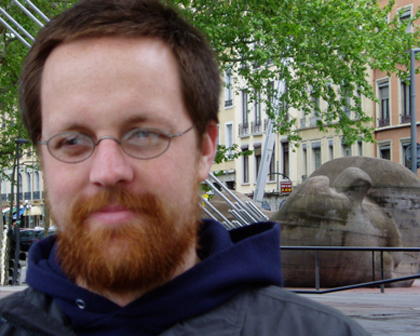 Greg Davis and Marumari In Concert
The Rivoli, Toronto
March 21, 2004
Perhaps the chill of a wintry Sunday night accounted for the sparse turnout at Greg Davis's second stop on his Curling Pond Woods tour. Those smart enough to attend, however, were treated to a generous and diverse array of music from Davis, Toronto-based I Am Robot and Proud (Shaw-Han Liem), and Marumari. Sitting cross-legged, Liem opened with a half-hour set of melodic IDM, warm electric piano sprinkles laid overtop percolating grooves, and was quickly followed by Marumari. The group, comprised of Josh and Sasha Presseisen, has been keeping a low profile of late (aside from a 2002 remix collection, the group's last recording was 2001's well-received Supermogadon) but that should change soon as a new disc is tentatively scheduled for release this year. This appearance offered an enticing foretaste with some new songs scattered amidst familiar material like "Baby M" and "Rocket Summer" from Supermogadon and The Wolves Hollow. The set opener was, in fact, a premiere but, aside from a stronger electro-soul feel, didn't dramatically depart from the group's signature style. But that's not a complaint, as Marumari's trademark hiccupping beats, glistening electronics, and buoyant melodies sound fresh, especially when enlivened by a funkier live delivery. The thwacking beats and throbbing bass of their recorded songs were deepened considerably, rendering the sight of Sasha's and Josh's bodies locked in parallel nodding motion behind their keyboard and laptop setup perfectly understandable. Their set re-affirmed the unique yet unabashedly accessible qualities of the Marumari sound.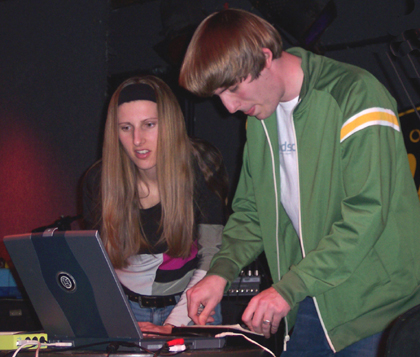 While they're label-mates, Marumari and Greg Davis contrast on many levels. Unlike Marumari's laptop-based presentation, Davis assembled a group for this tour (bassist Benjamin Balcom, drummer Steven Hess, and guitarist Don Mennerich) and, while Marumari's music is a very modern brand of space-age electronica, Greg's music is geographically, stylistically, and temporally broader. Encompassing American and African musical styles, it's inspired as much by current electronic technologies as it is the music of The Beach Boys and Nick Drake. Most of the set was culled from the new record and, by concert's end, the musicians' sensitive interplay clearly argued for the group presentation over a solo laptop show. When the four engaged in percussion episodes (as they did during the lead-in to "Brocade" using shakers, bells, triangles, et al.), the scene recalled similarly telepathic moments conducted by Davis's hometown brethren The Art Ensemble of Chicago. In addition to acoustic guitar, Greg plucked a kalimba over his laptop's jungle exotica during "Improved Dreaming" and often added a wheezing harmonium to burnish the music's tone. The other musicians provided similar range—Mennerich, for example, adding woodsy clarinet and occasional synth flavourings—and collectively nurtured a living, breathing sound that was relaxed yet accomplished. Davis 's love for The Beach Boys, so clearly displayed on Curling Pond Woods, was evident here too with "At My Window" a highlight. Its guitar-glockenspiel opening segued into the vocal sections, and—unlike the norm—Greg's singing was much stronger in concert than on record. Vocals were also highlights of "Walking Home" (a rare sampling from Arbor) and the concert closer "Air," the gorgeous campfire hymn originally included on The Incredible String Band's Wee Tam. With its gentle vocal lines and hums, this dreamy piece provided a luminous finale. Admittedly, Davis's music is not 'exciting' in the conventional sense of the word—certainly no one onstage was ever on the verge of physical collapse—but it's inarguably satisfying and reflective. The night's sole negative was the pace-deadening disruption (twice) of Greg's guitar tuning adjustments—a small price to pay for two memorable hours of funky IDM and deep folktronica.
April 2004