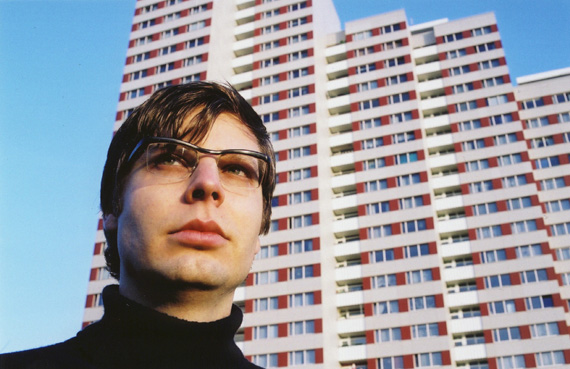 MUTEK 2002
Montreal, May 29-June 2, 2002
The third presentation of Montréal's MUTEK convincingly argued for its stature as the preeminent experimental electronic music festival in North America, one that rivals Sonar as an overarching barometer of electronica in its ever-mutating state. Initially inspired by the European festivals Interference and Sonar, Artistic Director Alain Mongeau envisioned MUTEK to be a festival-like showcase for a cross-section of avant-garde electronic musics, one that would encompass both experimental and dance-based forms. The festival began auspiciously in 2000 with a line-up that included Carsten Nicolai, Vladislav Delay, Pole, Thomas Brinkmann, Panacea, and Taylor Deupree. The 2001 incarnation featured performances by Matmos and Rechenzentrum, and label showcases from Kompakt and Traum.
In addition to stellar musical performances by more than 50 artists from 10 countries, this year's 5-day festival evidenced an ambitious broadening of intent, as panel discussions, film showings, and a design exhibition were offered. Musical performers included: 70s/80s-influenced electropop from Nova Huta, Felix Kubin, Lowfish, and Solvent; tech-house variations from Farben, Akufen, Luomo, Atom™ and Håkan Lidbo; and IDM and experimental electronica from Stephan Mathieu, Janek Schaefer, SND, Bola, and AGF (Laub's Antye Greie-Fuchs). This year's label showcases featured Klang, Playhouse, Orthlorng Musork, and Cynosure/Revolver. Performances were conducted at Ex-Centris (an intimate listening space), the Société des arts technologiques (SAT) (a small club-like space), and Métropolis (a large, three-floored club ideal for dance musics from the likes of Akufen and Luomo). The four panel discussions conducted at the Goethe-Institut explored issues of promotion, performance, technology, politics, evolution, and government funding. Amongst those participating were Sue Costabile (Orthlorng Musork label manager), Matthew Herbert, Tim Hecker (aka Jetone), Chris Sattinger (aka Timeblind), Force Inc.'s Jon Berry, and journalist Philip Sherburne. The 31 audiovisual pieces shown at Ex-Centris's Cinéma Parallèle featured collaborative works by Francisco López and Jorge Simonet (Untitled #91), Jon Wozencroft and Ryoji Ikeda/Christian Fennesz (Coda_+47 Degrees), and Sebastian Kutscher and Jan Jelinek (Do Dekor). The design exhibitions (35 mm>> Design in Miniature and Fehler vs. 12k/Line) included works by Fällt's Fehler, 12k's Taylor Deupree, Line's Richard Chartier, alorenz, and Tina Frank displayed oncreen, in large panels, and in 35 mm handheld slide formats.
Of course, while the sheer volume of artists presented at MUTEK precludes a complete description of all events, certain performances stood out. In the electropop realm, hellothisisalex (Toronto's Mark Prier and Melissa Creasey), Germany's Nova Huta, and Felix Kubin combined on Wednesday for a night of retro-pop electronica. hellothisisalex presented a melange of retrograde 70s synthpop: mix vocal-less Depeche Mode with some DAT Politics, add a pinch of Solvent and Lowfish plus a heavy bottom end, and the result is an irresistible blend of simple tunes and child-like melodies. The eccentric Nova Huta began by delivering an interminable, rambling spoken intro, the unpleasant memory of which was quickly dispelled once his particular brand of electropop began. In a brazenly theatrical performance, Huta used simple props and accompanying videos to accompany his simple melodies and brief songs. Felix Kubin also presented a 70s/80s electropop style in a colourful performance embellished by keyboard flourishes. The following night, Toronto's Solvent (Jason Amm) and Lowfish (Gregory De Rocher) provided a set of tight 'robot' music featuring tracks from their respective releases Solvent City and Maintain the Tension, including two tracks with vocodered vocals.
There was a compelling variety of experimental and IDM artists represented. To those familiar with their Mille Plateaux recordings, Great Britain's SND (Mark Fell and Mat Steel) provided what one might have expected: two hunched figures behind laptops generating basic, repetitive melodic fragments augmented by compelling, inventive rhythmic variations. To its supporters, SND displays a distinctive, restrained handling of percussive elements coupled with a minimalistic approach to melody. To its detractors, SND's music is painfully limited in its approach to melody, as fragments repeated ad nauseum become numbingly repetitive. Regardless of one's affiliation, SND indisputably manages to build compelling beat variations using restricted elements and simple themes. Skam's Bola (Darrell Fitton) provided a polished set that primarily focused on tracks from Fyuti, enhanced by high-quality video accompaniments of animated organisms similar to those shown on the cd's graphics. While the presentation was professional and flawless, the music's deviation from the recorded versions was negligible. Mexico's Murcof (Fernando Corona) created slowly unfolding ambient soundscapes that incorporated classical samples of bowed and plucked strings as well as Pole-like crackles and pops.
In a compelling webjam collaboration on Thursday, Montréal's Deadbeat (Scott Monteith) performed at SAT with Monolake's Robert Henke ensconced at home in Berlin, the two connected through standard Internet protocols. Using software written by Henke and sounds designed by Monteith, their collaborative interactions unfolded over the course of a 30-minute piece that resembled a prototypical Gravity-like Monolake track. Their collaboration was demystified for the lay viewer by projection displays where, in a grid-like arrangement, Monteith and Henke activated sounds using a colour-coded system (pink for Monteith, blue for Henke). Similarly, Alexandre Burton's piece was displayed in a like manner on projection screens. Burton uses Max/MSP which allows the user to generate sounds by using little icons, with each object assuming definition once type is placed inside its box as a label. These boxes are then strung together so that ultimately a complex, spidery web of graphics dominates the screen. No doubt Burton and his musical colleagues scattered throughout the club had little difficulty identifying the relations between the sound and its display. But the lay person unfamiliar with this programming technology could do little more than be fascinated by the graphic display and guess at its connection to the generated sound; furthermore, the music amounted to little more than a too-familiar kind of ambient droning and sonic drifting.
At Ex-Centris on Thursday evening, a diverse and mesmerizing range of musics was presented. Montréal's Helen of Troy (Leon Lo) began his piece minimalistically using a small mixer. Simple overlaid tones (including cello and violin) built towards pizzicato strings, but then, in a striking departure, Lo brought forth and played a violin that, connected to a delay and feedback system, built towards a swelling mass of Ligeti-like drones. Lo's set was distinctive for its employment of minimal means and imaginative fusion of digital and organic elements. In the first of two festival appearances, Germany's Stephan Mathieu, under the moniker Sad Mac Studies, processed analog material, creating work that retained the merest recognizable trace of its source material; as with his later presentation as Full Swing during the Orthlorng Musork label showcase, his pieces elongate time through textural dissections of the material. At Ex-Centris, his performance was hypnotic in its simple, austere presentation (Mathieu silhouetted against uniform shifting colour backdrops) and the music was elegiac in its presentation of mournful, glacial organ-like tones. As Full Swing, Mathieu offered up a cascading, wave-like mass of drones and crackles accompanied by projections of slowly mutating, quilt-like textural patterns. Janek Schaefer, his two-armed Twin Turntable placed on a low table in the center of the room, established an intimacy with the surrounding listeners that made for an engrossing, satisfying experience. His music unfolded slowly in metamorphosing waves of ambient and industrial sound, buried melodies surfacing intermittently. The onset of projected imagery shifted attention away from him, gradually leaving him in darkness, and, by the performance's end, the entire space was enveloped in darkness but appropriately so, given the trajectory the music had followed.
One of the most accomplished and triumphant performances of the festival was provided on Saturday afternoon by AGF (Antye Greie-Fuchs). Recreating much of her Orthlorng Musork release Head Slash Bauch, a distinctive physicality characterized her set as she 'played' samples, sang occasionally into a microphone, and moved with deliberation between two laptops and two mixing consoles. Interestingly, she appeared to use the most onstage gear in order to create a performance that was the most personalized, due to her charismatic presence and sensual vocalizing. In a festival treat, she and Vladislav Delay then dueted on some song-like segments as well as instrumental passages evoking Multila (specifically 'Huone'). At times, the music included elements of dub, glitch, and house, and whetted the appetite of listeners for what Delay would deliver in the Luomo club set later that evening.
Tech-house and microhouse were well represented at the festival. Akufen (Marc LeClair), for example, performed twice, first at an opening reception on Wednesday afternoon at SAT, and again on Friday night at Métropolis. LeClair has appeared at all three MUTEKs, but his star has risen considerably in recent days with the release and acclaimed reception of his Force Inc. recording My Way. A figurehead for Montréal's burgeoning electronic scene, he has appeared on releases from the labels Perlon, Oral, Trapez, and is featured on the Force Inc. Montréal, Smoked Meat compilation. He weaves together brief sample snippets—musical (guitar figures) and non-musical (voices, many taken from radio)—into a unique tech-house hybrid that is fresh, tight, and eminently musical. The SAT appearance allowed for the subtleties of his incredible collage technique to be highlighted while his superb performance at Métropolis incited the crowd to abandon.
Also on Friday night at Métropolis, Toronto's Repair (Matt and Mark Thibideau) provided a distinctive brand of minimalist house, with the addition of Dawn Lewis's soothing vocals adding a luster of warmth. By contrast, France's Copacabannark provided a heavy, pounding set short on subtlety but successful nonetheless in rousing the crowd to a Dionysian pitch. Matthew Herbert followed with the most spectacularly manic performance of the festival. Adopting his Radio Boy guise, Herbert conveyed his disdain for corporate production by selectively sampling onstage products from the Gap, MacDonald's, and Starbucks, as well as items like a television, cd, and video, and used those samples to construct abrasive techno tracks. Herbert's rebellious 'consumption' against capitalist domination thus imputed a provocative political dimension to the generally apolitical electronic music realm. (In keeping with the spirit of his message, Herbert provided 1000 free copies of Radio Boy's The Mechanics of Destruction to MUTEK concert-goers that evening.) At night's end, Sweden's Håkan Lidbo delighted the crowd with a set of infectious stripped-down tech-house. On Saturday night, Germany's Farben (Jan Jelinek) presented his own inimitable, textural microhouse 'moiré' funk, reminiscent of the tracks on Klang's Textstar. Following Jelinek, Losoul delivered his distinctive brand of skeletal funk. Finally, to an ecstatic crowd, Finland's Luomo (Vladislav Delay) offered an assured and mesmerizing display of sensual, celebratory minimal house; based upon this performance, one eagerly awaits the follow-up to Vocalcity. Toronto's Cynosure/Revolver labels were showcased on Sunday, their artists evidencing a clear indebtedness to the Chain Reaction sound of dubby minimal tech-house. Similar influences could be detected in the music of Juan Self, originally from Argentina but now residing in Quebec. Atom™ (Uwe Schmidt) gave one of the last festival performances, performing under the primary guise of Geeez'n'Gosh. Featuring tracks from the Nobody Knows recording, he filled the SAT space with his powerful, expansive brand of latin-techno funk and micro tech-house.
Ultimately, this third incarnation demonstrated an integrity in programming and execution that deserves celebrating. MUTEK has managed to retain its commitment to showcasing experimental musics while also featuring more accessible forms. If there was one particular theme that emerged over the course of its five days, it would have to be an embracing of healthy diversity, given the wealth of musics and artists represented and the respect and support they showed for one another. One looks forward to next year's incarnation with the hope that the high standards set thus far by the first three can be matched once again.
June 2002