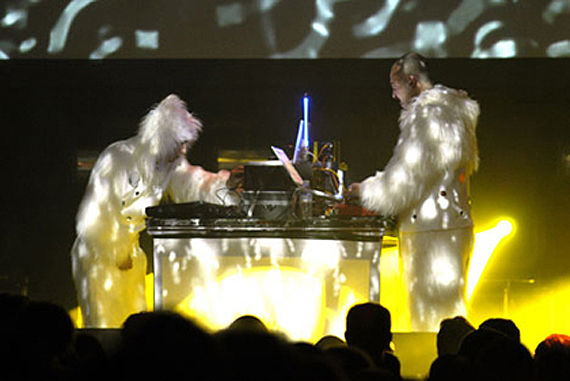 MUTEK 2003
Montreal, May 28-June 1, 2003
As in previous years, the range of artists and genres represented at MUTEK 2003 was considerable. With over 70 artists from around the world appearing, one had the opportunity to see 'marquee' acts like Pole, Coil, and Richie Hawtin, as well as uncompromising artists like Pita, Kevin Drumm, and T. Raumschmiere. Unlike past MUTEKs, DJ sets were almost entirely absent at this year's festival (although, for the record, past DJ sets had often been used to bridge the gaps between non-DJ performances). And, in comparison to last year's ambitious potpourri of concerts, panel discussions, films, and design displays, the 2003 incarnation limited itself to concerts and panel discussions, with seven of the latter. In short, this year felt like a satisfying consolidation of past festivals' strengths instead of grandiose risk-taking.
There were label showcases by Mego, No Type, and Minus/Plus 8, and sets of dubby microhouse from EGG (Julie Roy and Guillaume Coutu-Dumont), smooth minimal techhouse from Robin Judge and Jeff Milligan (aka Algorithm and Revolver label head), hard-hitting minimal techno by Ototo (Dimitri and Filip), Jeremy Caulfield, and Matthew Dear (aka False), the latter's music evoking classic Chain Reaction stylings in its treble and bass detailing. Drone and ambient musics were presented, the most notable instance being the appearance by Thomas Köner and Asmus Tietchens (performing as Kontakt Der Jünglinge) who sculpted a slowly unfurling glacial soundscape. Other artists in this genre included Gary Joynes (aka Clinker), who built a singular drone-like piece of slowly metamorphosing waves, and [SIC] (Jennifer Morris), who created ghostly dronescapes against a diptych backdrop of enigmatic photographs. Electro-acoustic sets were offered by the nuanced Coin Gutter (Graeme Scott and Michael Hendrix) and sampling artist Diane Labrosse and Aime Dontigny, whose collaboration resulted in a tactile, improvisatory dialogue. Set Fire to Flames' member Christof Migone generated a 45-minute stream of body-generated scraping and whirring sounds accompanied by a video triptych that showed a gaping mouth at left, what appeared in the middle to be a tomato encased within a block of ice lodged within a salivating mouth, and, at right, the nighttime silhouette of a cityscape and bridge. There were infectious jazz-inflected funkhouse from Cobblestone Jazz and celebratory Latin techhouse by Mambotur. Chicago-based Telefon Tel Aviv (Joshua Eustis and Charles Cooper) presented a heavy microdub funk of chiming synths and massive bass drum and snare patterns. But, overall, the most memorable performances were turned in by veterans like Pole, Coil, Richie Hawtin, Monolake, and Señor Coconut.
Stefan Betke kicked off his set with superb Pole-funk that used some strange fusion of elephant-voice-saxophone as its lead instrument. Seemingly his setup crashed near the end of the second hip-hop flavoured song, but, unperturbed, he immediately plunged into some deep dub featuring his own melodica. Fat Jon joined him for the remainder of the performance and, by the time "Back Home" appeared, the collaboration felt seamless. Whatever your thoughts on Pole's new direction, there's no denying that it's a way out of the cul-de-sac that had entrapped him by Pole 3; it certainly appears to have had a rejuvenating effect upon his music.
Richie Hawtin's set was masterful, even primal, in its stripped-down focus, his command clearly evident as he moved assuredly between turntables and mixers. This wasn't straight minimal techno but instead techno straining towards abstraction, Hawtin determinedly stretching techno's boundaries. At times he cranked the thunderous levels to devastating effect. Naturally, the music evolved through episodes of tension and release, with Hawtin including almost violent waves of brain-addling frequencies amidst relentlessly pounding beats.
Suspense permeated the Metropolis club in anticipation of Coil's appearance, a veritable coup for MUTEK's programming. A sense of ritual, theatre, and ceremony pervaded their performance from the moment Coil members Peter Christopherson and Thighpaulsandra (Timothy Lewis) regally stepped onstage wearing white furry outfits. They came across like elder statesmen, their music not necessarily groundbreaking or innovative, but satisfying nonetheless. Three long pieces were performed, a sampling of dark ambient techno to start things off followed by a narcotized drifting piece. A mesmerizing epic ended the set, with b&w documentary photos of violence and mayhem conjoined to a pounding soundscape. This was hardly some hardcore industrial raveup but instead a measured, deliberately conceived performance.
Another major event was the North American debut appearance by Uwe Schmidt (aka Atom Heart) in his Señor Coconut guise. Atom is no stranger to MUTEK, having appeared last year as Geeez'n'Gosh, but this year's performance was devoted entirely to Kraftwerk material, in spite of the fact that a new release has Señor Coconut y su Conjunto tackling classics like Deep Purple's "Smoke on the Water" and The Doors' "'Riders on the Storm." Some reports even hinted that this presentation would be the final presentation of the Kraftwerk catalogue, a surprising notion given the joy the band exuded in performing it. Atom, affecting a rather detached stance and positioned at right with his laptop, was joined by a singer, bassist, percussionist, and marimba, vibraphone, and two horn players. Songs were chosen from the entire Kraftwerk oeuvre, from the opening "Showroom Dummies" to the second encore "Expo 2000." In between, classics like "Trans-Europe Express," "The Robots," "Autobahn," and "Tour de France" were given the full Latin makeover. However, their homage transcended mere gimmickry by being rooted in a sincere love for these timeless Teutonic songs. "'Neon Lights," for instance, became a dreamy samba, whereas others turned into mambos and cha-chas. Admittedly, the very idea of a Latin band presenting 'authentic' interpretations of the Kraftwerk canon remains an outrageously bold proposition, but, if it seems so in theory, it certainly wasn't in practice, if the ecstatic reception by the audience was any indication.
In a Saturday afternoon performance that paid tribute to turntable pioneer Raymond Gervais, four turntable titans—Philip Jeck, Marina Rosenfeld, Martin Tétreault, and Martin Ng—provided an hypnotic set that included extended group collaboration as well as individual spotlights. Ostensibly, the proceedings were directed by Tétreault but his was certainly a benign dictatorship; if anything, the pieces often evolved with the others responding to Jeck's looping grounds. They began by constructing a beautifully measured collage of scraping and scratching sounds amidst ghostly strains of melody. Immediately following this auspicious beginning, they created an equally effective second piece of whistling tones and bell-like percussion effects. While the concert predominantly featured the four playing together, there were brief duos, trios, and solos. Naturally, as is to be expected in an improvisatory setting, some tentative moments emerged when it seemed as if each of the four was waiting for someone to take the lead, but these registered as not unwelcome moments of brief stillness. Each took solo turns: Jeck, using two turntables, one for 12 inch lps and the other for 45s, drowned the sitar from Stoked in showers of surface noise; Rosenfeld's solo offered a turntable adagio of sorts filled with treble glissandoes, looped crackling patterns, and phantom melodies; Tétreault's initial musical quotation was gradually buried under huge slabs of static and hiss, his turn ending with furious scratching and a physical attack on his lps; finally, Ng's solo impressed less as an exercise in musicality and more as one of physical athleticism. To close, the four collaborated upon a carefully sculpted elegiac piece. In sum, this session was engrossing and nuanced—a demonstration of sensitive listening and collaboration by its participants.
The following afternoon label showcase by Mego began with Pita (Peter Rehberg) in near darkness performing two pieces, the first filled with gargantuan stabbing shards and huge pops, the second wailing storms punctuated by squawling and squealing tones. All manner of sounds (bells, for example) seemed to be straining towards the surface. Pita, however, was a rather mellow prelude compared to the Kevin Drumm concoction which followed. He created a volcanic roar out of which high-pitched ringing emerged. His noisesome set, while almost unbearably intense, was also a carefully calibrated musical exercise which just happened to be pitched at an extreme volume level. Following Drumm, Tujiko Noriko was a delight, especially when heard in the context of the preceding. Her delicate pieces were simple, short songs of a folk-like and even lullaby and carnival nature. She subjected her whispers and Björk-like vocals to processed alterations in a manner similar to those used by Julien Locquet on his recent Dorine_Muraille recording Mani. Whereas Noriko was a lovely addition to the Mego performance, the sole disappointment was the overly long and abrasive set presented by the final Mego artist and recent Prix Ars Electronica award winner Florian Hecker.
While Monolake's sublime electronica comes across as chilly on record, an entirely different persona emerged in concert on the festival's closing night. Featuring music from Cinemascope and (presumably) the upcoming full-length, Robert Henke enthralled the crowd with a Monolake that was about groove first and foremost, the deep rhythms of "Ionized" and "Bicom" front and center, the latter's dub qualities boldly drawn out. Monolake's revered stature in the electronic community was borne out by the total command the charismatic Henke displayed throughout the impassioned set. Later that evening, the festival's closing performance by Narod Niki featured eight artists (Ricardo Villalobos, Thomas Franzmann (Dimbiman), Martin Schopf (Dandy Jack), Jean-Guillaume Cabanne, Marc Leclair (Akufen), Lucien Nicolet (Luciano), Richie Hawtin, and Daniel Bell) from six countries in an immense laptop summit. Each one appeared onstage in sequence to join and deepen the thunderous beat initiated by the first arrivals. In general, they hewed to the pulsating 4/4 groove that throbbed from the outset, although deviations occurred along the way. On occasion, the sound shifted into Hawtin's territory, with a momentary focus on his signature sound treatments, while at others it evolved into Perlon-styled microhouse. Fittingly, this final festival set literally demonstrated the ecstatic joy that comes from collaborative music-making. So potent was its effect that Robert Henke, looking on appreciatively from the back of the stage, couldn't resist joining the others to take control of the mixing board, transforming the group into a remarkable nonet.
Not everything about MUTEK 2003 was beyond criticism. For example, some performances seemed overly long. My thirst for minimal techno had been fairly well slaked by the time Richie Hawtin appeared onstage, having already been exposed to over four hours of it from Jeremy Caulfield, Magda, and Matthew Dear. By comparison, sets by Pole, Monolake, and Coil were satisfying partly for being so succinct. In addition, the sequencing at times militated against the effectiveness of some artists' sets. For example, Deadbeat's flawlessly presented Wild Life Documentaries material, all fluttering detail and thunderous dub bass, felt rather anticlimactic when heard after Pole's invigorating set of new material; surely Scott Monteith would have been better served appearing before Stefan Betke. The music of Florian Hecker, too, might have been more palatable coming at the beginning of the Mego showcase, rather than after the sweet songs of Tujiko Noriko. And while melodic, song-based IDM was represented by Pierre Crube's electropop, Montag's (Antone Bedard) squelchy beats and analogue synths, and David Kristian's Gentle Bakemono, a derivative exercise in Plaid-style Gameboy electronica, scattering their sets throughout the festival made them sound slight and inconsequential. A label showcase, one by Morr Music or City Centre Offices for example, would have better served this genre. In addition, Philip Quehenberger's raw set of hardcore beats and unintelligible vocals struck me as tasteless, as did T. Raumschmiere's pounding beats and dissonant keyboard stabs. The combination of his headbanging machine punk and drunkenly demented stage persona elicited cheering, but seemed vulgar and graceless to me (as, no doubt, it's intended to). However, all things considered, these are relatively minor criticisms of a festival that continues to successfully showcase the vast spectrum of electronic musics in a bold, provocative manner.
June 2003