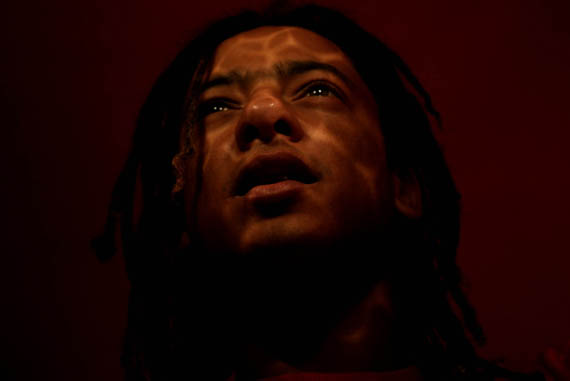 (photo: Mia Moilanen)
MUTEK 2004
Montreal, June 2-6, 2004
With each passing year, the MUTEK experience becomes more and more an exercise in listening hermeneutics. The novice attendee, for example, marvels at the breadth and quality of the programming, and emerges invigorated by the infectious vibe and community spirit. While duly impressed, the festival veteran, on the other hand, confesses to some degree of ennui as that bugbear of all festivals—predictability—creeps in to slightly despoil its otherwise splendid flavour. When past participants like Vitaminsforyou, Richard Chartier, EGG, and Matthew Herbert re-appear in a move characterized by the MUTEK organization as "friends" returning to mark the festival's "landmark" birthday, the cynic less generously questions whether it's not just unimaginative programming. (It bears noting, however, that in all such cases, the artists' 2004 performances differed markedly from their initial ones.)
But let's first take a moment to recalibrate our perspective. MUTEK—Music, Sound, and New Technologies—remains a phenomenon worth celebrating for the mere fact that it exists. Its 2000 inauguration featured artists like Vladislav Delay and Pole along with 2000 attendees. Two years later, with over 6000 tickets sold, panels were added and Akufen, Farben, Bola, and AGF showed. Last year Richie Hawtin, Matthew Dear, Thomas Köner, Coil, and Monolake performed, with the climax a closing night blowout by laptop collective Narod Niki. And now, the 2004 promotional literature rather pompously calls it not just a festival but a "proposition" and "platform for investigation." Techno, minimal, electronic—all such terms are deemed inadequate in pinpointing its essence, as it's all of these but also something more. All bloated theorizing aside, the festival is a remarkable showcase for experimental music and a vehicle for realizing, if only temporarily, a vision of international community. So if, after having established Montreal as a major hub in the global digital music network, the organization wishes to celebrate itself in its fifth year, well, why should we begrudge that? After all, every attendee has experienced in all likelihood some revelatory moments along the way. But ultimately, the essential focus should be cast on 2004's incarnation as that's the pressing issue, not what happened in 2003. On those terms, this year offered much to admire with the appearance of sixty-some artists from over twelve countries, along with showcases, panels, and workshops. It also evidenced an increased technological focus with workshops conducted by Richard Devine and Deadbeat in the use of software products from Native instruments and Ableton.
Eight panels provocatively explored topics like Digital Culture, Media Branding, Electronic Music Journalism, and Sampling. The latter was memorable not only for its participants—John Oswald, Stefan Betke, Mathew Herbert, and Jason Forrest among them—but for the friction generated by some polarizing views. Herbert bemoaned the thoughtless usage of samples without consideration of their original meaning and context (he slagged Fatboy Slim, for example, for cavalierly using a Civil War voice in "Praise You"); Forrest characterized music as free for the taking and argued that emotional resonances associated with original songs re-emerge in new contexts. (Betke offered an interesting anecdote, too, about a lawsuit involving a sample Jan Jelinek included in "Fatback's Wicky Wacky." His intended homage was regarded as a steal, but Betke exhausted the firm's patience by focusing on the philosophical issues of sampling rather than legalities.) If anything, the panels concept appeared even more relevant in light of Mille Plateaux's demise and electronic music's seeming inability to expand beyond its fervent but relatively miniscule core audience.
And, finally, the music. As in past years, artists appeared in three primary settings: Ex-Centris (for intensive, focused listening), SAT (a medium-sized club), and Metropolis (a large multi-tiered club). The performances began inauspiciously on Wednesday with Antmanuv at Ex-Centris. Sound familiar? Without introduction, a lone figure stares determinedly into a laptop while generating abstract sounds accompanied by unspooling screen imagery. A depressing sense of déjà vu hit with the realization that more presentations of similar style might occur (an accurate premonition, given later performances by Loscil and David Kristian). Not that there was anything lacking in the work itself, mind you, as Antmanuv ably crafted streaming, ruminative sounds to match the roasted skies and painterly imagery projected behind him.
The next set, however, erased any residue of dissatisfaction, as Chessmachine by Richard Chartier and Ivan Pavlov provided an early peak that few subsequent performances would match. Tackling the laptop performance issue head on, the duo devised an inspired solution that was elegant in concept and captivating in execution. Two flags, one blue and one red, a chess timer, and two laptops sat atop a table accompanied by two chairs. With theatrical panache, Pavlov and Chartier, dressed in contrasting blue and red clothing, entered from opposite sides, shook hands, and took their seats. Each then presented brief sonic vignettes before pressing the timer to signal the other player's turn. While Pavlov's scabrous blisters and throbs were more aggressive, Chartier's pinging clusters popped so loudly that any association with microsound was banished. Behind them, a split screen displayed coloured squares that repositioned themselves like chess pieces. There were moments of welcome and all-too-rare humor too. Maintaining the conceit of the performance, Pavlov paced restlessly while waiting for Chartier to complete a move, while the latter administered eyedrops to ease fatigue. Sounds grew in intensity as the piece neared its end, until the two shook hands, bowed, and exited. The performance satisfied on multiple levels as the game not only functioned as a Cold War metaphor but pitted Pavlov's PC against Chartier's Macintosh in a different kind of war.
Following Chessmachine, Skoltz_Kolgen's Flüux:/Terminal v3.0 impressed with its synchronicity of laptop sounds and projection imagery. When spidery skeins of geometric shapes and armatures of 3-D terrain modeling flowed across the two screens, abrupt sonic ruptures pulverized those shapes into new configurations. Ultimately, the performance impressed most for the fluid connections between sound and image than for the music itself.
The later SAT performance by the Junior Boys (Jeremy Greenspan and Matt Didemus) attempted to capitalize on the hype surrounding the group's debut Last Exit but the performance, though credible, was underwhelming compared to the album. Electro-pop songs like "Under The Sun and "Last Exit" got some people dancing but Greenspan's thin vocals weren't a match for the record's more polished ones. Berlin's Schneider TM then eviscerated pop songs from Zoomer during its wild Canadian premiere. Sporting white lab coats, band members Dirk Dresselhaus, kptmichigan, and Christian Obermaier manically flailed about, with Dresselhaus in particular having a grand ole time doing windmills and hand shadows against the projected screen. "The Light 3000," the group's version of The Smiths' "There Is A Light That Never Goes Out," was a highlight, though it didn't come close to supplanting the definitive original.
Thursday evening began with David Kristian whose long, amoebic piece impressed, notwithstanding its barren presentation. Nuanced transitions of vertiginous whorls, lapping clusters, and spectral wails unfolded amidst dense ripples and thudding pockets that resounded within the dense mass. Ilpo Väisänen's subsequent, more extreme set of seething, blasted shards, clanging beats, and pummeling squalls was, on purely musical terms, less satisfying.
Raster-Noton artists Byetone (Olaf Bender), Frank Bretschneider, and Noto (Carsten Nicolai) returned to perform individually and together as Signal, their 2004 sets different from and in many respects superior to those presented in 2000. Byetone merged percolating grooves and cavernous bass lines into surgical electro-funk patterns. Following Bretschneider's more restrained set, Noto reignited the intensity level by adding deep, heavy bass to his Transform and Prototypes material. Ending with some jaw-dropping, rippling shards, his cerebral digitalia offered a foretaste of Signal's clinical funk. Cranium-carving bass patterns and chugging tribal rhythms burst forth from the trio's violently thrashing music. While it's hard to imagine, this stunning performance made Signal's original performance seem like a polite warm-up.
The festival's major coup was Richie Hawtin's Plastikman concert at Metropolis on Friday, his first live performance under the name in over nine years, but predicting that it would be "the most ambitious and audacious audio/visual undertaking of a live set any producer has ever assembled" set a new standard for promotional hyperbole. The hype promised that this would be a landmark performance but reality failed to match expectation. Coming on at midnight, Hawtin was an isolated figure, elevated onstage like a demagogue, surrounded by his gear and a large screen for projected imagery. He premiered a customized device called CTRL Live that incorporates five MIDI devices and enables real-time control over sound, video, and lighting. The concert began promisingly with a projected aerial photo accompanied by martial techno stripped to its skeletal bass and drum essence. One section featured rattling hi-hats and deep croakings atop a thunderous groove, another glacial shards amidst handclaps and throbbing beats. While a healthy cross-section of material from Sheet One, Consumed, Artifakts (BC), and Closer was presented, the performance never took flight; whenever it seemed on the verge of doing so, the piece in question would cede its place to the next. Stuck at a constant simmer, the set elicited an appreciative but far from rapturous response and ultimately disappointed for being somewhat flat; furthermore, the screen was underutilized and its geometric imagery underwhelming. How interesting that the epic effect Hawtin aspired to achieve in this concert (which ultimately eluded him) was realized so splendidly a year ago in relatively effortless manner. Encumbered by less gear, his awesome 2003 boundary-pushing techno continually grew in force over the set's duration.
Saturday afternoon's program offered a grab-bag of stylistic contrasts. Angel (Ilpo Väisänen and Dirk Dresselhaus) presented a feedback-laden set of monstrous, eardrum-shredding noise whereas Portable's sublime African-flavoured tech-house featured jubilant patterns of exotic rattles and click-house beats that were mesmerizing. Later on, the all-night meltdown began with Fax's propulsive, dubby techno and EGG's infectious clubhouse, followed by Isolée's electrofuzz bass lines and acid-drenched synths. His initial rock vibe gradually turned more dance-oriented, with one track nicely inserting the vocal from Villalobos's "What You Say Is More Than I Can Say." Krikor's challenging but over-long set paved the way for Jason Forrest (aka Donna Summer) whose presentation proved to be divisive. Just as The Unrelenting Songs Of The 1979 Post Disco Crash splits listeners into those amused by his shameless plundering and others who judge him a parasite, so too did his confrontational set elicit cheers from the floor and boos from the balcony. Pogoing wildly about the stage and triggering tunes from his "cock rock disco" laptop, Forrest came across as the Carrot Top of samplecore, with songs like The Talking Heads' "Life During Wartime" occasionally surfacing through the racket. On the one hand, there's something refreshing about someone so hell-bent on deflating the music's pretensions; on the other, there's a hollow core to music that's so entirely predicated upon the works of others, even if they're denizens of past glories like Styx and ELO. Still later, Crackhaus (Steven Beaupré and Scott Monteith) delivered a rollicking and invigorating performance, and finally Herbert offered a distinctive DJ set of gospel, house, and techno that even found room for Barry White.
Sunday's closing program, while satisfying, was a relative let-down compared to past years' highs. Musically, Loscil's submersive, dubby minimalism matched his albums for quality, but its impact was diminished by uninspired presentation. The pairing of Burnt Friedman with Jaki Leibezeit was memorable more for the chance to witness the legendary Can master in action. Aided by guitarist Joseph Suchy, the trio opted for a loose, meandering quasi-jazz which deepened in intensity in its more propulsive closing pieces. Accompanied by fellow guitarist Ben Kamen, Geoff White in his Aeroc guise largely eschewed the graceful ambience of Viscous Solid—wisely, given the club setting—for some lumbering, skanky digifunk. After a powerful, disco-laden set from Montreal's The Mole, Super_Collider member Jamie Lidell used a computer to sample and loop his vocals in a wild "1 Hour Fiasco" that closed the festival.
Of course, there were others, too many to mention in detail: Vitaminsforyou (Bryce Kushnier making a second MUTEK appearance, this time augmented by two others), Frivolous (restless tech-house), Mossa (bouncy, intricate microhouse), Errorsmith (mutant machine techno), kptmichigan (warped electronic folk-rock), Andrew Weatherall (DJing as part of Plastikman's bill), and Mike Shannon and Jay Hunsberger (superb Kraftwerk-meets-Chain Reaction techno).
So with programming this comprehensive, what's not to like? Well, the modicum of female performers for one. While past MUTEKs were graced by performances from AGF, Tujiko Noriko, Marina Rosenfeld, and Magda, this year, aside from Magali Babin and I8U (who collaborated on a granular, sculpted drone) and Dominique Skoltz, the festival was thoroughly male-dominated, something that probably says less about the festival than it does the state of the musical genre in general. Ellen Allien and Dani Siciliano, to cite two, would have been natural additions given the attention their Berlinette and Likes… recordings recently received. And given hip-hop's current dominance, it was surprising that the program was so devoid of it. Other caveats? While the all-nighter was a welcome innovation, it would have been better as the festival closer and felt less claustrophobic had it not been at Metropolis but outside, perhaps at a site like the Jean Drapeau Park on Saint-Hélène Island (the site of Sunday's afternoon "Piknic").
As MUTEK 2004 ends, peak performances from Pavlov-Chartier, Signal, and Portable—each revelatory in unique ways—offer reminders of the rich spoils MUTEK has granted us during its five-year span. And yet, ironically, with the realization that it runs more smoothly than ever before comes the determination that change is needed to push it into radical, fresh directions before it becomes entrenched and predictable. (Perhaps MUTEK should borrow an idea from the city's jazz festival and feature one artist in different configurations across multiple nights; using Scott Monteith as a case study, one could imagine performances from Deadbeat, Monolake-Deadbeat, Crackhaus, and something like a Farben-Deadbeat-Akufen showdown spread across four nights.) In the end, it's telling that my most memorable MUTEK moment transpired outside the festival proper. While waiting in line to enter Metropolis for the all-nighter, a hooded character (whom I later learned to be an associate of the subversive group !TchKunG!) serenaded us from the sidewalk across the street. Wearing an orange jumpsuit and pushing a grocery cart (or, more correctly, "Noiz kart"), the creature's laptop tinnily blared some alien cocktail of Arabic singing, fuzzy breakbeats, and other madness—a surreal and wholly unexpected event that provoked bemusement and bewilderment in all who witnessed it.
October 2004