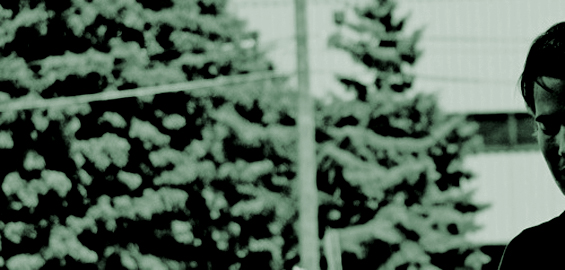 BACKTRACKING WITH BENOÎT PIOULARD'S PRÉCIS
Thomas Meluch (aka Benoît Pioulard) inaugurates a new textura article series where an artist provides background detail on a specific recording or series of recordings. Many thanks to the kranky and Moodgadget denizen for contributing to the process so forthcomingly.
1. How do you account for the fact that, despite Précis being a full-length debut, your Benoît Pioulard style emerged so fully-formed?
I'm flattered you feel that's the case; it's really only a debut as far as kranky is concerned, and because of them of course I've had the opportunity to be heard by a much broader audience than before. From around age fourteen until relatively recently I've been making and releasing collections of 4-track home recordings in small quantities, mostly for those close to me; right around the time I upgraded to recording on a computer (though it was still just the built-in mic on my friend Luke's PowerBook) and finished the songs that would make up the Enge 7-inch, my former co-worker Jakub Alexander was looking for projects to start his Moodgadget label here in Ann Arbor, and I agreed to give him those songs, figuring that a) no one else would ever be interested, and b) I'd probably never get another chance to hear my own voice coming off of a piece of vinyl. I ended up promoting and paying for that whole release myself since the label had no budget, but it got a hugely unexpected set of positive reviews, which in part helped me make the decision to send around a demo. After hearing that EP, kranky was one of the first to ask for more, and eventually things came together for Précis, which is by my count the fifth full-length I've done.
2. You worked for a number of years surrounded by the music of influential Ghostly and Spectral artists yet your Benoît Pioulard style evidences little trace of such outside influences. Did the music you were exposed to during that time influence your sound at all? And, if it didn't, how did you resist having that wealth of music seep into your own music-making?
I had a great experience at Ghostly for the most part, though, of the music I heard and worked with, there is only a tiny bit of what I absorbed through obsessive listening as a teenager; for example I haven't listened to them since I was thirteen or so, but I still think of Hum and Weezer as pretty significant influences on my songwriting, as much as I consider White Light/White Heat and Aphex Twin's I Care Because You Do to be major influences on my sense of atmosphere. I almost never listen to the music of others while working on my own (for example, the entire ten-month recording period of Précis), but there are no doubt all kinds of semi-forgotten ideas swirling around my subconscious that pop up here and there based on my long-time connections to certain artists. These days I primarily listen to William Basinski or The Remote Viewer if I listen to anything at all.
3. Were you at all taken aback by the exceptionally positive reception the debut received? Did you experience bouts of insecurity and doubt when you were readying it?
Absolutely. My assumption was that simply being signed to kranky (a label I've followed for ten years or so) would be the peak of my achievements, but I've got no complaints about how things have gone since the record's been out. Thankfully I was working on the album with the notion that it would be utterly ignored, except perhaps by the few people who had heard the first 7-inch, so outside opinions didn't really enter into the process. The only real doubts I had while wrapping up the album were with regard to mixing and sequencing and that; nothing too stressful, though there were lots of nights spent tweaking things until 4 or 5 am since I was still managing a job and full university schedule.
4. As Précis was recorded a while ago, I'm wondering if your style has changed in the time since it was recorded and, if so, in what way? Does the new Type Records' single Fir , for example, signify some change in style or approach from Précis ? What do you have planned for the future?
The only notable changes that have occurred in my approach have been refinements, I believe; I work with an almost embarrassingly bare-bones setup, but even with that I always find new ways to improve my process and close the gap between what I hear in my head and what ends up in a song. The main difference with Fir (which was recorded last July, after about six months of inactivity) to me is the percussion arrangement; unlike most of the songs on Précis, I spent just as much time on that as on the main part of the song, as has also been the case with more recent pieces. I've been afforded the opportunity to kind of hibernate and work on new things this winter, and am very pleased with how it's been going; suffice to say, my natural attraction to detail has had a lot of space to breathe.
5. One of the things that's most distinctive about the album is that it evokes an earlier '60s-styled era of folk psychedelia while at the same time it sounds completely modern and not at all a retrograde homage ("Together & Down": the song is nicely representative of the tension that persists throughout the album between a folk-oriented vocal-acoustic guitar style and the blurry, psychedelic production style that destabilizes it). Would it be inaccurate to call it a 'folk-shoegaze' hybrid? How much of that style is a consequence of the 'bedroom-crafted' character of the recording process? Why did you choose to have the production style emphasize the treble sphere more than the bass?
Such kind words…as far as classification, I've heard all kinds of things, including 'folk-shoegaze,' and I'm completely fine with just about any of them. My own term for the songs is 'texture ballads' which doesn't say much, but then what's the use of trying to describe music in words anyway? The fact that I made the whole album at home definitely influenced its overall sound, but as I mentioned this is a circumstance to which I'm reasonably well adapted by now, the best part being the balance between error and intention, and desire and limitation. Being intimate with the inherent restrictions of my setup pushes me to find ways around them, and often I'll end up with something much more interesting than I'd originally conceived. The emphasis on treble is actually in part a remnant of the fact that I used a pretty mediocre pair of headphones to mix most of the songs; as a consequence a lot of them sounded really muddy, and between remixing and mastering things got a lot more crisp, to the benefit of the overall sound.
6. What's the allure of that 'decayed' style? Is it that it has an understated connection to the idea of memory and its fading quality? You also seem to have a strong interest in incorporating nature and field elements into your music. Where does that interest originate from?
Who knows where these things come from? From early on I've been diligent about documenting things—in notebooks, on tape, with photos—as a constant hobby; my recordings are always a combination of new and old words and sounds, and I like that the finished songs exist in a non-specific time and space while still serving as reflections of my own experiences. Most of what you'd call the 'decayed style' comes from the lo-fi-ness of my setup, but I do sometimes embellish the hiss or crackle if a part calls for it ("R Coloring"). An influence of nature is totally inescapable for me, given that I've lived in Michigan nearly my whole life, surrounded by gorgeous scenery, and am what you might call an outdoors enthusiast. Lots of the sounds that I've been told are difficult to identify in my arrangements are pretty simple field recordings, actually.
7. Lyrically, can you elaborate a bit upon what some of the songs are about (at times the production style makes it hard to make out the lyrics)? Is there an over-riding theme to the lyrics?
Despite the sound sources and ideas for much of the album coming from several years of documentation, the more relevant fact may be that I was going through a really unfortunate and quite protracted breakup over the course of recording Précis; naturally a lot of the songs ("Ext. Leslie Park", "Palimend", "Needle & Thread") ended up geared in this direction lyrically, trying to work out exactly what the most harmonious or productive response to the situation might be. Thematically I've noticed that most or all of the songs also involve elements of a struggle to accept impermanence, which is of course always linked back to love; to this end I think the past few years of my life have taught me more than the other eighteen combined.
8. Why did you use so many French titles for the songs and (no doubt you're tired of the question so I promise I'll never ask again) where did the pseudonym Benoît Pioulard come from?
All the French influence comes from a long-time exposure to the language (I have no such blood lineage) thanks to both my mother and my schools; I've always had an attraction to the absolute elegance of French, and—call me a dilettante if you will—I wanted some piece of that to fit in with this very personal project I've got. The Benoît name itself showed up a few years ago on one of the notepads I keep around my room, after I'd scribbled it down sometime during the night; I didn't know what to make of it at first, but it seemed as though it ought to be used for something.
9. Interestingly, though your background includes drumming stints, the album's focus is clearly not on drums, even though percussion adds to the sonic whole. Why the de-emphasized drum presence?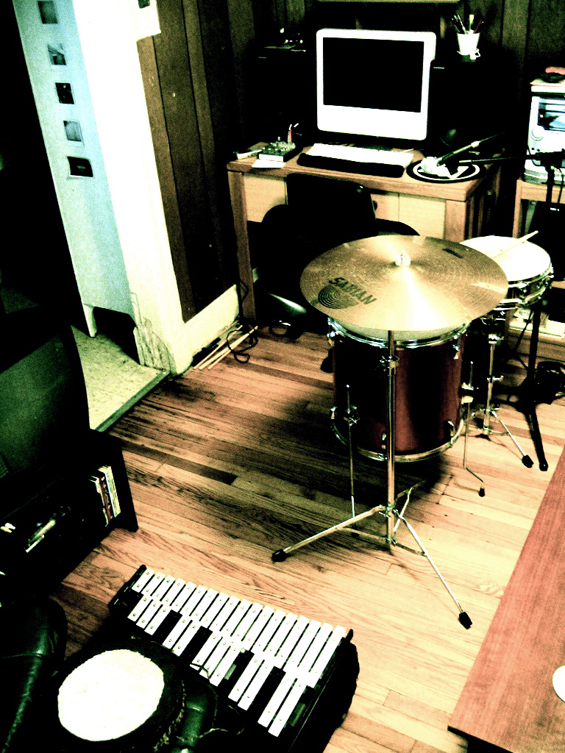 That partly came from necessity; the one-room apartment in which I recorded most of Précis is in an old house with very thin walls, and given that I was working on most of the songs late at night I couldn't very well be bashing away on a massive drum part. The very fact that my place is so small also keeps me from being able to store a full kit; I keep a floor tom, snare drum, and ride cymbal here for when I need them, and other than that I have an almost boundless array of little everyday noisemakers that I use for percussion, filtered through various effects. I still have a passion for drums, though, and am hoping to find another band to play with sooner or later, but for now I'm all right with focusing on guitar and cello. The last band I played with was called Esmae, and had to split because the other three guys were a year or two ahead of me and had to go their own directions after finishing school; there's still a Myspace page at http://myspace.com/esmaespace for those who are curious.
10. So many of the songs are short—purposefully so it seems—and the album is a fleet 37 minutes. Did you deliberately want the songs to almost seem like snapshots or vignettes?
I never know what to expect out of a song before I begin recording it, though I do find myself most attracted to music that expresses its ideas with a minimum of superfluity (as you might guess, I am not a fan of Phish). A Benoît song will usually start as a vocal melody, under which guitar is added and to which lyrics are adapted; it's a process that seems natural to me, and given that tacit emphasis on the melody I can accept that these are 'pop' songs to a degree. Things really only come into focus, though, once I've got the main parts down and can walk around with the song in my head for a couple of days, adding harmonies and things before recording them. As for the album, I knew from the start that I didn't want to run over forty minutes, so this particular set of fifteen tracks added up rather well.
SPECIFIC SONGS: PRÉCIS
"La Guerre de Sept Ans" ("The War of Seven Years")
A less dense version of this track was originally the score to a short film I made in 2005 called The Seven Years I've Been Asleep, referring to the theoretical amount of time that a 21-year old would have spent dormant; the very day that I decided to develop it into something for the album I had given a presentation to one of my classes about the Seven Years' War, which in French is "La Guerre de Sept Ans." I took the correlation between these things as a little sign, so that became the title.
"Ext. Leslie Park": The vocal style here almost has a breathy, '60s-styled feel that sounds like a middle ground between Donovan and Beach Boys harmonizing. What vocal effect were you aiming for?
Leslie Park is a wonderful place to ride a mountain bike on the other side of Ann Arbor ; 'Ext.' comes from screenplay writing, meaning 'exterior.' As for the vocals, I take that as a massive compliment, but I don't remember having any particular goal in mind while recording except of course to nail the melody, which as I recall took a good four or five tries, since I'm totally untrained as a singer. The entire lyrical content of this one arose while on a train home from New York .
"Triggering Back"
This was actually the very last piece I recorded for Précis; when I was 95% done with sequencing and everything, I realized there was a gap in the first half of the album where I needed something that might pick up the pace a bit. That same week I was walking the railroad tracks and started humming the melody that became this song, and within a few days I'd finished recording the whole thing…so, it just kind of happened.
"Moth Wings": A little interlude that sounds about 100 years old, especially when the piano's notes are given such a blurry treatment. How did you create that gauzy effect and what was the concept you were aiming for?
Without giving away too much, I'll just mention that the piano part here came from a string of improvisations I was doing while bored at a friend's house, recorded on one of my handheld tape machines. It was an old player piano—whose automatic components had long since died—in their living room that seemed to resonate with a weird kind of melancholy, and playing it felt oddly cathartic, even though I don't think I'd touched a keyboard in several months at that point. There's probably another ten or twelve minutes of tape from that evening that didn't get used, but the bit I kept for this track was definitely my favorite; as I understand, the people who now live in that house destroyed the piano on New Year's last year.
"Corpus Chant": Did you use a dulcimer here? And what's that strange, animal-like noise that growls alongside it? This song has a rather classical feel to it; were you aiming for a Renaissance-like feel here?
Indeed, this was the first real song I made after getting my hammer dulcimer the other year; the way it's tuned makes it quite a lot of fun to play, and with this particular part the way I had to move the hammers over the strings felt like some kind of child's game meant to teach coordination. Fitting then, I thought, that the part is so playful, even though the lyrics aren't. The classical sound, I suppose, might come from the fact that the dulcimer's sound is about a hair's breadth away from that of a harpsichord. As for all the other noises, I think the one you mention is just a combination of different sounds that my creaky floor makes, while the more whistly sound is rocks skimming the Huron river, frozen in the dead of winter.
"Coup de Foudre": A more aggressive plunge into electronic soundscaping, though this sounds less like a "lightning blow" than the sounds of a carnival mixed in with a seaside storm.
I like that description! The phrase 'coup de foudre' does mean 'lightning bolt,' but it's also an idiomatic expression for 'love at first sight'; the bells on this one came from a very early tape of mine that never got used for anything, and they actually also appear for a bit on a long track called "Housecoat" that I released on a CD-R last year, but without layers or effects. I'd have to go back and pick it apart to name everything, but some of the other sounds on this track came from an outdoor Bollywood movie screening, various construction sites and, as you've inferred, at least one storm.
Like many of the album's songs, "Needle & Thread" exudes a stately feel in its rhythms; the waltz tempo in other songs ("Patter") creates the same feeling.
The wonderful thing about the waltz time signature is that it can make nearly anything sound graceful; it often also happens to be a go-to for my subconscious when I pick up the guitar with nothing particular in mind. Laying a careful 4/4 pattern over a waltz is also a very simple way of getting a nice 'rolling' effect to generate forward momentum; I remember when recording this song, thinking that there was nothing I could do to make it too dense, which is probably why it gets so ridiculous towards the end. So much for dynamics…
"Sous la Plage": This song—appropriately given the title "Under the Beach"—has a breezy quality in its main melody; is that the kind of feel you were aiming for here?
Not necessarily, but I'll gladly accept that that's the case…for the longest time I felt like this wasn't meant to be a Benoît song, but once it found a place in the order of the album it suddenly made total sense. Things seem to have a funny way of working out like that.
April 2007