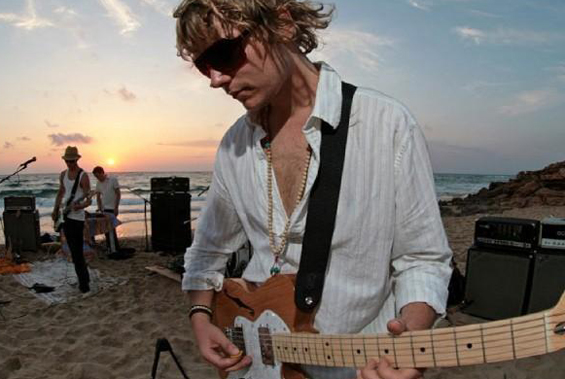 BACKTRACKING WITH CAUSA SUI'S EUPORIE TIDE
Though Causa Sui—guitarist Jonas Munk, bassist Jess Kahr, keyboardist Rasmus Rasmussen, and drummer Jakob Skøtt—has been releasing music since 2005, Euporie Tide is so fully realized it feels like the band has pushed its sound to an entirely new level (read the review here). On the ten-track collection, the band's playing is tighter than ever, and its multiple influences have been so thoroughly integrated that the album's music seems less indebted to others and more a portrait of Causa Sui's now-panoramic stylistic command. To these ears, it's one of the year's best recordings, and so it is with great pleasure that we present a track-by-track deconstruction by two of the band members, and we sincerely thank Jonas Munk and Jakob Skøtt for taking the time to provide textura readers with such an in-depth account of the recording's content.
1. "Homage"
Jakob Skøtt: The riff! That fucking riff! We could just jam for hours around it without tiring; the flow of it just seemed natural right away, so that's always a happy start, even though it was quite a task putting everything that happens afterwards together without losing the overall goodness vibe introduced by that riff.
Jonas Munk: This came together about halfway through the album process and was specifically put together as an opening statement as it very intentionally encompasses a lot of the elements that have become characteristic for Causa Sui. We also really let loose on the references to the 1990s grunge and stoner rock bands we grew up with (hence the title), some of them very obvious, others less so. To some people this might sound like a loose jam, but it's actually quite tightly structured, and we really worked hard putting it together, getting all the parts to blend naturally. I love Jess's bass-playing on this one; there's a fantastic sense of movement in it.
2. "The Juice"
Jonas: This is one of those tracks that were pretty much written out before playing it with the full band. The 'verse' sections are interesting 'cause the guitar chords are open to more than one musical meaning and are defined by the bass notes playing beneath them—and the bass moves more than the guitar—so the same chords get different meanings as the part unfolds. Rasmus did some really far-out keyboard parts for this one which really injects some life into the heavier parts. I added some atmosphere myself in the outro, and I really had to contain myself not to add it to earlier parts in the track since I like it so much—sometimes it's vital to underuse certain elements.
I got the idea for the intro one day when playing around with an old Roland Saturn with my then one-year-old son, and he was messing around with the octave sliders while playing random atonal chords, which has a pretty strange effect—so I reconstructed his 'sound' when I was searching for the right atmosphere with which to kick off this song off.
3. "Echo Springs"
Jakob: This was one of the later tracks we recorded, when the whole album seemed pretty much tied up with all the essential tracks in the box. So we were very relaxed about it. We ended up doing a few sessions with just this track to get the right flow. I'm not so sure it actuallt mattered, since this take is also very laissez-faire—but I think we wanted to explore different lengths and feels, just because we could. The main advantage of any Causa Sui recording is that we don't have the usual limitations of 'studio-time.' Jonas has all the recording gear set up in our rehearsal room, so we pretty much record anything. So if the session is good, it'll end up on the album; if it turns out bad or someone has a new idea after listening to a recording, we just record it again next time we play.
Jonas: This track came from a simple jam, but it took us quite a while to figure out exactly where to go with it. It didn't become fully meaningfull until Rasmus and I sat down and added a lot of keys and effects to the mix. Not everything made it to the final mix, but if you listen closely you'll find a lot of hidden layers in there—which actually goes for a lot of tracks on the album. For the organ parts we were directly inspired by the echo-ladden organ effects in a track called "Electrollentando" by the 1960s Chicago psych band H.P. Lovecraft. All the layers are added gradually to achieve the sense of something slowly unfolding.
4. "Boozehound"
Jakob: All my fellow drummer-fiends are gonna scream in anger when they hear this, but this was the first Causa Sui track to ever have mikes close to the toms. "WHAT?!" Yeah, we always just had some mikes way out in the room, which mostly captured some more jazzy-tom-tom vibe, but I think for the first time we really needed the full tone of the toms. We had to re-record it because of that.
Jonas: This track almost wrote itself, one part naturally leading to another. In less than an hour we had an almost complete track. That happens so rarely to us.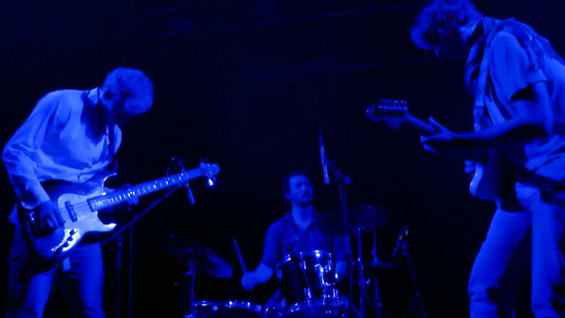 5. "Mireille"
Jonas: I consider this track as one of the main pillars of the album. Back in 2011 we recorded a couple of jams based on a loose structure, and these jams had an amazing energy and some great build-ups. Six months later we sat down and worked with it, found a somewhat solid form for it and recorded ten to fifteen versions. But none of these versions had the energy or that natural flow of the jam versions, so we were actually very close to ditching the track entirely because it became such a frustrating piece for us. But another six months later we decided to give it another go and somehow we nailed it and got the build-ups working and found a way to maintain the energy from the early jams even though it was tightly structured, except for, perhaps, the middle section. It was definitely worth the effort and frustration cause now I think it's one of the best things we've ever done. While it certainly has a heritage from classic heavy psych of the 1960s and early 1970s, it isn't merely a retro thing—it goes its own way both compositionally and sonically.
Jakob: I love the sound on this—it's actually played really heavy, and when we play it live, it's a soaring track just ripping it up. Fun to play. But the production ebbs and flows with the track as an organic entity of its own. It's a trio track, just bass, guitars and drums —the only one without keys on the album. Jonas added some nice twelve-string to give it this shuffle-strum, that someone wrote sounded like Brian Jones-era Stones, which absolutely nailed the description of the vibe on the track—we just hadn't concieved it like that. I play some congas as well, which adds to the nicely layered flavor of it all.
6. "Fichelscher Sun"
Jonas: This is a kind of tribute to one of my favourite guitar players, Daniel Fichelscher, who played with Popol Vuh from 1973 and on. Over the years I've absorbed records such as Aguirre and Einsjäger und Siebenjäger so much that his playing has become part of my own style. His euphoric and highly melodic way of playing is miles away from the tight coolness of modern indie rock we've all been surrounded by for ages, so discovering those albums was quite liberating.
7. "Ju-Ju Blues"
Jonas: This was one of the earliest tracks written for the album and the one that really got the flow going again and set the direction for the album. I had written a jazz-inspired chord progression that we jammed over one day at rehearsal, and I asked Rasmus to come up with a keyboard line similar to something John Coltrane did in the early early-to-mid '60s, and he came up with the brilliant lead melody that sets the tone for the piece. The hard thing was distilling all the ideas, build-ups and breaks into a six-minute piece, but focus was an important part of this album.
Jakob: There used to be a really long guitar solo in the middle and tons of noodling going on—this was indeed the cutting stone for the album, because we decided to question every piece: "Sure, this sounds good, but what does it actually contribute?" It felt really good to totally change our approach after doing five albums of semi-improvised stuff. It also meant we started playing tighter. This album just FITS, you know? The songs have the length they need, everyone's really hitting the communal groovy vibe. A bunch of people say we really nailed the Allman Brothers vein with this one. That's something I didn't think we'd ever achieve—grooving like that kind of band. Of course that doesn't mean the end of the improv Causa Sui. We're constantly in flux and so already cooking up the next approach.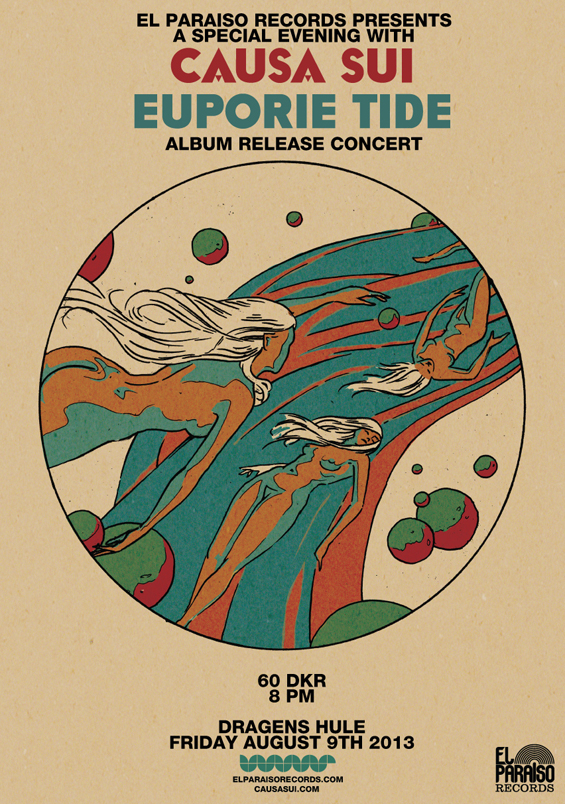 8. "Sota el Cel"
Jonas: We thought the massive last chapter of the album needed some kind of quiet interlude leading into it, so we came up with this. I thought it was nice to have some of the other sound sources that are usually used to flavour the heavier pieces (such as analog synths) on their own for once.
9. "Euporie"
Jakob: We started working on this track back in 2010—we were really searching for a new sound at the time, hitting up different aspects of that crazy unique Soft Machine-vibe, with heavy riffs on the keys and a jazzy feel—really trying to escape the usual chords, grooves, overall vibe. It just wasn't happening, but the concerts at the time were just a bunch of sketches that we would jam over at a random tempo or what everyone felt like. We played a show in Denmark for five people, which was recorded:
The place was huge and empty—playing borrowed gear, not really hitting it the way we should, a complete mess of a show, to be honest. But that jam version somehow became the stepping stone into the version we recorded about a year later, when we had finally distilled it into something useful. It was the first track laid down for the album, which is why it has a bunch more jazz noodling and jam-like turns than the rest of the tracks. We simply thought we were making a different album at the time.
10. "Eternal Flow"
Jonas: This was, appropriately, the last track we recorded for the album. And, as was the case with a lot of the tracks, we recorded several very different versions before we had something useful. This is defnitely the most open piece we worked on so something different happened each time we played it. The initial idea was to do a very simple lullaby-like piece to end the album on a peaceful note—with an open-tuning feel similar to "In a Silent Way" by Miles Davis. However, the piece took on a life of its own and grew into something bigger and more important. You can still hear Miles in there but I think it's interesting how this track doesn't really sound like anything specific. It's really its own thing, very peaceful and heavy at the same time.
October 2013