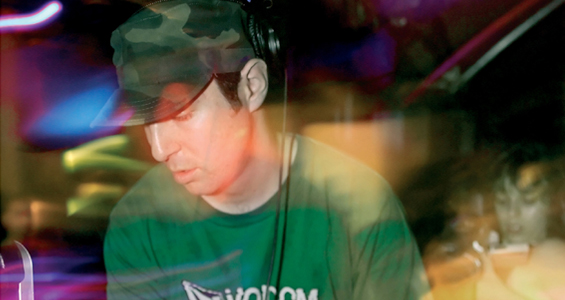 BACKTRACKING WITH JUSTIN MARTIN'S CHAOS RESTORED WITH JUSTIN MARTIN
Justin Martin's your guide on this scenic tour through his new Buzzin' Fly mix disc Chaos Restored. The spectacular compilation not only features jacking cuts by artists like Shlomi Aber, Martin Landsky, Jamie 'Jimpster' Odell, Tricky Disco, Robag Wruhme, and brother Christian Martin, but Justin's own "Nightowl" and "Ghetto Train" whet one's appetite for a full album of original material. Though rooted in San Francisco, the Dirtybird founding member and DJ joined Ben Watt's London-based Buzzin' Fly label in 2003 and, after garnering acclaim for singles like "The Sad Piano" and "The Fugitive," now makes his album-length debut with an infectious party mix laid down in San Francisco in July 2007.
After Martin agreed to comment on the album's tracks, there seemed no better place to start than the opener whose over-the-top spoken intro definitely shows he doesn't take himself too seriously.
Justin Martin's "Chaos Restored (Intro)":
Yeah, I've said it a million times, but it's the truth: I like to have a good time. I like laughing and making people around me feel good. There is a lot of music out there that takes itself too seriously, and obviously from the intro that is not me. This mix is for people to enjoy with a smile. Hopefully, people get that.
Dan Drastic's "Somebody's Touching Me":
Well, I love this song and the label Moon Harbour. The label has been consistently pushing a really unique but lovely sound, and this track is the perfect example of what they have to offer. It's beautiful and techy and funky and nasty all at the same time—a sound I truly love.
Justin Martin's "Nightowl":
I got a chance to hear my friend Manoo play at the Buzzin' Fly party at Plastic People earlier this year. All of his tracks were so moody and deep. He played a really unique sound and, after his set, I was like "I wanna make a track like that." So that's what I did when I got back home.
Justin Martin's "Ghetto Train":
All of the train sounds are from live field recordings of actual trains. I just chopped them up and sequenced everything in rhythm. I have a really ghetto way of making music in that everything I work with is usually raw samples. I've heard other people make amazing tracks with train sounds, particularly Björk in Dancer In The Dark where the sound of the train becomes the beat to the song.... It just seemed like such a fun idea so I had to try it.
Spincycle's "Drug Games (Audiofly Dub)"
I like both Audiofly mixes of this tune, but the dub just happened to fit better with the mix. Killer bass line!!!!
Tanner Ross & Kilowatts' "Kruger Fingers":
Tanner and Kilowatts have been absolutely killing it. They have that sound that blurs the lines between genres, which I absolutely love to play. It's just great music! I'm proud to say that I talked Barclay into signing this one to Dirtybird!
Motorcitysoul's "Aura (Jimpster Remix)":
I love Jimpster's music... I feel that he is the king of deep house at the moment. He has that golden touch and makes music that you just want to hear again and again. I have listened to this track sooooo many times but it just never gets old... it's timeless!
Martin Landsky's "Let Me Dance (Sebo K Remix)":
This is another track that surprised me this summer. Very housey for a Poker Flat track, but when that eerie synth comes in it's so sick.
Catz 'n Dogz' "Fixation":
This is another track that tricks you because it's kinda housey with a simple groove but then just gets so twisted in the middle. People don't expect that and that's why it's awesome. More producers need to get creative like this and not be afraid to take risks.
Robag Wruhme and Rolf Oksen's "Dopamin":
This is probably one of my favourite tracks of the year, and Robag is one of my favourite producers. I like stuff that just rips through the speakers. They almost didn't let me license this track but I wrote a personal letter to the label and was "Please, please, please, please, please?"
Worthy's "Crack-El (Justin Martin's Stoopit Crunk-Ill Hyphy Mix)":
It's inspired by Bay Area hyphy shit. Just listen to E-40 or The Pack and you'll understand. Yaddada sayin' yo? Ya smell me?
LISTED WITH JUSTIN MARTIN:
Currently in heavy rotation on my turntable/iPod/disc player:
My iPod just broke damn it! But I was listening to Thom Yorke and the new Radiohead album, Manu Chao, and lots of hip-hop.
A favourite record or record that changed my life:
LTJ Bukem Presents Logical Progression!!!! My first vinyl and very influential still to this day in my sound.
Role model or inspiration:
My parents and my brother Christian... oh, and my friends (not necessarily all role models, but definitely inspiring!)
Most memorable concert I participated in:
Exit Festival this summer. Never been so scared to play a gig, there were A LOT of people!
Most memorable concert I attended:
Probably Radiohead at the intimate Greek Theater in Berkeley. It was life-changing!
Favourite non-music-related thing I like to do:
Skateboard and party!!!!!!!!
November 2007