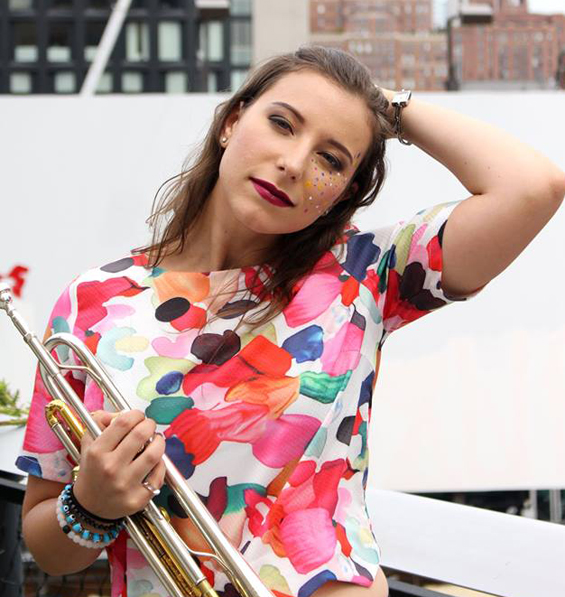 BACKTRACKING WITH KATE AMRINE'S AS I AM
As I Am, the debut album by NYC-based trumpeter Kate Amrine, features new music for trumpet by women composers, many of the pieces having been commissioned by Amrine herself for the project. Yet while such details are worth noting, what's ultimately more significant is how different in style and character the recording's nine pieces are from one another. Each has a distinct story to tell, it seems, and in some cases they're deeply personal ones. One can certainly enjoy the album without knowing anything about how the material came into being, but one's appreciation of As I Am is definitely enhanced when the composers share details about the works' origins, as they do here. textura is grateful to Amrine for contributing the content below and for also obtaining supplemental text from many composers whose works appear on the album.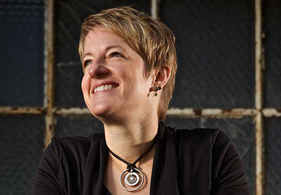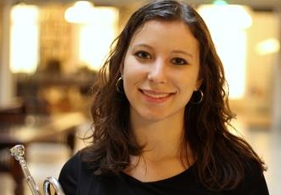 Alexandra Gardner; Kate Amrine
1. Ituri by Alexandra Gardner, for trumpet, harp, and electronics (featuring Peggy Houng on harp)
Alexandra Gardner's Ituri begins as a subdued and mysterious interaction between trumpet, harp, and electronics and gradually builds into a serious of increasingly dramatic gestures between the harp and trumpet. Ituri was inspired by a quote composer Gardner found on the street in Baltimore. "When bad times befell the inhabitants of the Ituri forest in Central Africa, they assumed that their misfortune was due to the fact that the benevolent forest, which usually provided for all their needs, had accidentally fallen asleep. At that point, the leaders of the group would dig up the sacred horns buried underground, and blow on them for days and nights on end, in an attempt to wake up the forest, thus restoring the good times."
This piece was one of the first that I found that set me on the path with my album. It was such a pleasure to be able to work on the piece and become close with Alexandra while I was in Baltimore for my Masters at Peabody Conservatory.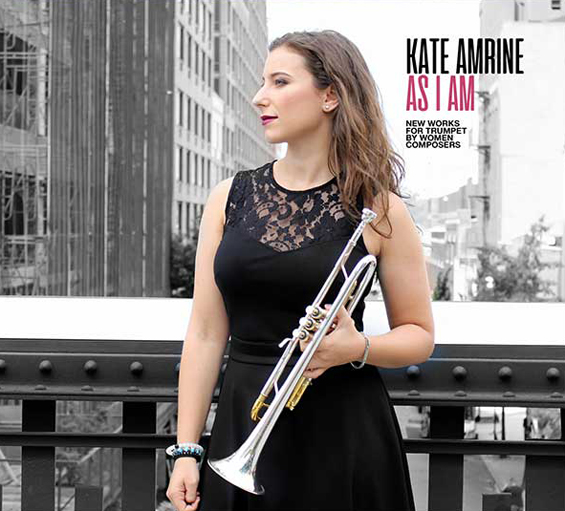 2. As I Am by Kate Amrine, for flugelhorn
I wrote this piece and recorded it in September, after being inspired to add my own personal compositional touch to the album. I started writing it by recording myself improvising different versions of the piece and then picking from that what I liked and wanted to keep. As I Am has a sweet sort of longing and pleading, shown with repeating phrases in a minor key that expand and change slightly as the piece develops. In terms of the message behind the piece, I think of it as reaching out to be noticed or to be seen. When I perform this piece, I think of lyrics in my head: "As I Am.... As I Am...Take me as I am" for the opening three phrases.
While the piece is written out in standard music notation, each performance varies slightly because I improvise on and between certain phrases—making each performance a new experience.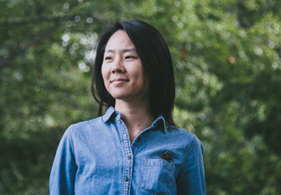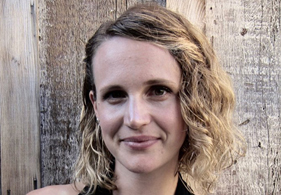 Jinhee Han; Ariel Marx
3. Yaygara by Jinhee Han
Jinhee Han was inspired to write this piece after visiting Turkey in the summer of 2016 during the military coup. She felt that the trip gave her a wider perspective toward the world and led her to think more about people who are suffering for any reasons such as war, terror, racism, violence, refugees, and other trauma. The title, Yaygara, is borrowed from Turkish and translates to a loud uproar and a vehement expression of desire, dissatisfaction, and outcry. In Han's words, "This piece clamors and struggles with fear, desperation, freedom, and peace through trumpet as a spokesperson against all the negative happenings in the world." I originally met Jinhee through trombonist Jacob Elkin when she wrote a duo piece called To My Daughter, influenced by a rarely discussed part of history: the Japanese comfort women. When I first spoke with her about commissioning something for my album, we got together and went over many possible extended techniques. I don't recall ever talking about any specific music or subject matter so I was especially surprised and very drawn to the piece when I received it.
4. Cassiopeia by Ariel Marx, for two trumpets and electronics
Ariel Marx: "Cassiopeia or Cassiepeia is the name given to several characters in Greek mythology. However, one is prevalent in the myths of ancient Greeks. Cassiopeia, the queen of Aethiopia, was the wife of king Cepheus, daughter of Coronus and Zeuxo. Very beautiful and vain, she committed hubris by saying that she and her daughter Andromeda were more beautiful than the daughters of the sea God Nereus, called the Nereids. As a result, Poseidon was infuriated and sent the sea monster Cetus to plague the coast of Aethiopia. According to other sources, he did not send a monster, but caused the lands to flood. Consulting an Oracle, Cepheus and Cassiopeia had to sacrifice Andromeda in order to appease the wrath of Poseidon; they chained her daughter to a rock next to the sea as a sacrifice to Cetus. However, Perseus managed to save her and kill the beast; he then married Andromeda. Unhappy that Cassiopeia was not punished, Poseidon tied her to a chair in the heavens, so that she would revolve upside down half of the time. This is how the constellation took its name, resembling the torture chair that was used for Cassiopeia's punishment."
This piece is inspired by the imagery of Cassiopeia spinning, half the time right side up and half the time side down, always clinging for dear life, never in comfort, and unstable in her orientation. The cyclical phrases and interaction between the two trumpet parts and the electronics create a dizzying chaos that spins forward throughout the piece. I originally met Ariel through several years of recording her music for her film scores. When we met about commissioning a piece for the album, I knew I wanted something with electronics, and it was so great seeing the development of this piece as it went along. It was the last piece I received before the recording sessions, and looking back I remember feeling a great sense of urgency and anxiety when practicing it, since I didn't have as much time to spend with it as I may have preferred. I think in hindsight that that emotion was exactly what the piece needed to develop with the right kind of spinning and unstable energy. I always enjoy performing this piece live with the Trumpet 2 part that I recorded.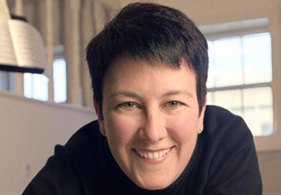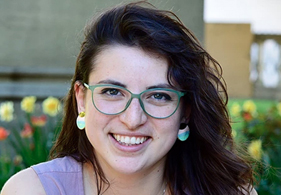 Jennifer Higdon; Ledah Finck
5–10. Trumpet Songs by Jennifer Higdon, for trumpet and piano (featuring Borah Han on piano)
Trumpet Songs was originally a piece for soprano voice and later adapted for trumpet. Each of the movements evokes imagery of flowers and nature—where the earth itself becomes a character—and references longing for one's love. Here are some thoughts about my interpretations of each movement: "Morning Opens" reflects on the beauty of a morning, while "To Home" further describes the longing to return home to a love interest. "In Our Quiet" continues this longing, illustrating the connection of being next to your love physically and emotionally. "Hop and Toe Dance" is a spirited expression of love to the earth, while "Threaded" and "Breaking" are perhaps deeper and more relaxed expressions of love and support. Confession: I almost didn't include Trumpet Songs on my album because I was having trouble figuring out the order of the tracks and wasn't sure it would fit. I'm so happy I did because the piece is so beautiful, and it was such a joy to work on and perform. Many people listening to my album reach out to tell me that Trumpet Songs is their favourite part of my album so you never know!
11. Hill and Holler by Ledah Finck, for alto flute, violin, and trumpet + voices (featuring Ledah Finck on violin and Louna Dekker-Vargas on alto flute)
Ledah Finck: "Born in 1930 in Baltimore to immigrant parents amid sounds, smells, and sights still vivid today, my grandmother Paula Finck spent the first half of her life encased in city talk and city smog. In 1980, she and my grandfather bought 100 tree-covered acres on a ridge in very rural West Virginia and moved from Pittsburgh, PA into a tiny gray tin-roofed house at the top of the hill on the property. A few years ago Bubby produced two booklets of her own poetry, the first called Under the Silver Maple and the second Leaving the Silver Maple. The first booklet contains poems from 1939-2007 and is a celebration of the countryside of West Virginia in which she found her true home, where acquaintances with people were few but meaningful and where acquaintances with both the beauties and hardships of nature were plentiful and profound. The second book, with poetry from 2001-2013, deals with (in her words) 'loss, caregiving, and national issues,' many of the poems coming from around the time that she moved from West Virginia to North Carolina. A lifelong promoter of compassion and awareness, Bubby considers political activism merely 'being a good citizen.' When I recently began delving more deeply into these two volumes of her writing, I began to gain a deeper understanding and empathy for my quirky and beautiful grandmother. In composing Hill and Holler, I used the entirety of "Mountain Mama Dream" and an excerpt from "What makes a city girl move to the middle of nowhere?," both from Under the Silver Maple. The piece is for me a celebration of many of the facets of Bubby's life and personality that I admire but in particular her deep appreciation for and at-homeness in nature. When she moved to West Virginia, Mother Nature became viscerally her protector, challenger, and nurturer. Throughout my whole life, my Bubby has taught me the importance of showing kindness and care and listening to all the people and creatures in my environment, something which these days I'm becoming ever more acutely aware of. I celebrate her willingness to look and listen."
"Mountain Mama Dream"
The night comes slowly
as I walk the back woods and
gather compost for my garden
The sky lights up with vivid colors
I lay back on the grass
to see the sky show. . . and then,
eat my dinner, read the Green Tab,
slowly drink blackberry wine and
become one with my inner nature
my dream does a wild hillbilly dance
with sweet touch and pure emotions
I do not awake easily
- Paula Finck, 1981
"What makes a city girl move to the middle of nowhere?" (excerpt)
Plant me in a forest of poplars
next to butterfly weeds
down a dirt road to a meadow
where the sun sprinkles its laughter
- Paula Finck, 2012
Ledah and I were classmates at Peabody Conservatory and we played in orchestra together. I always admired The Witches duo of Ledah on violin and Louna Dekker-Vargas on flute, and it was incredible to be able to work with them on Ledah's piece. I can't imagine that trumpet, flute, and violin would be an easy instrumentation to write for, and this piece was definitely a challenge to play. I believe I mentioned to her that it would be fun to sing in the piece and I remember receiving a first draft and thinking, "Oh, no, I'll never be able to make this come together." But we did!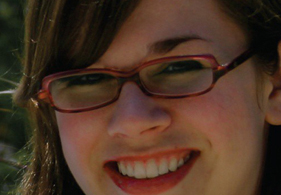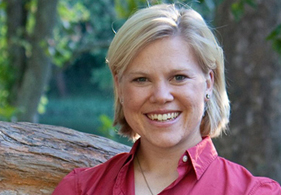 Jessica Rudman; Nicole Piunno
12. Elegy by Jessica Rudman
Elegy was originally written for euphonium and later adapted for trumpet. The piece starts and ends with a bucket mute, chosen for its similarity to the euphonium sound. Elegy features the trumpet across its entire range of notes and dynamic levels, starting soft and low and moving towards higher and louder as the piece progresses. I recorded this piece in a concert hall at Peabody Conservatory to dramatize these effects and characteristics.
13-14. Monterey Letters: Seeking and The Voice of One Crying Out by Nicole Piunno
Nicole Piunno: "These three unaccompanied solos for trumpet were written during a short stay in Monterey, California. 'Seeking' briefly describes the sense of adventure I experienced, while 'The Voice of One Crying Out' portrays a work of art I encountered. This middle movement was inspired by a single work by Salvador Dali in a collection called the Biblia Sacra. The work has what appears to be a trumpet with a downward facing head. To me, this appears to be someone calling out with a sense of helplessness."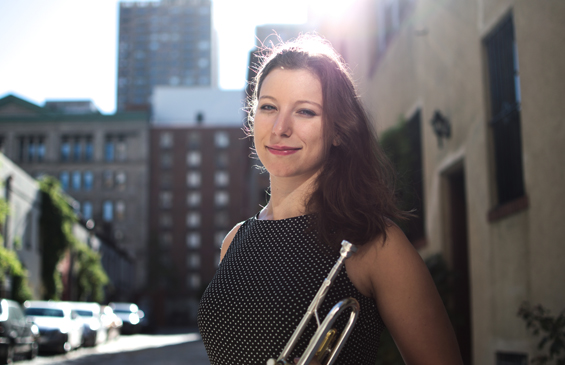 website: KATE AMRINE
February 2018