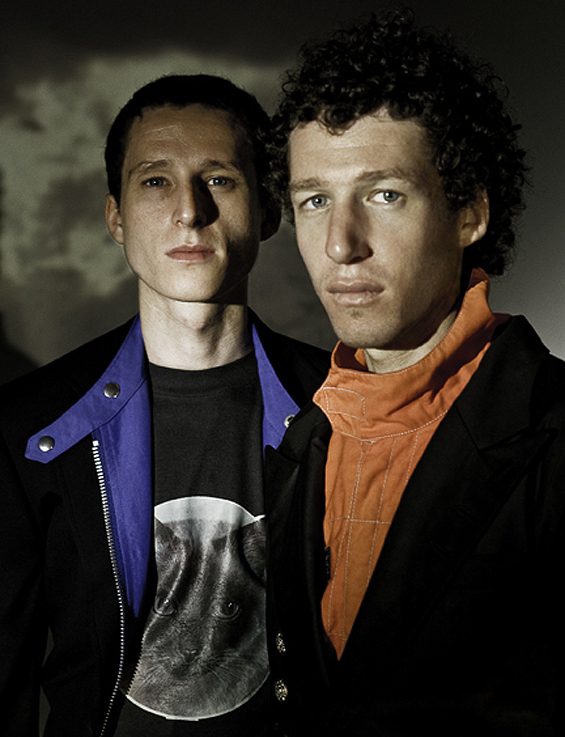 BACKTRACKING WITH LYMBYC SYSTYM'S SHUTTER RELEASE
In which the brothers Bell—multi-instrumentalist Jared on banjo, glockenspeil, guitars, and keyboards and his percussionist brother Michael on drums and programmed beats—take time out from promoting their latest album, Shutter Release, and touring (a January trek will take them along the West Coast, as well as Arizona and Texas, with Helios along for support) to give textura readers a track-by-track rundown of their new collection. (The textura review of Shutter Release can be read here.)
"Trichromatic": This song consists of three distinctly different sections, each with its own mood and colour. Compositionally, the idea was to make the three sections work together as a whole without referencing any ideas from one section to another. The idea stemmed from my fascination with the seemingly endless possibilities that can be created from the three primary colors. So, the title is quite apropos.
"Ghost Clock": A great deal of "Ghost Clock" was made from bits and pieces I had recorded on my sampler, including the backwards guitar and the Lowrey organ beats. The initial samples for the beats were a little out of kilter, which reminded me of a clock keeping time in an alternate world.
"Interiors": Believe it or not, this song was actually inspired by Coldplay. I used the basic elements of their triumphant, rock-inspired chord progressions and then tried to steer it more toward the experimental side. Mike's futuristic Latin-glitch beat really helped this song to break free from its original confines and push it into uncharted territory.
"Bedroom Anthem": I wrote and recorded the demo for this song in my brother's old apartment over the course of an evening in April 2007, which makes it the oldest song on Shutter Release . My brother's friend had left his banjo behind and it happened to be the perfect compliment to this song. It was the first time I had really played a banjo, and I instantly fell in love with it. The banjo ended up serving as the foundation for many of the songs on the album.
"Kubrick": We kind of thought of this one as the obligatory "ballad" that almost every album seems to have. After we made the initial framework for the song, we turned it over to Chris King from This Will Destroy You. He then processed each individual track through his electronic software. His spliced-up, effected, and manipulated concoctions really blew me away. Instead of coming out chaotic, they turned out to be quite angelic, graceful, and organic sounding. We then incorporated these sounds back into the original. The end result slightly reminds me of Stars of the Lid.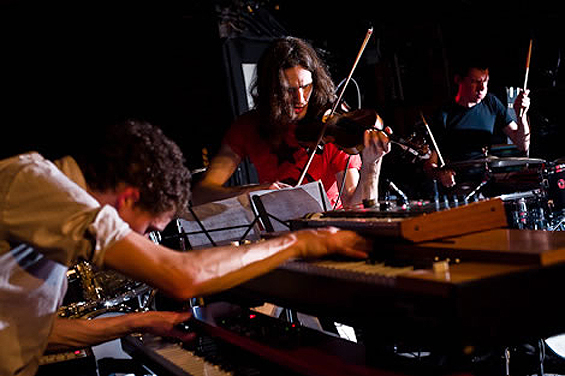 Jared Bell, Christopher Tignor, Michael Bell
"Contemporary Art": I am really interested in the idea of contemporary art, both in the visual and musical realms. What makes something new? What makes it valid to a particular society? And who dictates those terms? This song is about that—as much as an instrumental song can be about that.
"T-Ball": Being that we're brothers, this song was intended to capture some of the memories of our childhood. Fittingly, Mike sampled the voices in the background from a found electronic children's toy, which I think told a story about farm animals. The muted vibraphone melody is meant to bear semblance to one of those brightly coloured toy glockenspiels.
"Shutter Release": A great photograph captures a moment in time but remains timeless. This is really the essence of songwriting as well.
"Teddy": This song title comes from two sources. The first is our beloved pet dog, Teddy, who passed away last year. He was an integral part of our lives since our teenage years. The second is from JD Salinger's "Teddy," which is my favourite short story. It's great. Read it if you haven't already.
On another note: This was one of the only songs that changed a lot from the original demo. The beginning and end are roughly the same, but we actually scrapped the entire middle section about a month before the record was mixed. It just didn't mesh with the rest of the album, so we completely changed the arrangement, feeling and instrumentation—everything really. It was re-recorded at the apartment of our friend, Christopher Tignor (Slow Six), who is the violin player on the record. I recorded the Rhodes piano part for the new section with Christopher playing his tattered drum set just to give me a rhythm to record to. We ended up liking the scratch track of his beat so much that we cut it up and made it the actual beat that you hear on the record. Mike, of course, added in a lot of his own programming magic that really unifies the beat and brings it to life, but the core of the beat is basically just a scratch track that was meant to be thrown away.
"Late Night Classic": We both live in the New York City area now. Growing up in a city with poor transportation options, we can really appreciate living somewhere with a fine public transit system. So we pay homage to that at the end of this song.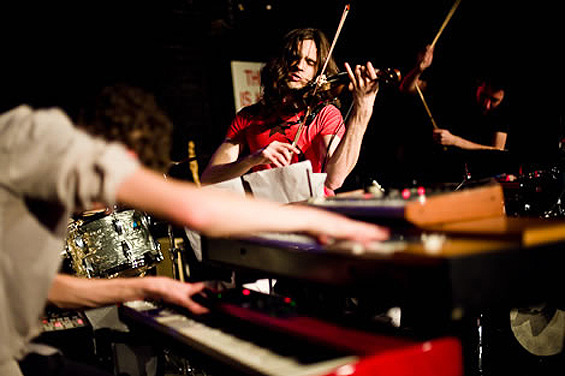 January 2010