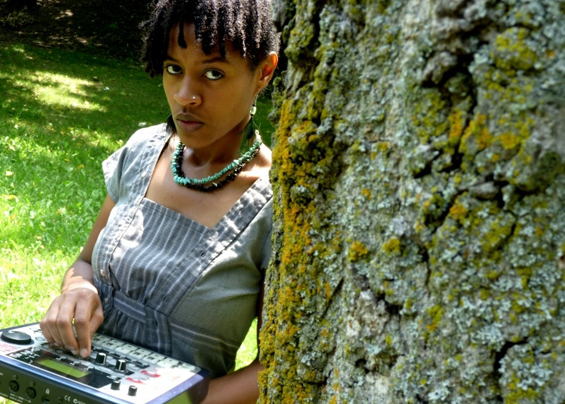 BACKTRACKING WITH PURSUIT GROOVES' FRANTICALLY HOPEFUL
Washington, DC-born and Brooklyn, NY-based, Vanese Smith is the soultronic mind behind Pursuit Grooves and one-half of the psychedelic trip-hop-inspired group GuSHee. Growing up to the sounds of Teddy Riley, The Cure, Jimmy Jam & Terry Lewis, and Timbaland, among others, Smith acquired her first musical gear at the age of fourteen, began DJing in college, and cites artists associated with soul and funk (Cameo, Sade, Loose Ends), trip-hop (Bjork, Massive Attack, Portishead), and hip-hop (DJ Premier, Pete Rock, J Dilla) as inspirations. Smith issued her debut Pursuit Grooves CD, Fun Like Passion (on her own label, What Rules Records) in July of 2006, then followed it with Wild Art Forestry (2008), Sustainable Movements for A New Age: An Environmental Beat Tape (2009), and Fox Trot Mannerisms (2010), the latter her maiden voyage on Pinch's Tectonic imprint. On her latest Pursuit Grooves release, Frantically Hopeful (also on Tectonic), Smith once again draws upon soul, hip-hop, and house in crafting her heady electronic productions, with vocals sometimes added to her tribal-flavoured tracks. It's a fabulous outing that shows Smith's production and compositional skills at their most refined and advanced, and we're thrilled to be able to feature her thoughts on the album's tracks.
Frantically Hopeful: I hope! I hope! I hope! Basically I have no idea what to expect in the future. The last two years have changed so much in terms of new gadgets and how we interact with one another. I just hope we still cherish the intimate moments we spend with other humans and remember the simple things in life. All of the album titles were carefully chosen based around current affairs.
"Revolutionaries": The last track made for the album. Sets the tone conceptually. I wrote the lyrics after a lot of things that were going down in Egypt, etc. Basically just further emphasizing that the people have the power to make their voices heard and contribute to government which is supposed to be there for them anyways. The track is based around a short sample that I pitched and chopped. It's a bit weird but it made sense to me. I'm playing all the synths on top.
"Type Send Universe": First track finished for the album. How much time do we spend typing... then sending? Between computer e-mails and smartphones I'm sure it's plenty! Lots of sampled elements meshed up here. It was kind of a game to me.
"I Sink": Double meaning. I kept the words separate to avoid legalities! "Plug me into that vortex, I want that next generation penetration, instant news gratification. No need to think too long, my fingers belong on key strokes. Don't watch my eyes, communicate phone notes." I've been MCing since I was about 14/15 years old and back then I coul write about nonsense. Now everything I rhyme about tends to be social/political. I'm also a bit of a fan of using words or phrases that have multiple meanings, and a fan of switching up rhythms in middle of a song. You never know where it's gonna go.
"Transformation of Consciousness": This is Pinch's favourite track on the album. Spiritual disco. The track name and sample comes from a particular philosopher/theorist. I thought it was fitting. I like taking samples and putting it in a totally different context, which I did here. I added proper synths on top which give it that anthem feel! It's an instant head jerker. People have called this Chicago house but that definitely wasn't my intention when I was working on it. Honestly, a lot of things I create come from experimenting or accidents, and then I just run with it.
"Peace Talks": My favourite track on the album. R&B love. No samples here. I played everything out. I wanted it to be pure and intimate. Not following the traditional verse-chorus-verse-chorus layout, I just wanted to create a feeling vocally and musically.
"Mars is Rising": Silk sheets! Late night meditation. No samples here as well. Perhaps this is my "Cozy" equivalent. I enjoy making downtempo tracks and for years stayed in this tempo.
"Clueless": "Fear can take you to great heights. Take that energy and its might. Grind and find what feels right. Calls and shouts your name at night. Branch out beyond the regular list. To fit is a myth, don't want to live with. Use your gifts to benefit. Not just you but the future it lifts." Words to live by. I also had to show off my playing chops a bit by doing my best Roy Ayers styleeeee. Lots of clueless people in the world. Whether based on greed or non-exposure, etc.
"Bedazzled": For some reason I always think of smurfs marching when I hear this.
"Attention": I close my eyes and I see a car commercial. Cruising down the highway at night in my electric car! The original drum foundation of this track was initially a sample, but I decided to recreate it with different drums and also replaced the vocal sample with my own voice. When I'm making tracks I try to decide if I'm going to go sample-heavy or not at all.
"Bailouts": Reminds me of London. I'm dancing at Plastic People to this one!
"What About?": Like "Whisper" from Fox Trot Mannerisms, I love to add dialogue. I just added my vocals on this one as well. There are many layers happening in this track. French movie sample drops in the middle, taking you to another planet....and then I snap you out of it. This was mostly a lot of experimentation and improv that just went right on the first go. The perfect end to the album. A bit of heaviness with a bit of tenderness. And basically saying that in the end I'm just as confused and curious as everyone else when it comes to our future and what lies ahead of us.
August 2011