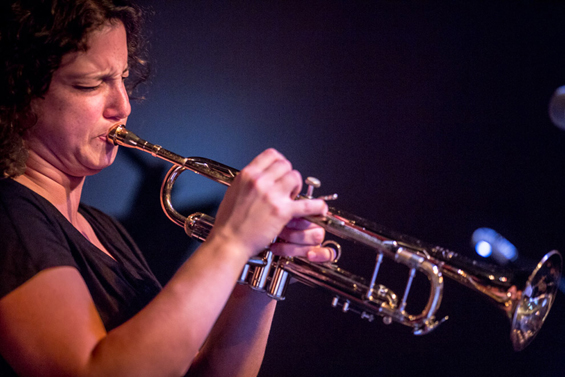 photo: Daniel Sheehan
FIVE QUESTIONS WITH SAMANTHA BOSHNACK
Samantha Boshnack's a dynamic trumpeter, but she's also a remarkable conceptualist, as shown not only by the band configurations she's helped create but the music performed by them. This intrepid, Seattle-based innovator is involved in a number of band projects, specifically her Quintet, the fourteen-member B'shnorkestra, and the composer-led Alchemy Sound Project, and has boldly enriched her artistic vision through the writing of five interlocking concertos for the B'shnorkestra and Coelacanth: In Its Own Time, which the Northwest Symphony Orchestra premiered in 2015. Boshnack's journey has included playing with artists such as Butch Morris, Eyvind Kang, Oliver Lake, Bobby Previte, Terry Riley, Stuart Dempster, Wayne Horvitz, and Jessica Lurie, and textura was thrilled to speak with her recently about her splendid new Quintet recording, Nellie Bly Project (reviewed here), among other things.
1. The performances by the quintet on Nellie Bly Project really bring your material to vivid life on the recording. Could you tell us a little bit about the members of the group and how long you've been working with them as well as a little bit about your own background?
I graduated in 2003 from Bard College in NY and started composing there under the tutelage of Erica Lindsay. For my senior project I put together and composed for a variety of different instrumentations including bands that were horn-heavy, string-focused, and chordal-driven (piano and guitar). After graduation, I moved to Seattle with the goal of continuing to compose. The first ensemble I wrote for in Seattle was called Reptet, which started as a group featuring two horns and rhythm section with piano, but when the pianist left we decided to replace him with two more horn players. The music was high-energy, and we played exclusively originals by the many composers in the band. This instrumentation and group was my main focus up until 2011; we released four albums composed primarily of my music and toured relentlessly all over the US and Canada.
In 2011, I started the B'shnorkestra, which is a fourteen-piece alternative chamber orchestra, which I'll talk more about later. I then decided I wanted to create a group featuring piano and so started the Sam Boshnack Quintet in 2011 with Dawn Clement as the pianist, Beth Fleenor on clarinets, Isaac Castillo on bass, and Max Wood on drums. In 2014, Alex Chadsey replaced Dawn.
I enjoy writing specifically for each of these players as individuals. I know them all well and aim to write to their strengths. We have a great deal of fun together and laugh a lot. This is really important to me; I love playing with people I feel comfortable around and can express myself honestly. Each of these musicians is a band leader as well and has a clear artistic vision, and I feel so grateful that they collaborate with me on mine.
2. The Sam Boshnack Quintet isn't your only group; in addition to the B'shnorkestra, you're part of the composer-led ensemble Alchemy Sound Project. How do these projects differ from the quintet and are you also involved in other projects besides those?
The B'shnorkestra's instrumentation is two violins, viola, two cellos, two basses, three drummer/percussionists, two woodwinds, myself on trumpet, and a conductor. My goal was to create a large ensemble that would explode boundaries and bring musicians from many different musical communities together. B'shnorkestra members are top musicians from jazz, rock, avant-garde, salsa, world, classical and more. The compositions incorporate improvisation and groove into intricate orchestral music. I love the freedom that writing for B'shnorkestra gives me, as there are so many instrumentation options I can use to explore contrasting sound landscapes and genres.
I wrote eight pieces for the premiere performance of the group, which we later took into the studio and released as Go To Orange (2013). In 2015, I embarked on a large project for the group called Global Concertos, which involved writing five concertos for an international tour de force of soloists, each showcasing a guest soloist's instrument and tradition: Thione Diop, West African talking drum; Christos Govetas, Greek clarinet; Srivani Jade, North Indian vocals; Julio Jauregui, Latin American piano; and Thomas Marriott, American jazz trumpet. I created compositions where in addition to my written material there is also space for the virtuosic soloists to showcase their particular styles of improvisation, aural tradition, rhythm/groove, and ornamentation. B'shnorkestra provided the flexibility needed for works spanning the globe in their reach.
Started in 2014, Alchemy Sound Project is a composer collective featuring the music of Sumi Tonooka, Erica Lindsay, David Arendt, Salim Washington, and me. We're all composers who participated in the Jazz Composers Orchestra Institute. This intensive program brought together jazz composers who were interested in writing for orchestra; some of us met there, some of us knew each other already (Erica was my teacher, and Sumi and Erica play together already). We were all so inspired by this program that we wanted to keep working together and write for each other, to try to channel the spirit of orchestral music for a jazz septet. We released our debut recording in 2016 and have another one in the works for release. This group is very exciting to me because I get to learn from the other composers. We all have very different styles, but there's a special 'alchemy' to the group that makes the music all work together on the recordings.
As a trumpeter I'm busy playing all kinds of music in many different communities including Latin, Balkan, free, contemporary classical, jazz,and more. I'm a member of Wayne Horvitz's Royal Room Collective Music Ensemble and am also an educator who works with many organizations teaching music.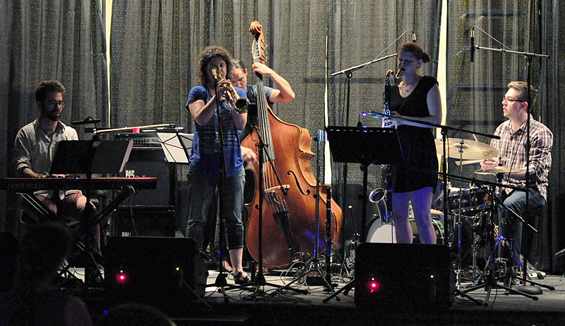 3. The names of early feminists such as Mary Wollstonecraft, Elizabeth Cady Stanton, Margaret Sanger, and Susan B. Anthony are and have long been familiar to me, but to be honest I wasn't aware of Nellie Bly until your recording brought her to my attention. When and how did you first become aware of her, and what was it about her that struck such a powerful and long-lasting chord within you? Secondly, while there is a great deal of variety and contrast in Nellie Bly Project, it's generally characterized by strength and determination, qualities that would seem to go hand-in-hand with the subject matter. Is that something you did deliberately?
My father introduced me to Nellie Bly as a young girl. She was a report topic for me in grade school he urged me to tackle. She's an animated, larger than life kind of character who wanted to change the world for the better and brought to light social injustices, constantly putting herself into dangerous places (including mental institutions, factories, jails) to do so. It was the daredevil journalist that caught my attention back then. When I was thinking of what I wanted to do next for the band after our debut record, I was once again drawn to her. As I sat down and researched her again, this time as an adult, I was struck by her courage. It's hard to understand or explain how she had the strength to be so confident and stand up to the many men who tried to knock her down. I'm always so grateful to these women trailblazers and wanted to pay homage. I think it's really important at this moment to look at these figures of the past. During the 2016 election and since, it's become so clear that many people are not aware how many freedoms have only recently been granted to women and the struggle it has been to get them. I don't remember ever being taught about the women's liberation movement in public school.
I'm glad to hear you say you hear strength and determination in the music; I think it just came out as I let myself be inspired by Nellie's accomplishments.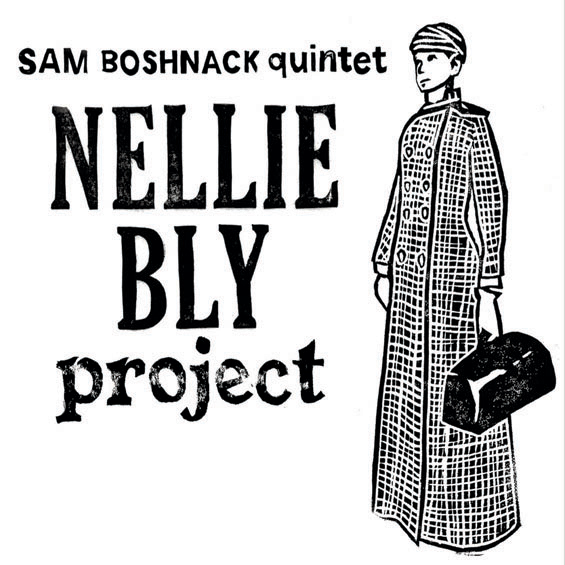 4. Nellie Bly Project stands out for a number of reasons, but two of the primary ones have to do with style and form. The release understandably would be filed in the jazz section of a record store, but to these ears its intricate, through-composed structure has as much to do with classical music and prog rock as jazz. For someone whose listening appetite growing up included things like Thick As A Brick and Tales From Topographic Oceans, it's hard not to hear similarities between the suite-like design of your album and prog classics like those, especially when I tend to hear the four-part piece as a single, thirty-four-minute work. How would you describe Nellie Bly Project in terms of style, and what musical influences (if any) did you draw upon as you created the work?
My music has been often called cinematic. I've never been a huge fan of that word, I guess because I'm not writing for movies. In this case, I feel okay with it, because I want the listener to become transported to the time of Nellie Bly. I want them to envision the horrendous conditions of a mental institute in the 1800s, or imagine spending seventy-two days racing around the world in trains and steamboats. As her story is colourful, I felt I needed to write more orchestrated and long-form compositions in order to tell it. I can't think of any particular musical influences I was channeling for this work, but I think there's definitely classical, jazz, Latin, avant-garde, rock, funk, and blues in there.
5. Though you recorded Nellie Bly Project in early 2016, there's a YouTube video that shows your quintet performing its first movement live in Seattle on May 9, 2014, which suggests that the project has been in development for some time. When did you formally begin the piece and how long did it take to reach completion? And now that Nellie Bly Project has been released, what plans do you have for the future with respect to performing and recording?
I started writing the music in February 2014 while at a composing residency with Marilyn Crispell; it was a fortuitous residency to be a part of for this project. I went knowing I needed to write the Nellie Bly Project, but I didn't yet know how I would accomplish my goal of honouring her. I went armed with her own books as well as Brooke Kroeger's book about her. At the residency there were both musicians and writers, and we spoke a lot about the relationship between words and music. As I was reading my Nellie Bly material certain phrases jumped out at me and I started to sing them, as you can hear on "Expositions." I had three female voices in the group who could sing, so I used that. Other phrases needed to be spoken.
We premiered the music in May 2014 and started to perform it with Alex Chadsey on a west coast tour that summer. We continued to perform it in 2015, but my life was completely taken over that year by composing the music for B'shnorkestra's Global Concertos as well as my first work for symphony orchestra, so we couldn't get into the studio to record it until February 2016. It was nice to have many performances of this music before recording it, as it helped us progress with the material and really make it our own.
My goal is to keep pushing forward with the Quintet. I have been writing new music for us, and we'll be touring in support of the release. I don't know when the next recording will be, but I'm optimistic that we'll continue to grow and perform until then.
website: SAMANTHA BOSHNACK
August 2017