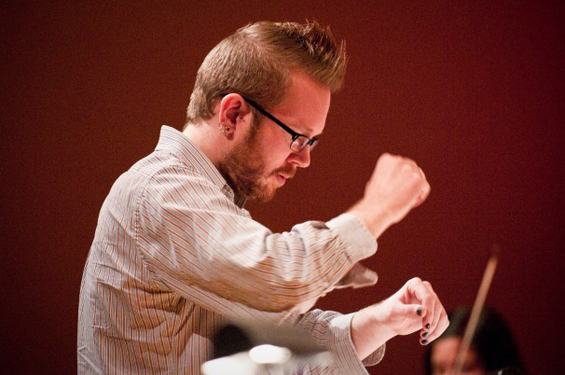 FIVE QUESTIONS WITH CALEB BURHANS
Evensong isn't Caleb Burhans first appearance on record—he plays violin in Alarm Will Sound and partners with Grey McMurray in itsnotyouitsme, and has appeared on three of the former outfit's albums and on two of the latter's (2010's Fallen Monuments and 2011's Everybody's Pain is Magnificent, both on New Amsterdam Records)—yet in certain key ways it feels like it. The recording, which features seven modern classical works performed by three different ensembles, shows him to be a composer of superior gifts (Evensong is reviewed here). Born in 1980 in Monterey, California, Burhans' involvement with music formally began as a nine-year-old boy soprano and continued on into formal study in violin, piano, music theory and composition, and eventually the Eastman School of Music in Rochester, New York from which the multi-instrumentalist graduated with a bachelor's degree in viola performance and composition. In addition to his involvement in the aforementioned Alarm Will Sound and itsnotyouitsme, the New York-based violinist-violist-countertenor-and-composer is a member of the Trinity Wall Street Choir and Philadelphia's Schola Nova, and the bands Dialects and Beyondo. textura is delighted that Burhans recently was able to spare a few moments to respond to five of our questions.
1. At the risk of sounding ingratiating, I have to begin by saying how impressed I am by your remarkable Evensong. Even though you've appeared on other recordings before it, such as ones by itsnotyouitsme and Alarm Will Sound, Evensong is the debut recording issued under your name. I'm wondering, then, if you could share what the experience was like for you to hear the completed CD for the first time. Did hearing your work presented in a single collection lead you to reflect on your music in a new way or hear things in your music you'd been less conscious of before but that now stood out in sharp relief?
Thanks. So glad you're enjoying it. That's a tricky question because we recorded the bulk of the album three-and-a-half years before it came out, so there was a lot of time for me to get reacquainted with these pieces before the release. Within that time I can't say exactly when I first heard it in album order, but I was extremely happy once I got that all figured out. Putting this album out had been one of my only goals in life and having it sit around for so long made me pretty nervous, so listening to it for the first time was not only satisfying but it also felt as if a huge weight had been lifted. Many years ago I decided to write music that helped me work through difficult and painful things in my life, and then when I would hear these pieces performed it was always very therapeutic for me. Finally hearing Evensong when it was finished was basically a really deep version of that.
2. In the promo video for Evensong, you describe your disdain for the terms 'indie-classical' and 'alt-classical' and explain why you've proposed 'emo-classical' for your own music (of course that term is arguably problematic too as it invites association with 'emo bands' such as Sunny Day Real Estate). Is this concern with labels more a critic- or media-driven thing, or is it something which is of genuine concern to you? Is it possible to get beyond labels altogether and just let the music speak for itself?
I was thinking more of a Death Cab for Cutie-kinda vibe. But honestly, I could care less about labels. For me the whole point of music is to create something that expresses what words can't say, so why would someone want to then go and attempt to apply words to that experience? It strikes me as a little odd. I've always disliked writing program notes for that same reason. I had gotten comfortable with the post-minimal label and then they busted out the indie-classical business so I decided to take it one step further to point out its absurdity. I actually don't mind the comparison to other emo bands since all of my music is extremely heart on sleeve. So people can call my music whatever they care to. At the end of the day isn't it all just sound on a canvas of time and silence?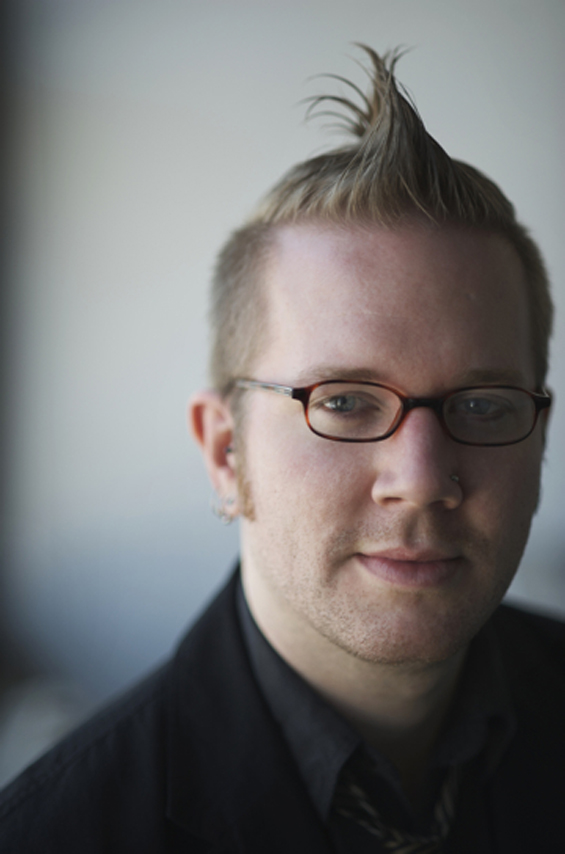 3. As religion plays such a central role in Evensong, I'm wondering if you're familiar with Alain de Botton's Religion for Atheists? In his book, he describes how atheists miss out on many of the positive aspects of religion, such as architecture, fellowship, and, of course, music. Are there specific qualities of church music that you're purposefully wanting to work into your own compositions and if so what are they?
I'm not familiar with that book, but those are the elements of church that I always appreciated. Usually when people ask me what religion I am, I say, "I'm a musician." When I create music with my friends we're working within a structure and partaking in a type of fellowship, so I tend to stand by that statement. From time to time there are elements of church music, specifically early choral music that I like to reference. For instance, in my Magnificat and Nunc dimittis the word "Amen" is being set over plagal and half cadences. In Super Flumina Babylonis I quote Bibel's Ave Maria and Howell's Magnificat in G. Unless I pointed out the exact spots, I don't think anyone would notice, but I enjoy paying my respects to those works in my own little way.
4. You comment in the video about how composers of your generation are saturated by the wealth of music that's so readily available today and that as a result all of the music you've been exposed to has perhaps seeped into your composing style and helped shape it into what it is today. At the same time, there are a few moments on Evensong where the influence of someone like, say, Philip Glass might be heard. When you're composing, do you consciously go out of your way to prevent the style of another composer from emerging or do you simply allow the composition to develop of its own accord? To what degree is your composing style affected by gear such as the looping device you're using in the video?
I don't believe that I've ever intentionally stopped myself from writing something. I'm pretty organic when it comes to the way I think about sound. I like sound to have natural entropy, so once I set something in motion I usually don't mess with it too much. I'm more interested in listening to it unfold and seeing what it has to offer. A lot of that may have to do with my use of looping pedals. In itsnotyouitsme we rely heavily on looping pedals to augment our sound, but when I compose the looping pedal influences roughly half of what I write. In a piece like The Things Left Unsaid, I was excited to really go that route since I had eight cellos at my disposal. The second half of oh ye of little faith… (do you know where your children are?) started its life as a loop; otherwise the rest of the piece is entirely through-composed. When I write for voice I always sing every part through to make sure the text setting and lines feel natural and are actually enjoyable for others to sing.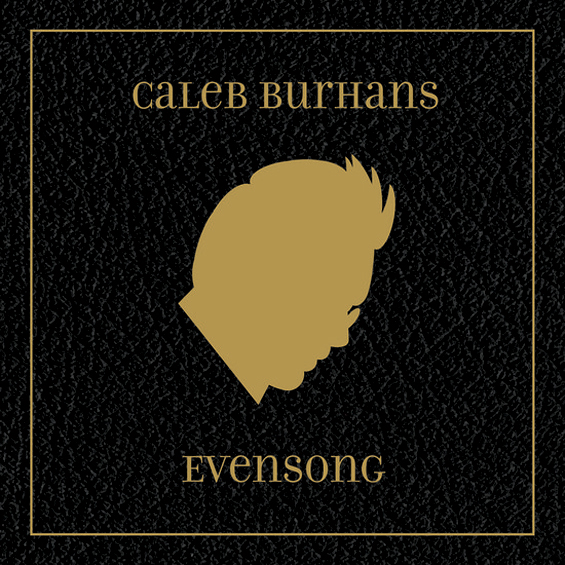 5. Listening to Evensong, I am especially struck by how free of irony it is and how powerfully and genuinely it registers on an emotional level. Is there a particular piece of music (classical or otherwise) that strikes you as representing the ideal marriage of emotional expressiveness and formal sophistication?
I didn't even have to think about this question. Hands down it would have to be Spiegel im Spiegel by Arvo Pärt. A buddy of mine always jokes that the piece isn't music, it's just form. That's the wonderful thing about it, though; the form is perfect, but it's still so completely melt-your-face-off gorgeous. And the elements are extremely spare; the melody is just an additive process applied to ascending and descending diatonic scales while the piano plays a simple three note arpeggio with a single note peppered throughout the high and low range of the instrument. All of Pärt's music is beautiful and particularly irony-free, but for me, that piece stands alone.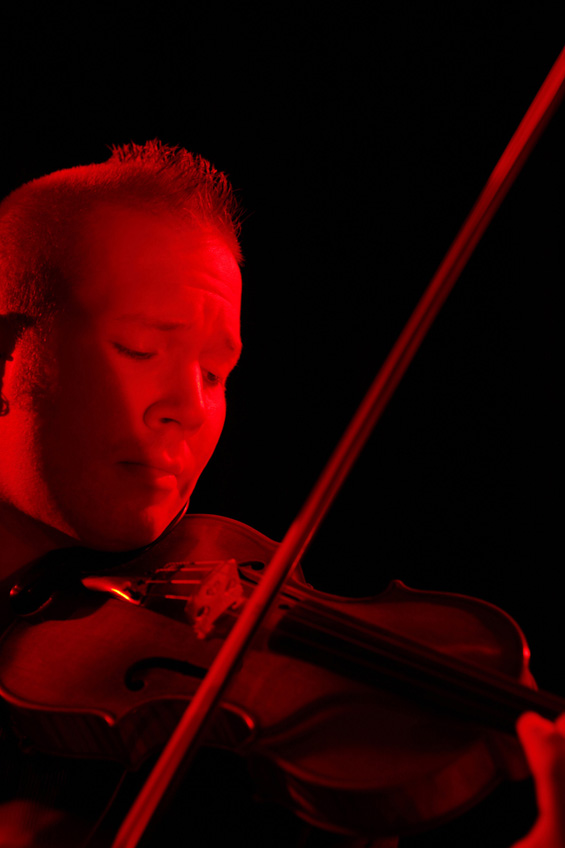 October 2013