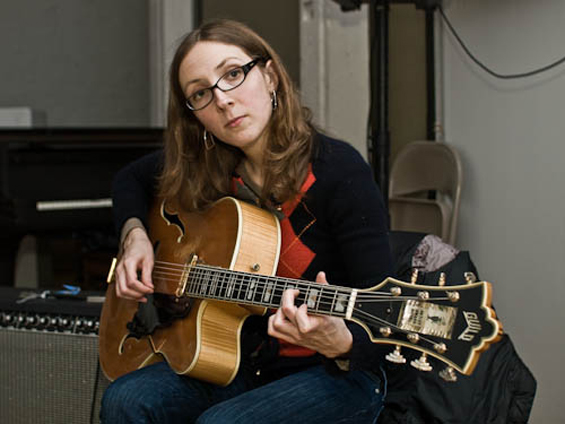 FIVE QUESTIONS WITH MARY HALVORSON
It's telling that in Downbeat's 2013 International Annual Critics Poll Mary Halvorson nabbed both the third spot in the Guitar category (behind Bill Frisell and Pat Metheny) and the fourth spot in the Rising Star Jazz Artist list. For on the one hand, it was only about a decade ago that she began playing in New York following jazz studies at Wesleyan University and the New School, which means that in one sense her star is still very much in the ascendant. Yet in that relatively short time, Halvorson has established herself as a major composer, bandleader, and player in a number of bands. In addition to leading her own trio, quintet, and septet outfits, she co-leads a chamber-jazz duo with violist Jessica Pavone, the avant-rock band People, and the collective ensembles Thumbscrew, Reverse Blue, and Secret Keeper. Beyond that, she plays guitar in bands led by Tim Berne, Anthony Braxton, and Myra Melford, among others. Recently Halvorson enjoyed a week-long August residency at New York's Stone club, which included a night of guitar duets with Joe Morris and Brandon Seabrook, two nights with the collective trio Thumbscrew, and three nights with the septet heard on Illusionary Sea (reviewed here). Though Halvorson has probably never been busier than she is right now, she still found time to respond to textura's questions.
1. You've managed to establish a distinctive solo voice as a guitarist, despite the fact that you've done so within a field of music where it would seem as if being influenced by others would be unavoidable. How were you able to do so when as a player figures like Pat Metheny, Bill Frisell, John Scofield, and John McLaughlin came before you?
I have definitely listened to—and have been influenced by—all those guitarists. However I don't try too hard to figure out what exactly they're playing, and I don't transcribe their solos. My feeling is the world doesn't need another Pat Metheny, Bill Frisell, John Scofield, or John McLaughlin; they are their own unique individuals, and when I hear imitators it's never interesting. Instead what I might take from listening to, let's say, an incredible Bill Frisell album, is the energy of what he's doing, the overall feeling, or end result of his music. I'll think about how I can create that type of feeling in my own way. So the influence is there, but it's indirect. I write all my own exercises on guitar and try to focus on developing and practicing ideas that I come up with myself.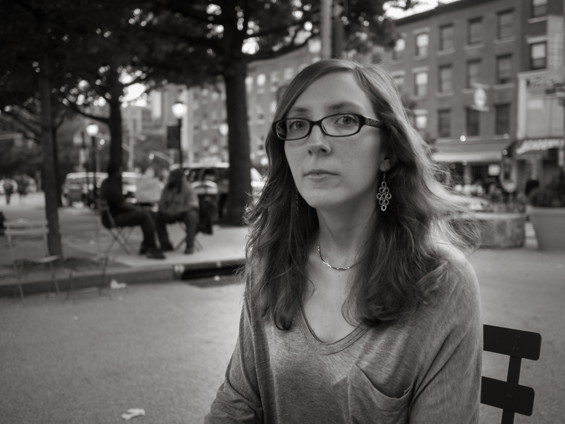 2. Relatedly, you've also managed to establish your own compositional voice, despite the fact that you play with strong and distinctive composers such as Anthony Braxton and Tim Berne. Do you consciously have to work at not letting others influence your composing style or do you do the opposite and allow such influences to seep into you and then re-emerge refracted through your own sensibility? Also, were there any concerts and recordings that had a particularly life-changing impact upon you?
In general, I try to not take too many direct ideas from other composers. But, similar to what I said above about the guitar players, Tim and Anthony are definitely influences. They both have such strong identities as composers and have created their own musical languages. To me that's where the inspiration is, in the strength and the uniqueness of what they do. What works for me is writing music intuitively and improvisationally, without too much second-guessing. I often find the first idea is the best, even if it's a really simple one.
When I was a teenager, I would attend so many concerts, and so many of them had a life-changing impact. I was absorbing everything like a sponge and inspired by so many things. I remember hearing the Art Ensemble of Chicago in Boston around seventeen or eighteen and being completely blown away; they sounded like nothing I'd ever heard before. Also hearing Anthony Braxton perform any number of times; his ideas are always so fresh and innovative. I remember driving to New York from Wesleyan (round trip four hours) to hear John Zorn, Tim Berne, Nels Cline, Elliott Sharp, and Marc Ribot. I will probably never consistently attend as many concerts as I did during that period. So it wasn't so much one life-changing concert as a couple of life-changing years checking out everything and feeling inspired.
As far as developmental recordings... my three first albums were classics: Miles Davis's Kind of Blue, John Coltrane's Blue Train, and a Thelonious Monk compilation. From there I got into Ornette Coleman, Sam Rivers, and Wes Montgomery. All those early recordings were—and still are—really special to me.
3. The new album includes a cover of Philip Catherine's "Nairam," which Robert Wyatt recorded under the title "Maryan" (on Shleep ). The press notes accompanying the album describe him as one of your "musical heroes," which leads me to wonder why exactly you hold Wyatt in such high regard.
The first Robert Wyatt I heard was "Sea Song" from his album Rock Bottom, which a friend played for me. The music spoke to me in such an intense way, and it was completely unlike anything I'd ever heard. Wyatt's music is filled with surprise, beauty, darkness, and individuality. His songs are thoughtful, deep, and completely his own. I probably listened to Rock Bottom three times a day for a year after I first heard it. And although I don't listen to it that often anymore, it still holds the same impact for me, as does almost all of his other work.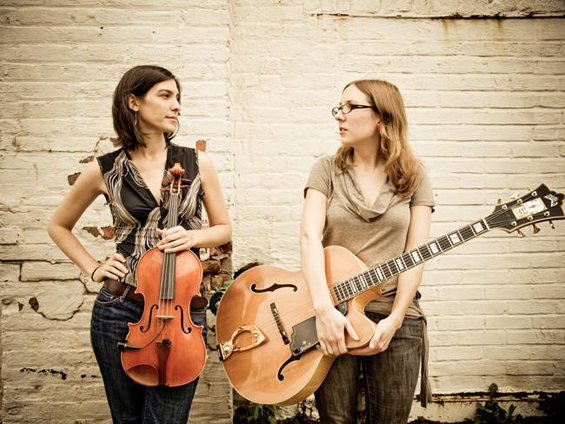 Jessica Pavone and Mary Halvorson
4. Though you've played with an incredible range of musicians, are there any artists who you haven't played or collaborated with but would particularly like to? How would you respond if, for example, someone like Ornette Coleman or Henry Threadgill asked you to join a new group project?
Yes, there are many musicians whom I would love to collaborate with and haven't gotten a chance to. However, normally I'm just focused on the projects I have coming up in the immediate future, and I believe things happen on their own time—if they are meant to happen. Of course I would be thrilled to be part of a project of Henry Threadgill's or Ornette Coleman's, as they are both heroes of mine. I did get a chance to go to Ornette's house for a session once, several years ago, which was one of the most amazing and surreal experiences I've ever had.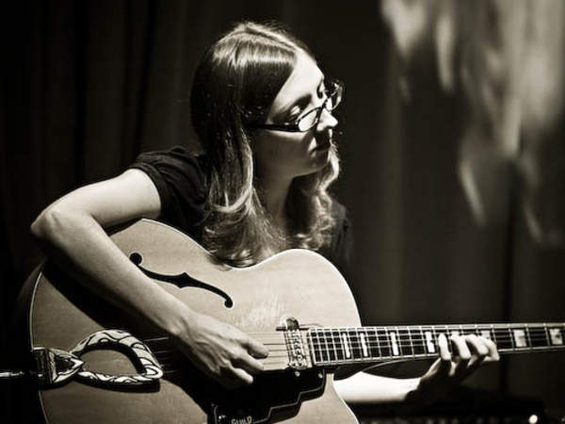 5. Some of the press quotes about you are clear enough, including Lars Gotrich's characterization of you as "the most forward-thinking guitarist working right now" (NPR.org) and Francis Davis's description of you as "one of today's most formidable bandleaders" (Village Voice). But I'm a bit puzzled as to what exactly Howard Mandel means (even though the words are stripped of context) when he calls you "NYC's least-predictable improviser" (City Arts). What do you think it is about your improvising style that would lead to him describing it as "least-predictable"?
Honestly, I'm not sure I'm there, though it's nice of him to say that! Being less predictable as an improviser is in fact something I strive for and work on. I don't think it's possible to be completely unpredictable; as musicians we all have language and vocabulary that we use and re-use. In my opinion, challenging yourself to widen that vocabulary and range, trying to avoid expectations and patterns, and taking risks even if you fall flat on your face—these are all factors that help us grow and keep things exciting and interesting.
October 2013