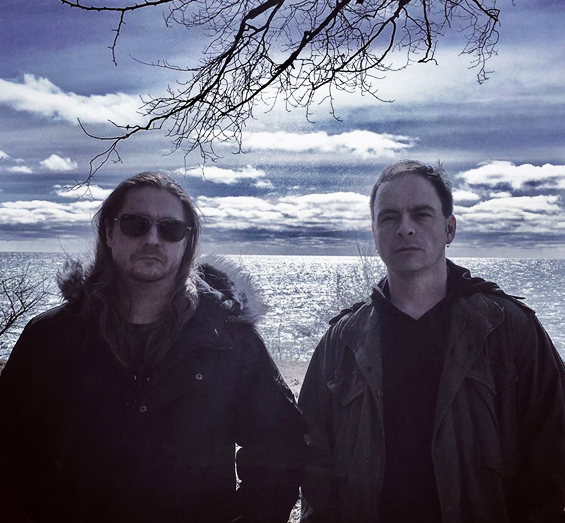 FIVE QUESTIONS WITH NORTHUMBRIA
After forming the dark ambient-metal act Northumbria in 2011, one-time Holoscene members Jim Field (guitar) and Dorian Williamson (bass) made their debut appearance on Eric Quach's TQA (thisquietarmy) Records a year later. Subsequent releases emerged on Cathedral Transmissions (2014's Blood Orchid, a three-inch collaboration with Famine), Consouling Sounds (2014's Bring Down the Sky), and Polar Seas Recordings (a 2014 split release with North Atlantic Drift), but it was the release of Helluland in 2015 that signaled a turning point of sorts: not only was it the group's maiden appearance on the renowned dark ambient imprint Cryo Chamber, it was also the first chapter in a projected trilogy. The recent release of the second part, Markland, suggested it might be the perfect time to speak with the band about all things Northumbria, and Dorian was kind enough to oblige. Read on to learn how the duo crafts its incredibly rich sound from a minimal guitar-and-bass template as well as, among other things, Dorian's take on Toronto's ambient-electronic scene.
1. The two most recent albums, Helluland and Markland, form the first parts of a trilogy inspired by the Norse discovery of Canada. What inspired you to select this topic as a theme for the trilogy, and in what ways are the parts different from one another in terms of style and content?
Since the band's inception a lot of our music has been influenced by the physical world, specifically the Canadian landscape. During the first sessions that eventually grew into Helluland, we wanted to explore a much more spacious and minimal side of the band, having previously released two very loud and sonic albums. We found ourselves thinking a lot about the ancient Arctic during those sessions, and the cold and minimal space in the music seemed to really evoke that kind of desolate landscape. Early on we decided to mould the record into a kind of an impressionistic concept album about the early Norse explorers, and the land they called Helluland, which is believed by most to be Baffin Island. It's a particularly mysterious part of Canadian and Nordic history, and one that's still being pieced together through new archaeological technology such as satellite imaging. We felt a strong attraction to this concept, and it wasn't too long into the sessions that we realized we could expand it into a trilogy, based on the three Canadian lands explored by the Norse. Of course because it's all instrumental, there isn't a typical narrative; it's more about using the music and sound in an impressionistic way. Helluland is very sparse and minimal; we really tried to create a sense of massive space through minimal means. The Vikings found it inhospitable and barren, with very little to offer in terms of resources. It was also quite unlike any landscape they'd likely ever encountered, totally alien and primordial. Markland, which translates from Old Norse into "The land of the forests" or "Forest-land," was the second land encountered.
2. You released Helluland and Markland on Cryo Chamber, which strikes me as a particularly good fit and one mutually beneficial to Northumbria and the label. How did the association come about, and when might we expect the third part in the trilogy to be released?
I'd been a big fan of Simon Heath's music as Atrium Carceri for a long time, as well as many other Cold Meat Industry artists, so when I found out he'd formed a new label he was the first and only label I got in touch with. Very early on in the sessions for Markland, I sent him a few rough mixes cold, he liked the sound, and it wasn't too long before he agreed to put out Helluland. We were and are very honoured to be on the Cryo Chamber roster; the quality and community there is totally inspiring. Also considering the label's interest in narrative and concept albums, it seemed like a really logical place for us to do something along those lines. Simon also created the artwork, design, and mastered the record. We're quite deep into tracking the third installment, Vinland, and with any luck we should have it out by early 2018.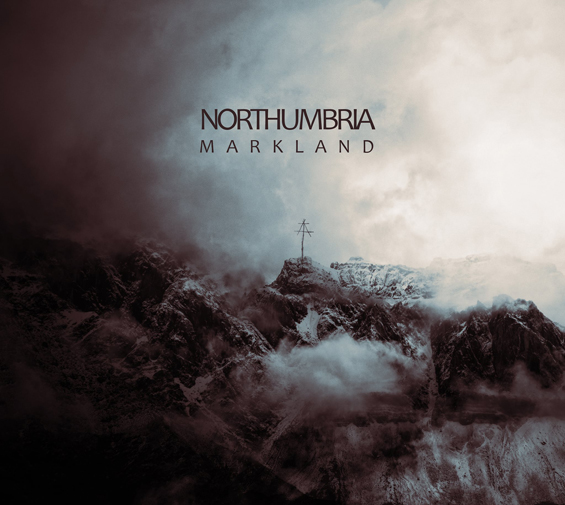 3. Though on paper Northumbria is instrumentally identified as a guitar-and-bass unit, the range of sounds presented on Markland suggests instrumentation beyond that basic combination. Did you supplement those instruments with others or can the expansive sound design be attributed to processing treatments and the like?
It's all guitar and bass, with no overdubs and recorded live off the floor. We do occasionally use a bit of looping, but the vast majority of the sound is created live, albeit heavily processed with our effects. There's a bit of post-production in the mix-down process, but really just basic things like EQing, a bit of reverb, etc. We wanted to keep Northumbria raw and very live-based. With so much technology available these days it's kind of a reaction against massive, complex recordings. Not that we're against that, it's just with this band we chose to enforce a more minimalist approach.
4. The two of you are based in Toronto (or at least the surrounding area). How effectively does the city function as a home base for your kind of music, and how well does its ambient-electronic scene hold up compared to other locales?
There's a definite scene in the city, one that we've been fortunate enough to be involved with. Long-standing nights like the Ambient Ping, curated by Scott and Jamie of dreamSTATE and the monthly Nite Comfort operated by Aaron from Dirty Inputs, have created a regular venue for ambient and experimental artists. Jay Pollard's Invocation also hosts regular experimental shows. We've played quite a lot in Montreal as well, which could arguably be said to have more of an eclectic scene, but Toronto is definitely expanding, as more and more people become aware of ambient and experimental nights. Unfortunately, like most cities a lot of DIY spaces are struggling and many mainstream venues are disappearing. There's certainly a growing public awareness of this problem, and people are realizing how essential and vital it is for artist-friendly spaces to remain.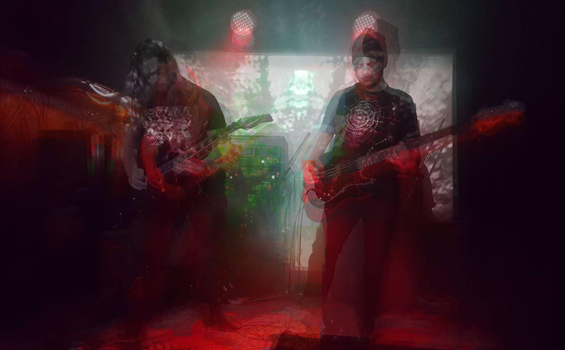 5. You've covered a lot of ground since Northumbria formed in 2011. What do you see as the biggest changes that have happened either in the group or to the group since it formed?
We're both really happy that the music has found an audience; from the outset we really wanted to try and make something pure and free from all the traditional trappings of having a band, to make the music we wanted to make and not worry about the business side of things, and put out records at our own pace and play shows that we felt would resonate well. I think we've both been pleasantly surprised that there's so many people getting into what we're doing! We've stuck very closely to our original vision for the band, and we both try hard not to over-intellectualize what we're doing. That's the kiss of death with this kind of thing. We're genuinely trying to tap into a kind of primordial or primal level of energy; hopefully, we've occasionally captured that on record. When it works we really are just acting links conduits for the power, applying a bit of direction and control to the sound, but the music is manifesting in a way that we could never compose in a traditional manner. It comes to life on its own, and we just help a bit with its birth.
May 2017