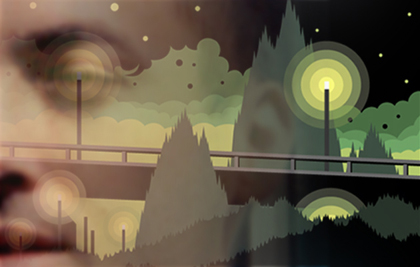 TIM HECKER
Montreal resident Tim Hecker attracted initial attention with his Jetone releases Autumnmonia (Pitchcadet, 2000) and Ultramarin (Force Inc., 2001) but Hecker eventually stripped himself of the Jetone moniker and its associated 'organic techno' style in order to concentrate on a more abstract and fluid form of dramatic soundscaping under his own name. While Fennesz and Oval are oft-cited reference points, Hecker's ecstatic slabs of textured noise carve out unique stylistic territory. Following Haunt Me Haunt Me Do It Again (Alien8, 2001) and the EP My Love Is Rotten To The Core (Alien8, 2002), Hecker released Radio Amor (Mille Plateaux), one of 2003's most memorable and conceptually satisfying releases. Fall 2004 now brings the release of Mirages, a thoroughly credible if less overtly referential follow-up issued on Alien8's sub-label Substractif. Hecker, an M.A. graduate in Political Theory from Concordia University and a key figure within a burgeoning Montreal music community that includes MUTEK, Constellation, and Alien8, agreed to an interview on the eve of the new album's release.
Is there an underlying concept to Mirages as there was to Radio Amor?
There has really never been an overarching concept to any of my recordings, a concept if you will that has guided the entire recording process. The concept I've used for previous records has been more of a practice of writing, almost an act of fiction, just like the efforts used in designing the artwork. That's not to say that all of my recording processes have been devoid of ideas or directions, they very much do exist, but I've tended to ham up the presentation of a record, almost in reaction to much of the pretentious pseudo-conceptualization that is endemic to the electronic and experimental genres. Radio Amor was an absurd over-dramatization of a concept record, one which was devoted to "Jimmy the high-wire fisherman," still sailing after all of these years in the pirate-infested waters of the Caribbean . No bullshit—Jimmy does exist, and I did meet him during my travels through Honduras , and the idea of tropical nautical winds did guide my work, but it might have gone too far.
In a November 2003 article in The Wire, you discussed the importance of establishing narrative frameworks, of creating "some sort of fiction out of it" and yet, in that same article, you spoke about a work's malleability and its interpretive range. Is your preference to keep referentiality out of it altogether?
I am more interested in talking about "malleability" than discussing notions of vision or reference.
Let me ask about the press material accompanying the new album: "Taking inspiration from Italian partigiani and the counter-attack of the anti-Vichyists, Hecker has issued a salvo against all tourists of melancholy, from trustafarian pseudo-leftists to the Ikea nihilists of the bobist rive droite. … With its motifs of eroticism and torture, militancy, and ecstatic pain, Mirages also points backwards towards the Viking penchant for fighting and feasting." Care to elaborate?
This is basically making reference to some of the more heroic WWII anti-fascists, in particular their resolve in waging war against the inauthenticities of modern life—both "trustafarian pseudo-leftists" (those who pay to play) and the "bobo nihilists" (those who play to pay). I wanted to say that this record is an attempt at authentic experience (even if it failed), and even if it must be barbarian to do so.
In terms of your approach, is a composition deliberately and meticulously conceived or do you allow yourself to get 'swept away' as it were and allow the music to develop of its own accord?
Both. Much of the pieces are recordings of live sessions, with all of their unpredictability and singularity. Later on, I usually form pieces which are somehow assembled together in sometimes meticulous fashion, other times not. Passion is the modus operandi.
Is there a general creative process you use when creating your music? Could you use something like "Acéphale" as a reference example to chart how a composition develops?
My creative process is to develop a melody, and sort of develop things where they may which still hinges on that backbone. It's like constrained experimentalism that is somehow very much pop and very much goth. "Acéphale" (French for "Headless", also a work by Georges Bataille) was developed from a sample of the band Blur; I played guitar over it and fucked with it until it took on a life of its own. To be clear, though, there is no standard chart for a composition's development; each piece is its own work of basement fungus.
What traditional instruments did you use to generate sounds and what are the sound sources for the tracks?
Guitar, piano, that's it! Samples… samples of processed and fucked-up samples, processed "studio" instruments and processed samples of studio instruments or non-original samples. I work on PCs with a variety of software, including Audiomulch and Reaktor, and an assortment of live instruments and guitar pedals, mixer et cetera. But the tools are really irrelevant, as one could get a similar sound with a plethora of approaches; it's really knowing your setup enough so you don't have to think via the platforms/interfaces etc, rather think through them.
Invariably the name Fennesz comes up when writers confront your work. Are you annoyed that the name is often invoked, or are you flattered?
It was charming at first, and understandable still. I think our work has gone into totally different directions over the last couple of years though. After a while it's sort of annoying.
Can you be more specific about what those "totally different directions" are?
My general impression is that Fennesz has focused on a very pop sensibility in his recorded work over the past few years (his live approach is very different), as opposed to the more physical early works like Plus Forty Seven Degrees ... era recordings.
Your music seems to be on the one hand so majestic and melodic that a word like 'beautiful' doesn't seem inappropriate, yet there's also a griminess that offsets it. Are you trying to redefine the concept of beauty by creating sound that's simultaneously beautiful and noisy?
I've always had a hot fever for the sublime and seductive, but am put off by insincere overly-polished prettiness that is as easy to churn out of a modern PC as making toast. Hence my work has been a hunting party for the wild fox that is the nexus of dissonance and melody. There are many possible ways to hunt the fox; it gives me a reason to keep on.
In Grooves issue 8 you said that with Haunt Me you were trying to create a work with "physicality when played loud but also sedative and melancholic when quiet. I'm not sure if I'm there yet, though." Do you feel that you've accomplished that with Mirages or have your goals changed since you made that statement?
I think I've been working towards that tension that appeals on those two levels. I think Radio Amor and Mirages are much more along those lines than Haunt Me. Textural-heavy music has that benefit of almost playing to two sorts of listening environments—one brutally loud, and the other in the ghetto blaster in the corner of the room as you fall asleep—personally I'd say Mirages is more along the lines of the sound massage though.
You've said "I still don't think people have realized the potential of pure melodic dissonance—overwhelming tones, tectonic plates of sound." Is Merzbow a good example of someone creating "pure melodic dissonance" or is there someone else who fits that description better?
No, Merzbow is more noise I'd say, with very little on the melodic side, or at least his melodic approach doesn't interest me. Some good examples are some of the Touch label artists, also some of Phill Niblock's work, but mostly various metal and indy bands do it better.
What's a normal day in the life of Tim Hecker? What else are you involved in aside from music?
I currently work a day job, which provides me sufficient financial padding so this gig doesn't become a mayonnaise commercial soundtrack. I find other ways to work via music as well, such as dance pieces and sound-art projects.
Why did you retire the Jetone persona?
It wasn't out of a choice against techno; I just found time to devote to music to be a premium, and decided to consolidate efforts into a direction, and work seriously on that, as opposed to pounding out numerous weak releases under a variety of pseudonyms. One day I hope to tend that garden again.
It's pretty common to see electronic artists migrate to other countries (Richie Hawtin to Berlin, Geoff White to Barcelona, Terre Thaemlitz to Japan) yet you remain in Montreal. What keeps you there?
I'd love to move to any of those cities, but I'd rather live in a Brussels or Madrid over a Barcelona or Berlin as nice as they are. I have a good community in Montreal and my life is fairly anchored in this area.
Speaking of the Montreal community, you had a support slot with Godspeed You! Black Emperor a few years ago. What was that experience like?
It was an enjoyable experience to play to such huge crowds, although most people never knew I was playing because I set up beside the sound mixer/engineer, so people mostly thought it was some very loud "pre-band" entrance music that went on for 50 minutes! I got very drunk and left some of my cables and gear in Italy!
You've developed a relationship with another Constellation act Fly Pan Am and appear on N'ecoutez pas. Have you performed live with the band too?
I've worked with the band fairly often in the last few years, both in the studio and as well at various live shows around Canada. My last offering at Victoriaville musique actuelle festival consisted of my "dungeon-mastaz" entrance with medieval hood and beer cooler. I began the show with a 5-minute Motley Crue remix which turned into feedback which the band played off. I think people hated our show!
What about touring? Will you be doing so to promote the new release? What would your performance approach be for Mirages?
I will be doing one off shows and small legs of tours with a few bands (Q and Not U, Isis, Fly Pan Am). But other than that, no major tours planned. I usually do one-offs at festivals mostly.
What's coming up in the future?
I have a live recording for the Mort Aux Vaches series on Staalplaat coming out in the fall, which was recorded in Holland in March. Also a collaboration with Vancouver-based video artist Stan Douglas is out on the label EN/OF (www.bottrop-boy.com) and am working with a few Montreal-based musicians currently (Jonathan Parent, Dave Bryant). I would definitely like to do more of this, as my studio is getting boring!
October 2004