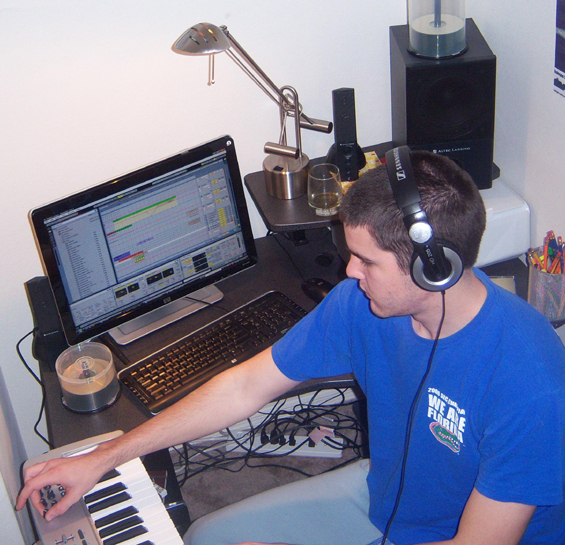 UNFILTERED: PHASEN
Background
I (Ryan Parmer) was born in 1989 in Orlando, Florida where I quickly developed an interest in music. I remember one of my first toys being some sort of fake electric guitar. It looked like a controller for the game Rock Band or something. We had an old piano in my house that was pretty much ignored, except when I would spend some of my more bored moments noodling out nonsensical melodies on it from a young age. At eleven I joined the school band and continued that through high school, playing trumpet, and eventually baritone. I also took guitar lessons in high school along with a handful of music theory studies. My interest in electronic music didn't develop until middle school or so. One of my teachers would put old Aphex Twin and similar "Old Warp" acts on her stereo for "Ambient Mondays." Two years later (around 2005) a friend let me borrow his copy of Geogaddi, and I immediately started trying to create electronic music.
Artistic Process and Making Tracks
This usually goes one of two ways. Occasionally while I'm sitting around with my guitar I will come up with something and immediately go record it (before I forget!). Then I slowly add layers until I have a few bars of a "full" song. I may repeat this, until I have several independent sections. Then I arrange the music I have just recorded into a progression that makes sense to me, add some finishing touches, and voila!
When the guitar is absent, I just put on the headphones and sit down. About half the time I will be furious in five minutes because I'm not "feeling it," and the rest of the time I just spontaneously spit out some bass line or melody and repeat the aforementioned layering and arranging processes. I don't ever pre write my music; it is all in the moment. When I'm in the beat laboratory I stop thinking. I usually dance around in my chair subconsciously, something like Ray Charles in fast forward. And if I have to get up during a song, forget it. Very rarely can I return to a track a few days later and "feel" it enough to complete it. Each song is about my current mood and feeling, and if that changes then the whole song would need to be changed! So I start a new track every time I sit down (daily, almost).
Gear
Being only nineteen and also a college student, I can hardly afford all the gear I'd like to have. I currently run Ableton Live 7 on my desktop, and I mostly work within that program. I also have an M-Audio oxygen keyboard/MIDI interface along with some guitar processors, mics, and the like. Nothing fancy, but I've come a long way from tape decks and acoustic guitars.
[Unnamed Label]
Well, I met Mark and Tom (Mark.Nine and Five Step Path) through their former project, I/O Netlabel. I sent my first demo to them, and they took it. I released five albums with them on I/O within a few months. Once I had gotten more comfortable producing and discovered the magic of Ableton, I wanted to do something with commercial labels. Esa Ruoho (well-known as Lackluster) is a huge idol of mine and recommended I send in a demo to U-Cover Records. I had been eyeing them for a while but lacked the confidence, but alas they accepted it. Once I spent some time with U-Cover, putting out another five albums or so, I decided it was time to do my own thing. Naturally, I asked Mark and Tom to go into it with me. Mark is a very skilled web designer and Tom can produce awesome graphics and album art. I am a decent writer, so I figured we would make a perfect team. The economic challenge didn't really impact our decision at all, because after all we're just a few kids not used to having too much money anyways. The depression doesn't affect us that much simply because we are "starving artists." I'm sure all of our albums will be stolen more than they are bought on sites like what.cd and soulseek, but…we don't spend so much time on this just for money. I doubt I will make back my investment in the label anytime soon. I just hope people understand how much work goes into launching a label, especially with a compilation album, and can appreciate that effort enough to support us by purchasing our release. We offer albums both physically and digitally, and we send out free gifts with our CDs about half the time just for kicks.
Influences
Musically, I really enjoy hip-hop beats, Bob Marley, classic rock, and of course the electronic stuff. Lately, some acts spending time on my iPod include Kettel, Funckarma, Michna, Mrs Jynx, Ochre, and Ilkae. Non-musically, I can definitely say that I am inspired by solitude, deep thinking, and memories. I love going for long bike rides alone, just thinking or maybe not thinking at all. It's in these little solitary moments I gain what I need to make emotional music. I'm kind of a free spirit who likes to wander around downtown with a cup of coffee and my headphones, just to be outside and take things in.
Releases
Quite a few. I mentioned the first five albums with I/O Netlabel. I really wish I could take those back. Those were literally the first songs I had ever created, and I feel like I shared things from too early in my formative period.
After those I put out a self-titled on U-Cover last March, followed by another full-length and an EP two months later in May. Last summer I released Summer Sessions on U-Cover and followed that up with my Selected Remixes: 2007-2008 on the main U-Cover imprint. Then I felt generous again so I returned to I/O with Well Chuffed, a free album of my newer work. My most recent release appeared on the lovely Distant Noise Records last winter. So, since 2007 I have put out a remix album, two EPs, and ten full-length albums. This may sound impressive, but it is something I am trying to change. For my upcoming album, Listening To Old West Coast Rap, I finally slowed down. I have been making this album since May of 2008. Recently finished, it includes only fifteen tracks that were picked from the 200 or so songs I have made since last June. My material has gotten much more mature as I spend more time on each track and become more selective about what I release. I guess I wasn't ever living up to my potential before, and I don't know if I am yet. Every track I make is usually better than the one I made before, so older works quickly grow stale for me.
Listening To Old West Coast Rap has a little bit of everything from classical ambient to acoustic folk, but the album is dominated by a fusion of IDM with the early '90s hip-hop and G-funk sounds. Think huge hip-hop beats mixed with high pitched portamento synths and acid style basslines. All in all, Listening To Old West Coast Rap is the first album where I feel I have "found my sound." It's got some good melodic moments, and also features a remix by Rumorse that is absolutely sick. Jorge (Rumorse) is an excellent producer and is way too overlooked, so I thought it would be great if he reworked the title track. It turned into a ten-minute epic, so I'm very grateful for that!
Listening To Old West Coast Rap will be released sometime this spring on the brand new Nostalgic Music Foundation. That label will sell its records in digital formats only though, so no vinyls anytime soon for you audiophiles.
Favourite Records
This is always changing, but if I had to pick ten from over my lifetime it'd be something like this, in no particular order:
Radiohead: Kid A
Pink Floyd: The Piper at the Gates of Dawn
Dr. Dre: The Chronic and also 2001
Kettel: Myam James Pt 1
Ochre: Death of an Aura
Lusine: Podgelism
Mrs Jynx: The Standoffish Cat
-Scaldis-: For Starters
Multiplex: Pinghaus Frequencies
Elton John: Goodbye Yellow Brick Road
Favourite Places
I haven't traveled too much, but Madrid, Spain tops my list so far. I seem to love Europe in general, however. I really enjoy France and Spain, and England is nice too. The whole feel of the continent is different from the US. There, you go out to eat and wait for two hours drinking while your food comes. Here we get crap from a drive-through and beep our horns incessantly if it takes more than thirty seconds. I just love the laid-back attitude and the love for aesthetic appreciation that Europe has.
Future Plans
I plan on keeping myself busy with [UL]R and my solo work. So many artists have such a plethora of aliases, but I think I will hold on to Phasen for a while. I do know that 2009 will see my first music video, several full-length releases, my first live performances, Selected Remixes: 2008-2009, and some new collaboration projects, including one with Ian D Hagwood possibly! I will probably put out a full-length on [UL]R later in 2009, unless a large label wants to sign me first (cough…Planet Mu…).
I plan on touring heavily one day, but first I need to finish my education.
Other Activities
Most of my time goes towards school. I go to the University of Florida and study Anthropology and I love it. I plan on eventually getting my masters degree in Forensics, so my final job will probably be something like CSI, only real (and therefore nothing at all like CSI). When I'm not studying or in the beat laboratory I'm probably biking or just having a good time with friends.
March 2009