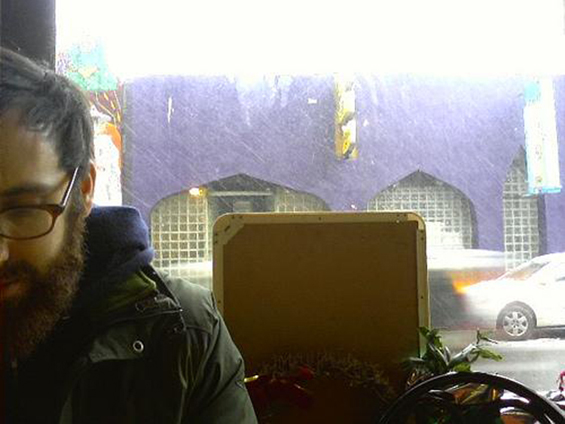 TEN QUESTIONS WITH ANIMAL HOSPITAL
photos: Katharine Fisk Shields (top, bottom), Michelle Lance (middle)
Though Kevin Micka's Animal Hospital persona came into being in 2004 with the release of a self-titled debut CD on Boston's Mister Records, listeners would have to wait another five years for newly-recorded samplings of Micka's guitar-based instrumentals and electroacoustic explorations to appear. The near-concurrent release of two Animal Hospital collections, Good or Plenty, Streets + Avenues (Mutable Sound) and Memory (Barge Recordings), finds the Boston-based producer veritably flooding the market with fresh evidence of his music-making. No stranger to touring—he's played in the US, of course, as well as France, Spain, Portugal, and Switzerland—Micka agreed to field some questions from us while traipsing across overseas stages.
1. You're currently on tour in Europe. Are you touring with another act and how's the tour going so far? Are you accompanied onstage by others or is it you alone? Sorry but I've got to ask the obvious question too: where did the alias originate from?
No problem, I am traveling as a solo act with my girlfriend Katharine. We were able to save up and take the month off from our lives in Boston. Katharine sings on one song on Good or Plenty, Streets + Avenues but not live…yet. The name Animal Hospital came from the choice of image used for the cover of the first record. I liked the image a lot and the name seemed like a good idea at the time.
2. I believe you've followed up your 2004 self-titled release with two relatively concurrent releases, Good or Plenty, Streets + Avenues on Mutable Sound and Memory on Barge Recordings. First of all, why did it take four years for the recent releases to appear? Secondly, did you pull the material for the recent albums from a large common pool of created material, or were they in fact recorded at separate times and just happen to be coming out at about the same time? Can you comment on the ways in which the albums differ, if you think they do?
I have had a hard time over the last four years making time for the writing and recording of my own music. I toured a lot and recorded a lot of records for other people, which really took up a lot of time and mental space. In 2007 I took some time off to stay in San Francisco and then Wellsburg, West Virginia. The bulk of the material on Memory was written and revised over most of the last four years. There were a few other epic type pieces that were scrapped over this time period, which took time to come to terms with I suppose. Most of the material for the basic structure of recording Memory started to come together during my time in San Francisco and West Virginia. Most of the material on Good or Plenty, Streets + Avenues started to come about in this more recent time period. Basically, when I would take breaks from working on Memory. I tried to let most of the music go much, much earlier on. I believe the mood to be a lot more… hmmm.. varied or at least….less dramatic.
3. One hears traces of many kinds of music in your material, which encompasses acoustic folk, post-rock, African-inflected guitar-based settings, drones, and so on? Who would you say has influenced you or had a profound impact on your compositional and playing styles?
It has been great to learn of new music through others' reactions to my music at shows, etc. I have been a little closed off over the last few years so I have really not exposed myself to a lot of new stuff. When I started Animal Hospital I was listening to a lot of Papa M, Mogwai, and other stuff like that. This project was sort of formed more out of wanting to tour than because of a deficit in my life creatively. In that way I was more inspired by people who were able to tour on their own, like Joe Preston of Thrones or Tyondai Braxton.
4. Memory is filled with surprises, starting with the dramatic shift from the tranquil opener ("Good Times") to the epic "His Belly Burst." Did you deliberately want to throw off the listener's expectations while he/she listens to the album as it's unfolding?
As far as the sequence of the album goes, this felt best to me. I really wanted the album to work well as a cohesive piece where the listener could—and hopefully will—sit down and listen to the album as a whole without distractions and get something out of it…ideally.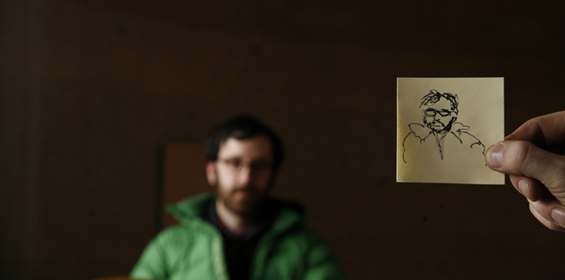 5. How much was "His Belly Burst" improvised vs. through-composed? Was it all executed in real-time with you playing everything except, obviously, the cello?
The arrangement itself had been worked out live and through different recordings over the past few years. There is room in the first half of the piece for a lot of improvisation at least rhythmically. The first half is recognizable to the listener but never exactly the same. Jonah Sacks' cello parts are an edited collection of a few different improvised takes with a little bit of direction.
6. One might be reminded of Tortoise during less aggressive opening moments of "...and ever" but any association with that band vanishes once the storm hits. It sounds like you derive great pleasure from unleashing the full force of your music's potential, and the intensity is so great that words like cathartic and Dionysian come to mind.
I think this record, in general, is pretty cathartic for me. I like to include all emotional aspects that I appreciate in other people's music in my own. I also really appreciate when my expectations of what commonly would happen next in music never happens.
7. How deliberate and carefully-considered is the album's sequencing? Placing "A Safe Place" and "Nostalgia" after the tumult of "...and ever" suggests that you're purposefully giving the listener a few minutes to recover before taking on the challenge of the title track's climb.
Pretty deliberate. I definitely wanted there to be some dynamics to the album as a whole.
8. Apparently Memory was recorded in an old West Virginia bank, an antiquated movie theater lobby, apartments, studios, and Cape Cod. What prompted so many recording locations?
Some locations I sought out because they were more isolated, and I thought I might be able to get a lot more work done there. Some of the others were specifically for their acoustic qualities, such as the lobby of the movie theater. Overall, I thought I would be able to focus better outside of Boston for a while. It usually helps if I know I am alone. I still get really self-conscious when I am writing and/or experimenting.
9. Playing most of the material yourself makes you a true "solo" artist but you're obviously not averse to playing with others (of course you were at one time a member of the Boston band The Common Cold). Who would you most like to collaborate with if the opportunity were to arise?
I would definitely love to try and collaborate with Dosh sometime as I feel we have a similar approach to writing and taste in sounds. I would also like to collaborate with Thrones someday if I can convince him to give it a try.
10. What current artists and albums are exciting and/or inspiring you (if any)?
I am really inspired by people that use their voices in slightly more unconventional and possibly more spontaneous ways, like Laurie Anderson or the Dirty Projectors. I have been pretty into the textures of different voices like Harry Belafonte and styles of music that involve throat singing. There aren't too many records I listen to on a regular basis lately other than maybe Hold Me by George Lewis, Jr. I wish I could lose myself in my performance more in the way I perceive others do.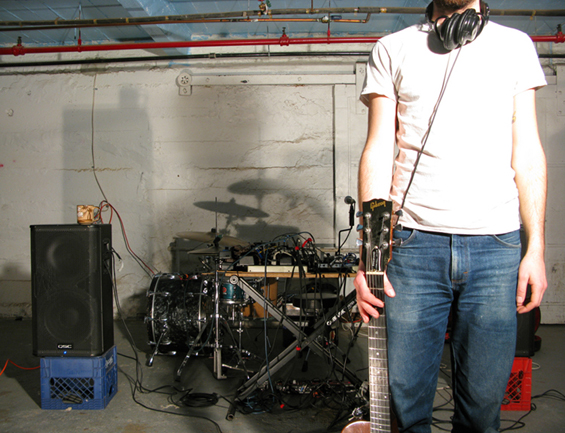 May 2009