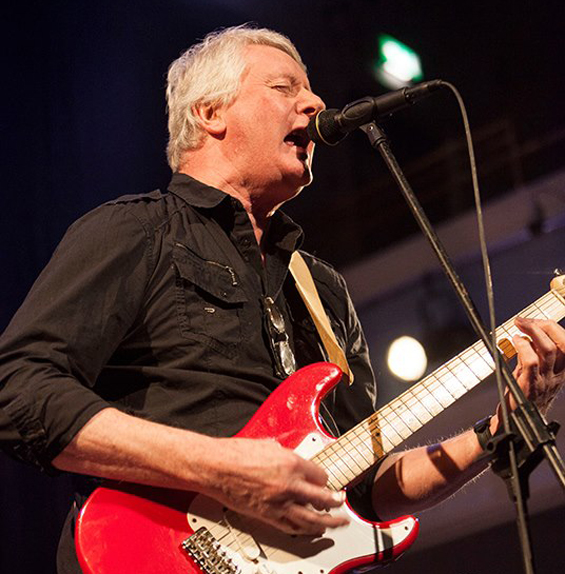 Pye Hastings (photo: Alan Rennie)
TEN QUESTIONS WITH CARAVAN
Any rock music history worth its salt will devote a chapter to Caravan as well as other key members of the so-called Canterbury scene, among them Soft Machine, Gong, Matching Mole, and Hatfield and The North. Caravan's that rare thing: a band that enjoyed critical acclaim and commercial success decades ago yet is still active today, not just touring but releasing new music as well. The band has undergone a staggering number of personnel changes since Pye Hastings (guitar, vocals), Dave Sinclair (keyboards), Richard Sinclair (bass, vocals), and Richard Coughlan (drums) formed the group in Canterbury, England in 1968 (a detailed history of the group and a chronological account of the line-up changes are available at the band's official website), yet two members in particular have helped Caravan maintain continuity, first and foremost bandleader Hastings and secondly violist/flutist Geoffrey Richardson, who signed on in 1972 (rounding out the current line-up are keyboardist Jan Schelhaas, bassist Jim Leverton, and drummer Mark Walker). Seminal albums such as 1971's In the Land of Grey and Pink and 1973's For Girls That Grow Plump in the Night sound as strong today as ever, proving that great songwriting never goes out of style. It is a great privilege and honour to feature Pye Hastings at textura, and we thank him for taking time to speak with us about all things Caravan, past, present, and future.
1. Let's imagine an explorative seventeen-year-old newly discovering groups such as Gong, Gentle Giant, Soft Machine, and, of course, Caravan. Which three of your albums would you recommend this listener new to the Caravan world to start with as entry points?
First up I would recommend that new listeners begin with our very first album, simply titled CARAVAN, which was recorded in Advision Studios in Bond Street, London in the winter of 1968 and released early 1969. This album reflects the turning point in our careers that set us on the road from being just another local band to achieving international recognition. Ian Ralfini who was the MD of Robbins Music, a subsidiary of MGM Record Company, had been down to Canterbury to check us out with his business partner Martin Wyatt. They said they were looking for an English-sounding band who they wanted to take to the US and invited us to visit them in their offices in Soho Square, London to discuss signing a contract. This seemed like everything we'd ever hoped for, particularly as we had only formed the band a few months before. I was over the moon, particularly when Ian said he loved the first song I'd ever written, "A Place of my Own," and that he thought it would make a great single. He also took a shine to "Love Song with Flute," which I wrote and which enabled me to entice my brother Jimmy to come and do a solo for us. That was it as far as I was concerned. We signed; we recorded; we were on our way.
Upon release, the album was featured enthusiastically by John Peel on his Perfumed Garden radio show. This was the programme to listen to at the time and resulted in the album getting great reviews in the music press. The album was recorded by Tony Cox who insisted on none of the band being present while he mixed it. When we heard the finished product, none of us in the band liked the sound, which was swimming in echo and reverb, because we felt that it wasn't representative of how we perceived our sound, but there was no turning back; we probably sulked a bit. That said, we soon got over our egos and in retrospect, it clearly has a definite character of its own which we now all cherish like a first-born, which in effect I suppose it was.
Ian Ralfini left Robbins Music shortly afterwards, and we were out of contract so we never got to the US, at that time, as promised. Instead, we toured Europe for the next year. We had written a new batch of songs and were lucky to land a contract with Decca records, thanks mainly to a David Hitchcock who worked in Decca's art department but who wanted to transfer and produce our next album, which was to be titled If I Could Do It All Over Again, I'd Do It All Over You. Well, we thought we knew best: in light of the finished sound of the first album, we decided that we could do a better job and produce it ourselves. This is why I'm skipping to our third album, In t he Land of Grey and Pink, as my second recommendation.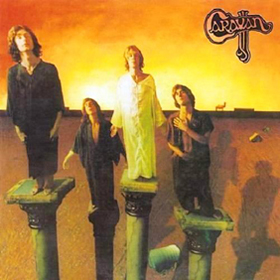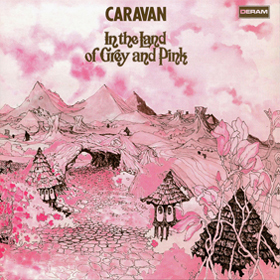 We had reluctantly come to the conclusion that we were perhaps not the best producers in the world so we called David. This was to be his very first production! We had all come on in leaps and bounds playing-wise, none more so than Dave Sinclair (the keyboard player), and this is reflected in his writing of such powerhouse numbers such as "Nine Feet Underground," which would take up the entire second side of this album. It takes a rare set of skills to be able to channel the imagination of a truly gifted keyboard player who strives for perfection. David Hitchcock managed this by total perseverance and endless patience. I seem to remember that the rest of us spent a fair bit of time up the pub while Dave and David got to grips with the arrangement. What sounded like a complete mess before we went to the pub always sounded great when we returned. I wonder why?
David Hitchcock's talent shone out like a beacon and the finished product went gold and is still selling today over forty-five years later. It was shortly after this that the band started pulling in different directions so I'm skipping to my third recommendation, the album For Girls Who Grow Plump in the Night. Dave and Richard Sinclair (cousins) had left the band to pursue their fortunes elsewhere, which left Richard Coughlan and me with the task of carrying on or calling it a day. There was no way I was ready to give up, so I put in progress the arduous task of auditioning for a new bassist and keyboard player. A friend of mine applied for the job of bass player and brought along a young guy fresh out of Winchester Art College who wanted to jam with us.
This session culminated in the bass player not getting the job, but I could not resist the phenomenal talent that this young guy showed while playing viola. Viola! There were plenty of violin players about, but I'd never heard anyone playing rock music on viola. This was something new and exiting and offered me the opportunity to break away from the recognized sound/format that was established as Caravan. Geoffrey Richardson was welcomed on board with immediate effect.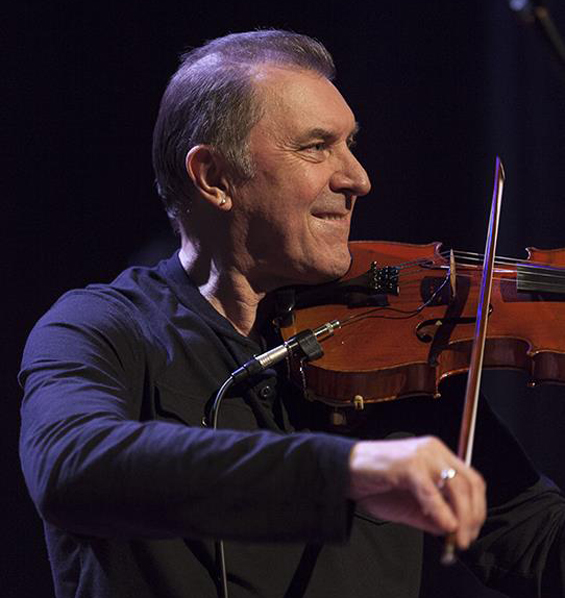 Geoffrey Richardson
John Perry, a bass player whom I knew and admired, contacted me shortly after to announce that he was leaving his current band and would like to join us. One rehearsal and he too was on board. Things were now taking shape, and we were rapidly becoming a really tight unit. All that was needed to complete the line-up was a keyboard player. Replacing Dave Sinclair was an impossible task to achieve, so I approached Dave to ask him to re-join. We had a commitment to record a new album, and I had written a whole new batch of songs that were itching to go. Dave refused to re-join, but accepted to do the album as a session player because he really needed the money. The recording got underway, but the results were just not jelling so we put the whole thing on hold and were now looking at the real possibility of scrapping the whole project. We were contracted to do several dates across Europe at this time, so I worked on my diplomacy skills and managed to persuade Dave to stay for the duration of the tour. This would really help us out and generate some much-needed money for Dave. We worked the new numbers on the tour, ironing out all the lumps and bumps that had caused the problems in the studio, so when we returned we went straight back into the studio and recorded the whole thing in two days. The results were fantastic. The album was released to great reviews and went silver shortly after. There is a vibrancy about this recording that I attribute entirely to the fact that it was done virtually live and is why I'm recommending this one as being representative of the band.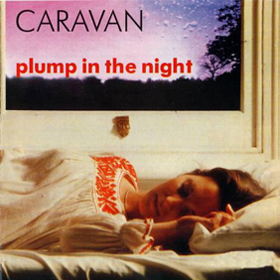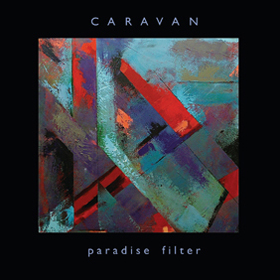 2. One of the things I admire about Caravan is that the band never became one of those museum acts that no longer creates new material and simply tours the same back catalogue year in and year out. On the contrary, you recently added to the band's considerable catalogue with the 2014 album Paradise Filter. Does writing new songs come as easily to you today as in the past, and stylistically is the Caravan that's on Paradise Filter dramatically different from the one on, say, For Girls Who Grow Plump in the Night?
I get the most pleasure out of writing songs, and I don't think I'll ever really stop. It seems to just flow out, and I tend to write in batches of ten songs at a time and move on only when the current batch has been recorded and out of the way. I also feel that I haven't written anything yet that I am really proud of, so until I do, I'm sorry but you'll have to put up with my ridiculous attempts till then.
I do encounter serious problems writing lyrics to my songs, but I'm slowly learning the craft; it has only taken forty-odd years, but I'm getting there. My writing style changes or evolves due to the influence of what I've been listening to most recently; I think this applies to all writers. If I've been listening to Steely Dan, the next song to come out might be heavily influenced by them and so on with other influences ranging from jazz to classical. I like all music to some extent and have no particular preference.
On the Paradise Filter album I wrote the songs with the thought very much in mind of working to the strengths of the current members in the band. For example, bassist Jim Leverton has an illustrious folk and blues background and Jan Schelhaas is firmly in the rock piano school. So to expect them to play something that is heavily influenced by modern jazz, for instance, could prove counterproductive. I wanted to achieve a more rock-sounding album that would reach out to a different section of fans as well as appealing to the hardcore Caravan fans, which I think we did. It's so enjoyable when you work with musicians of these guys' calibre. Stylistically there must be a difference between For Girls Who Grow Plump in the Night and Paradise Filter because the musicians are different, but there is clearly a constant in the songwriting that surely acts like a thread carrying on from one to the other. Sometimes it's hard to see things objectively; I tend to glance back for a point of reference but much prefer to look forward to getting a result.
3. Another thing I admire is the band's resilience, its determination to carry on despite the many personnel changes and the changing tastes of the listening public. How do you account for such resilience?
Resilience, bloody-mindedness, sheer dogged determination—call it what you will, it's something that's in your makeup and you probably inherit it from your parents. When you encounter a problem you can't just give in, give up, and go home. None of our parents did. Just think of what they all went through during the last war. Sobering thought! I've always approached problems such as people leaving the band to seek their fortunes elsewhere with the idea that hidden inside the change will be an opportunity, a challenge, something that, if you embrace it, will lift you up and carry you forward. New members bring fresh enthusiasm and a chance to try something different.
Heaven's sake, losing a band member or two, or your music going out of fashion is not the end of the world. No one is going to die or end up going to jail, not like a doctor losing a patient or a lawyer losing a case. I suppose it's all about realism and perspective. I've seen it so many times, people getting hung up on their own self-importance; it's so easy to lose sight of what really matters. You just end up all bitter and blaming everyone else but yourself, and in the end where does it get you? I know rock and roll is all about youth, but seriously you don't have to come over all floppy like an adolescent being confronted with having to do the washing up when things don't go your way. When things change around you, you either adapt or go do something else.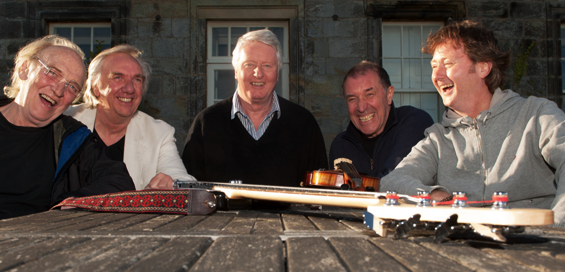 Caravan 2015: Jim Leverton (bass), Jan Schelhaas (keyboards), Pye Hastings (guitar, vocals), Geoffrey Richardson (violin, flute), and Mark Walker (drums)
4. In the booklet notes accompanying the CD reissue of In the Land of Grey and Pink, you reference the band's disappointment at the underwhelming commercial success of the album despite it having received critical acclaim and being regarded as Caravan's strongest collection to date. How is it that "Love to Love You (And Tonight Pigs Will Fly)," a song with seemingly undeniable hit potential, didn't end up climbing the charts?
On reflection, there was a time when we needed a serious input of investment to raise the profile of the band by employing pluggers and PR people. This would have undoubtedly helped by reaching out to a lot more people and possibly have got us into the charts. This did not happen for whatever reason. What the hell! There's still time, folks. All you DJs out there, start playing this track, and see if we can't get this damn thing to chart!
5. One of the more interesting gigs Caravan will be playing in the coming months is the one with Yes, PFM, and a number of other acts on the upcoming Cruise To The Edge (Miami, November 15-19). How do you find the experience of playing as part of a festival line-up compare to a conventional concert featuring Caravan alone? And what's your own favourite kind of venue for a Caravan concert?
Playing festivals is great fun and very much part of the job! You arrive, set up, do a line check, and play. Rarely do you get a soundcheck so it can be a bit hit and miss sound-wise. To play on the same bill as other bands who you rarely get to see because you're probably playing the same circuit throughout the year and your paths never cross is an opportunity to catch up with other musicians and old friends and keep an eye open to see how much they've improved (or not) and, of course, compare yourself with their performance. That way you can judge whether you're in competition and more importantly where you need to tighten up your own show. Regardless of how much fun it is, you must always remember that the only reason you're there is to do as good a show as you can. You're only as good as your last gig!.
There's always pressure to do well but at a festival it's probably less in comparison to doing a headline spot on your own. There is the comforting thought that if you play well and win over the audience, which is obviously your intention, you'll feel great, but if you play badly and don't connect with the audience, there's the thought that there'll be another band along immediately and you'll be remembered as an also-ran. Not a good result, but not the end of the world either.
I don't mind what type of gig we get offered but deep down my preference would have to be a fairly large club where you're close to the audience. There's an intimacy that comes back from them that's quite powerful at these venues. You give out emotion in your performance and when you can feel the audience giving back, it makes you play better, and it really is a no-brainer.

"Golf Girl" (1971, 2010)
6. How are the audiences at your gigs different today compared to the audiences that attended your concerts in the previous decades? Do you see from the stage young listeners discovering Caravan for the first time, long-time fans attending over and over again, or a broad cross-section of different age groups?
Thankfully, there's a real cross-section of ages at most Caravan concerts today. Looking out from the stage, this is so heartwarming. There's always the danger that as fashion in music inevitably moves on, you'll get left behind playing to an ever-dwindling audience of hardcore fans. This thankfully has never been the case with Caravan. Someone once said, "Caravan will never go out of fashion because they have never been in fashion."
So does this suggest a special niche for Caravan music? There are many young people really enjoying the music; whether they've discovered the band through their parents' or even grandparents' collection of records, I don't really care, but it means so much to me. I see youngsters singing along to the songs, which is a real comfort to me because I have to admit, I sometimes forget my own lyrics and sing whatever comes into my head. They always take great delight in reminding me where I've gone wrong! Anyway, young people going to a Caravan concert has got to be preferable to them hanging around in gangs, insolently malingering.
7. Having been a working musician for so many years, you've been a front-row witness to the way different musical genres go in and out of style. Does it appear to you that there has been a recent resurgence of interest in progressive rock and specifically in Caravan's music?
Well, it would certainly appear so. The reason, I think, is cyclical. We started playing our instruments in the late-'60s and in to the '70s. We contributed our part in developing a style of music that was heading more and more into the realm of jazz, and we misguidedly thought that the audience would follow us regardless. If we had looked over our shoulders, we would have noticed that there was a growing movement of young people who no longer wanted to listen to twenty-minute drum solos and endless guitar wailing: they just wanted to dance.
So along came the age of computer-generated dance music and we found ourselves on the sidelines. However, music in fashion swings very much in a pendulum motion in that each time it changes it moves forward a little bit more while moving away from what has gone before. So by this theory, people got fed up with watching bands miming to a computer-generated backing track and wanted to feel the blood and guts of a live performance once again. We were summoned back to the stage by the legion of Caravan fans who had never given up on us. Of course, we had adapted our set by cutting out most of the self-indulgent solos and concentrated on the songs, which is how we started out. The song after all is the platform upon which the solo survives. So, in a sense, you could say that if it hadn't been for the different musical genres going in and out of style, we might not have had the opportunity to progress.
8. I find it hard to picture you not involved in some Caravan-related activity, yet there were three periods when the group supposedly 'disbanded' (at least according to Wikipedia's Caravan page): 1978-80, 1985-90, and 1992-95. What did you do with yourself during these times of group inactivity?
Firstly, Caravan never disbanded! As I said previously,"Never give up." Wikipedia have got it wrong. Between 1978 and 1980, the fashion for punk music kicked bands of our type well and truly off the map. I think the quote was, "You're far too old, your hair is too long, and your trousers are too wide so 'Fuck Off!'" Well, what else could we do? We obliged and fucked off. I survived for awhile on the odd royalty cheque coming in, but one day as I watched it dwindle away I was 'encouraged' by my wife in no uncertain manner to "Get off my arse and get a job." How could I refuse such a charming request?
I got a job as a builder's labourer and was given a four-pound club hammer and chisel. This was all I needed to work out the frustration that had built up in me and to sort out all the injustices that I felt had been dumped on our doorstep. The muscles in my right arm grew to such an extent that I was in danger of falling over; I felt like Popeye. Don't get me wrong; this was the first manual job I ever had, but I absolutely loved it. Working outdoors every day, I grew fit and healthy and cleared my head of any resentment that may have been lurking there. The UK economy was about to go into a recession, and in 1980 I was made redundant.
We had a huge following in France and the rest of Europe, so I got the boys in the band back together again and spent the next few years happily touring. In 1985 I was headhunted by the firm that I had previously worked for to rejoin and was put in charge of Moleing (a Mole is a pneumatic machine that burrows under roads to lay pipes without having to dig up the road; I had learnt all about them before I was made redundant previously). Once again I took to it like a duck to water and loved every new challenge that I encountered. Lots of new friends and a wealth of memories!.
The lure of the band, however, was getting to me again, so I had to quit my job. I set up my own Plant Hire company exclusively using moles and achieved some success in that when all the moles were on out for hire I was earning enough to be able to pick up my guitar once again and start writing. A means to an end had presented itself. Somewhere along the road I unfortunately got hit for a bad debt and decided that the time had come to change course once more. I wasn't at all resentful because I had acquired a whole new set of skills that held me in good stead and led me to accept the offer of the job of Contracts Manager for another civil engineering company specializing in the protection of existing buildings from the ingress of gasses such as Methane. An irresistible momentum was gathering force to reform the band and record so once again I picked up the traces.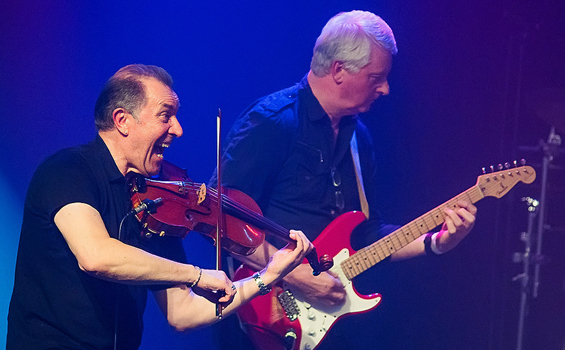 Geoffrey Richardson, Pye Hastings
9. We're reaching a time where musical figures who first gained recognition in the '60s and '70s are beginning to pass away (from natural causes as opposed to death brought on by misadventure). I'm thinking of people such as Chris Squire, Edgar Froese, and, of course, Caravan's long-time drummer Richard Coughlan. How has the passing of such figures affected your own outlook on life and the choices you've made?
Death comes to us all. No matter how much you prepare for it, it still comes as a shock, but I don't think my own outlook on life or any of the choices I've made would have been affected by the passing of a close friend or colleague. Richard, of course, is greatly missed, but I'll always look back on the enormous contribution he made with great, great respect. We started out together with all the hopes and aspirations of youth and sadly he is the first of us to go on to a new adventure. Richard used to frequently part by saying, "Okay, chaps, meet you on the ice." Who Knows?
10. Could you choose one album track that strikes you as a near-perfect encapsulation of the Caravan sound, one that you really feel the band couldn't have nailed any better?
I would probably select "Nightmare" from the All Over You album, which features one of the best guitar solos I've heard. Doug Boyle was the soloist, and he captured the mood of what I was aiming for in the song, which builds beautifully and still sounds fresh to me every time I hear it.
September 2015