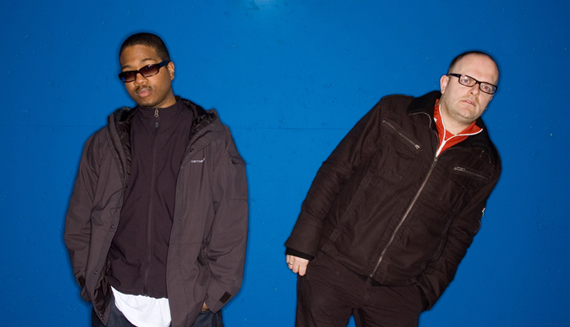 TEN QUESTIONS WITH: FAT JON
In addition to the solid reputation Fat Jon (Marshall) has built up through his membership in Five Deez, he's also established himself as one of hip-hop's most explorative ambassadors. His collaboration with Pole resulted in one of 2003's most distinctive and memorable albums, and his latest project, a joint recording with Styrofoam (Arne van Petegem) is compelling too while altogether different from anything else he's done to date. During September 2006, we had a chance to speak with Fat Jon to discuss his recent activities (including a solo disc Afterthought).
1. One wouldn't immediately think of the pairing of a one-time Cincinnati and now Berlin-based MC (Fat Jon) and Antwerp-based laptop composer (Styrofoam) as the most natural union imaginable. I'm aware that the two of you initially met when Arne van Petegem invited you to Antwerp in 2001 but how did the decision to collaborate on a full album project come about?
When we worked together in Antwerp , we knew almost immediately that we wanted to do something together someday. It was just so fun and interesting to combine techniques back then and we were just playing around. We're both artists that enjoy to be challenged and putting our styles together just seemed like it would be a really fun thing to do.
2. How did you approach creating the album's material (i.e., did you split lyrics and melodies between the two of you, or handle it otherwise)? Did you assemble songs by e-mailing files back and forth or did you convene in the studio for a number of weeks?
We did everything together from beginning to end. We worked on all the music and programming as well as the lyrics. We would start on a song and flesh it out until there was enough of it to write to. Then we would write the lyrics and audition them for each other to see what would fit and what wouldn't. Each of us would come up with programming and arrangement ideas and, since we both use a lot of the same software, that made it even easier to stay in each other's head when it came to creating ideas.
3. You already recently issued an album Afterthought (Ample Soul/Libyus Music). Could you tell us a little bit about it?
Afterthought is my latest instrumental album. It's my favorite one to date because I produced it with a certain style that blends hip-hop and electronic music... but very subtly. It was originally released in Japan and was internationally released earlier this year . I produced it all alone like the rest of my solo albums. I wanted the album to be raw but also wanted it to have certain elements so I used different vocals and different electronic elements to bring these ideas to life. I think there are some important songs on there, by which I mean that I look at a song within its context and genre and think about the time it was produced, if it was ahead of its time or not; I also look at the reaction people have to it as they listen. There were a couple songs on there that really seemed to touch people.
4. Being so thematically progressive and musically diverse and accomplished, Kommunicator impresses as one of the most satisfying and polished hip-hop albums of 2006. Though Five Deez is a group, you play a dominant role with respect to production and arrangements. How accurate would it be to call you the group's leader?
It's pretty accurate though I never wanted all that responsibility. It just happened and one day I looked up and that was my job. It's always easier to be in the background and just be a part of the whole but it became important for me to be more than just a part.
5. Uninformed listeners unaware of hip-hop's range could mistakenly lump Five Deez in with 'gangsta' rap. What do you do to ensure that Five Deez and its music gets heard properly and taken for what it is? How much does that hip-hop stereotype make it more difficult for a group like Five Deez that isn't a part of it?
The only thing I (the artist) can control is the sound. I work very hard to give Five Deez a unique sound that can't come from anywhere else. Some people have recognized this and some haven't. The rest of that responsibility falls on the record label. They have to decide who they want to sell our records to and how they want to market that unique sound. The whole hip-hop stereotype thing is funny because people who generally don't like rap or hip-hop because of it really love Five Deez music.
6. Why is that so? What is it about Five Deez' music that so easily overcomes that resistance?
Five Deez doesn't follow any trends. Most rappers and hip hop groups follow what's hot on TV or the radio, duplicate it, and add it to their music. Five Deez keeps a constant creative pulse that pulls new ideas from other places. We use our imagination. Five Deez is a hip hop group in theory but something else in practice. That 'something else' about the group is what makes it appeal to audiences that don't like rap music. Those audiences base their opinions from what they hear and see and most of them have never heard or seen anything like the Deez.
7. Does the fact that you're now living in Berlin complicate the Five Deez operation and what's coming up for the group in the future?
We really took advantage of the technology that was available when I first moved away. It was never hard for me although I can't speak for the rest of the group. It seemed to be less complicated because we were able to focus strictly on what we needed to focus on because every moment counts now instead of before where we might waste time because we took it for granted. The future has some interesting things in it but I want people to be surprised so I can't really say, but Five Deez will continue to move forward in every direction.
8. Who do you see as your hip-hop kin (given its progressive musical and lyrical character, CYNE strikes me as one possibility)? What hip-hop albums were pivotal in your own life and development? Were any particular MCs a major influence on your own style?
I'm not really sure who could be our hip-hop kin. Over the years, we've presented a lot of different styles that other groups won't or can't do. Some albums and MCs that were important for me: T.I.M.E. (Leaders of the New School ), The Low End Theory (A Tribe Called Quest), Bizarre Ride II the Pharcyde (The Pharcyde), Done by the Forces of Nature (The Jungle Brothers), Straight Outta Compton (NWA), Long Live the Kane (Big Daddy Kane)... I could name several more too.
9. Any thoughts on recent, high-profile hip-hop releases like J Dilla's Donuts, and the material being produced by Prefuse 73 (One Word Extinguisher, Surrounded By Silence) and Dabrye (Two/Three)?
No, not really but I'm a fan of all three of those artists. I never got a chance to meet Dilla but if I did I would have told him how I felt about his music. I enjoy what Prefuse and Dabrye do because you can call their music what you want but it's good and it's original. I think that's how it should be and that's what I go for every time I'm in the studio.
10. The partnership with Pole presumably introduced you to a whole new audience. How did that collaboration come about and what are your impressions of the album when you reflect upon it now? Any reason why a second album wasn't undertaken by the two of you, or was it always conceived to be a single-album project?
Pole wanted to work with an MC for that album and I was introduced to him by Thomas Morr of Morr Music. From that point, I heard the tracks that Pole wanted to use and we talked about concepts. I went out of town for a little while and wrote the songs. After I came back and presented my work, he gave me the green light to record. When I reflect on the album now I feel the same way I felt when we first recorded it; I think it's very interesting and different. I don't think people were ready to hear something so scientific. It's a lot more than beats and rhymes. Pole and I toured the world and I got to meet a lot of cool people but the thing I learned most is that most modern artists have the same hip-hop background. That's very interesting to me. It also opened my mind even further. We still plan to do stuff together but more for fun. Pole looks at his 'Pole' records the same way I look at Five Deez stuff. He's always moving forward and wanting to create a new sound for himself as well as for his listeners.
November 2006