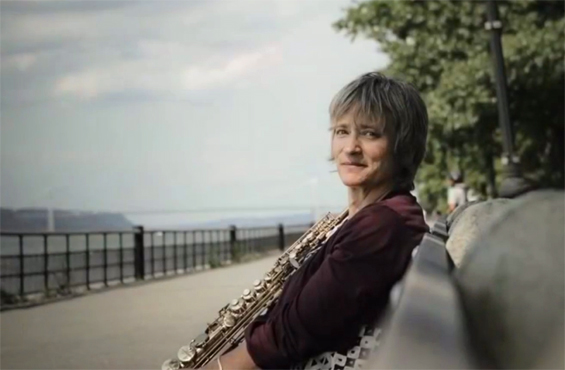 TEN QUESTIONS WITH JANE IRA BLOOM
The soprano sax has enjoyed a long and distinguished history in jazz, with figures such as Steve Lacy, John Coltrane, and Wayne Shorter having established clearly recognizable voices on the instrument. Jane Ira Bloom established her own voice on the instrument at a rather early stage in her career: by the time her third album, 1982's Mighty Lights, appeared (on which she was auspiciously joined by Charlie Haden and Ed Blackwell as well as pianist Fred Hersch, with whom she's enjoyed a long-standing musical partnership), Bloom's distinctive voice, both as a player and composer, had come into clear focus.
She certainly wasted no time in making a name for herself as both a composer and player. Her first solo album, We Are, a nine-song duet date recorded in March 1978 with bassist Kent McLagan, features seven Bloom originals, while her love for timeless standards was already evident in the inclusion of Strayhorn's "Chelsea Bridge" on her debut and Weill and Anderson's "Lost in the Stars" on Mighty Lights. There's a warmth and lyrical quality to her playing that's present on those early recordings, and such qualities blossom to an even greater degree on her latest, a beautiful set of ballads titled Sixteen Sunsets (reviewed here).
Bloom has also received a considerable number of honours and awards over the years. She was the recipient of the 2007 Mary Lou Williams Women in Jazz Award for lifetime service to jazz, is a six-time winner of the Jazz Journalists Award for Soprano Saxophone, and a winner of the Downbeat International Critics Poll for soprano sax. Currently a professor at NYC's New School for Jazz & Contemporary Music, Bloom has had such a huge impact that The 2009 Bloom Festival, a Brooklyn-based jazz festival devoted to cutting-edge woman artists, was named in her honour; she is also the first musician to have been commissioned by the NASA Art Program and even had an asteroid named after her by the International Astronomical Union (asteroid 6083janeirabloom).
01. Near the beginning of your recording career, you were joined by Charlie Haden and Ed Blackwell on 1982's Mighty Lights. What was the experience like for you playing with such revered figures?
It was an opportunity to play with my dream rhythm section. I was scared out of my mind but excited at the same time. You know like the Chinese definition of a crisis—it was "a dangerous opportunity." Playing with Charlie and Ed was like surfing an amazing rhythmic wave. They had a way of making anything you played sound right.
02. Was it intimidating or did you feel at home, so to speak, in such company? And was there anything in particular you took away from the recording experience that was especially valuable?
I was so lucky to have had the experience of playing with them. The kind of feel that they created is completely unique. That recording also marked the beginning of my collaboration with pianist Fred Hersch, which continues to evolve to the present day. Looking back at that recording reminds me of what a creative nexus the whole experience was.
03. You also seemed to find your voice at a preternaturally early stage in your career. How did you manage to do so when other artists sometimes take years to do so?
It's really been a journey. I suppose choosing the soprano—an instrument that you could develop a sound on with the luxury of being stylistically under-influenced had something to do with it. I also think "having a sound" is something that was ingrained in my thinking from the time I began studying the saxophone with woodwind virtuoso Joe Viola. The saxophone is one of the instruments that is closest to the human voice and so making a sound on it should be as personal and unique as your own voice.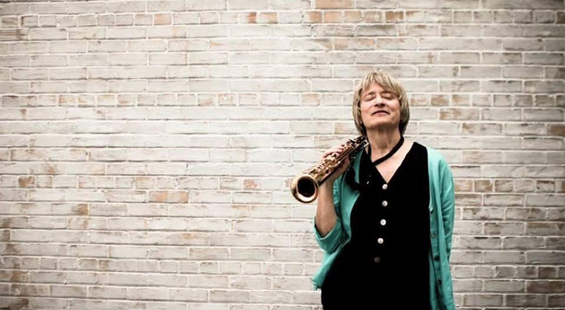 photo: Johnny Moreno
04. Obviously most of the standards you've included in Sixteen Sunsets are ones that have been played and recorded countless times, and I'm presuming you've played them many times as well. Having said that, your performances of them on the recording strike me as so fresh they sound like performances by someone almost new to them. How did you manage to make the renderings of the songs sound so fresh, given that you've played many times before the recording sessions?
If you're in a relaxed frame of mind, the best way to play anything is completely fresh to the moment so that every sound you make is a discovery to your imagination. As improvisers we practice this kind of spontaneity—a provocative juxtaposition of concepts, don't you think? With the album, I picked songs that really resonated with me and then tried to record them in a way that was conducive to relaxation. We never really recorded in the studio for more than three or four hours at a time, which helped keep everything fresh.
05. The other thing that strikes me about the performances of the ballads on Sixteen Sunsets is how powerfully emotional your playing is, especially in your solos. Were you consciously setting out to dig deeper into these songs to get to their emotional core or is that simply something that naturally comes out when you're playing such melodically rich material?
You know as you get older, you just get more comfortable with yourself and eliminating all the things that get in the way of singing in your natural voice. I've learned a lot from listening to vocalists. I'm very happy that the emotional reach of the music is audible. It's one thing to play that way in concert and another thing to let yourself go in the studio. I think great melodies do most of the work for you.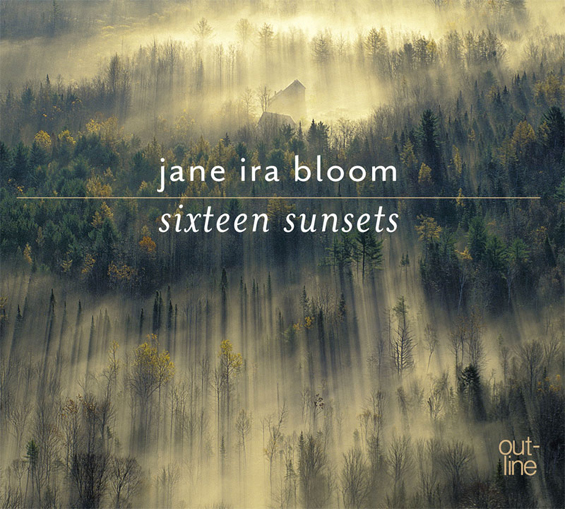 06. One of the things that comes through clearly as I listen to Sixteen Sunsets is the unqualified joy it seems to me I hear when you playing something as magnificent as "I Loves You Porgy" and "The Way You Look Tonight." Am I correct in assuming that as a musician one of your greatest satisfactions is simply the experience of having such exquisite material speak through you?
It's like an exquisite synchrony. There's something in feeling and thinking about the lyrics of a song and what they're saying and then transforming that through your own voice. It's such a simple concept for an instrumentalist to play a song thinking about what that song means but you'd be surprised how quickly the transformation to an instrument can confuse that.
07. In 1996, Herbie Hancock released The New Standard, his attempt to argue on behalf of songs like The Beatles' "Norwegian Wood" and Nirvana's "All Apologies" as contemporary standards. Those covered on Sixteen Sunsets, on the other hand, are classics of decades-long standing like "Darn That Dream" and "Good Morning Heartache." Can you think of any contemporary standards that hold up next to the ones you covered or is there some truth to the cliche "They don't write'em like that anymore"?
There are great songs in all eras of music. In addition to the American songbook, I grew up listening to Laura Nyro, Joni Mitchell, etc... Who knows, maybe someday I'll revisit that music. My students interpret the music of their time in 2013 in a way that is completely natural to them because it's of their generation.
08. In a Dec. 7th, 2013 review of new biographies on Charlie Parker and Duke Ellington in the Canadian newspaper The Globe and Mail, Martin Levin states that jazz is "widely thought a dying art form" (even though at the close of the paragraph he writes, "one hopes, that rumours of the death of jazz are highly exaggerated"). What's your own take on jazz's current state of health?
Looking at the wallpaper in his bedroom near the end of his life Oscar Wilde was quoted as saying "One of us has got to go." Maybe it's the critics and their dire predictions that need to take a rest. The music always has and always will continue to evolve and develop in its own way regardless of its observers.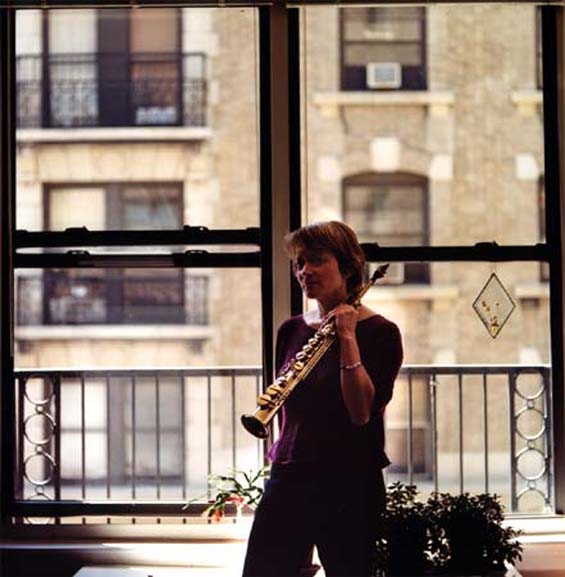 photo: Jean Francoise Laberine
09. No doubt you've attended a great many concerts in your life. Are there any that stick out as particularly memorable, even life-changing?
Listening to Sonny Rollins play a capella solos live is a life-changing experience. Hearing Aretha Franklin singing "Respect" at the Kennedy Center a few years ago was surreal and an experience I'll never forget.
10. As Sixteen Sunsets was recorded in early summer 2013, I'm guessing that you're currently pondering what your follow-up to it will be. Any thoughts as to what your next recording will be like and how it might differ from the latest one?
Not really. I tend to let more time go by between projects so that ideas can evolve in their own time and not according to when I would like them to happen. You never know where a good idea can come from or when it might appear so sometimes you just have to be patient with your own creative process.
January 2014