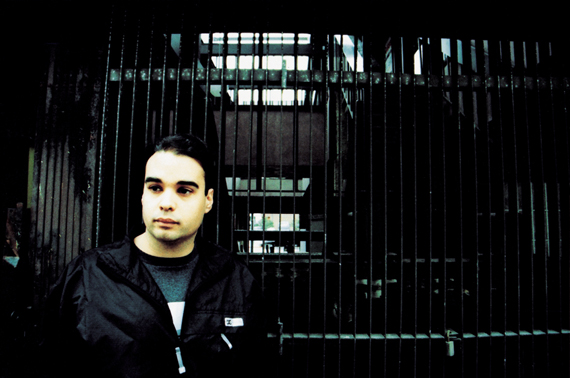 TEN QUESTIONS WITH: JOHN TEJADA
Throughout the past decade, LA-based electronic music producer John Tejada has issued a formidable number of recordings on labels like Playhouse, Plug Research, City Centre Offices, and his own Palette imprint, sometimes in collaboration with long-time collaborator Arian Leviste. Two recent releases include the 12-inch Big City Music on Poker Flat and We Think As Instruments, the third I'm Not A Gun full-length (the name originating from the cartoon The Iron Giant). With his mother a soprano singer and his father a conductor, Tejada grew up surrounded by Classical music but his own music-making traffics in finely-crafted techno, post-rock, and microhouse. We spoke with Tejada on the eve of a March 18th performance as part of the Minimalist Jukebox festival presented at LA's Walt Disney Concert Hall and directed by John Adams.
1. In your view, does We Think As Instruments differ from its predecessors?
I would hope it differs from the previous albums. To us [Tejada and Takeshi Nishimoto] it feels like a natural progression of our sound over the past years. We wanted to strip things down a bit while also trying new tools and sounds but the main idea remains to capture a good performance and build around that. Besides newer tools, our recording process has been pretty similar over the past years although each song can differ in the way it was created. We don't follow a certain process when it comes to writing. We just try to have fun and see what comes to us.
2. I get the impression that you get particular pleasure from assuming the drum chair in I'm Not A Gun. What are your thoughts on programmed versus conventional drumming?
I don't really have any strong opinions about real drums vs. programmed drums. I've heard some amazing programmed drums that sound real. But I don't think it's such a big deal: if you want real drums use real drums; it's pretty simple. I have been playing drums most of my life, and it's fun to be able to be a proper drummer in a band project. I've been influenced by a number of drummers over the years, many '70s fusion jazz/funk drummers to technical rock drummers, your average list I suppose.
3. Let's talk about your involvement in the upcoming Minimalist Jukebox festival. On the one hand, your involvement doesn't surprise given your own background in classical music but what does is that a festival dedicated to the music of Adams, Glass, Riley, Reich, Andriessen, and Pärt should begin with a concert featuring The Orb, Dntel, Boom Bip, and you.
I'm quite happy that the Disney Hall is branching out to give a proper showcase to this style of music. This is a pretty major thing for LA. Ever since I started performing electronic music it has been my goal to play it live in a concert setting such as this rather than a club setting. I hope there is more change to come.
4. What kind of set do you have planned? Will you be tailoring your set to coincide with the minimalism theme?
I did prepare a bit of a special set for this. It's a hardware-only live set with no laptop (instead of prerecorded audio the music is all being generated by machines, hardware sequencers, and synths; no computer plug-ins, just raw music). It's been a bit of a challenge to get that all going but I used to do it before laptops had all the fancy tools they have now and was always influenced by the live power of groups like Orbital (early years, 'Green' and 'Brown' albums). I want to give the impression of a truly live and partially improvised performance.
5. What's your own relationship to classical minimalism? Are you an admirer of minimalism composers in particular?
I don't have much to say about minimalism. I grew up with lots of classical around me especially in my younger years. I still enjoy some things but these days it's more modern composers like Debussy and Satie.
6. After your Playhouse release Fairfax Sake attracted deserved attention, you followed it up with the radically different Logic Memory Center, your self-professed 'computer album' that strongly focused on sound design. Is there a follow-up to Logic Memory Center in the works?
I've used vocals before, just maybe not as much as on that album. For that album I thought it would be fun to have more friends involved. I wouldn't call my next album a follow-up really; if anything it's the exact opposite to Logic Memory Center. It was made with software only as an experiment, but these days I'm making my music with hardware only. Pretty weird how things come full circle. There will be no vocals on the new album either. It's called Cleaning Sounds Is A Filthy Business and will be out on Palette hopefully in the summer.
7. You've also issued material under the name Mr. Hazeltine as well as drum & bass. How does the Mr. Hazeltine differ from your other material and is the alias still active?
Mr. Hazeltine started as an alias because at the time Plug Research was very concerned with anonymity, or at least they thought it was a fun thing. I told them to make up a name for me and they did. I haven't used the alias in a long time but I wouldn't rule it out that I will one day use it again. I stopped trying to make anything as fast as drum & bass at the end of 2001, I think. It was just an experimental time and I had some friends that I thought were doing some really interesting things with it but I don't think I'll try again.
8. You established Palette in 1996 and it has become a successful and highly regarded techno label. What do you have scheduled for release in the near future?
I have my album in the works which I mentioned. The next single will be sort of a teaser for the album. It features a song titled "The End of it All." After that there are Plaid and Pole remixes of my track "Mono On Mono" (Pole's mix is actually a 4/4 dance mix and is really heavy and clever; Plaid's mix is classic Plaid). Following that will be a new EP by Justin Maxwell and then my album. For the time being the label is just set up for my productions with Arian Leviste and Justin Maxwell as well as his solo productions. I still don't think of it as a proper 'label.'
9. Your mention of Pole reminded me of his collaborative project with Fat Jon. Given your general openness to multiples styles and genres, I'm wondering whether you ever flirted with the idea of an MC-based hip-hop direction too?
I've done a few things in the past. Actually my start was producing some hip-hop productions, but for my own releases I have collaborated with Divine Styler on quite a few songs now.
10. What's your take on the state of techno, microhouse, hip-hop et al. at the moment?
It's just like you say, all genres, names. Sometimes names just defined by what BPM the music is or where the kick is placed. Most of the genre names ruin it all for me. I've always tried to enjoy many types of music, from soft electronic to hard aggressive rock and avant-garde styles.
May 2006