TEN QUESTIONS WITH PHILIPPE PETIT
Marseille-born Philippe Petit is well-known and highly-regarded in experimental music circles for his BiP_HOp label and its always provocative output, and known too for his participation in the Strings Of Consciousness collective, of which he's a key member. Perhaps less well-known (to North American listeners at least) is that Petit's involvement in the music business predated those activities by many years: during the '90s he wrote for numerous magazines (interviewing artists such as Nirvana, Mudhoney, Pixies, Buzzcocks, Nick Cave, and Godflesh, among others), and founded Kinetic Vibes Music (a "Garage Punk" zine and label) in 1991 and the experimental label Pandemonium Rdz two years later. Today, in addition to the two aforesaid activities, he DJs, writes for Noise Magazine, and does a regular radio show for Radio Grenouille. Somehow the tireless Petit also found time to talk with textura in detail about downloading, current and future projects (BiP_HOp and otherwise), and Strings Of Consciousness.
1. As the label manager of BiP_HOp, how have you coped with the profound changes that the digital download have brought about? Or, put more simply, how have you managed to survive as a label that produces physical product when sales of said product have been so profoundly affected by digital downloads?
First of all, I have never tried to live off the label; I've always struggled to keep it a labour of love that would allow me to take a risk on music that's a tough sell. I believe that there will always be folks like us who are interested in the physical release of music, and my job is to find them or at least make sure that those among them who could enjoy our music are aware of our existence.
The most important thing is to build a network of loyal folks all over the world who can help spread the word, and since I have been active in music for more than twenty-five years I've been able to build such a network. Of course, it isn't easy to run a record label these days but, to be honest, when I see that many human beings who are miserable, poor, and neglected, I have no reason to complain. Every morning I wake up and spend my day working on music, which is my biggest passion, so, believe me, I consider myself privileged. Our "piracy/download" problems seem so trivial when compared to those existing in our so-called civilized capitalistic world, don't they?!
Also, I'm not convinced that the download thing is the only cause. Another reason is that nowadays life can be alienating, and struggling to live can sometimes allow for very few moments of pure entertainment; at the end of the day, one has so few minutes left it is difficult to think/read/be exposed to culture or listen attentively to music. And there are so many records and music out there, it is easy to get lost, and obviously people can't buy everything. My concern is that downloading is an immediate action that allows listeners to hear a band in just a couple of clicks, and so they download a lot of music and receive all that information too simply. Where is the desire? Longing for a record you ordered to be delivered by the postman? Longing for music implies that once you get it you will pay some extra attention to it, and not treat it as one more anonymous sound added to your library.
The fact that many consider music to be disposable or take for granted that it should be free is my main concern. I also don't like the idea that music should be free because many people do a lot of work to create it and so should get their due from it. We live in a world where living is expensive so I don't blame downloaders for taking advantage; what I regret is that modern society creates situations where one needs to fight to survive and thus makes it seem normal for one to steal what one can't afford. I'd be in favour of trading if I believed in humanity's good nature. Unfortunately, I'm quite pessimistic and fear that most of us are egotistic, selfish, and not willing to help others.
Luckily some exceptions exist. Over the years, I've heard lots of people complain about the fact that music is too expensive and, of course, it is when one buys it in bigger chains like Fnac Music, Virgin, or Tower. But I don't accept such an argument when it comes to independent music when most labels are more than happy to mail-order at a very decent price to those who order from us. Also, I hardly ever hear anyone complaining that a pair of Nike shoes is awfully expensive; because it's fashionable people will find the resources necessary to buy it. Why should music be an exception?
On the other hand, the fact that music is available helps to raise the profiles of our artists, and can help them get gigs and larger audiences as more people give us a try. And obviously going out to perform is the best way to be paid and share with audiences, and meet others who share our passion for music. For the past eight years, I have played a lot of shows and most of the money I made was re-invested into the label so that is a way to survive and get richer. I don't consider money riches; richness lies in the fact that I do what I want, I'm my own boss and feel free. I'm a rich person because I work in a field to which talented and positive folks gravitate, and every time our paths cross and we collaborate I become richer. These days too much music comes out so my way to survive is to release less. I don't care about building a huge catalog as many labels tend to; I feel fine about focusing on the qualitative rather than quantitative.
2. Having been at the helm of BiP_HOp for ten years, what are the major shifts that you see happening in the electronic and experimental genres?
Well, during the past few years most of us have been including more and more acoustic sonorities in our music and I like that shift. Other than that, I've noticed that music is like a loop; every three of four years people start to look back at what our "ancestors produced"; now the big trend is the late '80s and Noise rock (perhaps electronica will become trendy again soon too). What makes me sad is that many listeners shift from one genre to another and act as if they'd never listened to the style of music they were into the year before, as if they feel ashamed. I do like many styles of music and strongly believe that a song can be of interest no matter what genre it belongs to, so long as the listener is open-minded enough to accept and recognize its quality.
3. Please tell us a bit about your new project [reciprocess : +/vs.].
My first radio program took place in 1983, I DJed for the first time in 1984, and BiP_Hop was conceived in 1999. So to celebrate twenty-five years of activism/DJing and the ten-year anniversary of the label, I wanted to create something more special than the usual sampler that every label produces. Since its beginning, BiP_HOp had expressed an interest in collaborative works so, in that tradition, I had the idea of starting a series of split CDs featuring the work(s) of two sound assemblers and documenting the process of musical reciprocality between them. To push the concept even further it was better to create an association between two labels so I did that in collaboration with Fällt in a series we named "Reciprocess." Last summer I composed a seventy-plus-minute soundtrack, and then cut it into pieces which were sent to friends for them to add their spices to it. The Wire liked the idea and agreed to include it with issue 301 (March 2009) and that became[reciprocess : +/vs.] documenting the process of musical reciprocality between Philippe Petit & friends (Bela Emerson, Aidan Baker, Chapter 24, Cosey Fanni Tutti, Simon Fisher Turner, Klangwart, Douglas Benford, Markovo, Kumo, Eugene S. Robinson, Severin 24, Jason Forrest, Lydia Lunch, Jean-Hervé Peron, Strings Of Consciousness, Sybarite, Jesu, dDAMAGE).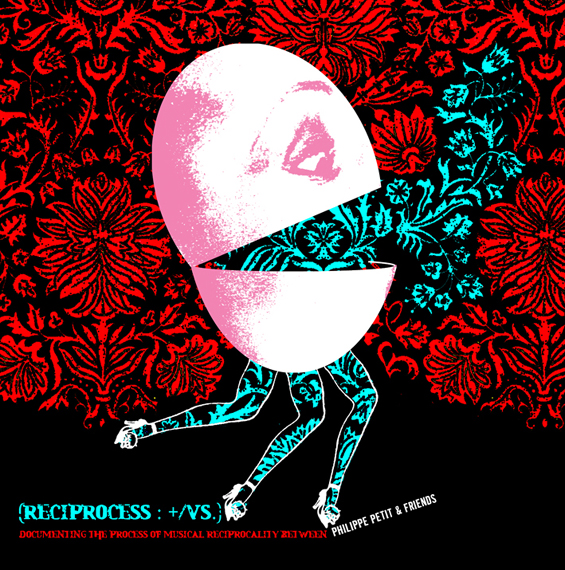 4. What other BiP_HOp releases have you got in the works for the future?
Our fortieth release will be the next album from French act dDAMAGE who have been releasing a lot on international labels like Tigerbeat6 and Planet MU.
5. It's interesting that many label managers have gradually established themselves as music producers in their own right and have developed an increasingly more dominant persona as an artist as opposed to label head (I'm thinking of Room40's Lawrence English and Audiobulb's David Newman aka Autistici as examples besides yourself). Why and how did that come about in your case?
When I discovered the art of mixing I started to build DJ sets featuring some of my sounds with the music of artists I liked. One day a friend who had been doing electronica-like music told me that we should collaborate. I went to his studio and we started working (some of that is available under the name Deviationists). Then I started the Strings Of Consciousness collective with Hervé Vincenti.
6. Are you Strings of Consciousness's de facto leader or is it a collective that somehow operates without any one person guiding the project?
I dislike words like leader. We envision Strings of Consciousness as a collective and are lucky to benefit from the talents of many friends when our music needs it. In that case I could be considered as a guide but any idea I may have has to be approved by Vincenti. We do compose together and he is responsible for the sound that we reach. While Hervé is a "real" musician, I am not; even if I create some original music, I would rather introduce myself as a "musical travel agent" than as a composer. I try to tell a story, with a beginning and an end, and invite listeners to share my world for a while.
7. Could you tell us a bit about the Strings of Consciousness recordings that have been issued and how the group's sound and approach has evolved since its inception?
Within the last two years we've released quite a few recordings (well-documented on our MySpace page) so I hope that the music can speak for itself. Since the early days our concern has been to try to record music that will stand the test of time and that people will want to listen to "now" and hopefully "tomorrow." It is also important that each album is different from its predecessor, since I find it so boring when bands repeat the same recipe most of the time. Our music evokes some images and many folks have labeled it cinematic which is fine by me as I'm obviously pleased to provoke some reactions. I aspire to convey feelings and emotions and also create a special atmosphere.
8. Also could you comment on the personnel/line-up: is it something that's in flux or is there a permanent core that's supplemented by others?
Three of us compose and play live: Hervé Vincenti (guitars/samplers/keys); Perceval Bellone (saxophone/piano/harmonium/tibetan bowls); and me (electronics/turntables). When necessary we bring in other musicians to enhance our music: Raphaelle Rinaudo (electric harp); Alison Chesley (cello); Andy Diagram (trumpet/electronics); Pierre Fenichel (double bass); Nicolas Dick (guitar); and Bela Emerson (cello). Some great narrators/vocalists have participated too: Cosey Fanni Tutti; J. G. Thirlwell; Scott McCloud; Eugene Robinson; Barry Adamson; Black Sifichi; Pete Simonelli; Lydia Lunch; Julie Christmas; Pantaleimon; My Brightest Diamond…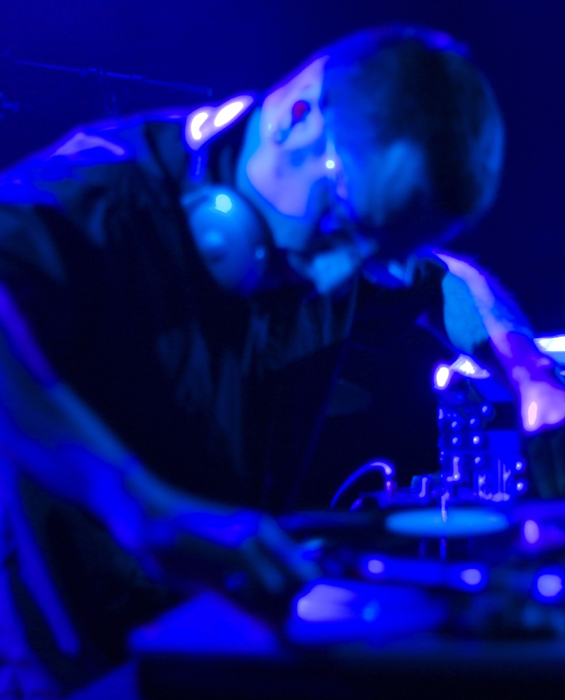 9. How are compositions created when there are eight members in the group? Do the pieces come out of improvisation, or does someone provide a compositional template that the group then fleshes out?
Strings Of Consciousness wants to sound pleasurable and enticing notwithstanding the group's avant-garde attitudes and procedures. I can't emphasize enough that "we want to compose music which can be listened to repeatedly!" After listening for so many years to avant-garde and experimental music, we noticed that more and more experimentalists were expressing less and less concern for their potential listeners, giving less attention to structure and direction, or being too complex in their compositions and most of all lacking humanity. Even if we sculpt and craft our music with a lot of focus on detail and spend days and days editing and searching for different sounds, it is important to convey emotion and feeling. I'll bring Hervé into the discussion as he is the main composer in Strings Of Consciousness …
Hervé Vincenti: Well, when it comes to composition it's always hard to describe the amount of things that can be involved in the process. But in the first place I assume it's like a "vision," a vision that may come from a very simple detail or fact or reading, or may also come from afar, from a memory or something that you've experienced, or perhaps an idea that you've lived with for many years. It could even be a scent, a sound, a landscape, a noise, etc. But for sure, talking about the writing/recording process in itself is easier since with Strings Of Consciousness Philippe and I have a method that works well. I always start with something like a musical vision or a field recording and try to build the track up, keeping it as close as I can to that initial vision or idea. I lay down the base using Protools and build everything around it: keyboards, bass, guitar, drums, Philippe's vinyl treatments or his drones/layers, etc. Philippe joins me at that point to help create a proper composition that fits with that vision that we both share since we always talk a lot before engaging in the writing process—as important as the recording phase itself. We envision at that point more clearly where we want to go (or not). And when this vision is clear, we start thinking about who might be involved or be asked to do this or that and what kind of instrument we need to enlarge our vision or "feed" the track with different scents or flavors. It's all about the feeling we have for that particular track.
Eventually, when everything is in its right place, Philippe and I try to determine which artist or poet or musician will best fit our vision of the song, after which Philippe asks them to join us and be part of the song.
I often say that I build a backbone, harmonically for instance or sometimes a more developed structure. Then, when Philippe comes in, we compose the rest of the "beast" and bring it to life before Philippe brings it to the world (I'm "frankeinsteinising" a bit, I know, but, as a matter of fact, it's a nice way to explain our approach to composition). Of course we also edit and mix ourselves as we are clearly a part of that famous DIY tradition.
10. Philippe, you're involved in numerous other solo projects and collaborations involving people like Lydia Lunch and Cosey Fanni Tutti. Could you update us on the material we'll be seeing come out in the near future?
In the near future my first solo album will come out on Beta Lactam Ring Records, and I'll also have some tracks appear on compilations (Antibothis #3, Boring Machines double-CD, Feardrop 15, Citysonics 2009). A picture-disc single with Cosey Fanni Tutti is set to appear on Optical Sound. To me collaborating is one of the best ways to enrich myself; sharing and exchanging ideas allows me improve and grow. I'm blessed that friends who are so talented and whose music has been so important to me are interested in working with me. We have finalized one album with Lydia Lunch, a DVD with Raymond Salvatore Harmon from Chicago, and just waiting to be mastered are albums I've done with Chapter 24 from Greece and James Johnston (from Gallon Drunk, Faust, Bad Seeds). In the works is a trilogy for "strings" instruments, and collaborations with Murcof, Justin K. Broadrick, and a trilogy with Eugene Robinson from Oxbow. I've also just agreed to do a remix for Kammerflimmer Kollektief and Strings Of Consciousness has just completed a new album too.
March 2009