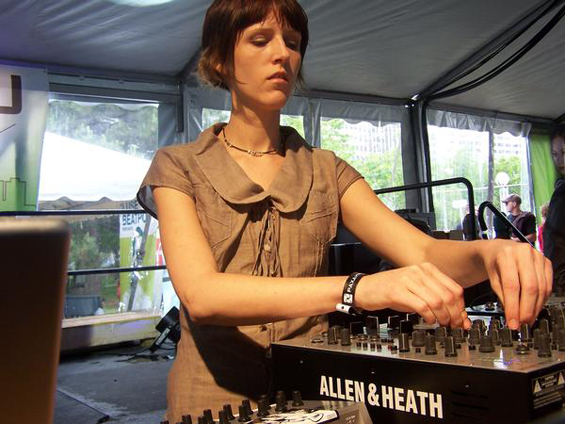 TEN QUESTIONS WITH KATE SIMKO
We were delighted to be able to feature an article by Kate Simko a couple of years ago (Kate Simko's Top Ten Women Composers) and were just as pleased when the chance to interview her on the occasion of her first formal album release, Lights Out, arose (a full-length soundtrack called The Atom Smashers did appear in mid-2009, however). Ms. Simko has gradually built up a considerable reputation for herself, something that began even before her first solo EP, Strumm (Kupei Musika), appeared in 2006. She began DJing on college radio in the late '90s before moving two years later to Santiago, Chile where her studies in music composition continued; that's also where she met Andres Bucci, with whom she joined forces and recorded two records under the Detalles name. Following Strumm, Simko issued a number of EPs on Spectral Sound and Eklo prior to the new album's appearance. Issued on Hello? Repeat, Lights Out finds the Chicago-based producer integrating a number of disparate influences—Chicago house and Detroit techno among them—into an impressive statement filled with funky bass lines and soulful vocalizing.
1. Many an artist strives to produce a style that's unique, a style that's immediately identifiable as being the work of him/her and none other. How would you characterize or describe your style?
Hmm, well, I make a lot of different styles of music, ranging from ambient, to experimental electronic music, to house, tech-house, and minimal techno. But the best way I can describe the album would be arty dance music. Most of it has a 4/4 kick drum with groovy rhythms, deep bass, lots of textures, and a warm sound palette.
2. Your background is obviously unique, given that you've collaborated with the Philip Glass ensemble and scored a feature film. Could you tell us a bit more about those projects, as well as others with which you've been involved?
Philip Glass's label contacted me out of the blue in 2005. It was a turning point for me because I was just starting to produce tracks on my own (previously I'd been collaborating with Andres Bucci and he did most of the percussion). The remix for Philip Glass was my first released solo production—kind of crazy in retrospect. I performed with the Philip Glass ensemble in New York (for CMJ) and in Chicago as well. I wrote a bit of new orchestration (and added electronics) for one of his pieces. It was super-cool.
As far as film scores, I've been interested in this since college and scored my first film in 2002. Since then I've scored a couple smaller films and landed my first feature film score in 2008 for the PBS documentary, The Atom Smashers, (soundtrack released on Ghostly International). I love making music for picture, and plan to keep going with it, for sure.
3. You also bring formal classical training to your musical productions, something not all electronic producers are able to do, of course. In what ways has that figured into the work you're doing?
Ah, the classical music question, it always comes up (not a bad thing, just saying). I love all kinds of musical styles, and they inspire my music in a lot of ways. But classical and jazz training are definitely the main influences when it comes to the melodic and harmonic decisions. I usually start a song by making a beat; then, add the first melodic part (a bass line, chord progression, etc). At that point, I decide which key the song should be in, if there should be any harmonic accent notes, etc, and build from there. By choice, my songs don't sound super-complex (or uber-melodic) a lot of the time, but that doesn't mean that music theory didn't shape a lot of decisions along the way.
4. Let's talk about Lights Out specifically. To these ears, a good number of the album's tracks evidence a strong Detroit and Chicago influence. How strong an influence on your music have been the dance musics associated with those cities?
Detroit and Chicago are my main influences when it comes to dance music, no doubt. I was turned on to house and techno here in Chicago in the '90s, and back then the Detroit guys were playing a lot in the Midwest, and Chicago legends were mixing records around the city regularly. House, techno, disco, and electro were mixed into the same sets all the time, before the genres or subculture were totally defined. No matter the genre, there was (and is, to this day) a signature essence from both Detroit and Chicago, and to me the main characteristics are soulfulness, raw vibes, and a genuine love for the music.
5. What effect, if any, did the two summers you spent in Buenos Aires have on the resultant music?
Almost the entire album was composed in Buenos Aires (half in 2009, half in 2010). I rented a quiet place where I could spend all day making music. On my breaks, I'd walk around the city, meet friends for a break, or just vibe the city. Buenos Aires has an amazing spirit. It's an enormous Parisian-influenced mega city at "the end of the earth," as South Americans like to say. When I'm in Buenos Aires, I feel like I'm in a parallel reality. Everything moves at a much slower pace and the usual everyday distractions are thousands of miles away. Also, there is great artistic movement in Buenos Aires—many talented designers, artists, and musicians. I love Buenos Aires, and I think this love for the city is present in the album.
6. Am I imagining things or is Lights Out not the funkiest music you've issued to date? I listened to it at peak volume on a high-quality system and couldn't help but notice how much the funk side of the music jumped out.
A lot of my favorite music is groovy, soulful, and funky. So, although it wasn't a priority to convey this preference in the album, maybe it seeped into the music's DNA.
7. One of the major reasons why Lights Out's tracks have such impact is because of the huge bass presence (I'm thinking of tracks like "Flight Into BA," "Mind On You," and "Had It All"). Did you give special attention to the bass lines in the tracks so that they'd have that extra punch?
That's nice of you say that, thank you. I love a deep bass sound, and have become a bit obsessed about EQ'ing the bass in relation to the kick drum and other low percussion in my tracks.
8. Apparently you added a good amount of analog gear (synthesizers and drum machines) to the digital production mix. What do such analog sound sources bring to the album's tracks that purely digital ones don't?
Yeah, I did use a decent amount of analog gear on this record. I wrote the parts in Buenos Aires, then played the MIDI back on the Juno 106 and Dave Smith Polyevolver (not completely analog for the nerds out there, but hey... ), and used the Roland TR-505, TR-707, and Machinedrum for parts of the percussion. Have to give credit where it's due, Tevo Howard is the one that really encouraged me to go down this path. We started making music together here in Chicago, and he'd bring over his 707 and 303 and it was like being in a band, super refreshing. Adding the analog sounds opened the palette up from an innately colder digital sphere to new galaxies of richness.
9. We're told that you regarded the album "as an art project, an installation of ten pieces that together form their own unique being." Could you elaborate on that statement a bit more?
Hearing that statement now, it's sounds a bit stuffy... but it really wasn't meant that way! Basically, the album is a story, and the songs are chapters. It's something I put a lot of love into, not a compilation of songs that were sitting around, or something thrown together quickly to hype up my DJ career. Albums in dance music seem to be a dying breed these days. There's a lot of hesitation about dance music albums because it's hard to sell double- or triple-pack vinyl, etc. That's one of the reasons I'm very happy to work with Hello? Repeat. The label is releasing it as vinyl and CD. They're music lovers and purists, and I respect them a lot for that.
10. It sounds like you've got an ambitious plan in place for the album's live tour, given how intermedia artist Jeffrey Weeter will be contributing to it. Can you tell us a bit more about what the live presentation of your new material will involve and what else is lined up for you in terms of projects (touring, recording, etc.) in 2011?
The A/V project with Jeff has been in the making for a couple years, and we're very excited for it's debut (April 7 at Rex Club, Paris). We created visual themes for each song and Jeff custom-programmed an interactive video program in Max/MSP/Jitter. We gathered footage from cities around the world, like Chicago, Buenos Aires, Sao Paulo, Rio, and Tokyo. Key audio files from my live set will trigger specific videos or effects, and everything will be in sync with the music. Each performance of the live set will remix each song's video content, real time, which is why we're calling it live cinema. I'll be doing an 11-city European tour in April, then back to the US in May to start the A/V album tour stateside.
Besides that (life after the album? Pff!), Anthony Collins and I have an EP coming out late spring on Supplemental Facts, Tevo Howard and I have our Polyrhythmic project due out, and I have a number remixes on the way. Between touring, I'll be making new solo music, continuing the collaboration with Tevo, and there are a couple film score projects in the pipeline. Also, I'm sure after all the live set shows I'll be antsy to get behind the decks again, so DJing as well, of course. Keeping busy…..!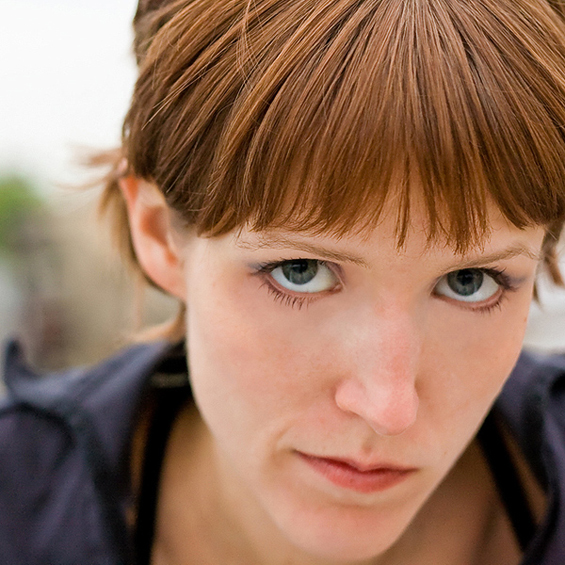 April 2011