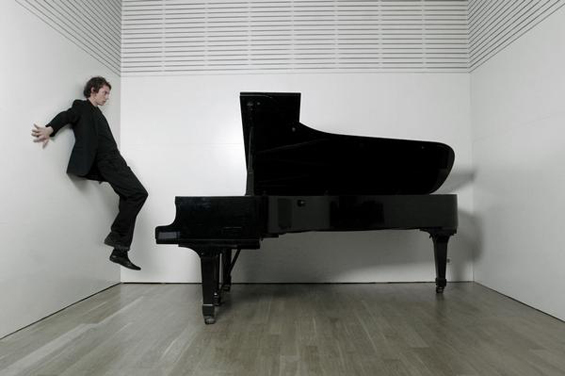 TEN QUESTIONS WITH FRANCESCO TRISTANO
Francesco Tristano is that exceptionally rare musician who's equally comfortable within the electronic and classical worlds. That he does so with such masterful and seemingly effortless ease can be explained in part by the substantial background he brings to the music he's now producing. Having grown up in Luxembourg and lived in Barcelona since 2003, Tristano studied at the Juillard School in New York from 1998 to 2003 and recorded classical albums devoted to the music of Ravel, Prokofiev, Luciano Berio, and J.S. Bach. His New York stay proved fortuitous in another regard, however, as it led him to discover the city's clubs and its electronic music, and thus planted the seeds for the classical-electronic fusion that's so marvelously realized on Idiosynkrasia, the solo album (his third for inFiné) he laid down at Carl Craig's Planet E studios in Detroit. Tristano's connection to electronic music had been established prior to that experience, however, as it was preceded by his 2005 performance at the Bouffes du Nord in Paris of Derrick May's Strings Of Life and the two solo albums he issued in 2007 and 2008, Not For Piano (produced by Murcof) and Auricle Bio On (mastered and "enchanted" by Moritz Von Oswald), respectively. Tristano, who also plays in the trio Aufgang, looks upon Idiosynkrasia as somewhat of a manifesto: "This record," he says,"is the fruit of a quest for an idiosyncratic language that is somewhere between acoustic and electronic, a quest that spans time and space, and I want to bring the piano into the 21st century. My ambition is to provide the piano with a new identity, because it is often associated with classical music and viewed as an instrument of the past, while I genuinely see it as an instrument of the future." We are delighted that Tristano reserved time to speak with textura about the new album, his associations with Craig and von Oswald, and his creative approach to music.
1. With Idiosynkrasia, you've reached a stage in your artistic development where you appear to have achieved a perfect integration between acoustic piano playing and electronic production. Given that Idiosynkrasia makes it sound like the most natural thing imaginable, I'm wondering how difficult (or easy) it was to achieve that balance between the two on the album and, secondly, how deliberately you set out to achieve that balance?
Thank you for the "perfect." Personally, I think of it as an ongoing exploration rather than a finished product. It is one more step of my research, a work-in-progress, if you will. I am a pianist, and I love electronic music. So what do I do? I make electronic music at the piano, or something like that. In other words, I am attempting to provide a new context for this old, acoustic instrument, namely that of this new, electronic environment. On the other hand, even though the piano has been around for centuries, it has undergone a profound technological development—in that sense, it has always been an instrument of the future. I like the analogy to electronic music, which is intricately linked to the newest technology, the latest gear available. I like to use the latest instruments too (hardware and software), but I certainly love to use a lot of vintage gear as well—Sequential Circuits Pro-1 and Prophet V, Roland Juno 106, to name a few of the great analog synths of the eighties. Planet E communications was, as you can imagine, the perfect environment for recording this kind of chamber music with old and new instruments—the grand piano fit right in.
2. What's your compositional process? Do you begin with a piano score of sorts and develop an arrangement from there, or does it happen in a different way?
I don't have a recipe for composing, fortunately. Sometimes, an idea might originate at the piano, other times on paper. Sometimes I might develop a structure in my head first, and then play around until I get some pleasing result at the keyboard so I can work on. Sometimes I might have a concise idea only to find out that after numerous hours spent in the studio, the track turns out completely different. Idiosynkrasia encapsulates all of these possibilities, and many more.
3. On a track such as "Nach wasser noch erde," one clearly hears your classical background in the elegance of the piano playing and the sensitivity of your touch, yet the track, like the album as a whole, transcends the classical genre. At what point in your development did you feel like you had transcended allegiance to any one genre and begun fashioning a style that is uniquely yours?
I take this as a compliment. The truth is, I don't think in terms of styles, or genres—I never have. I started playing the piano when I was five and all I wanted to do was play Bach and compose or improvise my own music. Eventually I started looking at other piano repertoire too, and I also got a complete "classical" musical education (solfege, analysis, counterpoint, and harmony).
I grew up in a house where music was always playing at loud volume: baroque music primarily, but also Ravi Shankar, Tangerine Dream, Pink Floyd, and Richard Wagner, among others. I can't say I come from an entirely classical background—quite the opposite. As a teenager, I admired jazz because it seemed to contain a form of freedom that the playing of written music didn't. When I started to listen extensively to electronic music in the late nineties and early 2000, its esthetic, Minimalism, was the big inspiration that lead me on my current path; it affected my way of playing, my way of composing, and the structures became longer and more unified, the elements of harmony, melody and rhythm seemed to merge together more and more.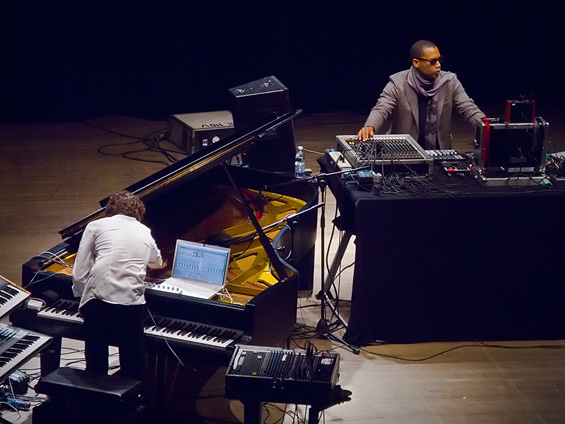 4. How did your assocation with Carl Craig come about and what influence (if any) has that association had on the nature of your music, whether it be general approach, arranging style, and/or composing style?
I met Carl six years ago in Maastricht, Holland. Rami (of Aufgang) and I walked up to him after hearing his DJ set and explained to him that we were pianists at Juilliard, that we were into his music and that we wanted to play different stuff. Two years later, I was introduced to Carl through a common friend, Alexandre Cazac of InFiné, who had the nice idea that interesting things might follow from our collaboration. By that time, I knew most of Carl's productions by memory. Of all the producers of Detroit techno, Carl's music was the music that moved me the most. I could talk specifically about his harmonic language, his intertwining rhythmic patterns, or his unique sound, but what was really getting to me was the sheer emotional factor—his music seemed to capture and to reflect the urban sadness in a post-industrial age more than anybody else's. Carl is a musician, simply.
5. What impact did recording Idiosynkrasia at Craig's Planet E studios in Detroit have on the album material that resulted? To these ears, a track such as Eastern Market has a rich and funky character that veritably shouts "Detroit."
Yes! "Eastern Market" also happens to be the only title that makes a specific reference to the city of Detroit. Funny thing is, this track is one of the pieces that completely morphed over time. It started off as very housy (more Chicago than Detroit, if you will) but it found its current form as soon as I took out the kick drum... The nights and days spent at Planet E are unforgettable to me. The studio itself seemed to embody everything the city ever meant to me. My trips to Detroit in the past years were essential in composing the tracks of Idiosynkrasia—I discovered a great city and its great people. The album is my homage to "Tha D," its people and musical heritage (I've called the studio "the mecca of sounds").

October 18th, 2008 at Cité de la Musique in France
6. Your 2008 release Auricle Bio On was mastered and "enchanted" by Moritz Von Oswald of Basic Channel and Rhythm & Sound renown. What precise "enchantment" did he contribute to the album, and what influence (if any) did the production approach he brought to that project have on the work you've done subsequent to it?
Auricle bio on has generated a lot of misunderstandings in terms of who did what, and I must say this is sort of amusing to me. Basically, Moritz was not involved in the production, but exclusively in the post-production. As a mastering engineer, he went a little further in the sense that he featured some sounds prominently, took liberties in the mix, in the EQ—hence the "enchanted." I guess you could say that in Auricle bio on, the music is by me and the sound is by Moritz. I have learned and am learning so much from Moritz.
We just did the live premiere of Auricle bio on in Hamburg, the first time Moritz and I performed as a duet on stage. Although I used a lot of the original samples, the live show didn't aim to recreate the record; it was more like a version of it. Moritz is one of the true sound-crafters of our time.
7. You're one of the few artists who can move between the classical and electronic worlds and feel at home in both. One finds you not only performing live with Aufgang, Murcof, Carl Craig, and Moritz Von Oswald but also playing Messiaen's Des canyons aux etoiles and the piano concertos of Ravel and Debussy with the Hamburg Symphony. Is it difficult for you as a player to move back and forth between these worlds? It's easy to hear how the classical can be brought into the electronic realm, for example, but the classical universe represented by Ravel and Debussy doesn't quite so easily allow for the reverse to occur.
I don't quite agree. I like to think that if Carl Craig or Moritz von Oswald or Aufgang wouldn't exist without Debussy or Ravel, then Debussy and Ravel wouldn't exist without Carl, Moritz, or Aufgang either. Music is a non-linear continuum; it is like an infinite cycle composed of Godel strings. For example, how could we talk about let alone admire Debussy's Minimalism if we hadn't known, or "digested" the Minimalism of the fifties, Morton Feldman or John Cage in particular?
8. What adjustments (if any) does your approach to playing undergo when you're performing in the Aufgang context (the group is a trio featuring Francesco, pianist Rami Khalifé, and drummer Aymeric Westrich), compared to when you're playing under your own name?
I would say my approach is the same whether I play alone or with Aufgang or with a symphony orchestra. As the late Austrian pianist Friedrich Gulda said, "Play each tone as if it were a matter of life or death." This is a stark statement, but it really describes the performance of music as the most intense celebration of life, as useless may it be. With Aufgang, I am only responsible of 33.3% of the sound—that's a big difference. When I play alone, I'm making the sound, all of it. Aufgang does have another significant difference—the drum set. We place it at the center of the stage. It basically shifts the energy to a more rhythmic level. The drum set is an orchestra of sounds in itself, and Aymeric is so good at it, too.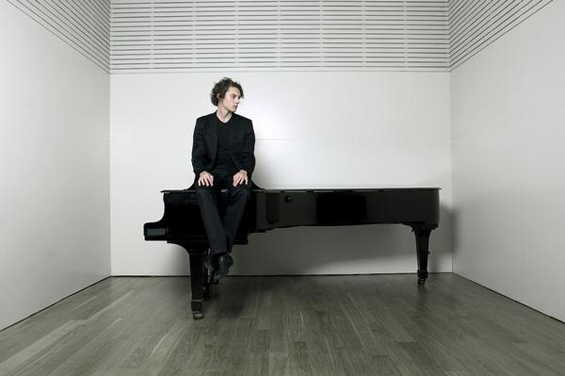 9. Your tour schedule reveals that you're performing in a trio format with Carl Craig and Moritz Von Oswald in the US in January. What kind of approach do the three of you bring to this kind of situation? Is the set improvised, for instance, or do you perform compositions by all three of you?
Unfortunately, it now looks like the US performances will not take place. As a trio, we base our set on our own compositions, but we play very freely. We connect our stations via MIDI for syncing. Moritz does a lot a processing of the piano sound whereas Carl might mostly program and play rhythmic sequences. I play the piano and several synths, do a bit of sequencing and processing. Each performance is very different from the previous one; it's very exciting.
10. Idiosynkrasia seems like such a summative statement, I'm wondering what exactly you might do to follow it up. Any thoughts as to what the next stage in your solo work will look like?
Of all the albums I have recorded so far, I hold Idiosynkrasia to be my dearest to date. I put so much energy and time in it for the past two years. But then again, it is just one small step in whatever I am doing, present or future. My next solo album is pretty much in the same vein (piano and electronics), except it does contain music by Johann Sebastian Bach and John Cage. It's titled bachCage and will be released by Deutsche Grammophone in March 2011. Should it come as a surprise that the producer is none other than Moritz von Oswald?
January 2011