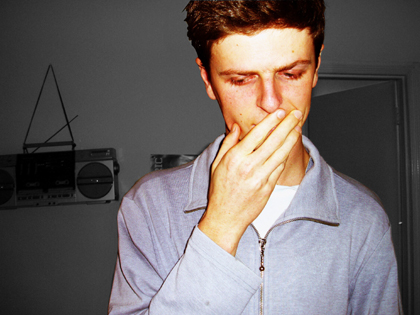 TEN QUESTIONS WITH: DAVE MILLER
Australian Dave Miller has issued two EPs of minimal dance music on Background Records (Jigsaw Music, Grey Summer) as well as contributed to the label's sixth Futuristic Experiments release. His full-length debut Mitchells Raccolta finds him taking a remarkably accomplished trip into broken beat territory. On the eve of its release, Dave agreed to discuss the album and other projects on the horizon.
1. First of all, what's the significance of the title Mitchells Raccolta?
Ahh, well as I finished my album my favourite record store here in Perth shut down—a sad time. The record store had by far and away the biggest influence on my music, and it was in a building called the 'Mitchells' building. One of the original artworks for the album had a beautiful/horrible picture of the building being demolished. Secondly, I really felt that the album was a digest of all the time I had spent there, and all the music I had listened to there. I asked my Italian grandmother what 'digest' means and she said 'raccolta.' On further investigation it seems to also mean 'first harvest,' so both interpretations fit, being my first album.
2. The press info suggests that the album might be the first 'minimal broken beat' record? How does this description of the album accord with your own?
Hah, I don't know—I guess that's for the critics to decide! A lot of my friends buy broken beat stuff, but I haven't really got into it a great deal as almost all the productions seem to have a vocal that I don't really feel. So perhaps some of the beat structures of my friends' music have influenced the rhythms, yeah. And yes, I feel it still is minimal music, though perhaps a little more 'maximal' than previous releases. I guess I just wanted to do a diverse album that felt like a whole; beats change throughout the album, sometimes within songs, but I wanted to make sure the feelings attached with the music ebbed and flowed, dance music that was still interesting to me.
3. What prompted the move away from a more familiar 4/4 template into something more experimental? Is it a permanent move or do you see the new album as a temporary shift? How concerned are you that, being more abstract, the new material may be harder to get across to listeners attuned to dance music conventions?
I wouldn't say the album is more experimental; sure it's not four-to-the-floor, but I don't think that makes it more experimental. The move to 'change the beat' was just something that I felt I had to do—there isn't a great deal of 4/4 stuff that attracts me any more. But its not like I am doing any crazy 13/8 time signatures or anything like that, almost all of the tracks are 4/4, but I guess they are bit less mono than my previous releases.
The music is still well received on the dance floor—I have found a funny thing in that people seem to dance differently compared to the four-to-the-floor stuff. Rather than the repetitive head-nodding and jerking, there is a bit more room for inventiveness on the dance floor, more side-to-side action, which is cool. Hopefully people don't get so tired compared to the repetitive dancing like a zombie to four-to-the-floor.
4. Can you describe the process you used to create the album? Can you use a single track as an example and describe how it was put together?
Hmm. The album was produced over a long period of time, so different tracks were approached in different ways. Mainly I start with a base element like a melody or bassline, then add things on top until I think I feel I can work it out as a track. From there I do lots of variations of the beat/melody/bass/etc, pick the ones that best fit. As far as the actual sounds that I work with goes, all of them are 'home sampled.' Some are live recordings, other are heavily effected snippets of bits of old jazz vinyl, bits and pieces thrown together.
5. Were there particular albums or artists you were listening to that influenced the move into the new album's sound?
I wouldn't say that any one particular album influenced the record. As it was the first time I had put together an album, I took a look back at all my favorite albums that really worked as a whole, and looked at all their characteristics. I noticed that they were all quite diverse throughout their duration, that I liked every track, that there was rarely any 'hit singles,' and that they sounded like a collection of tracks that 'should be together'—and I guess that is what I attempted to do for my album. So I wouldn't say that particular releases influenced the sound, but I would say that the make-up of my album as a whole was influenced by all my 'personal classics' of which there are too many to mention!
6. You live in Perth, Australia, a relatively isolated city I'm told. Is that true and, if so, what effect does that have on your music-making if any? How did the connection to Background Records come about?
The isolation probably helps shield me from any particular 'hype' music trends that bigger cities seem to get. Sure, we still get all the information, but I don't think its so in-your-face. So that's probably a good thing. The only thing that I feel is a problem is the lack of live music I get to see—not a great deal of live acts come to Australia, and in particular Perth, so its hard to see how different people 'play live.'
The connection with Background Records came a long time ago now! I supported Jan Jelinek when he played in Perth and he thought I should send demos out. I was quite shocked at the time and didn't even have any music to give him so I quickly got a CD together and sent it to a bunch of labels, and Background Records instantly replied. 8 of the 10 tracks on the initial demo I sent made up my first two EPs for Background Records.
7. Where will you be performing in the near future?
I am playing in Europe throughout May and perhaps a little bit of June. France, Germany, Switzerland, UK and Slovakia dates confirmed so far. Check my website or the Background Records site for more details.
8. You've performed alongside artists like Prefuse 73, Manitoba , Greg Davis, Four Tet, Portable, Andrew Pekler, Sutekh, Machine Drum, and Farben. Have any of these artists had a considerable influence on you, or are there other(s) that've had a stronger impact on your development?
Well, obviously without Jan getting me to send demos out initially I wouldn't have had any releases out, so that's a pretty strong impact! But, I wouldn't say that any of them singularly have had a specific influence, no. Different people have been supportive, and that's been great.
9. You've also been involved in a group Miller & Fiam. What's the current status of the group?
Yes, that's collaboration between myself and Harry Hohnen. We have just finished an album, more on that later... I am also in another duo called The Break-ups with another Perth electronic artist. We haven't had any major releases yet and make completely improvised music, a lot of the time sampling each other to create an audio mess.
10. You've got collaborative albums in the works with Laurence Pike of Triosk (Leaf/~scape) and Harry Hohnen aka Fiam (Traum/Hefty). Can you tell us more about these projects and clarify when we might see them released?
Yes, well the Miller & Fiam album is called Modern Romance and that is coming out on Expanding Records out of the UK. It's quite different from our previous EP on Background Records and is mainly downtempo business, with some ambient pieces as well. We are hoping for a July release. The collaboration with Harry I have found very easy going—we get together on the odd day on the weekend, he brings some sounds he has just recorded on his piano/guitar/accordion/et cetera, I chop things up, and we program the track.
I have also completed an album with Laurence Pike (percussion) and Phil Slater (trumpet). They are both from Sydney and the collaboration came about from an invitation I had a few years ago to do an improv jam with Laurence as a part of the Sound Summit festival that included a show at the Sydney Opera House. The show went really well, and after another subsequent jam we decided to record an album. It's essentially an improv album where we have jammed in the studio on ideas. The result doesn't sound like anything we've ever heard before, which is a good thing of course! A lot of the loops/sounds I used in the album originally came from Laurence and Phil from a previous session, so its kind-of-like regurgitatied-electronic-acoustic-improv-jazz?! It's getting mixed at the moment, and I have no idea where/when/how it's coming out at the moment.
May 2005