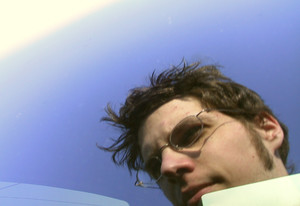 TEN QUESTIONS WITH: KEITH KENNIFF
Keith Kenniff impressed with last year's Helios album Unomia (Merck) but nothing suggested that his next recording would be so dramatically different—Corduroy Road, an album of solo piano pieces almost entirely free of electronic touches issued under the moniker Goldmund. On the eve of the album's release, Kenniff provided some additional background.
1. Aside from knowing that you live in Boston and study at the Berklee College of Music, there's not a lot of biographical information available about you. Can you give us a little bit more background, including how you ended up at Merck and Type?

I'm 23, I grew up in a rural town in Pennsylvania called Lancaster (home to the Amish). I've been playing drums and guitar since I was about 10. The main reason I started to play music was to be able to play with my father when he'd be sitting around the house playing guitar, so he taught me and my brother to play drums, bass, and guitar. I started composing seriously about
8 years ago, and would just share music with a few friends. Merck heard some of my music through the grapevine, asked me if I wanted to release it. I met John Twells (Xela) from Type Records, talked with him at length about film, then started to share some music with him just around the time he was getting Type off the ground.
2. Give the positive reception Unomia received, one might have expected your next move to be a Helios follow-up. Instead you took a bold detour down Corduroy Road. What prompted the move to do so?

I suppose the only thing that prompted writing Corduroy Road was the fact that I finally had access to a piano at my leisure. Piano seemed to me a more direct form of expession, and seeing as my technique was limited and I was still in the stage of exploration, I wanted to capture it, a way of keeping a journal of sorts. One can never recapture those first years of learning an instrument, it's a magical time.
3. It seems the record is concerned less with virtuosity and more with depth of feeling (Type Records' info states that the album is marked by themes of "loss, history, friendship, camaraderie, forgiveness and hope"). Was that more meditative style consciously decided upon at the outset or did that naturally emerge over the course of the recording process?

I'm hardly able to pull off anything that would be called virtuostic, I've only been playing seriously for about 2 years. That being said, I believe a technically proficient musician, or composer is nothing if that person cannot convey their intention or feeling to the listener. Whether one plays one note or 1,000, if the music fails to arouse emotion in the listener, it has, in my opinion, failed. I never plan out music before I sit down and write it, it just comes out when it needs to come out, and I try
never to judge what comes out of that. The best things are written when you are not aware you are writing them.
4. To what extent were you influenced by other 'piano' albums and/or composers (e.g., Satie and Glass, as well as the fact that other 'electronic' artists like Gonzales, Sylvian Chaveau, and Eluvium had released their own 'piano' albums too)?

The biggest influences to me are things that deal with restraint, like Morton Feldman's Rothko Chapel pieces, or Messiaen's O Sacrum Convivium. Michael Andrew's score to Donnie Darko was a huge influence in terms of the decision of using the mute on the piano. I was, at the time, not aware of any of the sort of electronic/piano solo piano albums coming out by Chaveau,
Eluvium, Max Richter, Dustin O'Halloran et cetera.. but now I've been turned onto them and it's really a pleasure to hear what they're doing.
5. From where does your love of folk music from the American Civil War originate?

Like a lot of people I really enjoyed Ken Burns' Civil War series on PBS. I just found the music incredibly desperate, so much longing in it, the prospect of hope, and the realization of the horror the men saw on the battlefield.
6. Tell us a bit about the details surrounding the recording process of Corduroy Road: where it was recorded, over what period of time, et cetera.

Corduroy Road was recorded in about 8 days during Christmas at the house I grew up in in Pennsylvania. All the tracks were written in no more than 15 minutes, and all but a couple of them are first takes.
7. Do you plan to present Corduroy Road in concert or on tour?

No plans as of yet.
8. Rumour has it you have more music coming out on Type in the days ahead. Can you clarify what that might be and when it'll be released?

I'll be releasing a Goldmund EP, as well as another Helios full-length. The Helios one will most likely be next year, the EP might be late this year.
9. How does the new Helios material sound compared to Unomia?

All I would say is that the sound on the new Helios material will be more focused.
10. Anything impressing you musically at the moment?

To pick one is very hard. I would have to say The Innocence Mission's latest album Now The Day is Over. Their music is to me without flaws, it's honest, they are truly passionate about what they do. Very few bands or composers have this classic quality; they are able to connect so directly with the listener. The best composers are able to transcend time, because they are able to speak so universally.
March 2005