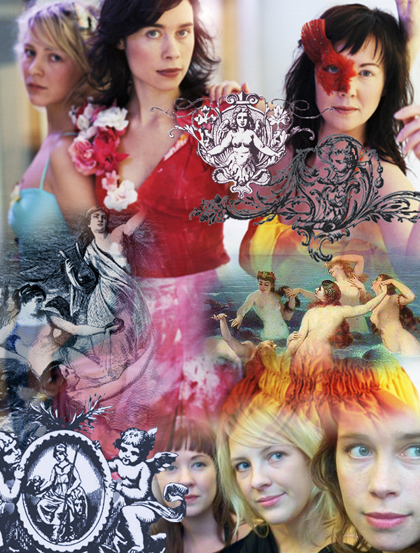 TEN QUESTIONS WITH: MIDAIRCONDO
Midaircondo, the Swedish trio comprised of Lisa Nordström (flutes, voice, computer), Lisen Rylander (saxophones, voice, computer), and Malin Dahlström (voice, computer), casts a bewitching spell on its debut album Shopping For Images. What distinguishes the group from other electronic stylists is not only an arresting sonic palette of eclectic instrumental sounds and sirenesque vocals but its melding of song structures with free-form live improvisation. Type Records' label head John Twells (aka Xela) says, "Even before I'd finished listening to the four-track demo the group sent me over two years ago, I was rapidly typing an e-mail to them, hoping I wasn't going to be pipped to the post by other eager A&R vampires. Midaircondo's music feels like a distillation of a lot of different sounds I love: a very strong electronic aspect, beautiful haunting vocals; it's improvisational, challenging—everything I could hope for from a band." On the eve of the album's release, the group graciously (and at times coyly) spoke with textura about Midaircondo's approach to songwriting and live performance.
1. Beyond the fact that Midaircondo formed in Gothenburg in December 2002, can you provide a bit more background about how the group came together?
We had been playing in different bands and constellations for many years before finally coming together as a trio. We all have different musical backgrounds: classical, jazz (improvisation), pop... One day we talked about what we missed in the music we were playing and discovered we shared the desire to use more electronic sounds, to do music that not was in a specific genre and to mix acoustic sounds with electronics.
2. How would you describe the Midaircondo sound and how did it develop?
The Midaircondo sound has developed from improvisations with the instruments and sounds that we use, as they are unaltered or with effects. We use everything that we think sounds good; it can be the usual instruments like flute, voice, and saxophone, or things we find, for example, glass balls and pieces of metal or whatever; we also include field recordings.
3. How do you account for the hypnotic, almost mantra-like character of your music (in songs like "Eva Stern, Shake It" and "Could You Please Stop," for example)?
Much of our music is built from different loops that we put together (which probably accounts for the music's mantra-like dimension). We try to be as open-minded as possible and don't decide before what the music should be; we just play and let it become what it becomes.
4. Is the live presentation of the group as visually elaborate as I've been led to believe?
We think a performance always is an audio-visual experience for the audience. When we play live, the audience will look at us as well as listen, and by using not just the ear but also the eye, we have more ways to communicate our music. Lisa creates our visuals and, taking inspiration from our live performances, Swedish designer Maria Nordström designs our clothes.
5. As the soulful singing on "Serenade," "Sorry," and "Perfect Spot" is particularly affecting, I'm curious as to which one of you is singing on these pieces.
I (Malin) am the one singing on the three pieces you mention. I think you have a voice that you can discover (or not). You can feel admiration for singers you listened to when you grew up but what is you is you; you can't cover it up. In Midaircondo, you're allowed to play any instrument you like and you sing if you feel like it. I consider my voice my major and most important instrument but it's not my only instrument. We don't have static roles in the band. You do what you feel like.
6. Instrumentally, your material is enriched by found sounds, bells, kalimba, and so forth. What accounts for this passion for exotic sounds?
All that sounds is good! All that sounds good is good! We don't consciously pick out some certain sounds. The open mind for what has the POSSIBILITY of sounding is the important thing.
7. Can you talk a bit about your songwriting process in general and with reference to one song in particular (perhaps "Serenade")?
Our songs are improvisations turned into songs. Many of the songs on the record are 'rec-play' compositions; we play and then find something that we like. We save it, but you won't likely hear the exact same song again. They are more like sketches, a sample, a melody put together. "Serenade" is built upon a piano sample that Lisen found and grew out of a soundcheck improvisation. Fortunately Lisa recorded it and a couple of weeks later on a flight to NY, we listened to the disc and said "We must remember this song!"
8. Shopping For Images is a remarkably accomplished work. Is it a debut release or was it preceded by other recordings?
This is our first release. The title "Shopping for images" comes from how we consider our music making, with a lot of improvisation. We are living samplers in a way! We record our experiences into our memories. We think improvising music is about keeping an open mind to what is going on around you and trying to transform those impressions into music. We feel our music consists of many layers of sounds and inspired by that, Maria, who designs the clothes we wear on stage, came up with the idea for the cover photo, with each of us wearing our own face as a mask. Then Nicklas Hultman, who made the art-work for the album, continued with this idea on the cover.
9. Could you name any recordings that have had a particularly profound impact upon you?
You get your influences from a movie, from an exhibition, from a trip, from your childhood, from the environment around you. Impact is so much more than records...
10. Lastly, who is Eva Stern (referenced in "Eva Stern, Shake It")?
Exactly.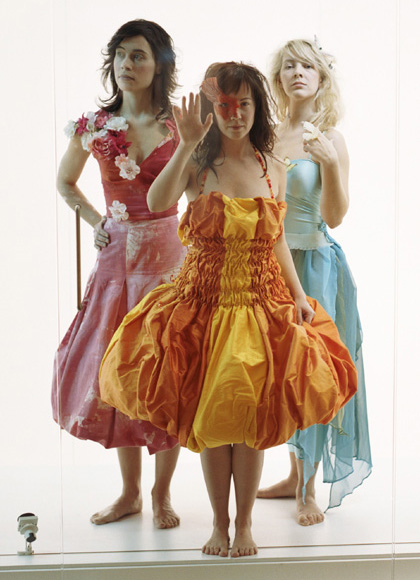 October 2005