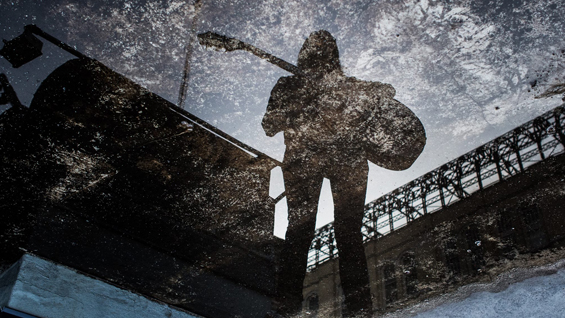 Mary Halvorson (photo: Peter Gannushkin)
2014 ARTISTS' PICKS
As we've done in the past, textura asked artists whose works appeared in the previous issue's 2014 TOP 10s & 20s feature (here) to select their favourite recordings released in 2014 (or before) and perhaps also say a few words about them. We sincerely thank them for taking a few moments at this especially busy time of year to share their picks with textura's readers. Here's what they said:
36 • Dday One • Death Blues • Michael Jon Fink • Mary Halvorson • Hammock • David Lang • Neil Leonard • P.J. Philipson • David Pritchard • Michael Robinson • Bruno Sanfilippo • Octet Ensemble • Mark Templeton • Christopher Tignor • Alexander Turnquist • Brock Van Wey • Girma Yifrashewa • Zinovia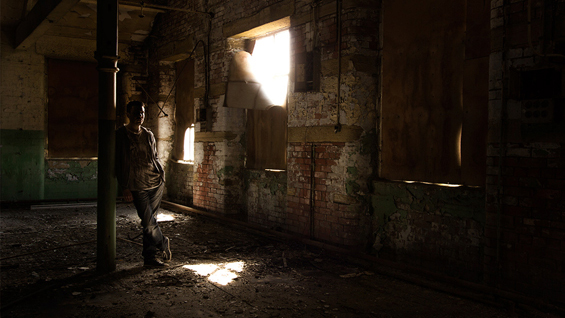 36 (#27 album: Dream Tempest, 3six Recordings)
Sinoia Caves' Beyond The Black Rainbow: I've been waiting for the soundtrack for Beyond The Black Rainbow to be released for a long time now. I remember seeing the trailer for the film years ago, falling in love with it instantly, mainly because of the amazing sound and '80s retro sci-fi visuals. Sadly, the film ended up being a massive disappointment for me, but the score was anything but. It's been a long wait, but 2014 finally saw a vinyl release of the soundtrack on the Death Waltz / Jagjaguwar labels. I'm a big John Carpenter fan, alongside the other usual suspects like Goblin, and modern producers who work with similar vibes like Rob, etc. I'm a sucker for wild arpeggiator sequences, spooky synth choirs, and heavily tape-saturated guitars. I think Sinoia Caves' work on this soundtrack is some of the best I've ever heard. It's a beautiful collection of tracks. I must have played "Elana's Sound World" more times than I could count, and I doubt I'll ever get tired of listening to it. The same with "Sentionauts" and "1983: Main Titles"—they're just so emotionally powerful yet completely restrained, very understated pieces of music. In a year that saw two Aphex Twin albums, it takes something really special to excite me more than his tunes. This album does. I think that more than anything else, this LP was the main inspiration for my last album Dream Tempest, and it couldn't have been made without it.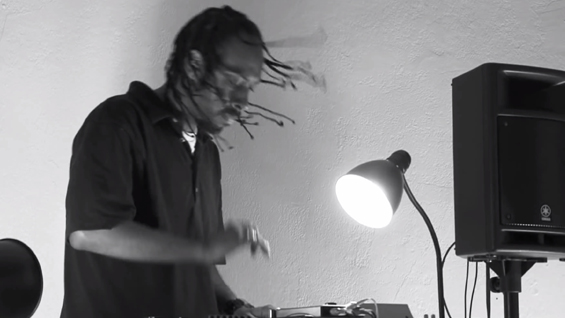 Dday One (#31 album: Dialogue With Life, The Content (L)Abel)
After much thought I've concluded that the record I preferred the most this year has been Glen Porter's The Open Road and The Smell of Blood (The Content (L)Abel). Porter managed to seamlessly blend the acoustic and the electronic worlds while at the same time maintain his musical identity and integrity. I also appreciate the fact that he went against the grain and chose to undertake creating longer arrangements as opposed to the trend of two minutes or less.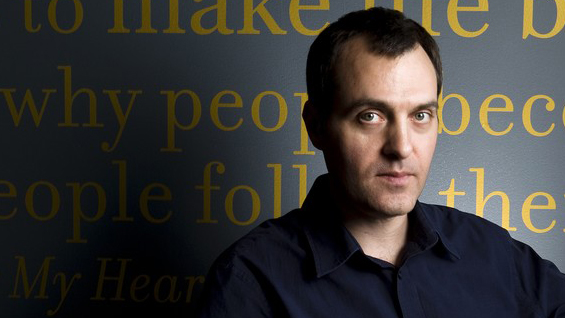 Death Blues (#22 album: Ensemble, Rhythmplex)
Jon Mueller: There were a lot of records that struck me this year, much of it international or lost/unknown music, but one record that is quite different from that music, which I greatly anticipated, was the debut full length from British songwriter Douglas Dare titled, Whelm. It's difficult to describe why I'm so attracted to his music, but like everything that feels that important, it simply speaks to me with every tool that music has in its ability—melody, pace, flow, content, and creative approach. Plus, it captures that rare balance of melancholy and joy that ultimately just makes you feel good. Like you're not alone. Like you have something that fills a void. Like you're sharing something with someone even though you may never know them. That's great art.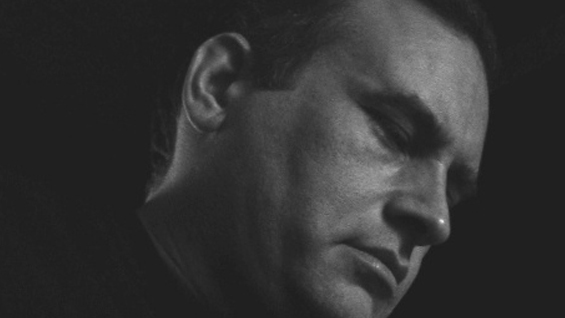 Michael Jon Fink (#8 EPs: From A Folio, Cold Blue)
My favourite album of 2014 is Charlie Haden-Jim Hall, a CD release on Impulse of a live duo concert from 1990. The interplay is expressive and beautiful, with each player supporting the other in fascinating ways. It's a great exploration of improvisation, melody, harmony, texture, and the shared ability to say a lot with fewer notes. These two giants recently passed so there's an added poignancy to the music.
P.S. Also highly recommended: first, Ornette Coleman's This is Our Music with Charlie Haden on bass; and two, any solo Jim Hall ever played.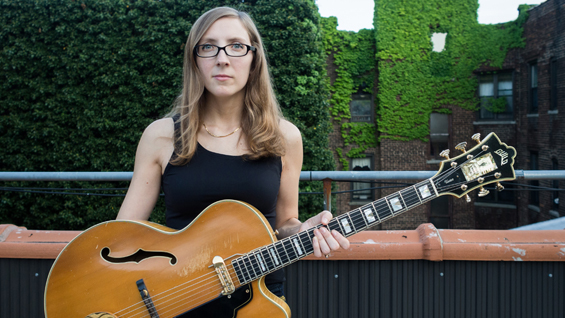 Mary Halvorson (#25 album: Reverse Blue, Relative Pitch Records)
Anthony Braxton: Trio (New Haven) 2013 (CD Box Set): This four-CD set features Anthony Braxton on sopranino, soprano, alto, baritone, bass, and contrabass saxophones, Tomas Fujiwara on drums, and Tom Rainey on drums. It's a dynamic and gorgeous set, with Braxton's other-worldly improvising spanning a huge range of saxophones, amidst dynamic, intense, and sensitive drumming from both Rainey and Fujiwara. The music has a really interesting symmetry to it. I love hearing Braxton improvise in this stripped-down context, and I believe this is his first small group release with double drums. For me this is a stand-out, unique recording and a magical listen all the way through.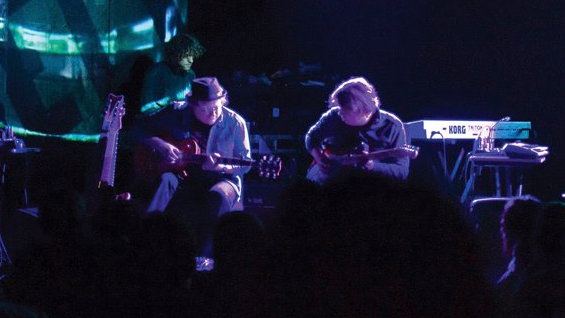 Hammock (#19 album: Oblivion Hymns, Hammock Music)
Marc Byrd: Romantic Works (feat. Ren Ford) by Keaton Henson: I'm a sucker for immediate emotion and this record gives me that good kind of sadness...
Atomos by A Winged Victory For the Sullen: I just love this…
Land by Porya Hatami: This record is subtle and is perfect for quiet reflection
Ruins by Grouper: This album captures a sense of space and place; you can hear the environment of the recording so clearly and it would be less of a record without it...
Lost and Compiled by Taylor Deupree: Taylor has mastered and mixed a lot of music for us, and this has turned into one of my favourite releases by our friend and co-worker.
Do To the Beast by The Afghan Whigs: Gives me more of that good feeling angst of Greg Dulli and Co. This record can make you want to do things you know you shouldn't do.
Further/Deeper by The Church: They're still putting out great records. This is probably their most psychedelic release… (and by psychedelic, I mean the good kind of psychedelic, not The Grateful Dead kind)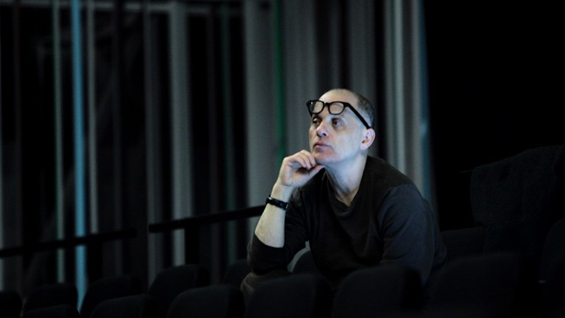 David Lang (#7 album: Love Fail, Cantaloupe Music)
My favourite CD of 2014 is Maroma by Orquesta Pasatono—raucous, enjoyable, slightly bittersweet tunes from a folk-based band from Oaxaca, Mexico. The songs are steeped in the music that is played in circuses that travel through rural Mexico, and overall the CD sounds like the soundtrack to a film Fellini never got around to making, but should have.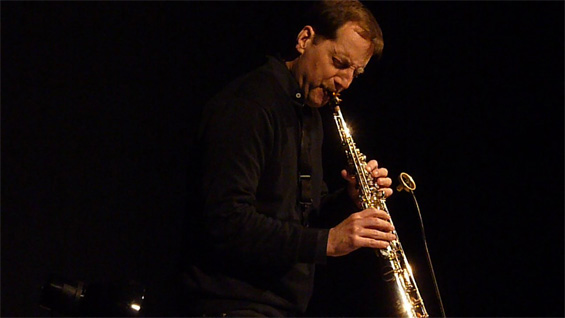 Neil Leonard (#37 album: For Kounellis, Gasp Records)
Captiva by Stephen Vitiello and Taylor Deupree (12k): I am enamored of Stephen Vitiello and Taylor Deupree's Captiva, created during their residency on Captiva Island, Florida. "From the Fish House" opens with the sound of water surrounding the Fish House studio followed by subtle guitar lines and hypnotic delay effects that come and go with complexity of ocean currents. On "Last Piano (For RR)" the percussive touch of piano strings (played by both keys and from inside the piano) is a counterpart to drone-like sounds that appear to be made from ultra-long reverb tails. Throughout the album, nature's rhythms provide the pace as sounds intermingle and form rich timbral gestures. The music is immediately striking and reveals new details on each listening. Highly inspirational music from 2014 to enjoy in many future listenings.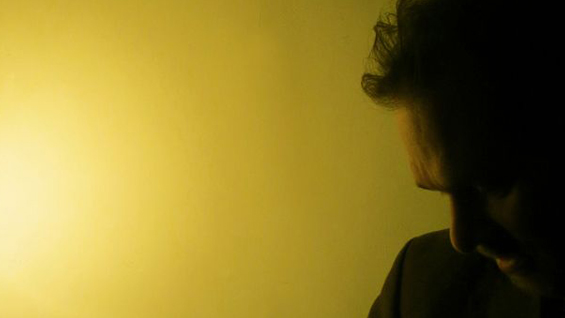 P.J. Philipson (#33 album: Peaks, Little Cracked Rabbit)
The wonderful thing about being an in-completist (as I am) is that there are always plenty of fine recordings by familiar artists still waiting to be discovered in your own personal music mine. 2014 has had its ups and downs, and one record that I've repeatedly embraced and proactively studied this year was actually released in 1972, and probably only entered my ear canals due to its vinyl re-issue in 2013.
Considering just how perfect and right up my street Popol Vuh's Hosianna Mantra is, I can't believe I'd not heard it before or even been recommended it by someone else. So what do I love about it? The repetitive chromaticism, beautiful harmonic modulation, Djong Yun's airy voice, Florian Fricke's shimmering piano, and Klause Weise's tamboura are all key here, but for me the standout element is the stunning guitar work of Conny Veit. My favourite guitar processor is the humble volume pedal, and my second favourite is tape echo, and Veit proves to be an absolute master of this combination, and all in a semi-classical context—quite simply, he's my new guitar hero!
The album is so exquisitely arranged and sequenced, every time I listen to it I hear something fresh. Apparently they rehearsed every day for several months before recording, and what a clear dynamic recording it is too, credit due to the studio engineers and legendary mixer Peter Kramper; Fricke had previously worked with a pre-ECM Manfred Eicher, and they seem to have had a shared interest in high sound quality. The album also reminds me somehow of Bill Evans, and then I imagine that Liz Fraser and Robin Guthrie must have been inspired by this before making Treasure and Victorialand. I've heard a load of superb music this year, but I know beyond all doubt that this is the album I've listened to most. Now I'm in there, I can only consider that this is a record that everyone already knows … but if like me your music brain is full of elemental-sized holes then I suggest you give it a listen…. and not while you're doing the washing up...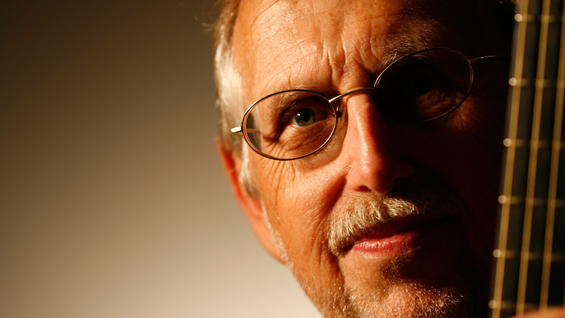 David Pritchard (#40 album: Among The Missing, Morphic Resonance)
O Sorriso Da Manu by Brazilian accordionist/composer Toninho Ferragutti combines multiple genres such as Brazilian, neo-classicism, minimalism, and jazz into one of the most gorgeous albums I've heard in a long time and certainly the most memorable for me in 2014. One of the great pitfalls of many "jazz meets classical" projects can be too much writing and arranging with blowing sections inserted almost as an afterthought. Not here. The small chamber group arrangements and improv sections are interwoven beautifully, the latter being a natural outgrowth of the former. The compositions are all amazing, highly lyrical, and remind me at times of Astor Piazzolla at his best. This is chamber music of the highest order.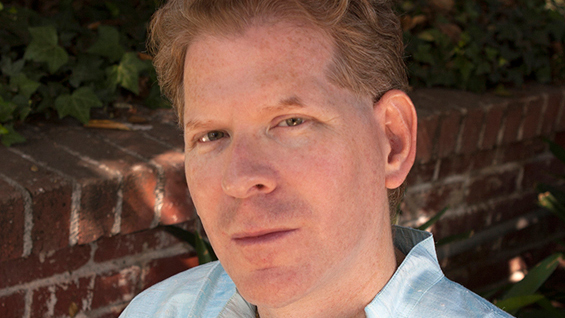 Michael Robinson (#13 album: Lucknow Shimmer / Hummingbird Canyon, Azure Miles Records)
I've listened to so much great music in 2014, I decided to write about what's on my mind at this moment, which is the original recording of "Mas que Nada" by Jorge Ben Jor, the opening track from his 1963 debut album, Samba Esquema Novo. Immediately swept away by his stunning voice and expressiveness, I was also struck by exquisite vocal melismas, followed by an ascension into the upper vocal stratosphere, both aspects reminiscent of the glorious Indian double violinist, L. Shankar, who frequently sings with these characteristics as part of his momentous raga realizations. Millions have been thrilled by this rather ubiquitous song, "Mas que Nada," which is certainly in contention for the most beautiful ever composed, but, if you're like me, you never knew who actually composed the music and lyrics, and made the first recording. Not surprisingly, the words are just as soaring and transcendental as the music.
In fact, related to the origins of Indian ragas, the opening words of "Mas que Nada" are said to be about evoking the spirit of the goddess of rivers and floods. What led me to personally discover the refreshing and charged artist, Jorge Ben Jor, was coming across the mesmerizing recording of Antonio Carlos Jobim's song, "Favela," by Sergio Mendes, from his Swinger From Rio album of 1964. An unbelievably lush and sonorous flute plays the melody on this realization, and since I rarely hear flute playing on the level of India's Hariprasad Chaurasia, I searched and searched until I found it was none other than Hubert Laws (I had not realized he was active that early), who had flown to Brazil for the recording date along with Phil Woods and Art Farmer. Adding to the heavenly tone and improvising of Laws on the 1964 recording of "Favela," I was stunned to learn that the thrilling sound and extemporizing from the piano, which I also couldn't place, comes from Mendes himself, instantly making him one of my favourite pianists, with a uniquely colored and nuanced style rich in dancing melody and rhythm.
After listening to "Favela," I heard the very famous recording of "Mas que Nada" by Mendes, which led me to search for the song's composer. Mendes learned the song from its composer and lyricist, Ben Jor, who played guitar in his band. However, during a 1963 tour of America and Mexico, Jorge was denied having his hair cut in a Los Angeles barber shop because of the colour of his skin (his mother was born in Ethiopia), and he responded by immediately taking a flight back to Brazil, thereby leaving Sergio's band as well. I was also taken by an exceptionally earthy and numinous rendering of "Mas que Nada" by Luiz Henrique from a 1967 album titled Best of Bossa Nova .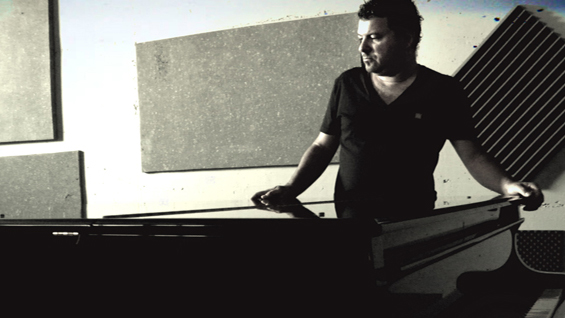 Bruno Sanfilippo (#24 album: ClarOscuro, Ad21)
The truth is that I have pretty broad musical taste, and I enjoy every time I hear new things. I usually sit in my studio chair and listen to the entire album at a same volume. Then I leave the room as if I had come out of a theater or a concert. I don't usually listen to albums more than a few times even if I love it. However, this year I've heard more than once Atomos by A Winged Victory for the Sullen, a duo formed by Dustin O'Halloran and Adam Wiltzie. I think it has that "magic potion" that manages to transport you, and the "Atomos III" track is really beautiful.
I also enjoyed Vivaldi Recomposed by Max Richter and also the interesting collaboration between Ryuichi Sakamoto and Taylor Deupree called [Disappearance] that I heard a little late, since it came out in 2013.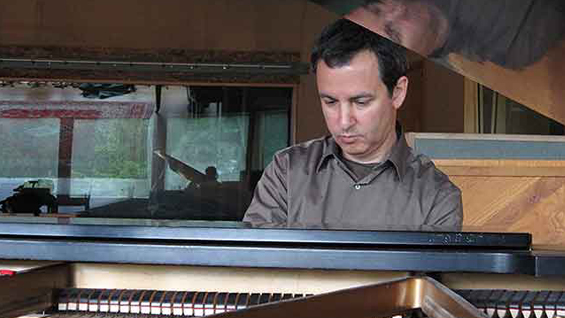 Octet Ensemble (#18 album: Scatter My Ashes, Belarca Records)
William Susman: A Guide to Misinterpreting the Past by Timothy Johnson: This is one of those rare albums that for me came out of the blue. At the first encounter of this exquisite solo piano album, I experienced each piece as a thrilling new discovery. Johnson's set of piano pieces is a significant and important contribution to the canon of piano literature.
A Guide to Misinterpreting the Past is in many ways a Proustian exploration, a sort of musical "remembrance of things past." Johnson states in his liner notes, "So in writing the pieces on this album, they have become a guide for me, of sorts, to sort out what I think I remember and what I feel I remember—remembrances, and the shadows they have cast." Each of these compositions gives one the feeling of an emotional re-engagement, of managing and processing long-ago memories, with the eye and ear of a mature voice.
Johnson is a brilliant pianist and interpreter of his music. From the very first piece, "Telegraph," one hears an extraordinary sound world recorded with pristine clarity. He knows how to compose and construct unique, haunting, and often poignant pieces around a formidable piano technique and stunning touch. As he said in a recent interview, "The piano has always been my most effective means of expression."
In the piece titled "Driving Through the Flyover States," I see and hear the artist as an adult remembering a little boy looking out the windows of his family car as they travel across long vast expanses of open country. Talking about this composition he said, "It reminded me of how I used to feel watching the landscape go by through my window when we would travel by car from Southern California to South Carolina on summer vacation." He gives a new sound to a familiar view, compressed into a dreamscape of slightly less than six minutes, that one may experience traveling for hours on end across America's interstate freeways.
Another piece, "Debussy in Abstract," is a series of chords that he says is "stark and methodically slow—being more about the sound of each individual chord." Here and in other pieces on this album, Johnson has a distinctive way of focusing time, illuminating the essence of tone and colour using a minimal set of chords and gestures.
The final piece on the album, "Portrait of the Artist Walking Backwards," begins with the sound and harmonic pattern one might hear in a pop song. As the piece progresses, he ingeniously inserts new chords in a gradual additive process. Ultimately, his "portrait" closes with a coda that re-iterates the opening chord progression but with less notes per chord in a more basic and elemental form. In a sense, this "recapitulation" plays on the album's title "misinterpreting" while bringing into focus the portrait of the artist. A Guide to Misinterpreting the Past is like a song cycle without words that sings of times past and present, and of a future that I eagerly anticipate.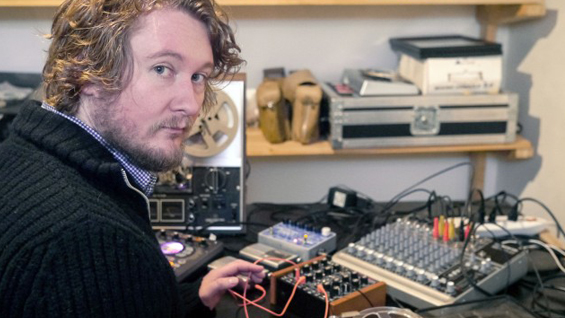 Mark Templeton (#35 album: Extensions [with Kyle Armstrong], Graphical Recordings)
This past year I've found that I'm increasingly interested in work that has a strong backstory or developing plot. One album that stood out for me in 2014 was Andrew Pekler's The Prepaid Piano & Re-played (Senufo Editions/Entr'acte). I like how Andrew's work is very conceptual, but the work does not lose itself in the concept; it guides the listener just enough to come up with his/her own storyline. I find it progressive yet playful.
Some other albums that I've enjoyed over this past year (in no particular order):
Kassel Jaeger: Toxic Cosmopolitanism (Editions Mego)
Giuseppe Ielasi: Appendix Stunt - 3 x 7" (Holidays Records)
Nicola Ratti: Ossario Vol. 1-2 (Holidays Records)
Seth Graham: Goop (Noumenal Loom)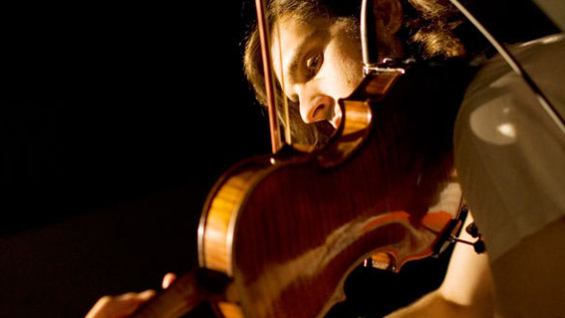 Christopher Tignor (#12 album: Thunder Lay Down In The Heart, Western Vinyl)
A standout record for me this year was the Bing & Ruth LP Tomorrow was the Golden Age.
We now live in an age that has developed a fairly restrictive mainstream attitude toward what is acceptable instrumental post-classical music. The music is allowed to be repetitive, emotionally directed tableaus that function as a soundtrack might for some first-order narrative (or alternately, dance) or ambient vistas that evoke space and more or less punt on temporal development—a more extreme realization of Satie's furniture music.
David Moore's compositions share some of the above's more engaging qualities but aspire to—and achieve—so much mo(o)re. There's simply too much real-world, acoustic, hands-on feeling in this patient music to let it fall too far into the background. There's the sound of people working here, and people are hard to ignore.
Further, Moore has found that beautiful pocket of dissonance that occurs when you take that well-understood framework of Americana chord progressions and smear them all over each other. We know the emotional effect of this framework so well—it's so baked into our ears—that the dissonance in its shuffled presentation is always mitigated by the sentiment from our own recollection of these satisfying cadences. This also wouldn't work at all if this was a purely "electronic" outing. In that sense, the record is really a wonderful, subtle study of the power of live musicianship. This is not the embarrassing virtuosity of performance spectacle; it is that rarer virtuosity of building the careful listen.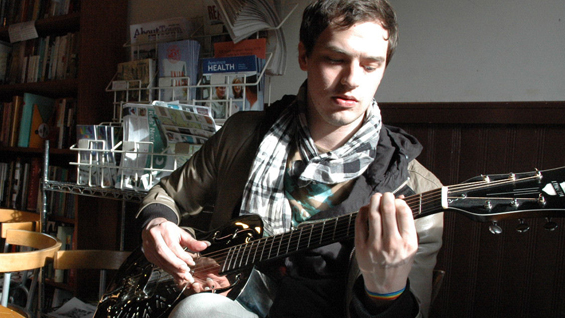 Alexander Turnquist (#14 album: Flying Fantasy, Western Vinyl)
If I had to narrow my favourite down to one album this year it would be Marissa Nadler's July. I find the songwriting to be very personal, and the production of the recording is very beautiful. There is a warm yet dark quality to this album that I can relate to, and I've found myself returning to it many times this year.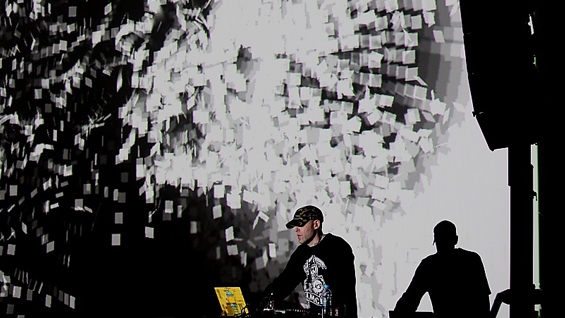 Brock Van Wey (#17 album: Home, Echospace [Detroit])
Well it's over seven years, not just 2014, but it all led to this one. With the heart-crushing end of Sons of Anarchy comes a massive void in my life, and ends seven years of hinging my life around its ups and downs… and torturing the poor unwitting and innocent people in any ten-mile radius with my weekly emotional diatribes.
As with all soundtracks I guess, the music really needs to be heard in the moment and taken in the context of the show or episode. But personally, never have I experienced a show and soundtrack that were so inseparably a part of each other. Most soundtracks, especially television ones, seem little more than a random assortment of super-obvious, over-used, or momentarily popular songs that add little if any meaning to anything and are forgotten as quickly as they are heard.
The Sons of Anarchy soundtrack, however, was an entirely different beast. A real and true soundtrack in every sense of the word, and a mammoth accomplishment in itself. Not only did every song feel painstakingly chosen and painfully apt, but much of the music was written and performed by the cast and crew themselves, from writer/creator (and cast member) Kurt Sutter, to star Katey Segal, and more. Every week, the final song in particular would have any number of emotive windfalls… from emotional reeling (yeah, I cried a few times, so what?), to literally hours of quiet introspection, to inspiration for my own life and work. It did what a soundtrack is actually supposed to do… but which so few actually even come within miles of accomplishing.
Sons of Anarchy had a massive influence on my life for seven years. I can even go so far as to say that in some ways, it changed my life. One of the best shows ever, with one of the most amazing, well thought-out, and meaningful soundtracks ever put to television. Sure you have to put it all together for it all to make sense, but the time required to do so is one of the best investments you'll ever make. The show was a masterpiece, and so was its musical mosaic.
P.S. Special nod to Jamey Johnson's rendition of "You Are My Sunshine." If that song doesn't crush you, you've got nothing in you to crush.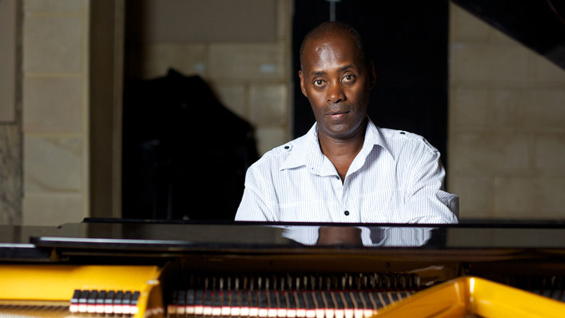 Girma Yifrashewa (#38 album: Love And Peace, Unseen Worlds)
I still admire a special kind of DVD released in 2012 titled Lang Lang Playing Live at Carnegie Hall. This DVD is the most inspiring concert I have ever seen in a recorded form, and Lang Lang is a special interpreter of world-famous classical masterpieces and his own native Chinese compositions. I find this performance to be especially uplifting.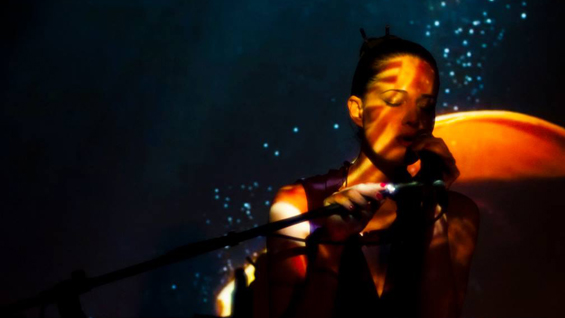 Zinovia (#2 compilation: Emerging Organisms Vol 5, Tympanik Audio)
I love listening to music (particularly with headphones) when I travel, and 2014 was so full of travel I was able to combine sightseeing with my favourite music. These are the albums I played most during this year:
1. Archipelago by Hidden Orchestra: From the beginning until the end of this album I have a constant sense of travelling at sea. I love the jazzy elements and the whole warm, natural, instrumental sound given by woodwinds, strings, and percussion. I find each track to be an inspired composition with a deep sonority that appeals to my ears and soul.
2. Intensive Collectivity Known as City by Idlefon: For me this is IDM in its best and most atmospheric expression that is not only technically refined but also emotional and very evocative, plus a perfect fitting perfect for every aspect of my journeys.
3. 1979 by Deru: I am totally mesmerized by this album and its concept. The analog sounds and the atmosphere they generate make me feel like opening a trunk up in a dusty old attic which contains long forgotten memories. It's nostalgic, haunting, and possesses a deep sense of melancholy.
4. A parallel life by Ocoeur: I discovered this album quite recently, but it instantly struck a chord in me (especially the track "North"). Aside from the fact that I love the granular textures, the glitch sounds that tickle my brain, and the lush pads that stirr my emotions, when I listen to that album I experience the sense of being somewhere like on a surreal desert, at the peak of a high mountain, or lying under the milky way.
January 2015