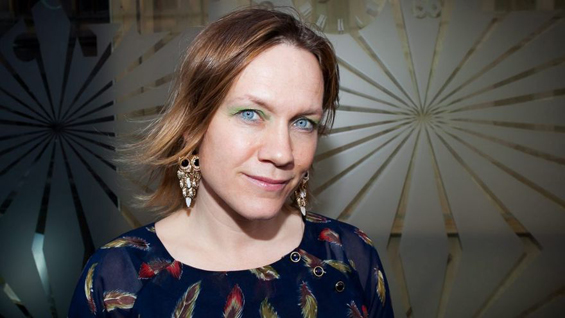 FIVE QUESTIONS WITH ANNELI DRECKER
Talk about a life well-lived: having first gained fame as a member of the pioneering electronic pop group Bel Canto, Anneli Drecker went on to sing with A-ha, Röyksopp, and Ketil Bjørnstad whilst also establishing herself on television and as a film and stage actress. But as her latest album Rocks & Straws proves, Drecker is producing, decades into her career, solo work that is equal in quality to anything she's done before, and her singing also has lost none of its lustre. In Norway, she is apparently known as the "Queen of Arctic Electronica," yet while that might be so, there's nothing chilly about the soul-stirring songs on Rocks and Straws, an all-acoustic collection she conceived as an ode to her native town and which features guitarist Eivind Aarset, bassist Ole Vegard Skauge, and drummer Rune Arnesen, among others. We are honoured to feature Ms. Drecker and thank her for taking time to speak with us about her latest recording.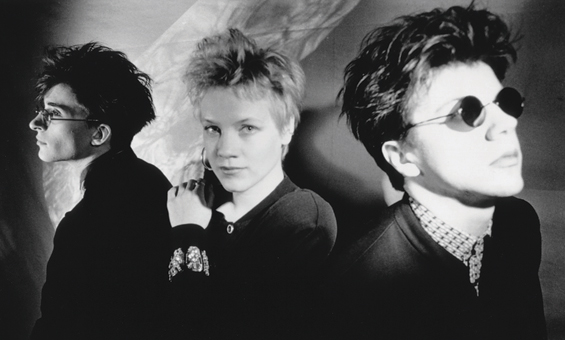 Bel Canto (1987)
1. You've enjoyed a remarkable career that's included a successful stint in the 1980s with Bel Canto as well as singing with A-ha on two world tours and touring for more than ten years with Röyksopp. And now you're releasing Rocks & Straws, a solo collection that's so strong it sounds like an artistic peak. To what do you attribute this remarkable longevity, and how does it feel to be creating music of such vitality and quality at this stage of your musical career?
I had a long break from the music industry from 2005 to 2008 due to maternity leave (I had two kids in two years), and also because I felt that I had reached a point where I was not being true to myself as an artist. My solo career was only going so-so, plus communication between me and my record company at that time wasn't great. So I moved back up north to my hometown Tromsø in 2008, and then the ball started rolling once more. I was contacted by Röyksopp who asked me to join them again, live; they were just coming back from a three-year break so the timing was perfect. Also, I started to get parts, both as a singer and actress at the theatre in Tromsø. Those two things combined (touring worldwide and working as an actress) were a perfect combination. I learned so much about daring to step outside my comfort zone, about working in a team, and practicing self-discipline when it comes to performing in front of an audience, every day for many days in a row. There are good days and bad days, but you have to to give it your best, whether there are ten people or 10,000. It really makes no difference.
Also, the collaborations I've done with the great musician Ketil Bjørnstad on three acoustic albums have taught me a lot. On these records I've been singing in a more classical style, performing songs based on poems by John Donne and Hart Crane with melodies composed by Bjørnstad. We toured as a duo, with him on grand piano and me in front of the microphone—no smoke machine, no laptops, no click track, just the reverb from the churches we played in—and I think that this was my first step out of my mysterious-singer-in-a-synth-band box.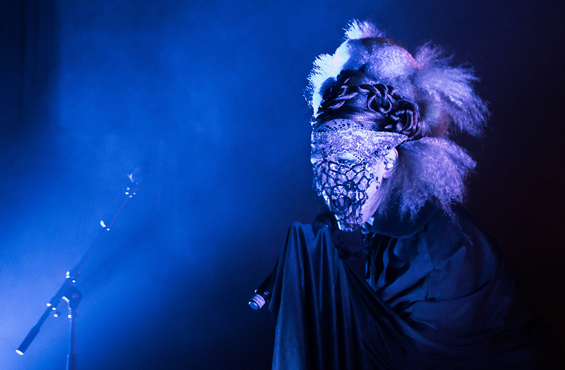 With Röyksopp
Also, singing with A-ha in front of an enormous crowd taught me a lot. And with Röyksopp, hiding inside a mysterious and sometimes very warm costume, no one even knowing who is there, that was a great experience. I could be anybody; I loved it! I have also participated in reality television shows in Norway. I sometimes hated it but looking back, it brought something good with it, new contacts, new challenges. In all cases I was able to learn more about myself and develop myself as an artist.
I think all these side projects have helped me to step away from my ego and to prevent me from getting sick and tired of myself. There are so many artists that get stuck in their own or other people's ideas about how they should sound that they eventually lose the spark of creativity. But the best lesson I learned in the theatre has been the most meaningful: everybody should try to get yelled at by frustrated directors … it's actually very refreshing. And good for the ego!
2. Is one of the reasons why the album material is so strong tied to the fact that the subject matter of Rocks & Straws is rooted in your native town and its landscapes and the lives its North Norwegian residents? And did you put an extra-special amount of effort into matching your musical conception for a given song to the subject matter of Arvid Hanssen's lyrics (all of the album's songs are based on lyrics by him)?
Definitely! I have a strong relationship to Arvid Hanssen's poems. For instance, we have green leaves in the snow in our garden every year. Snow doesn't melt here until end of May. Those are my surroundings and what I grew up with. When I was twelve years old, I played the main role in the movie Søsken på Guds jord (Siblings on God's Earth) based on a book by Hanssen, and I also met the author himself , which made a great impact on me. Also, since I now live in Tromsø, it felt natural to give something back to my birthplace.
I have a grand piano at home, and I started to fiddle around, blowing dust off my old piano-playing skills. I felt like I was fifteen years old again, at the time before Bel Canto, when it was only me and the piano and no Yamaha synths and BBC computers. It was also thrilling to work in a reverse order: normally I compose the melody and then write the lyrics. Now, I had the poems in front of me and had to find the melody. It was with great joy I started to compose, and I often skipped nice melodies and vocal ornamentations if they dominated too much.
The lyrics had to come first, they had to be true. I tried to recreate the subjects of the poems in melodies. For "Circulating Light," I envisioned the northern lights, Aurora Borealis, and tried to capture that in my piano playing. "Waiting for a Boat" had originally a completely different melody, which I threw away, simply because the melody dominated the words too much; it was too much of me in there. Also the poems are of great importance, because they tell about a whole culture that is about to vanish, like that of the old fisherman in "Fisherman's Blues." Today, we use nature merely as entertainment, but we hardly know how to live from it or with it anymore.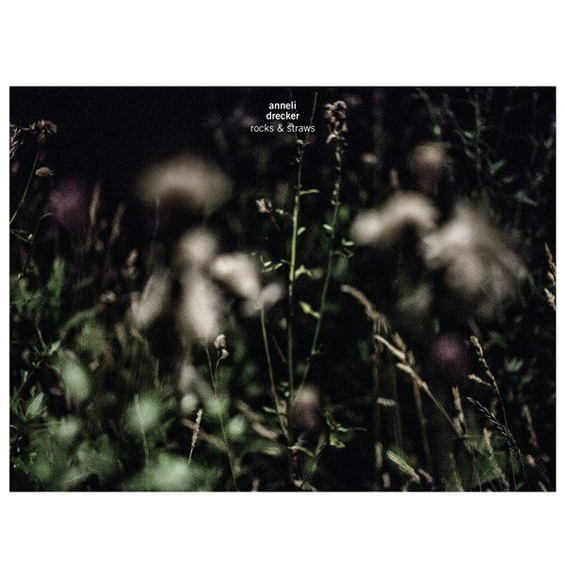 3. The album is filled with so many exquisite moments I hardly know where to begin. One stunning moment arrives halfway through the sumptuous "Come Summer's Wind" when you let the last word of the title slowly coil upwards. Did "Come Summer's Wind" come to you fully formed or was it something that developed gradually, and how did you arrive at that aforementioned masterstroke?
Oh yes, the famous coil. I improvised it quite early along the process; it was already there on the demo. I grew up listening to records by Olivia Newton John, those early '70s albums, long before Grease. Olivia taught me all about composing vocal harmonies. I even tried to copy her style on the backing vocals in the choruses on "Come Summer's Wind." When I composed this song, it was summer, and I was drawn back to the summers when I was a little girl, listening to her albums, daydreaming, thinking I might become a singer like her one day, with that soft, velvety, high-pitched voice. And then I started to sing in a children's choir and they put me in the low bass section!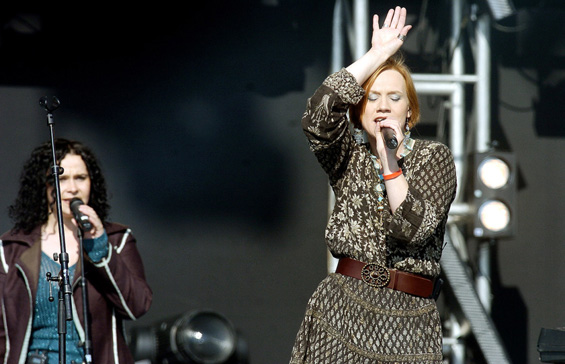 4. On an album filled with inspired choices, the decision to include the Maori group singing kapa haka songs in "Ocean's Organ" stands out as an especially memorable one. What prompted you to include them on the song?
Via the publisher for the Rocks & Straws poems in London, I got in contact with a Maori who was representing many kapa haka groups in Auckland. I told him that I was going to New Zealand and Australia with Röyksopp on the Big Day Out festival and that I wanted to record a kapa haka for one of my new songs. It's still a miracle how that whole session came through! I just had this idea in my head, and the next thing you know, I was in Auckland recording these people singing. At that time I didn´t have a clue how I would incorporate the kapa haka in the song. All I gave the singers was the beat and the fundamental note as a big pad. I told them it was a song about the ocean, and they started chanting to the beat and the tone. Later on, when I got home, I found a way to incorporate it. It just needed that human touch, the voices in the sea; everybody has a connection to the ocean, it's universal. The whole session, which took a few hours, occurred after a Röyksopp rehearsal, which meant that I just made it back in time for the lobby call and the festival concert. The guys hadn't even noticed I was gone! I was in New Zealand for two days and brought a treasure back home with me!
5. Songs such as "Alone," "Fisherman's Blues," and "Seagull's Melody" indicate that your singing has never been better. How have you been able to sustain the quality of your voice over so many decades? Finally, as Rocks & Straws is such a special album, I'm wondering what it felt like for you to listen back to it upon completion. What is the experience like for you of hearing such magnificent songs the first time in their finished form?
Well, I always sing, and I take singing lessons now and then. Again, years with touring, theatre plays with singing roles and also working at home, practicing by the piano, singing every day is a good way to maintain the voice. Before, when I lived in Oslo, I gradually stopped singing on a daily basis. Everything is so crammed in the city. But now I live in a house by the forest and can make as much noise as I want! I also go for walks in the mountains just to sing out loud and holler. It's so liberating!
It was really hard to get a final closure on the mixes; the songs had been with me for quite a long time. But somehow you feel it when the time to say goodbye to your song is there. It's always a bit melancholic, it's like sending your children out into the world. Some of the songs you're sure will make it while others still worry you a bit. But in that moment the mix is done, the songs do not belong to me anymore. I have done my job nurturing them and raising them. It really feels like that! They belong to the world now.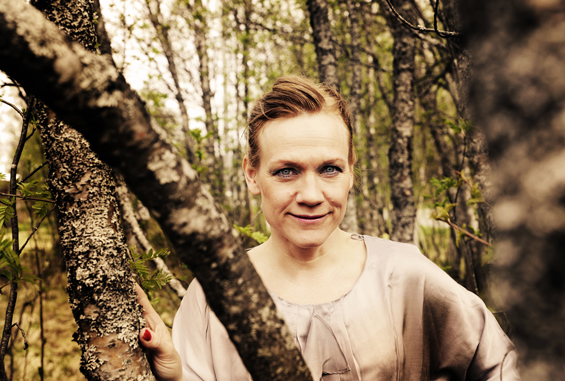 web site: ANNELI DRECKER
July-August 2015