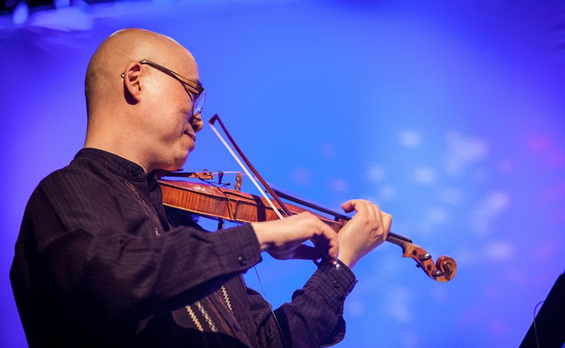 FIVE QUESTIONS WITH JASON KAO HWANG
Describing Jason Kao Hwang as adventurous is about as huge an understatement as one could possibly make. Throughout his career, the composer and violist/violinist has performed in a variety of musical contexts and with a dazzling array of fellow trailblazers, among them Anthony Braxton, Pauline Oliveros, Billy Bang, Henry Threadgill, and Butch Morris. Identifying Hwang as a jazz player isn't wrong necessarily, but it is inadequate considering that his interests extend as deeply into classical and World music areas as they do jazz. In addition to the performances he's given and recordings he's released with the quartet EDGE, The Far East Side Band, the trio Amygdala, improvising string orchestra Spontaneous River, and quintet Sing House, Hwang has composed a symphony (Tiananmen: The Challenge), chamber opera (The Floating Box, A Story in Chinatown), chamber work (If We Live in Forgetfulness, We Die in a Dream, premiered by the Momenta Quartet), and music for exhibition (Chinese American: Exclusion/Inclusion) and duet (Zilzal, with guitarist/bouzouki player Ayman Fanous); needless to say, that represents a mere sampling of the work he's issued since the '80s. VOICE, Hwang's recent release on Innova (and reviewed here), offers a striking example of his audacious artistic sensibility, and it was this striking fusion of poetry and improvised instrumental accompaniment that prompted me to contact Hwang for the following exchange.
1. The NY jazz scene (for want of a better way of characterizing it) seems to be in an especially fertile place at the moment, given the kind of material being created by figures such as you, Mary Halvorson, Taylor Ho Bynum, Ingrid Laubrock, and others. Is there any explanation you might proffer to account for this present state of artistic vitality? Also, though the merging of poetry and instrumental music isn't an entirely new idea--the image of beat poets accompanied by jazz musicians in a smoky 1960s NY club comes quickly to mind--it isn't, at least as far as I'm aware, a project that's attempted often, even though the two forms (as demonstrated so soundly on VOICE) can be such natural bedfellows. Why do you think a project like VOICE is so rarely attempted?
Thank you for your kind words. Last week I recorded in Taylor Ho Bynum's large ensemble, which included Mary and Ingrid and many others. His compositions are evocative and the sessions were strong. Loved playing and hearing everyone else play!
Since my college years in New York City, there's always been a lot of creativity going on. Different music tribes and sub-cults that crisscross on stages, clubs, galleries, and, more recently, home concerts. There's never been a dormant period as the scene incessantly evolves through culture shifts, aesthetic modulations, and generational perspectives. I do think, due to incredibly high rents, NYC will not be this mecca for long. Musicians don't need to be here to be heard.
Jazz and poetry may not be common, but there are other projects out there, though not all have recorded. Tom Buckner has a long association with saxophonist Roscoe Mitchell. Detroit trumpeter James Cornish and reedman Piotr Michalowski have also worked with Deanna Relyea. The poets of VOICE, Patricia Spears Jones, Steve Dalachinsky, Fay Chiang, and Yuko Otomo, have all performed with jazz musicians, myself included. Bassist Ken Filiano, trumpeter Frank London, and I have performed with Davida Singer in concert, as was well as accompanying her students each semester at Hunter College. Drummer Michael T.A. Thompon has his Poetry Choir with poets E.J. Antonio and Golda Solomon. All these projects engage poetry, improvisation and composition, or no composition, in their own unique way.
2. Fundamental to VOICE are the performances of Deanna Relyea and Thomas Buckner and the contrasts in their respective deliveries. Could you comment on the performances the two brought to the recording and how they came to be involved in the project? And how much creative latitude did you, being the leader and composer, grant to the vocalists and musicians for their performances?
I have heard Thomas Buckner many times, in various contexts, most notably with saxophonist Roscoe Mitchell and the late pianist, Borah Bergman. His baritone voice and wildly imaginative improvisations embrace many world traditions and languages. His organization, Mutable Music, has presented me several times; they've commissioned me as well. So Tom and I are quite familiar with each, which provided a strong foundation for this collaboration.
Deanna Relyea has presented me multiple times in her Edgefest at the Kerrytown Concert House. Inspired by my concert of Voices of Our Own with Tom Buckner at Roulette, the Kerrytown Concert House commissioned Lifelines. Though she knew my music, I did not know her voice before, so when the band and I heard her, she knocked us out! Her deep mezzo voice is so dramatic and lyrical.
Having composed a fully notated opera, The Floating Box, A Story in Chinatown (New World, 2005), I could have scored the words but chose not to. I wrote no notes for Tom and Deanna so that they would be empowered to make these poems words of their own.
However, the composition did define where sections of the poem would occur in the sonic architecture. The composition created a context with spaces of rhythms, textures, riffs, melodies, solo, duo, ensemble improvisations, etc. in a progressive structure that would engage the poems and the singer, illuminating the narrative within each poem. Both Tom and Deanna are extraordinary storytellers. I could not have imagined their powerful improvisational choices to sing, speak, scat, or Sprechstimme.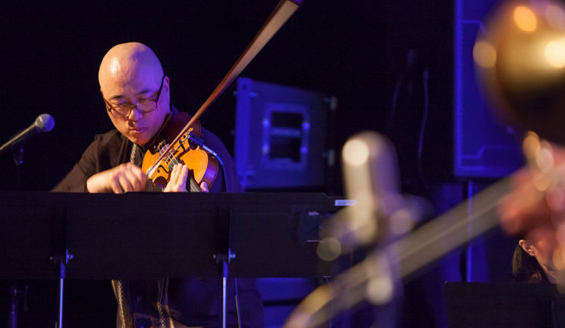 3. One of the most fascinating balancing acts you and the other participants perform on VOICE is the one involving improvisation and formal composition. How many practice sessions were undertaken prior to the recording to bring the material to a place where all involved could confidently and comfortably perform it?
All the artists are busy with multiple projects, so I generally am able to schedule only one to two rehearsals prior to a concert with a run-through at the sound check. I am thankful to work with great musicians who creatively understand the composition and poems, who read music with studio chops and listen deeply to each other. For my creative process, music must be performed several times before recording. We learn so much from our concerts. Afterwards, I might make revisions here and there in the score. We all work on our concepts, our roles. We all learn how to make improvisational transitions and dynamic nuances. The ensemble grows roots. Words of Our Own had three and Lifelines two performances prior to the recording sessions.
4. You lead a number of different ensembles, including an octet of Chinese and Western instruments (Burning Bridge), the quintet Sing House (violin/viola, trombone, piano, string bass, drum set), trio Amygdala (violin/viola, gayageum, djembe/percussion), and string orchestra, Spontaneous River. How challenging is it to keep so many groups operating?
It's not easy! I try to keep each project alive with performances that will lead to the next recording. After the Sing House concert at Edgefest (Ann Arbor, MI), we recorded this past December; this CD will be released in June. Now my energy is going into Amygdala. We will perform at the Bohemian Caverns (D.C) April 3 rd and Chicago, May 7th. Amygdala will probably record next fall. Burning Bridge (octet) recently had a great gig at the Festival du Musique Actuelle in Canada. I'm working on some future dates. Spontaneous River, an orchestra of 40 musicians, is a little insane. I will find a time and the will to compose and make another recording with this great community of string improvisers.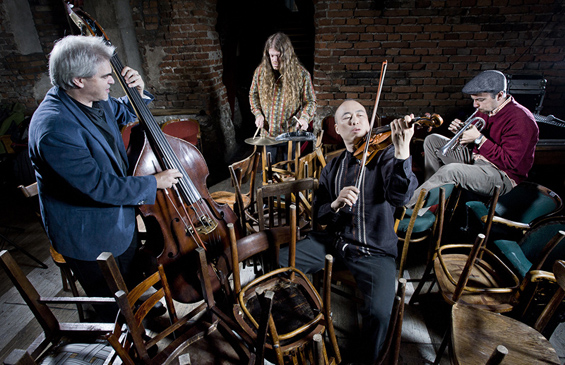 5. A number of violinists have left a lasting mark in jazz, with names like Stuff Smith, Jerry Goodman, Ray Nance, Leroy Jenkins, Billy Bang, and Jean Luc-Ponty coming readily to mind. Who, if anyone, had the greatest impact on your own development as a violinist and your approach to it?
Certainly Leroy Jenkins and Billy Bang are my greatest influences because I performed with both in various contexts. Leroy and I played with Henry Threadgill; Billy and I played with William Parker and Butch Morris. Billy had me on his Outline #12 LP when I was just starting out. When you know someone in real life, not just recordings, it gives you a deeper understanding of their music; the music and who they are just makes more sense. The vibrational alignment of sound, heart, and intellect in their music is in their everyday spirit. How Leroy uses his bow reminds me of how he walks and talks. I don't sound like either Billy or Leroy, and they don't sound like each other, which was their greatest lesson to me. Their unique imaginations inspired me to search for my identity. I am grateful for their courage to be who they are.
Stuff Smith, Ray Nance, Jean Luc-Ponty, and Claude Williams certainly inspired me as well. Jerry Goodman and I went to the same high school, though I didn't know him because he graduated before my freshman year. I enjoyed his work with Mahavishnu.
February 2016