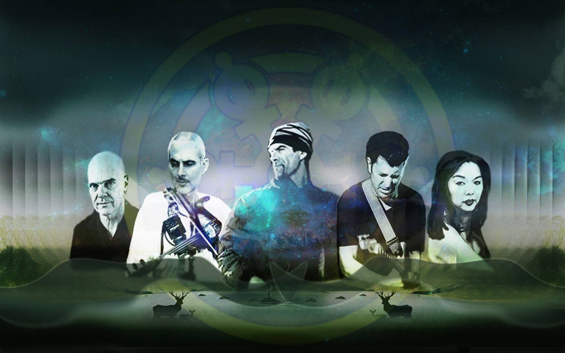 FIVE QUESTIONS WITH ZEN LAND
Violinist Michael Zentner recently coined the term 'Heavy Revel' as a way of characterizing the kind of forward-thinking instrumental music he and four colleagues produce under the Zen Land name. Based in Hollywood, California, the group members—Zentner joined by guitarist Tim Young, bassist Doug Lunn, keyboardist Dean De Benedictis, and harpist Vonette Yanaginuma—bring to the project a staggering list of credits. A partial list of the artists with whom the five have individually performed and/or recorded includes: The Who, Yes, Red Hot Chili Peppers, Sting, Peter Gabriel, Gong, Soft Machine, David Sylvian, Beck, Bill Frisell, John Zorn, Stan Getz, Mark Isham, Bruce Springsteen, Andy Summers, Nelly Furtado, and Seal, and multiple film and TV credits also appear on the members' respective CVs. The music they produce as Zen Land, however, less reflects the influences of any of the cited artists and more something unique that happens when they begin playing together. Zentner recently spoke with textura to discuss the new group and how the music on the album came into being.
1. How did the group Zen Land come into being? Had you known one another for a long time and always planned to work together in some capacity or did it come together unexpectedly and surreptitiously? And how would you describe the group's musical style and how was the style determined?
I met Doug Lunn after performing the Frank Zappa/Mothers of Invention classic "King Kong" at the Troubadour here in Hollywood with founding Mothers of Invention keyboardist Don Preston. We bonded over our appreciation of Zappa and learned of our mutual associations with other Zappa band members as well as members of the British fusion band Brand X.
I was introduced to Tim Young by a mutual friend after watching his amazing performance in Naked City keyboardist Wayne Horvitz's band at the Blue Whale also here in LA (thank you, Erika). His beautiful, vintage guitar tone and extraordinarily creative approach and artistry blew me entirely away that evening and has never ceased to do so since.
I met harpist Vonette Yanaginuma in NYC while I was working on my first solo album. I honestly never expected a classically trained musician to be able to improvise as brilliantly as she did on our piece for that record, let alone playing the whole thing through in one seamless take (the second, I believe).
Dean De Benedictis is the grout that binds us all together, if you'll excuse the masonry analogy. By the way, I've always been struck by how musicians work with their hands like carpenters, brick layers and such. I've often thought of us as the blue-collar workers of the arts and have always admired and appreciated the down-to-earth manner and lack of pretensions exhibited by the vast majority of great musicians I've worked with and known throughout my career. Dean's approach is so subtle and restrained yet yields so much. The first time I worked with him, I couldn't believe what I was hearing. His playing was extremely intuitive and completely unexpected as I knew nothing about him at the time, only subsequently learning of his wealth of solo material and his work with artists such as Nels Cline and Brand X.
So, yes. I've known and admired them all for quite some time, and when I was asked to assemble a band last year for the live on-air radio performance that was the inception of Zen Land, they were my first choice and fondest wish. As far as style is concerned, most would say "Ambient/New Age" though I think we blur the line of many. I've coined the term "Heavy Revel" to describe what I really think we're about stylistically, that being determined by my insistence upon our striving to express the deepest and most profound aesthetic possible in each and every performance.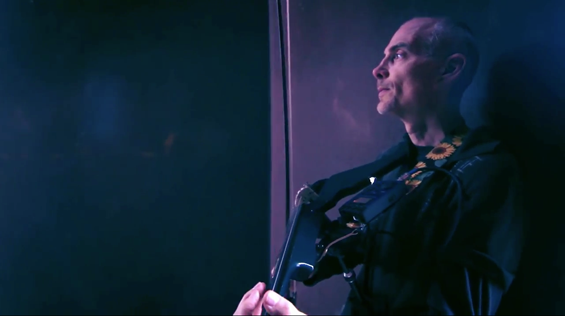 2. I'm not one to focus all that much on gear in an interview, but I've got to ask about that amazing looking violin you're seen playing in the video for "Song." Is it the one you always play or just one of many different violins in your possession, and exactly what kind of violin is it?
That violin is the only one I play, and I actually designed it with Mark Wood as an adaptation of his company, Wood Violin's, very popular five-string "Viper" model. So, it's a one-of-a-kind that enables me to play very comfortably, facing straight ahead, without having to crane my neck to the side and use my chin and shoulder as a vice to keep my instrument in place.
It also enables me to sing unencumbered at the same time, which comes in handy for live performances such as the one just filmed by music video director Cherie Bugtong for The Police's Facebook page: a live, in-studio, Zen Land cover of "Spirits in the Material World" requested by the band's site administrator in conjunction with the release of the Police bio-doc Can't Stand Losing You.
3. Each musician in the group—yourself, Dean DeBenedictus, Doug Lunn, Tim Young, and Vonette Yanainuma—brings to the project a long list of credits. (I was especially excited to see Lunn in the bass chair, as I've admired his playing for many years, specifically his contributions to albums by Mark Isham and Andy Summers). Could you say a few words about what each member, yourself included, brings to the group?
Doug is the literal foundation of Zen Land. When Doug Lunn is under you, you cannot fall. I look for and admire musicians who play, above all else, what is right for the piece. That is Doug—always. Each of us is, likewise, committed to the creation of the piece above all else. The nature of the music, it being rather slow and minimalistic, does point us in that direction. But without that approach and discipline being intrinsic to us all, it could have easily skidded into a jazz thing where the song is primarily a vehicle for showing off one's chops. None of us is more important than the song we "sing" and Doug always gives it its due. He is the anchor that continuously grounds the band in that ethic.
Tim drives a lot of what happens harmonically in Zen Land. If we were the Rolling Stones, he'd be the Keith Richards, pumping out the riffs for my Mick Jagger to pull the linear melodies out of, the ones that turn the riffing into songs.
Dean is the glue and "intensifier" of the band with his beautiful synth textures, piano accents, and masterful counterpoint. He has also, more than anyone else, helped to advise and inspire me in this endeavour.
Vonette is the cherry on top—whipped cream, too! Classical harp could be argued to be the most beautiful instrument ever created, and in her hands it's just sublime. She always finds just the right spot to accentuate what's happening without ever, somehow, "stepping on" anyone else.
4. If there's one thing above all else that I was struck by on the album, it's the organic way that each piece develops. All five of you really seem to be listening deeply to what the others are playing in the moment and complementing the total sound with sensitivity and nuance. How were the group members able to achieve that kind of connectedness in their playing, and to what degree is the album material formally composed as opposed to improvised?
Practice, practice, practice! Just kidding.
Actually, the core of this album was performed as part of a live radio broadcast, without any rehearsal, and (although I had performed with each of the members myself individually) this was the very first time we had, all of us, ever performed together as a unit.
When I formed the group, I knew intellectually it would work but had no idea it would work quite so remarkably, that it would be the inception of a musical entity imbued with such instant, complete, and profound telepathy.
Zen Land is a magical place!
5. What does the future hold for Zen Land? Are there plans for a follow-up album? And what about live performances?
Our next album is due to drop early next year. Management is concentrating on summer and fall festival bookings. textura readers are welcomed to stay tuned to the band's official site and social media pages for updates.
web site: ZEN LAND
June 2015