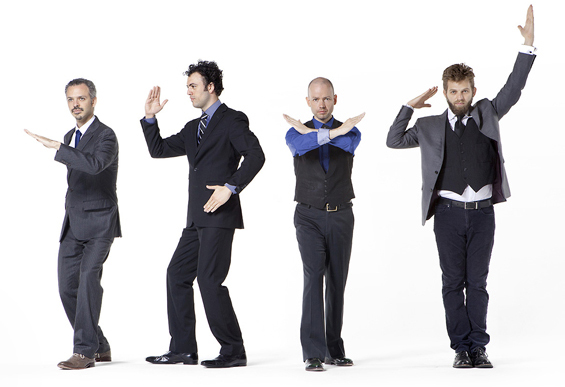 SPOTLIGHT 15: BALMORHEA / BROOKLYN RIDER / MARK LOMAX / KEN THOMSON
textura is thrilled to feature the following artists in its fifteenth Spotlight: Balmorhea, Brooklyn Rider, Mark Lomax, and Ken Thomson, all of whom have recently issued superb albums: Balmorhea's Self-Titled (Re-mastered 2014), Brooklyn Rider's Almanac, The Mark Lomax Trio's Isis and Osiris, and Ken Thomson and Slow/Fast's Settle. We sincerely thank the artists for contributing to this month's article.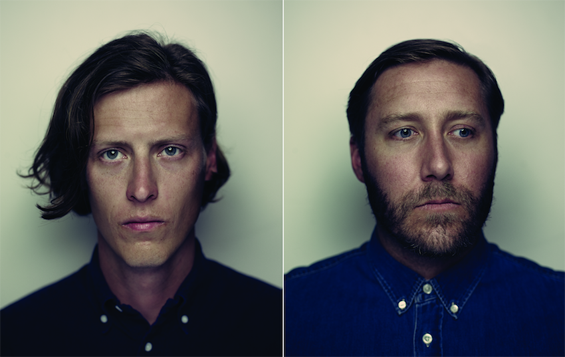 photo: Matt Rainwaters
BALMORHEA
Who: I'm Michael Muller, and I make up one-sixth of the full band and one-half of the original Balmorhea duo. I was born and spent the first ten years of my life in San Diego and have called Texas home ever since. I have a Bachelor's degree in Recreation & Parks and recently moved to Philadelphia from my longtime home of Austin.
I'm Rob Lowe. I've lived in Texas my entire life, the first part of it in West Texas and the ten 10 or so years in Austin. I have a degree in History from the University of Texas at Austin and just got back from a ten-day trip to the far West Texas desert.
What: (MM) Balmorhea makes instrumental music that constitutes a mix of such genres: classical, ambient, indie-rock, and probably others. With six members and over ten instruments at any given time on stage, the sound can sweep from a solo piano piece to a full ensemble with double drumming, vibes, synth, and some banjo or ukelele for good measure.
(RL) We've made many different types of music together over the past eight years. I think one thing that might separate us from some other musical projects is that we're not interested in sounding the same on each project. There is a core or heart to what we do with Balmorhea, but each recording has its own specific set of sounds and ideas.
Currently: (MM) We have a new full-band seven-inch realease titled HEIR that will be released in October and features two new tracks and three remixes (Orcas, Ben Aqua, and Matthewdavid). Also seeing a release this fall is a re-mastered reissue of our eponymous 2007 album that has a bonus track and a rework by Nils Frahm. All of the self-titled material will be played live in the original duo ensemble with two special engagements in Austin and Brooklyn followed by a run of European dates (including Turkey and Russia).
Musical philosophy: (MM) It seems best and most true to just make the music that comes out of oneself—no need to try and formulate a result and plan things out too specifically.
(RL) I find it incredibly difficult to talk about music.
Influential figures: (MM) Ian Mackaye, John McEntire, Paul Simon.
(RL) These change day to day, year to year. Right now it's Stevie Wonder, Willie Nelson, and Nina Simone.
Influential works: (MM) The photography of William Eggleston, the writing of Barry Lopez, and the drawings of Vija Celmins.
(RL) The film Paris, Texas. Lots of books—Nelson Mandela's autobiography recently.
Influential events: (MM) Driving on Hwy 1 through Big Sur, California.
(RL) Spending large portions of time in Big Bend National Park and traveling abroad to perform music for people I've never met.
website: BALMORHEA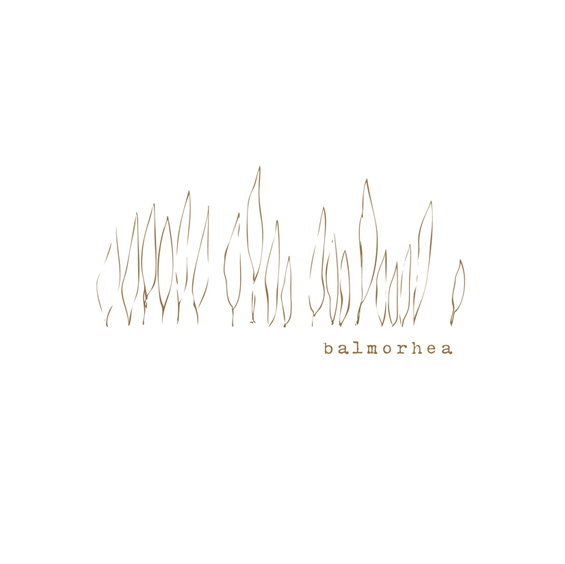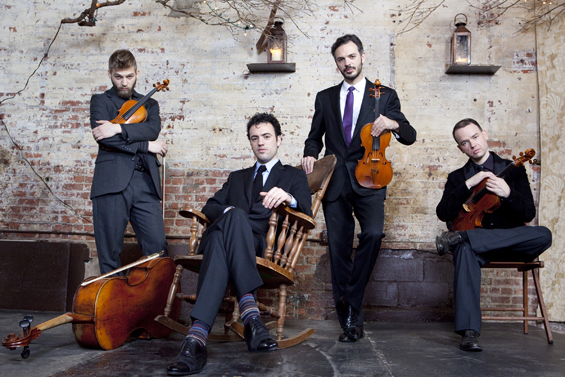 Brooklyn Rider: (l-r) Johnny Gandelsman, Eric Jacobsen, Colin Jacobsen, Nicholas Cords
BROOKLYN RIDER
Who: Brooklyn Rider aka Colin Jacobsen, Johnny Gandelsman, Eric Jacobsen, and me, Nicholas Cords (I'm also known as 'the sheriff'). We indeed live in Brooklyn, about ten minutes apart from each other. We met other around the time we were in conservatory; some of us were at the Curtis Institute of Music, others at Juilliard. We found each other because we had similar tastes in music and wanted to make music together and try to make a positive impact. Our lives orbited closer and closer, and we eventually decided to commit to full-fledged string quartet-hood. We named ourselves after the pre-WW1 artistic collective known as Der Blaue Reiter. Their Der Blaue Reiter Almanach from just over a century ago was the inspiration for our The Brooklyn Rider Almanac.
What: We've adapted an inclusive approach as a string quartet; we invite music by Mozart to John Zorn under our tent. We've also collaborated with musicians from a wide variety of styles and cultures, which also forms an important part of who we are. We've resisted the idea of specialization; for instance, while we focus a good deal on the music of our time, we would never call ourselves a new music quartet. And while we also play classic repertoire (Debussy, Janacek, Beethoven, Brahms), we resist the part of the tradition that wants to put these works on a pedestal. As great as they are, if we can create an even playing field, we create an interpretative and intuitive working space where we're able to draw elements from one thing to help with another. For instance, when we created our group composition "Seven Steps," it was almost a form of group therapy to deal with the challenges of learning Beethoven's opus 131. With our latest project, The Brooklyn Rider Almanac, we've asked composers from the worlds of jazz, rock, and folk to write works inspired by their favorite creative muses: artists, musicians, choreographers, writers, photographers, painters, etc. This seemed like a fitting project to celebrate our tenth anniversary, one which embraces our inclusive attitude to the string quartet.
Currently: We're definitely celebrating the release of all of this Almanac madness! It's been at least two years in the making, and involved lots of communication and planning. Now is the fun part: we get to share with our fans thirteen-plus brand new quartets, a lot of them by folks not normally associated with the world of the string quartet. We are also super excited that we'll be releasing a series of videos, interviews, remixes, and essays based on this work. We hope to weave a web that allows the listener to go further if so motivated. Because each work was inspired by another artist of the composer's choosing, we knew that we had this incredibly rich world to work with; we wanted to enable the curiosity of our fans to experience more than just the music. And all the while, we're also thinking about future projects: we have premieres of new works by Tyondai Braxton and John Luther Adams happening this winter, and have been in the beginning stages of some new collaborative projects...
Musical philosophy: We're pretty much in the right place if we're engaged in projects we feel collectively passionate about and which push our collective and individual comfort zones. And, we need to be having fun in the process. That's an important part! The inherently fun thing about the string quartet is that there are 1,001 ways to exist as a quartet and still remain absolutely true to what a string quartet is. That just opens up so many worlds we would like to live inside. Lastly, we also always try to consider the audience experience at every stage of planning and rehearsal, just to make sure we don't get too much in our own heads. But beyond these points and the proclivities we all come to the table with, we actually try not to rigidly adhere to a philosophy per se.
Influential figures: We're deeply influenced by all of our collaborators; over the years, we've worked with Kayhan Kalhor, Martin Hayes, Béla Fleck, Shara Worden, Dawn Upshaw, and many, many others—not to mention a whole lot of composers and other artists outside of the sphere of music. Working with this wonderful creative array helps us fight off some of the intensely focused work that a string quartet has to do. The amount of hours you need to put in to play a late Beethoven quartet, not to even mention your own respective instrument, is huge. That's a lot of time in a room, closed off to the world. But the more we make our process porous to collaboration and inspiration, the better we can be as a string quartet.
Influential works: We're highly influenced by just about everything we endeavor to learn. Playing Haydn is like a Rosetta Stone of how to be a string quartet. It's all there: he teaches you in his music how to have a conversation with your instruments, how to sing like a church chorus, how to crack a joke. Philip Glass teaches us how to achieve the ideal blend, how to understand the meaning in simple gestures, how to trust each other. And as for the works in The Brooklyn Rider Almanac, each one of those pieces has taught us something new, made all the more relevant because of the personal relationships we have with all of the composers.
Influential events: We're celebrating our tenth anniversary with The Brooklyn Rider Almanac, and now that we're sharing these works in live contexts, I'm reminded that playing concerts always inspires us. Every one feels like a unique and influential event, and this is where we feel we are at our best. We are driven primarily by the personal relationships we forge with audiences, friends, collaborators, and students. I would say those relationships come first, more than any particular artistic work or influential event.
website: BROOKLYN RIDER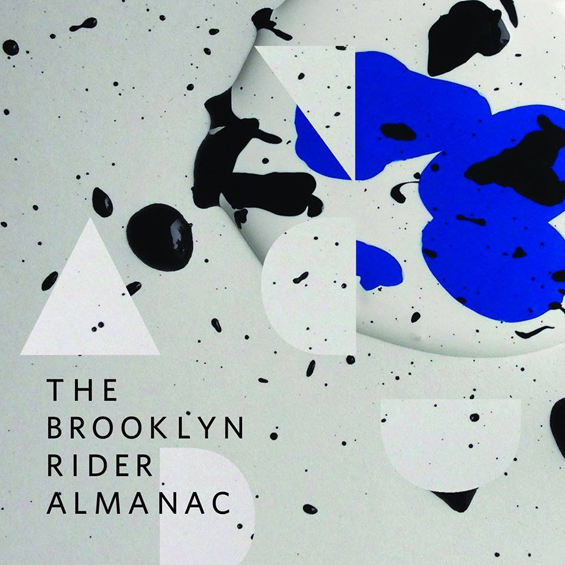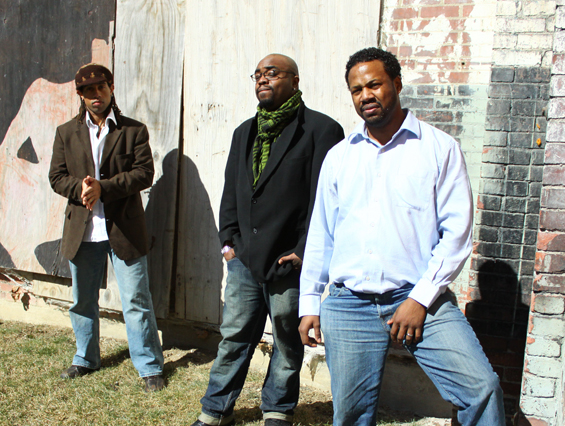 The Mark Lomax Trio: (l-r) Dean Hulett, Edwin Bayard, Mark Lomax
MARK LOMAX
Who: Dr. Mark Lomax, II, a drummer and composer from Columbus, Ohio. I hold a Doctor of Music Arts in Composition and am working to create an expression that is uplifting and transformative. I'm passionate about the arts, education, and inspiring humanity toward its higher ideals through music.
What: Drumming has been an important part of my life ever since I can remember, but it wasn't until I learned about the importance of the drum, its rhythms, and what they meant, that I became serious about being a musician who played the drums. I began playing in churches at six and learned early on that playing an instrument with a particular intent had a direct impact on the listener. From that time, my intent has always been to create a transformative musical environment for my audiences. I understand many rhythms and their purposes, and use them accordingly in an improvisatory context. The intent to create beauty, healing, and renewal is an integral part of my musical language. Like Coltrane, Albert Ayler, and many others, I believe that music is a healing force for good and work to do what I can to help bring about positive change through the arts. I also believe that all is connected, thus attempts to separate my work from that of others seems counterproductive.
Currently: My current project is Isis & Osiris, the latest recording of my trio featuring Edwin Bayard on tenor sax and bassist Dean Hulett and issued on the Inarhyme label. Also in the works are albums by my quartet (MLQ), a duo project with Edwin Bayard (tenor sax), and a solo drum set album. On a larger scale, I'm working on a series of oratorios for my Urban Art Ensemble, which consists of strings, a seven-piece group of improvisers, chorus, and vocal soloists.
Musical philosophy: I believe that music is a universal force that is governed by the intentions of the spirit that is gifted with its power. My intention is to uplift and encourage humanity.
Influential figures: I count several people as influential figures, beginning with my parents. My mother is an educator who writes sacred songs for children, and my father is a renowned theologian and all around brilliant dude. It is his example that has taught me about the power we all have, and about the responsibility I have to unlock it in others. Dr. Raymond Wise, Dr. William Banfield, and Dr. Cedric Adderley have all helped to shape my thoughts as a man and an artist. Of course, my wife and children have all played a major role in who I am now and who I am evolving into, which is directly reflected in my work.
Influential works: A Love Supreme, which showed me that the creator honours excellence; African Portraits: this work and others by Hannibal Lokumbe expanded my imagination in ways I didn't think was possible; Coleridge Taylor Perkinson, who showed me that it was my responsibility to be both black and a composer at a time when many would have had me choose; Max Roach, whose work showed me that I could be both a musician and a drummer; Charles Mingus, who showed me how important the Black experience is and how vast a treasure trove of resources it is for compositional material; Kidd Jordan, who taught me what soul music really is; and Ellington: well… he's Ellington!
Influential events: Meeting Elvin Jones; reading A Black Theology of Liberation (James Cone) at fifteen; discovering black composers in the "classical" world; becoming a father; hearing my music for the first time; falling in love; being accepted by much older musicians at a very early age; and meeting like-minded musicians/people to help bring about a sonic vision.
website: MARK LOMAX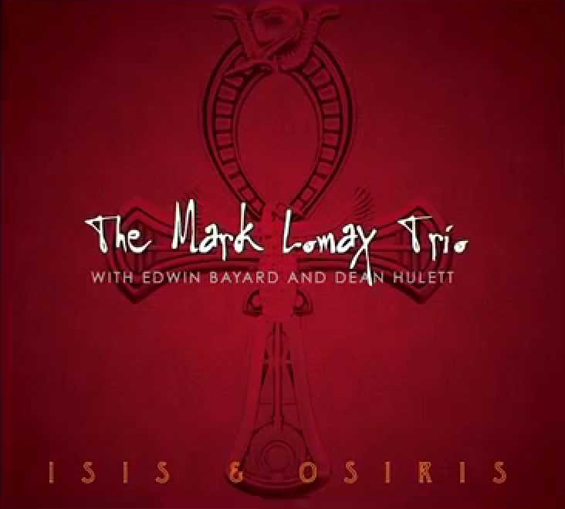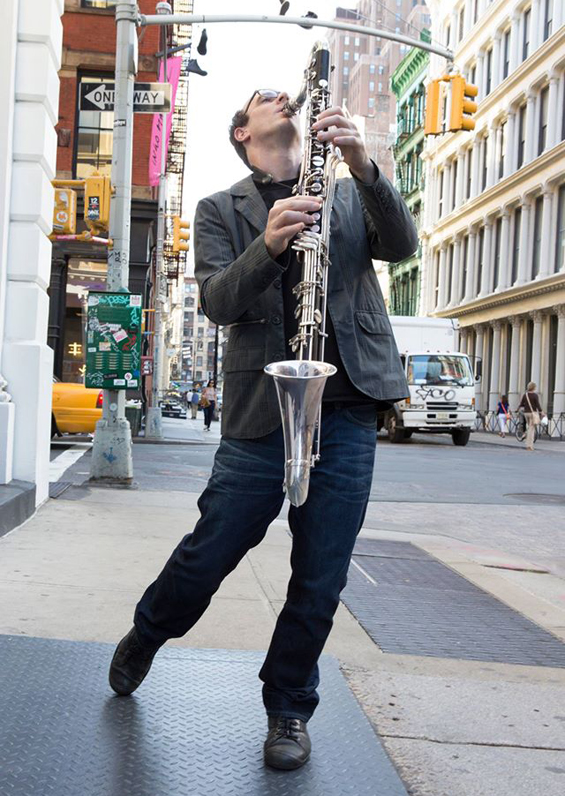 KEN THOMSON
Who: I live in Brooklyn, play saxophone and clarinet, and write music.
What: I perform with the Bang on a Can All-Stars, am musical director for Asphalt Orchestra, am one of four leaders in the group Gutbucket, and keep very busy doing loads of side work, composing, and arranging.
Currently: My current project, Slow/Fast, attempts to bridge the gap between long-form composed music and improvised music and jazz. It features my compositions, and I play bass clarinet and alto saxophone; the other musicians are outstanding: Russ Johnson, trumpet; Nir Felder, guitar; Adam Armstrong, bass; and Fred Kennedy, drums. The concept is that instead of playing quick, composed head charts and spending our time improvising, I'm trying to integrate these two elements a bit more organically. Each piece wouldn't work without the improvised elements, but there is a different structure than you often see in jazz. These tunes often contain as much as 80% written material, and feature one soloist. Also unusual for jazz is that the music goes through a lot of different sound worlds, from quiet and meditative to loud and distorted, and yes, slow and fast; but the music is coming from the jazz world and couldn't exist without it.
Also happening: I produced Asphalt Orchestra's new record, which is a re-imagination of the Pixies' classic Surfer Rosa record. It focuses on the timbres and textures of the brilliant original record and its production as much as the melodies of the tunes themselves; the arrangements move from being very reverent to extremely far away from the originals in what I think is a good, creative way.
My collective punk-chamber-jazz group Gutbucket that's been running for fifteen years (I play alto saxophone, with guitar, bass, and drums) will be performing for a week (November 18-23) at John Zorn's The Stone club in NYC; it's quite an honour to get a week there. We're going to be recording a live record there for Cuneiform Records featuring completely new material which we're currently rehearsing nonstop, and we'll be adding a number of fantastic special guests for the week of shows.
Finally, staying completely on the composed side, at the end of last year, I released Thaw with JACK Quartet, a CD comprised of a string quartet and string quartet with bass clarinet. I still really like that record; and JACK sounds so great. We'll be playing the quintet this November at the Stone during the Gutbucket residency.
Musical philosophy: Let's keep genre lines as invisible as possible!
website: KEN THOMSON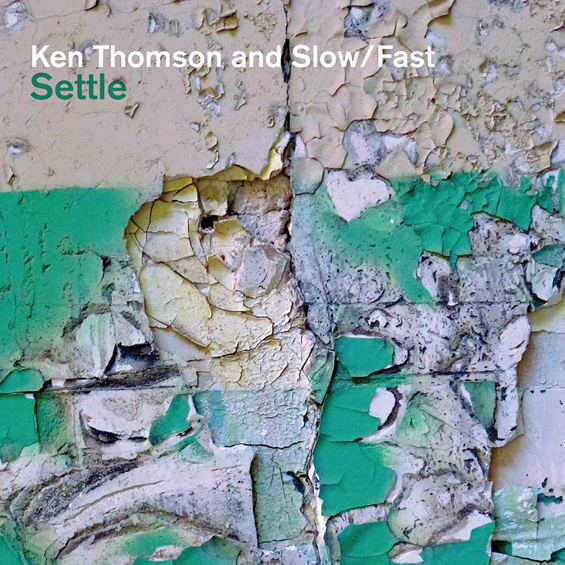 November 2014