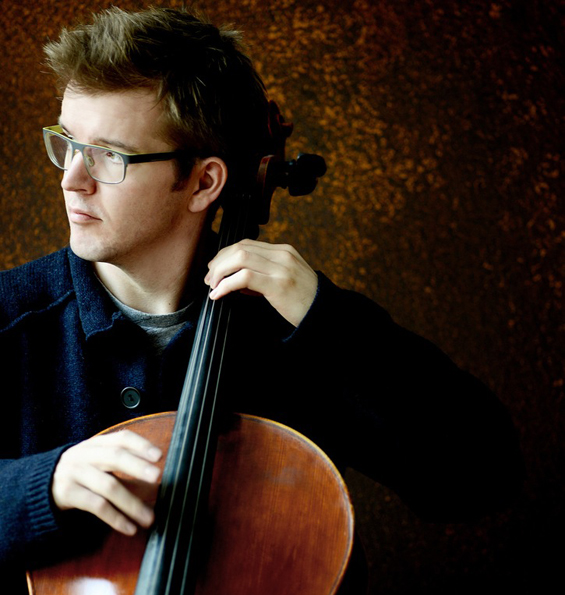 TEN QUESTIONS WITH PETER GREGSON
The name Peter Gregson first came to textura's attention in 2012 when Gabriel Prokofiev's Nonclassical label released his Cello Multitracks, a cello suite written expressly for Gregson. Since then, his name has popped up with increasing frequency, whether the project involves a collaboration (The Watched Clock, with fellow composer Rael Jones), a movie soundtrack (A Little Chaos), or an appearance as a guest musician (Michael Price's Entanglement). Such projects are, however, the tip of the iceberg: Gregson has also premiered works by Tod Machover, Daníel Bjarnason, Max Richter, Jóhann Jóhannsson, and Steve Reich; enthusiastically embraces new technologies and collaborates with innovative organizations such as Microsoft Labs and the MIT Media Lab; and has just released Touch, his superb third album and follow-up to 2014's Lights in the Sky. We were thrilled when Gregson agreed to speak with us about his various projects and future plans, and share his thoughts on music's inherent meanings and a host of other topics.
1. Could you begin by telling us a little bit about your formative years and schooling, things like where you were born, grew up, and where you currently reside?
I was born and raised in Edinburgh, Scotland, and moved to London to attend the Royal Academy of Music between 2005-2008. I've never worked out how to leave since!
2. Though I first became aware of your playing via Gabriel Prokofiev's 2012 release Cello Multitracks (Nonclassical), in recent days I seem to be encountering you everywhere. Earlier this year you appeared on Michael Price's Entanglement (Erased Tapes), released an EP-length collaboration with British composer Rael Jones called The Watched Clock (Cabin Baggage), recently made your film scoring debut with the A Little Chaos soundtrack (on Milan Records), and have just now released your third album Touch on Sono Luminus (also in my possession is ISKRA, a new collection by the Iskra String Quartet that includes the group's rendering of your " Chorale (Five)"). Have you been remarkably prolific during the past year or is it simply that you've been this busy for years and I've only just now become aware of it?
Well, it's a slightly weird one because I don't feel overly prolific because all of that stuff you mention has happened in good time, but then they do seem to have all come out all at once! It's an interesting problem, because by the time a record comes out, a piece is premiered, or a film released, you've lived with it for so long that you're sort of numb to what it is, or what it was, but you have to rekindle all the fire and energy that went into it probably a year ago or something! In between composing, I'm also quite busy being locked away in my studio, making weird scary noises for other peoples' film and TV scores; never a dull moment, but not very much daylight or fresh air!
3. There was a time not all that long ago when a civil war of sorts was being waged between classical traditionalists and those willing to consider a role for electronics and synthesizers within classical music. Yet such a separation doesn't appear to exist for you at all. Do you think your stance is representative of all composers of your generation? Or to put it another way, are we now living in a world where distinctions between acoustic and electronic forms have collapsed and the focus can now simply be on music pure and simple?
I get asked this a lot. I don't think it has anything in particular to do with age; so many astonishing people are doing astonishing things with music right now, and some are my age, some are older, some are younger. I think it comes down to (sorry for saying it) authenticity and consistency. It doesn't work if you tack it on at the end, or spend all your days trying to sound like this person or that person. You have to find the sounds in these instruments that work for you; it's a bit like clothing. I would love to wear a leather jacket but know deep down I couldn't pull one off. I love other people using 808s but know they don't suit my musical temperament. I mean, never say never, but I'm very happy with my big bassy synths and reverb units! There's a level of self-awareness that's needed, I think, and just because something has "electronics" in it doesn't make it new, in the same way that just putting string instruments on something doesn't make it "old."
I'm actually listening to that ISKRA album right now too because it just arrived, and although all the works on it are written variously for string quartet, piano, and synths, there's such incredible range. It's tonally consistent but not same-y.
My gut feeling is there will always be people who firmly stick to their guns that it wasn't like it was in the old days, and that's totally fine with me, because they're totally right; it isn't like it was in the old days. I just think there's a world of people who see that as progress, not as a bad thing.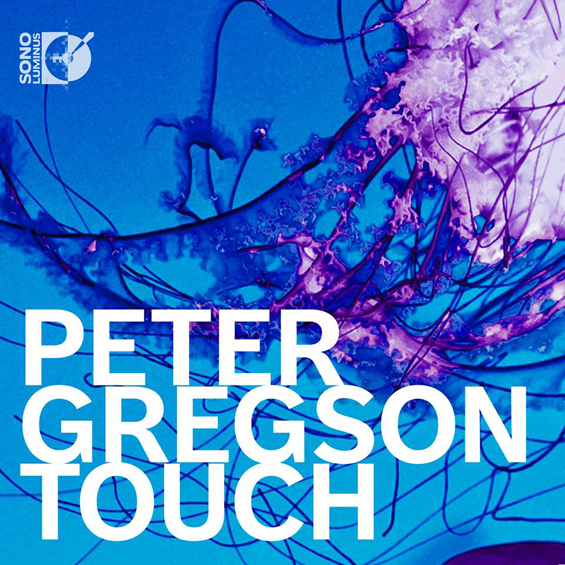 4. I'm imagining there are clear advantages and disadvantages to composing music for a soundtrack such as A Little Chaos versus composing decidely non-programmatic music of the kind featured on Touch. What would some of those advantages and disadvantages be for you, and do you have a preference as a composer for one form or the other?
Scoring A Little Chaos was a real joy; it was my first feature score, and so it was a huge learning curve. I had also just come off a ballet, FLOW, and was also writing Lights in the Sky, so having various things on the go at that point was quite refreshing. In film, music is one part of the story hierarchy. It always has to know its place. With abstract, 'selfish' music, it's totally different, and albums like Lights in the Sky or Touch are able to exist as they need to, whereas film music needs to serve various masters: the story, the colours on the screen, the director, the actors... film music has to be diplomatic, knowing where to be and what to say, when, and to whom!
5. Your second album, 2014's Lights in the Sky brought you justifiable recognition, and now a year later, we have the splendid Touch. In what ways does the third album differ from the second, and did you set out purposefully to do certain things differently on the new recording than before?
Lights in the Sky was my first big jump into explicitly using analogue synths, and really moving out of just a string environment. Consequently, the entries are all pretty ballsy: it's not very subtle, and I really wanted to push on that. The idea was to create something that felt like it was happening right underneath your ear as it happened.
Touch is far more subtle. I wanted to really explore blending the two analogue worlds together; the synths were all re-amped in the same hall as the cello, piano, and string recordings, so those frequencies are intermingling and playing together. It's really clear on "Touch," track six, where the strings and synths blend, blur, and intermingle throughout the growth of the track. I think I learned you could orchestrate synths, not just use them to double the bass line. I think that's the main difference between the two albums.
6. Every musician and composer brings to his/her creative work influences. Are there specific composers, cellists, and compositions/recordings that exerted a profound influence on you as you developed as a composer and musician?
I obsessively listen to the top ten, all the new and shiny pop music. I love Coldplay and listen to a lot of Renaissance choral music. I'm working my way through The Beatles box set and a fair amount of film music, too. There's a lot of variety in there! What I love most with Coldplay is how their sound has developed as they've accepted new collaborators into their work. Each album progresses whilst retaining a recognizable quality to it, and I think that's a rare thing to hold onto.
7. I appreciate fully the view you present on the inner sleeve of Touch regarding the supposed meaning of a particular piece, so I'm certainly not going to ask you about what any of its eight pieces mean. However, I will ask you how a particular piece comes into being. Does a Peter Gregson composition emerge out of improvisation or does it come to you as fragments of melodic material that you then develop?
It depends, really. The opening track started with that clarinet-y Moog setting which I made and loved so wanted to explore. The second track, "Time," is about that piano phrase, track three, "Cycle," is about a chord phrase breathing in and out, expanding and contracting... it just depends. It rarely starts with a melody; very little of my music is "melodic," as in that you sing along to. I love implied melody. diatonic music that may have an inevitability to it but where the ear can wander about. I don't really know; I spend a lot of time in my studio on my own just trying to create those little spaces, I suppose!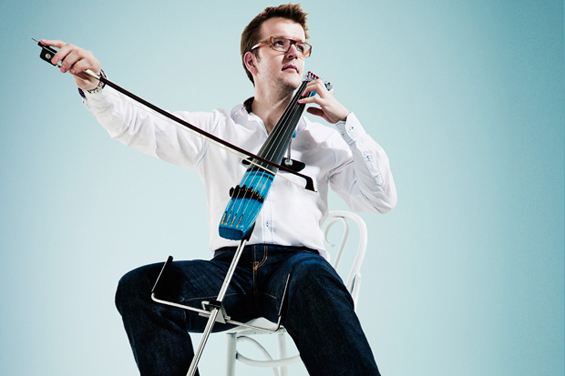 8. On Touch you play the 1987 Colin Irving acoustic cello, yet you also play a striking-looking blue, five-string electric cello. How do these two differ in sound, and what determines your choice for a given piece or recording?
My electric cello is almost exclusively used on film scores. It really cuts through any texture and can sound like nothing on earth! The keen-eared listener can hear it all over Lorne Balfe's terrific score to Terminator Genisys. It has no resonance so can be fully controlled to do whatever you want it to and is terrific for exploring and exploiting extended techniques! My acoustic cello has a really even tone, and like every cello, has a specific brand of melancholy baked in.
9. You've worked with a number of major composers, including Steve Reich, Max Richter, and Gabriel Prokofiev. Were certain experiences with these figures or others especially transformative with respect to your own evolution as a composer and musician?
Of course! It's such a joy to work with other composers on their music, to really understand where to go with it, and where it can take you. Working with Gabriel over the last few years on his Cello Multitracks piece, it's totally changed and evolved, and it's so exciting now to hear other cellists perform it and take it forward. I love that sort of collaboration, where it all feeds back in. There's an openness in that sort of collaboration that is so fantastic, and I try to bring to work with me every day. It's hard, of course, because we're often so strong with our own opinions and feelings, but it always comes out better by listening and trying things, no matter where the idea comes from! Most of Cello Multitracks is made up of techniques developed by us spending hours trying to imitate chunky electronic gear, drum machines, synthesizers and the like, so the sounds are pretty unusual for a cello!
10. While you've accomplished a great deal in your career already, many years lie ahead. Are there specific goals you wish to accomplish or specific projects you hope to realize? Or are you more the kind of person who prefers to let the future unfold as it will and see where it takes you?
I'd love to work on a computer game and really get under the hood of how that works; I have a few movies lined up for later this year and into next (all depending on when they enter post production... it was ever thus!) so plenty to keep me out of trouble, but next on the cards is planning a holiday!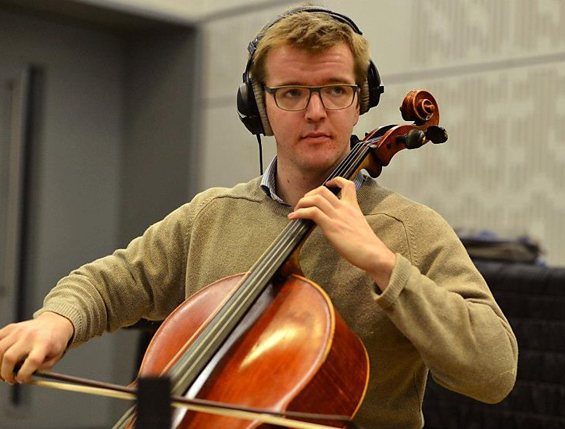 website: PETER GREGSON
October 2015