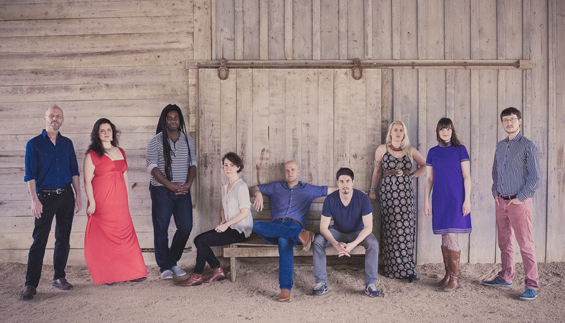 (from left:) Brad Wells, Estelí Gomez, Dashon Burton, Caroline Shaw, Cameron Beauchamp, Eric Dudley, Virginia Warnken, Martha Cluver, Avery Griffin (photo: Bonica Ayala)
TEN QUESTIONS WITH ROOMFUL OF TEETH
During an October visit to New York, I had the wonderful opportunity to attend a performance by Roomful Of Teeth at National Sawdust in Williamsburg, Brooklyn and was delighted to discover that the vocal outfit mesmerizes as much live as it does on record. Founded in 2009 by artistic director Brad Wells, the eight-voice ensemble (Cameron Beauchamp, Dashon Burton, Martha Cluver, Eric Dudley, Estelí Gomez, Avery Griffin, Caroline Shaw, Virginia Warnken) has issued two albums to date, the eponymous first of which appeared in 2012 and brought the group a Grammy for Best Chamber Music/Small Ensemble Performance at the 56th Annual Grammy Awards, and the equally compelling follow-up Render, released in early 2015. In addition to their common group interest, each of the group members is involved in multiple projects of one kind or another: Wells, for example, is a champion of Estonian choral music and a composer and singer of note, too (Paul Hillier's Theatre of Voices is but one of the ensembles with which he's performed); Dudley has established himself as a conductor as well as singer and composer; Warnken is recognized as a distinguished Early Music interpreter of Bach and Handel; and, as has been widely reported, Shaw, a violinist and composer as well as singer, has collaborated with Kanye West (she participated in a recent live performance of West's "Power" at the U.S. Democratic National Convention fundraiser and also appears on a remix of his "Say You Will," originally from his 808s & Heartbreak album).
That the group has received the recognition and acclaim it has in such a relatively short time shouldn't come as a huge surprise, given the virtuosic ability of the singers and the calibre of material the group presents. Contemporary composers such as William Brittelle, Missy Mazzoli, Sarah Kirkland Snider, Judd Greenstein, and Michael Harrison are among those who have written works for the ensemble, and Dudley and Shaw also have contributed pieces to the albums (Shaw, in fact, became the youngest person to be awarded the Pulitzer Prize for Music when her Partita for 8 Voices, included on the debut album, was so honoured in 2013). As I listened to the concert performance, which featured the world premiere of Ted Hearne's Coloring Book as well as pieces by Mazzoli, Brittelle, Dudley, Caleb Burhans, and Anna Clyne, many questions came to mind, a number of which I posed to Wells a couple of weeks after the performance. (This is not, by the way, the first time a Roomful Of Teeth article has appeared in these pages, the group having earlier contributed a wonderful 'Top 10' that can be read here).
1. First of all, what was the spark of inspiration that led to the group's formation and whose spark was it? And what process was involved in selecting the eight members?
The initial spark for forming a new music vocal ensemble came from my exposure to and excitement around Meredith Monk's recordings from the 1970s and early '80s. She was using her voice and the voice of her ensemble members—none of whom sounded traditionally classical—in ways that I found original and arresting. After many fits and starts the vision of an ensemble that continues to push the bounds of vocal music while aiming to connect with audiences eventually clarified in the mid-2000s.
I auditioned many singers—looking for high levels of musicianship and vocal flexibility—through the winter and spring of 2009 before selecting the founding eight members.
2. How do you account for the remarkable amount of critical and artistic success Roomful of Teeth has achieved in such a relatively brief time? On a related note, I was thrilled to see Roomful of Teeth recognized with a Grammy Award for your debut album. What impact if any did that recognition have on the group?
I credit the remarkable talent of the singers, the quality of the composers, and the spirit of musical exploration we've gained from working with vocal masters from around the world. The structure of the musical house we're building is solid and welcoming, and I think that comes through in our music. And it doesn't hurt that Caroline Shaw is in the band.
3. Though the number of vocal-based ensembles isn't legion, there are some, such as Paul Hillier's Theatre of Voices and The Hilliard Ensemble, that have achieved a fairly high level of public recognition. What is about Roomful of Teeth in your view that differentiates it from other such groups?
I'm not aware of any other vocal ensemble in the classical world whose repertoire consist solely of music written for them. (We're now beginning to perform on occasion music not written for us, but it will always be an exception to the rule.) That fact, in combination with our ambition to expand the notion of vocal music by stretching the singers in all sorts of stylistic and technical directions, sets us apart.
4. From an outsider's perspective, it appears that all of the group's members park their egos at the door, so to speak, and put themselves at the service of the group project. Yet at the same time it's only natural for there to be some degree of volatility when eight creatively strong individuals participate in a joint project. Is it a challenge for you to manage a balance between the personalities within the group or is that something that doesn't present itself as an issue that demands your attention?
Like any ensemble—or family (and we often refer to ourselves as a family)—issues come up. Every member of the group is a freelancing musician and works to achieve a balance between the interests of the group and his or her own needs. It's not always easy, but it's how we live.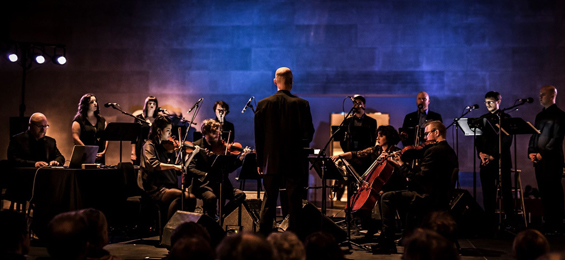 5. I'm curious about how much preparation and how many rehearsals are involved before a particular piece is publicly presented, aside from the fact that such things vary, I'm guessing, depending on the complexity and length of a composition. By way of illustration, could you outline the stages that were undertaken in order to bring Ted Hearne's Coloring Book to the stage?
Rehearsal time for our projects varies widely. Coloring Book was one of the most demanding rehearsal stretches for the group yet. Ted worked with the group for two full weeks during our summer MASS MoCA retreat. And we logged a couple of more days before the premiere of the full work at National Sawdust this fall. That amount of time dedicated to prepping one piece is unusual for us, but we loved it and the piece absolutely deserved it.
6. Whenever I listen to a recording or attend a concert, I'm hoping that I'll experience some degree of transcendence, if only for a few moments, and in fact that did occur for me at the National Sawdust concert during the group's performances of Caleb Burhans' "Beneath" and when I listen to your own composition "Render" on the second album. What performance, vocal or otherwise, has had a similarly profound impact on you?
That's incredibly heartening to hear. I find that sense of being transported in reading Mary Oliver or Marilynne Robinson, in gazing into a Rothko or a Diebenkorn, or in listening to Tigran Hamasyan's latest album of Armenian sacred music.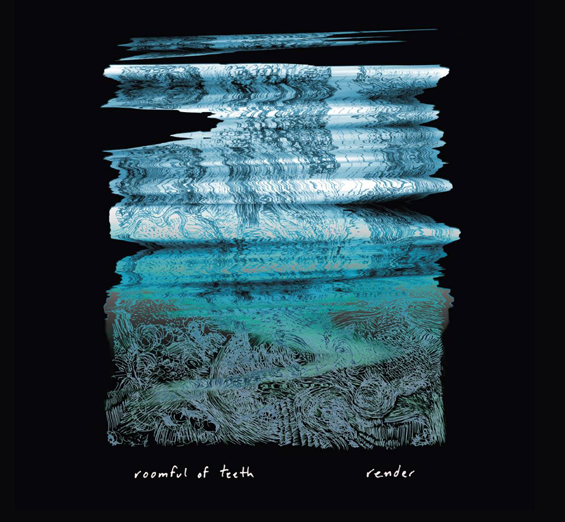 7. With you and the others bringing such a staggering cumulative background and stylistic command to the group, is there any musical style you imagine you wouldn't be comfortable tackling?
That's an interesting question. My instinct is that if something inspires discomfort it's a sign that we should explore it.
8. I noticed that the make-up of the group looked slightly different for the National Sawdust performance I attended, with, if I'm not mistaken, two different singers appearing in place of originating members. Are these permanent changes or is it that other singers were brought in because other commitments prevented the regular group members from taking part?
We do have a small stable of subs we call on when original members are unavailable for a particular performance; with the group's increasingly busy schedule this happens on occasion. Baritones Thomas McCargar and Taylor Ward appeared with the group at the National Sawdust gig, but there have been no permanent changes in personnel.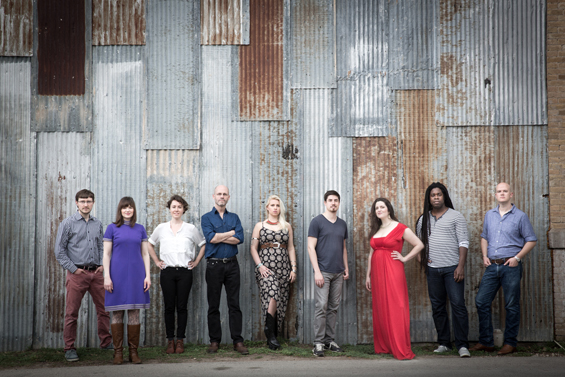 photo: Bonica Ayala
9. Roomful of Teeth has a number of exciting projects and collaborations coming in the new year. Could you tell us a little bit about some of those projects?
We have new music coming in early 2016 by jazz legend Fred Hersch and more music for The Ascendant by Wally Gunn. In March we'll be performing a stunning work by Elliot Cole called "Hanuman's Leap" in New York with Tigue Percussion and Elliot. It's a monster piece and involves a monster line-up of performers coming together for these shows. And we can't wait to work with Peter Sellars this June at Ojai Music Festival on operas by Kaija Saariaho where we'll be performing for the first time with ICE. Among lots of great new music we'll be performing in Ojai will be a new work by Caroline for Teeth and ICE commissioned by Ojai.
10. You've release two exceptional albums to date, and by now I'm guessing you've got no shortage of material to choose from for the third. Have selections begun for the next recording and if so can you share with us some details about it, such as when it might be released and what pieces will appear on it?
We are talking about the next recording, but at this point we're not ready to talk about it. Sorry!
website: ROOMFUL OF TEETH
December 2015