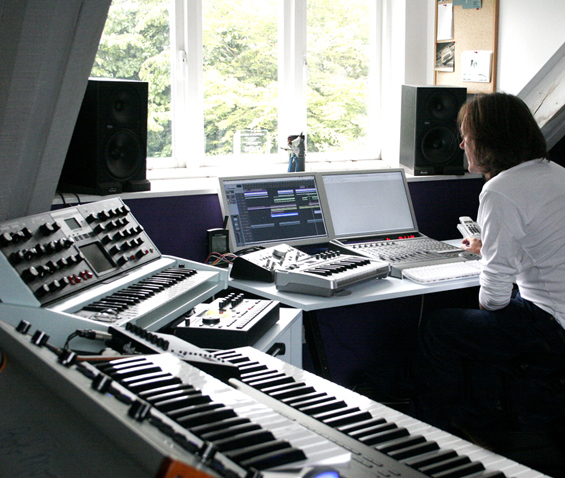 TEN QUESTIONS WITH: ROGER O'DONNELL
Notwithstanding the geographical reference, the old F. Scott Fitzgerald line, "There are no second acts in American lives," clearly doesn't apply to Roger O'Donnell. The one-time keyboardist for The Cure is far too involved with new recording projects and label matters to spend time mulling over past glories (in fact, O'Donnell's first professional performance was with Arthur "Fire" Brown). Last year's acclaimed solo release The Truth In Me not only showcased O'Donnell's musicianship but a distinctive composing voice too. That the album's sounds (with the exception of Erin Lang's vocals on three songs) were produced entirely by a Moog Voyager synthesizer ultimately seems almost incidental; one imagines the album would impress just as much had it been recorded as a set of piano pieces. O'Donnell's currently working on a sequel to The Truth In Me and assisting in the final stages of Erin Lang's solo release You Are Found (tentatively scheduled for a September2007 release date).
1. I don't want to focus too much on ancient history but there is at least one thing I must ask. Unlike many, you appear to have survived your time in the crazed 'rock'n'roll' spotlight remarkably well. How did you manage to play in The Thompson Twins (1983-5), The Psychedelic Furs (1985-7), and The Cure (1987-90, 1995-2005) and hold onto your health and sanity when so many others in similar circumstances didn't?
Whenever I look back, I really do wonder how I did it! The transition from the Furs to the Cure was probably the most frantic. I was on tour with the Furs in the U.S. with a cassette of the latest Cure album and a keyboard that fit in my suitcase. I would arrive at soundchecks and try out parts I had just learned for the Cure in my hotel room. I would get some funny looks from the rest of the guys in the Furs. I finished a show in Washington DC and got on a plane the next day to start rehearsals with the Cure. Health never seemed to be a problem; there just wasn't time to get sick and I've never missed a show. I think you have to remember who you are and where you came from and the reasons why you got into the business in the first place. I have seen many friends lose it over the years and it is very sad.
2. Often we read about internal tensions where some band members are resentful of the amount of attention the lead singer receives; at other times, we hear about members who are relieved they can be in a group without having to deal with the constant pressure and attention the lead singer must endure. What were your own feelings about Robert Smith being so much The Cure's focal point?
When I joined the Cure, they were already very successful and the roles of the respective people were well identified. I knew what I was signing up for so I never had a problem. There were, of course, huge tensions within the band that had become apparent over the years and reared their ugly heads at every opportunity.
3. After your ties to The Cure were severed, did you agonize over possible musical directions, or did the direction you eventually took organically arise? Leading up to the release of The Truth In Me, were you at all apprehensive about releasing an album whose sounds were produced by Moog synthesizer only?
The direction I took was already decided before the split, in fact the album was completely finished and the split had no effect on the music. However, I think a lot of the emotion in the record was directly related to the atmosphere I had been working in for the previous two years. I had supreme confidence about my record; it was totally honest and uncontrived, it came from somewhere inside me that I had no control over. Though I never questioned the way it was made, I subsequently have realized that it was a bit of a leap. It has proved to be a quite difficult record to market and to explain; once people hear it they usually get it but that's the battle, getting people to hear it.
4. One of the things that's so striking about the album is its strong emotional dimension, and it's a bit surprising to discover how effectively the Moog Voyager communicates that. During the composing stages, how conscious were you of the music's strong emotional character?
It was at the very beginning of the process that I became aware of the organic and emotional character of the instrument and, in fact, without that I wouldn't have continued with it. I wasn't interested in making a 'techno' album. To me, the most important thing about music is to try and convey emotion and feeling. It is still amazing to me how emotional the Voyager can be, in fact recently one of my instruments was back at the factory for a service and the guys down there tweaked it and added some new features which make it even more sensitive.
5. Another thing that distinguishes the album is its simplicity. There's no indulgent soloing, and the songs' melodies are always the focal point. Was it at all difficult to hold onto that simplicity, to resist the urge to make the arrangements more ornate and elaborate?
I made some very conscious decisions about the way I played on the record; however, the songs themselves really suggested what was required. I didn't want to make a 'prog' record, in fact I despise that approach: technique above all. I have never been a very technical player; I try to say what I have to say in as few notes as it takes.
6. Reportedly, you've completed about 85% of the follow-up album. Is it a solo keyboard album too, or does this one differ in that regard? Can you tell us who has collaborated on it with you? Is there a particular concept that's driving the album content, and has a release date been set?
It's a really logical progression from the last record. I have introduced some other sounds, notably drum programming. I have also worked with a couple of other vocalists, an Australian artist named Lenka who I have been working with for about a year, and a guy named Caleb Pate from the band Seventeen Evergreen who I really like. It is primarily another solo keyboard album; it didn't make sense to me to drop the format that had been so expressive for me. When I thought about how I would go forward, I decided that I would go further inside the way I worked and would get really inside the rhythms and melodies and harmonies. I kind of thought of the first album in terms of big sweeping paintings whereas these songs are kind of 'pointillist,' if that makes any sense. It should be released in February, 2008.
7. Much time and effort has gone into the production of Erin Lang's upcoming album You Are Found. In what ways have you contributed to the project, and how does the album's sound compare to the three songs on The Truth In Me on which Lang sang?
I am officially credited as 'musical director' which is a term I made up. From the beginning of the project, I have had the role of fleshing out Erin's original ideas, which usually start on guitar, and orchestrating them, and that's what I did on the record. I worked pretty closely with Mario Thaler on the production as well. It sounds completely different from what Erin did on my album; these songs are hers and very much so. I am extremely proud of what we have achieved and always blown away by Erin's lyrics and songwriting.
8. Let's talk a bit about other projects too:
a. You established the label 99X/10 a short while ago. What is its current status, and what releases are coming out in the days ahead?
We quickly realized that starting a record label involved a lot more than registering a domain name and coming up with a logo. It also really opened our eyes to the dynamic between artist and label, something that I had only seen from the other side before. We had never set out to be a traditional label, more of a collective with the bands playing an equal role; unfortunately, the bands didn't all see it like that and thought perhaps we were going to be doing more. It is also very, very expensive, and to that end we decided to become a digital-only label. We have an imminent release form Dead Waiter, an EP, which is incredible. We also had the idea that we might be able to bring bands to the attention of more established labels and that has happened with Alka, another of our original singings, who has an album coming out on Electric Eel Records. Goddamn Electric Bill really grasped the concept and actually released their record, Swallowed by the Machines, themselves under our banner; I was involved in the mixing and did play on a couple of tracks.
b. I recall reading that you created a piece for a fashion show recently. Can you tell us a bit more about that?
Yes, we wrote and performed a piece live for a Georgian designer in Paris named Irakli. It had always been an ambition of mine to do this, and I really enjoy the symmetry of design and music, the parallels. A friend of mine in Vietnam co-ordinated the whole thing which was a little bizarre but it worked out amazingly well and the designer and the models loved the experience. We hope to do it again...
c. You're also developing a reputation as a remixer of some repute, with the recent one of Dntel's (Jimmy Tamborello) "You Rock My Boat" the most high-profile to date. Are there others in the pipeline, or have you purposefully steered away from doing so at the moment in order to focus on your own material?
The Dntel remix came out of the blue really. Last year, when I asked Jimmy to remix one of my songs, he said if he ever finished another Dntel album would I do a remix for him. I was more than a little taken aback but didn't think any more of it, then when we did a show together in LA in December he gave me a copy of the album and told me to choose a song to remix. It was a little daunting, I can tell you; Jimmy is hugely inspiring to me and really is very important to electronic music with what he achieved with The Postal Service. So I approached it wondering what on earth I could do to change it or make it different and still as good. I really love Mia's voice so I chose that song and decided to make it very, very simple. I was really surprised to see it bundled with the album on iTunes; it's probably one of the things I am most proud of. It also represents to me my acceptance into that world; it could have been quite difficult coming from such a background as mine but these guys, Jimmy T, Kieran (Fourtet) and Jimmy Lavalle (The Album Leaf), have all been very welcoming. I am kind of up to my eyes in my own album right now so remixes have been put on hold for a while but I really love doing it; it's just so much fun and no pressure. We did have a plan to have my entire album remixed by bands from the Ghostly label but it seems to have fallen by the wayside, unfortunately.
9. Being a long-time Mahavishnu Orchestra fan, I couldn't help but notice that, at your site, you cited Birds of Fire as a source of listening pleasure (others listed include Björk's Medulla, Colleen's Everyone Alive Wants Answers, Four Tet's Everything Ecstatic, Lali Puna's Faking the Books, Tortoise's A Lazarus Taxon, etc.). Could you elaborate on the impact the album had on you? Did you see the group in concert?
It's difficult to put this into context; when Mahavishnu Orchestra came along, there was no such thing as cross-over or fusion, bands played the music from their own genres, jazz, rock, folk, etc. These guys blurred all those lines and played a fantastic combination, and it made me realize you could do anything, that there were but shouldn't be any rules in music. I saw them later after a couple of line-up changes and recently had the pleasure of meeting Jan Hammer, the keyboard player, who was hugely influential on me.
10. Listed:
What's currently in heavy rotation on your turntable/iPod/disc player?:
Cornelius: Sensuous.
All-time favourite record or record that changed your life:
Herbie Hancock's Headhunters: This album opened up a whole new world to me; again it was at a time when lines were being crossed and rules being broken. I had never been a huge jazz fan but this cross-over with its accent on keyboards just opened my eyes and ears to a whole new world.
Role model or inspiration (aside from Frank Zappa and Jimi Hendrix who you've cited previously: The Truth In Me 's "This Grey Morning" and "And So I Closed My Eyes" include homages to Zappa and Hendrix respectively):
Herbie Hancock: the most influential person on my career and a beacon to me. When I saw him in NYC last summer, he played for three hours, mostly new material or completely reworked older songs, continually pushing his abilities and awareness. Coming from a band that had basically played the same one song for the past twenty years, it was just so remarkable for me to see this 66-year-old musician playing and stretching himself better and further than ever.
Most memorable concert you performed in:
Spaceland L.A., 2006: This was in the middle of my short US tour to support the album and it's where I think we performed our best show, where it all came together. There may have only been one hundred or so people in the audience and I have, of course, played to hundreds of thousands but this meant the most to me. It's a very different feeling to be on stage playing songs you wrote yourself on your own; it felt very real, there was nowhere to hide, and, in fact, I had awful software problems but it didn't matter.
Most memorable concert you attended:
Herbie Hancock, Carnegie Hall 2006.
Song you wish you'd written:
Prince's "Sign of the Times": I used to be a huge Prince fan and, at one point, there was even talk of my being in his band. Written at his peak, "Sign of the Times" is, I think, his finest moment.
Favourite non-music-related thing to do:
Flying: I learned to fly in 1990 after I left the Cure the first time and find it about the most relaxing thing to do. It commands your whole attention, so there's no room left for worries or concerns.
Favourite place in the world:
My garden in Devon: Having been away from home so much over the last few years, there is nothing as comforting as sitting in my garden looking at my own view of the world. I am very lucky to be able to live in such a beautiful place.
Roger O'Donnell: "Opening"
(unreleased, Roger O'Donnell)
August 2007