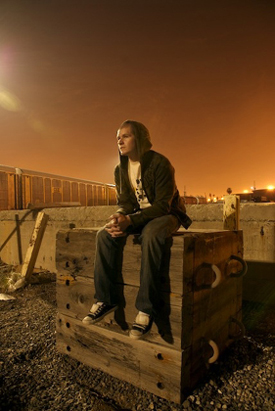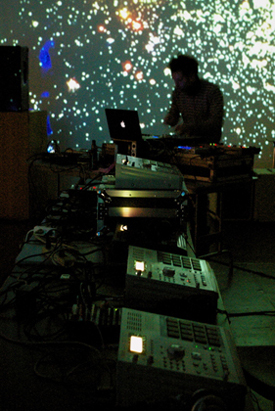 TEN QUESTIONS WITH: GLEN PORTER AND TAKE
Recent Inner Current additions Glen Porter and TAKE have splendid full-lengths appearing in the next little while, Porter's Something Glue and TAKE's Earthtones & Concrete, so it seemed like a perfect and natural time to find out a bit more about them. Though both might be said to be working in an 'instrumental hip-hop' milieu, the label is rendered almost meaningless when their albums, so radically different from one another, are heard side-by-side. Funnily enough, though, when asked to each name a song he wished he'd written, both chose songs by The Beatles. Aside from a shared label home, that might be the only thing the two have in common.
GLEN PORTER
1. You're from Huntington Beach, California, your real name is Ryan Stephenson, and you started producing music under the Glen Porter name four years ago. But beyond that I know very little about your background and the musical path you undertook that brought you to today. Can you add some more detail to that picture for me? Also, though no doubt you've been asked repeatedly about the reason for the choice of Glen Porter as an alias, would you mind clarifying where it came from?
My interest in hip-hop and downtempo started at fourteen when a friend of mine showed me an orko tape. From there I started breaking and eventually spinning. When I moved from Anahiem to Huntington Beach, I met a friend who used to make beats using an old drum machine and a keyboard. Since then I've been stuck on it. At first I was making some mean electronic downtempo, real anxiety attack shit. I think just recently I've started to find my own way. As far as where my name comes from, Glenn Porter, is my grandpa and he's one fresh old dude. I just dropped an n and there you go.
2. Can you tell us a bit about your production methods? Sixtoo, Buck 65, and Keola are identified as influences. Can you elaborate on how specifically they influenced your sound?
My production methods consist of me sittin' down and just playing the guitar, bass, cello, piano, or messing around with some drums and just buildin' from there. I do sample sometimes; I still love a good diggin' session, and sometimes you hear something and it's too fresh to pass up. Sixtoo is one of my biggest influences: fresh drums and dramatic beats, what else can you ask for. My friend Keola is my most direct influence. He was the first one of my friends to start making beats; he got me hooked for sure. We still feed and learn off of each other all the time.We also produce tracks together.
3. Aside from the Something Glue (Inner Current) album, what else have you released (and on what labels), and what else is coming up in the future?
I'm on a compilation called Calderas of Mind issued by the German label Mooncircle Project. I also had four tracks on Inner Current's Domestic Blend Vol.1 compilation. Aside from Something Glue, I hope to have another full-length out later this year, but we'll see. Keola and I are also working on his full-length album which should be done later this year.
4. There's a sadness at the center of the Glen Porter sound that distinguishes it from the music of others, a quality that's heard in "I Sat Alone" and in the anguished voices of "She Cries." What prompted the strong melancholic dimension in your music? Another thing that distinguishes it is that, in contrast to a primarily 'urban' sound, your hip-hop tracks sound rooted in the country, specifically the Old West (a quality heard, for example, in "I Alone" and "Awrld"). What led to that particular strain developing in your sound develop?
I have always been a fan of dramatic music as long as I can remember. I don't talk much; the music I made for this album was made during a rough time for me and are, I think, efforts by me to convey things I couldn't find words for, especially "She Cries." It's just what comes out when I sit down and start playing.
I listen to all kinds of music. I don't think one type specifically influences me more than others. Of course, my roots are in hip-hop but I listen to anything that makes me feel something. If I don't feel it, it serves no purpose for me. As far as the folk/country sound goes, I can't really explain it. People have been pointing this out for a while now and I never know what to say. I am not really a fan of country, but I am a big fan of folk.
5. What's currently in heavy rotation on your turntable/iPod/disc player?:
I am really feeling Lost Idols' new album, Quantic, Joe Beats, Sixtoo, and Bonobo.
All-time favourite record or record that changed your life:
Sixtoo's Duration is my favorite album; the mood is perfect and the beats are dominated by drums, bass, and organic instruments.
Role model or inspiration:
Robert Anton Wilson, read him and you will know why.
Most memorable concert you attended:
Anticon's 10th anniversary at the Orion in Los Angeles; it was a great show for one and, two, you don't find any good shows at venues like that anymore.
Song you wish you'd written:
The Beatles' "While My Guitar Gently Weeps."
Favourite non-music-related thing to do:
Masturbation, for obvious reasons.
Favourite place in the world:
Anywhere that makes home seem that much better.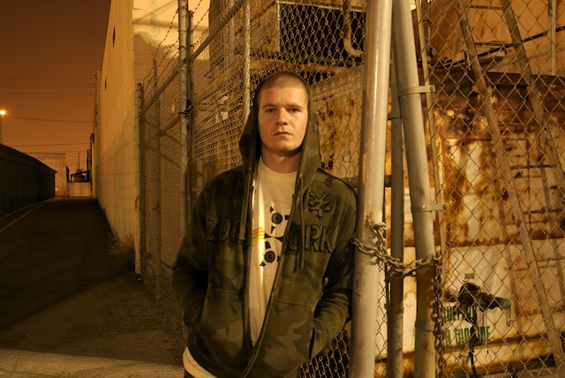 TAKE
1. You were featured in URB magazine's "Next 100" issue (April 2005), appear on the Sounds of LA (Plug Research) and Domestic Blend Vol. 1 (Inner Current) compilations, and are based in Los Angeles. Can you tell us a bit more about what brought you to your current style of music-making?
I have arrived where I am musically through a continuous love and involvement with music of all kinds. From playing in bands as a teenager, to being a DJ for ten years, production has been the natural progression that came out of DJing. I've been making beat-related music now for about eight years. I feel like where I am at musically is constantly evolving as I grow in my experiences and in my skill levels as a producer/musician.
2. Aside from the Earthtones & Concrete (Inner Current) album, what else have you released (and on what labels)?
Recent releases include: Third Story (Buttermilk Records, 2003); Pieces from the Puzzle (Buttermilk Records, 2004); Colossal Vol. 1&2 (Buttermilk Records, 2005); Forward Motion from Behind Tall Weeds (Poobah Records, 2006); Took One (Poobah Records, 2007).
3. What's coming up in the future?
An untitled EP on Sweedish Brandy sometime in 2007; a couple of alias projects hopefully will be released in 2007. The first is called Sweatson, a bit hard to describe other than that it's hard-hitting, groovier than TAKE stuff and features a mix of live drums, samples, and tons of casio/synth/electronic madness. I'm currently finishing a remix for Swedish Group Slope (Sonar Kollectiv) who is doing a side project under the name Andre Zima. Exclusive TAKE tracks will appear on Netherland's Eat Concrete label compilation and Circuit Tree Records' Silicon Graffiti compilation. I'm already working on the next TAKE record which will feature some exciting guests and will push forward into new directions and songwriting techniques.
4. There are many beautiful moments on Earthtones & Concrete, such as the stirring meditation "Northbound," and the collection certainly sounds like it was created with meticulous care. Can you talk a bit about how the album came together, and how the tracks were created? Are they all sample-based constructions or are there live takes too (for example, the Dutchmassive performance on "Dreamsuite")?
Well, this album has been a long time in the making. I feel like I have grown so much and continue to grow as a producer. It was difficult throughout the process to stop myself from making newer stuff and just abandoning the older stuff. I was constantly reinventing things so to say. So for every song on the album there was at least two songs in its place that were switched out and re-done or replaced.
I really wanted the album to play like a real album should: cohesive and somewhat of a journey and story from start to finish, and it took a while for me to get there and be happy with it. As for what I use to make music, I use almost anything I can get my hands on. This record is full of samples; it's also equal parts live instruments that I played, chopped, and re-sampled. Also, weird sounds I created with computers, and others that were created with a microphone and kitchen utensils. My motto is: if it sounds right, use it!!!
5. What's currently in heavy rotation on your turntable/iPod/disc player?:
David Axelrod, Fifty Foot Hose, Flying Island, Raymond Scott, Dungen, Budos Band, Benny Sings and Rednose Distrikt, Ras G, Yacht, Hudson Mohawke, TV on the Radio, Loscil, Lukid—too many to name; it changes everyday.
All-time favourite record or record that changed your life:
I don't have an all-time favourite, but one record that changed my life that I can think of off-hand was Pink Floyd's The Wall. I was listening to that album at the height of my heavy experimentations with hallucinogens as a young teenager in Los Angeles, California. I hated LA, felt trapped in a Babylon hell, and felt like I didn't belong. The story of a mind's struggle and the feelings of loneliness and isolation hit me hard. Its message of how much we were just small pawns in a bigger game was something I could really relate to in my angst-ridden teenage years. Shit, still is.
Role model or inspiration:
Nature. I just yearn to be more like it or at least try to be a part of it.
Most memorable concert you attended:
Michael Jackson, the Thriller tour concert at Dodger stadium in Los Angeles, because I fell asleep in my seat while Jermaine was opening, before Michael even came out. I missed the whole show and still get teased about it from my mom; I think I was like seven years old or so.
Song you wish you'd written:
"Eleanor Rigby" by The Beatles because, no matter how many times I hear it, I still get chills. A masterpiece that will always have a place in every generation. Truly a beautiful song.
Favourite non-music-related thing to do:
Cooking. It's theraputic. I love to eat, plus I'm a picky eater, so I like to cook things to my liking.
Favourite place in the world:
It changes all the time. Currently I'm infatuated with the following cities: Portland, Oregon; Oakland, California; Barcelona, Spain; Toronto, Canada.
July 2007