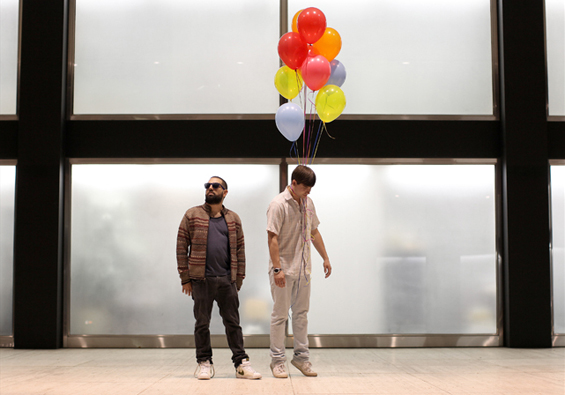 photo: Chris Eichenseer
DARK PARTY: TEN SONGS THAT INFLUENCED LIGHT YEARS
Dark Party: "Feets" (Feets, Old Tacoma Records)
Formed in 2005, Dark Party unites the estimable talents of Tacoma-raised and Brooklyn-based Eliot Lipp (who's given us a number of fabulous releases, among them 2006's Tacoma Mockingbird and 2009's Peace Love Weed 3D) and Chicago-based producer Leo 123 (Leonardo Ciccone, who contributed to Lipp's 2008 release The Outside and Subtitle's 2005 outing Young Dangerous Heart). Until recently, they've focused on remix work for the likes of Daedelus and Jogger, but listeners can now sample twelve of Dark Party's own effervescent electro-funk jams given that the debut album, Light Years, is available. Think straight-up synths-and-beats throwdowns with roots in the '80s and '90s and stylistically kin to Jimmy Edgar and Daft Punk and you're halfway there. Needless to say, we're thrilled that Lipp and Ciccone reserved a few moments in their busy schedules to fill us in on many of the artists and tunes who influenced Light Years' songs and production style.
ELIOT LIPP
1. Lindsey Buckingham: "Time Bomb Town"
When my dad bought a Compact Disc player the Back to the Future soundtrack was the first CD we ordered. This was my favourite track on it, and I still love it. All of this dude's production is top-notch, just like the stuff he did in Fleetwood Mac. Lots of dynamics, very sparse, but still really full. I think we tried to mix Light Years in a similar fashion.
2. Mister Fingers: "Can You Feel It"
I really like the idea of using dance music styles to create not-dance music. On tracks like "Down" and "Cab Weather" we wanted a really moody mellow vibe but still upbeat drums and handclaps and stuff. These joints won't "slay" the dance floor or anything but they make for an interesting juxtaposition of sounds.
3. Tom Tom Club: "Lorelei Instrumental"
I'm always trying to see how many layers of tracks I can fit in a song without it sounding crowded. Tom Tom Club somehow fits a million sounds into every jam—mellotron, flexitone, whistles, woodblocks, and on and on. (editor's note: the video included is "Lorelei," not "Lorelei Instrumental")
4. Moodymann: "I Can't Kick This Feeling When It Hits"
Leo and I were both making strictly rap beats when we met so it's kinda weird that our first project together is all dance music. This was one of the first tracks I heard that made me understand House. When I meet people that love hip hop but hate house music I play them this track.
5. Legowelt: "Beyond the Congo"
I'm a big fan of the Creme label and lots of Electro that came from the Hague and all that. This track is pretty stiff but it's pure analogue with a grimy swag to it. When we made the song "Fifth" we were going for a Dutch electro sound, but I think ours is a little too B-Boy and a little too fast for that... maybe we'll get it right next try.

LEO 123
1. Janet Jackson: "Control"
Most of the production on this album started with us going through stacks of dollar R&B records that I picked up from my job at Amoeba Records. Growing up I was way into Bobby Brown, Janet Jackson, and Jodeci so revisiting this style of production and its sound became a major influence on our record. I remember when I was a kid my brother and I used to have this NBA Superstars VHS tape we would watch constantly. This song was the backing track for the Magic Johnson highlights. Michael Jordan was my favorite player but he got stuck with "Take My Breath Away."
2. Style Council: "Long Hot Summer"
One of my favourite bass lines of all time. My friend Matt Massoco introduced me to this band at work one day, and it surprised me because I had no idea he could like something this smooth. One of my favourite songs ever. It showed me a completely different way to make music with electronic instruments and the importance of a good song. This video is amazing too, by the way.
3. Metro Area: "Miura"
A perfect song. I'm always in the mood to listen to this. When we lived in Chicago Eliot brought home this CD, and we played it non-stop. So much with so little, there's an attention to detail in this track that always makes me try a little harder with my own music. I learn something new every time I take the time to listen to this. They're also like the best DJs ever.
4. Tortoise: "The Equator"
One of my biggest influences for sure, and one of the few bands Eliot and I had in common when we started making music. The chord progression in this song and their ability to experiment with rhythms, melodies, and instruments are a constant influence on me. Oh, and they also all rule at playing every instrument. Professional musicians in every way. And they're from Chicago!
5. Man Parrish: "Hip Hop, Be Bop (Don't Stop)"
Not a lot of people know this about me but I used to be a beast on skates when I was in the fourth grade. I heard this song for the first time that summer at Roller Skate Land, and I was blown away. This is exactly what I wanted all music to sound like, and I think I still do. There's a mix of Electro, Hip-Hop, House, and Techno in this song that is such a huge influence on the way we made this record. It reminds me of how much I love instrumental music and that I've felt that way since way back. Unfortunately the last time I tried to roller skate I almost took out an entire Puerto Rican family on my way to the floor, so some things have changed for the worse.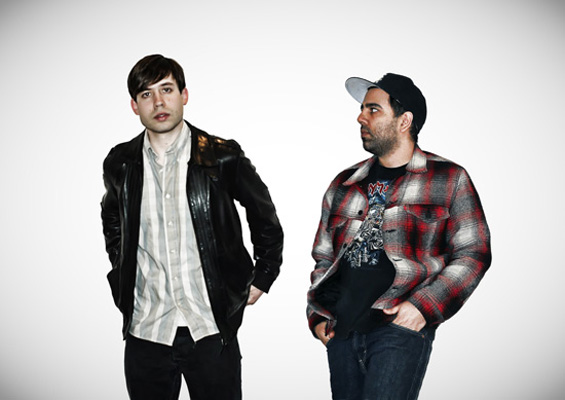 October 2010