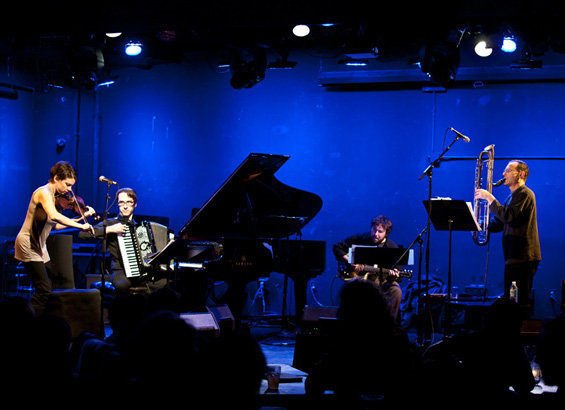 Tin Hat (l to r: Carla Kihlstedt, Rob Reich, Mark Orton, Ben Goldberg) (photo: Peter Gannushkin)
SPOTLIGHT 8: GIDEON WOLF / HALLOCK HILL / PARALLEL 41 / TIN HAT
This month, textura is honoured to shine the spotlight on four eminently deserving artists, all of whom provide in-depth portraits of their respective approaches to music-making, philosophies, and influences in the text that follows: Tristan Shorr (aka Fluid Audio artist Gideon Wolf), Tom Lecky (aka Hallock Hill), Parallel 41 (Barbara De Dominicis and Julia Kent), and Tin Hat members Ben Goldberg, Carla Kihlstedt, Mark Orton, and Rob Reich. All of the featured artists have new recordings reviewed in this month's issue, too: Gideon Wolf's Paper, Hallock Hill's The Union and A Hem of Evening, Parallel 41's CD-DVD release Parallel 41, and Tin Hat's e.e. cummings-based song cycle the rain is a handsome animal. We are grateful to the artists involved for so generously sharing so much of themselves in the text that follows.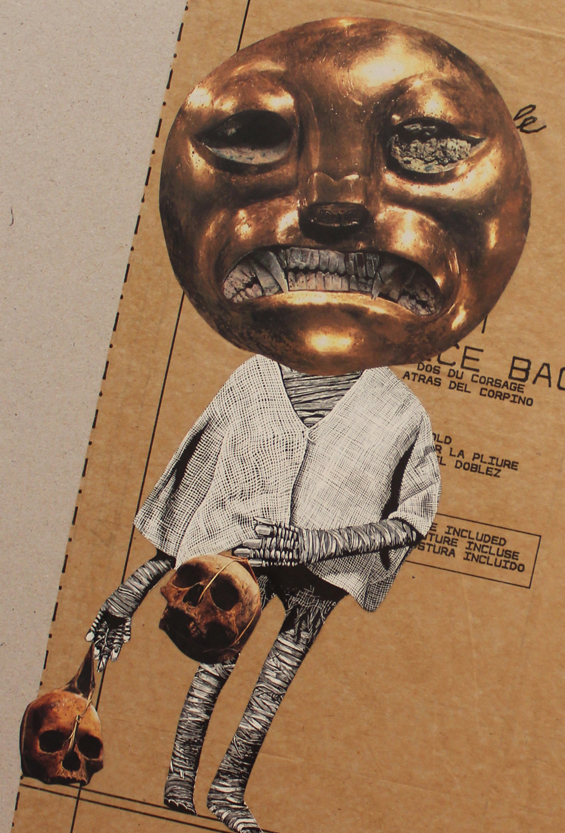 GIDEON WOLF
Who: Tristan Shorr, London, b. 1977. Waking up in a cold sweat five years ago and believing I was possibly wasting my life, I took the radical step of quitting my job to pursue a career in music. I scrapped together enough money to buy a copy of Logic Express and a midi keyboard. Then for the next three months I did nothing but make music. Looking back now it was much more than just a steep learning curve, as almost everything in my life changed because of or in consequence to this jump I made into the unknown. I'm not really sure what would have happened if I'd found I was absolutely useless at music, but after six months of haphazard discovery I managed to get a place on an MA in studio composition at Goldsmiths University of London.
It's not always an easy place to be when your ability isn't matched to your commitment, and at times this has been one of the hardest aspects of starting a career late. At Goldsmiths this was definitely the case as I tried my best to be patient whilst wishing for the background and training I didn't have. In hindsight this lack of formal training allowed me to explore sound in a way I possibly wouldn't have if I'd had the training. The two years I spent at Goldsmiths, the people I met there and continue to make music with now are almost certainly a significant part of how Gideon Wolf came into being.
What: Gideon Wolf is the moniker I created for the release of my first album Paper. The music I create reflects an experience that is very visual and indicative (I hope) of feelings we may have when travelling through a variety of landscapes. For me Paper and the work I do as Gideon Wolf is about the city (London, where I spent most of my child and adult life) and the real and imagined landscapes that resonate for me there. The approach I take to my music is to gather material in a way that you might when creating a collage. I often work in collaboration with other musicians recording certain phrases or seeing what might happen when improvising on specific chords or moods. Into this mix I will also record myself improvising on a variety of instruments such as piano, drums, cello, voice, and whatever I can get my hands on. I work a great deal with repetition and layering in my music to form structures that create emotive places in which the listener can be immersed. This style of working is most apparent within my use of the cello and voice. In these instances I work on making phrases that are pitched, looped, and then carefully layered together. The aim here is to create a constant feeling of motion as the various phrases and notes separate and then come back together, perpetually circling the listener in a kind of awkward embrace. I try to create music that is able to keep a raw and naturalistic feel in its use of repetition, fusing moments of improvisation with more meticulously formed passages of music. These experiments as Gideon Wolf have been aided greatly in collaboration with Tom Mudd when improvising on piano (live processing/ manipulation) and Steph Patten (cello) with her generous supply of material to work with.
When: At the moment Paper is very much a studio creation and wasn't made to tour. I wanted to create a record that existed more like a film or a book. I would, however, definitely be interested in taking some aspects from this album and bringing them into a live setting if the right opportunity presented itself. As a free-lance composer I work in dance, performance, fine art, and film. A short film I recently scored called The Sculptures Nightmare by artist Jesse Ash will be shown in Sao Paulo at Mendes Wood Gallery from September 3rd to the 13th, 2012. As a member of the London-based band Orchestra Elastique I helped score a soundtrack for a feature film set in Dubai called The Fallible Girl scheduled for a 2013 release. We shared the duties of scoring this film with Bela Tarr's composer Mihaly Vig so we feel more than a little honoured to be associated on a project with him!
Currently: I have just released my first LP Paper under the guise of Gideon Wolf on the label Fluid Audio. This is a limited-edition CD release so only a few more physical copies are left, but this album can also be purchased on Bandcamp for those happy with a digital fix. I've recently started work on a new project that combines a similar way of making music with songwriting. I started to use my voice for the first time during the making of Paper, using it as another instrument/ texture and bridge to connect aspects of the music together. As with other instruments or aspects of my creative process I'm trying to see how this might develop. I currently have a few samples of this new work on my Gideon Wolf soundcloud page. I have several upcoming gigs at the Wilderness and Playgroup festivals this summer in the UK with Orchestra Elastique, and we can often just be found doing an improvised gig somewhere in Dalston, too.
Influence and inspirations: The influence of repetition, layering, and the geography of inner city landscapes in my music came from growing up listening to hip-hop. I've spoken before about traversing these urban spaces, and in the music of Wu Tang Clan, Black Moon, Company Flow, Nas (illmatic), and DJ Shadows Endtroducing (to name a few), I can still probably trace my teenage years in London to the sonic soundscapes this music created.
The first time I heard A Love Supreme by John Coltrane I caught a glimpse of music going beyond the boundaries I knew into a whole other universe. In this new sonic landscape I fully understood how cinematic and spiritual music could be. The albums In a Silent Way and Bitches Brew also had a similar effect on me, although I have to say A Love Supreme is still the one piece of music in those formative years that literally blew the doors off.
I enjoy music that creates motion, layers, that propels you along with it. My early experiences with hip-hop and then jazz (and free-jazz), minimalism, and krautrock (to name only a few) have very much helped to form the attraction I have to these elements in music. In the way I've taught myself to play piano I would say Keith Jarrett has been an important influence for me in the touch and feel he adopts when improvising, and similarly the music of Can and Moondog in the way I play the drums. In regard to my current work with song structures I would say that Bjork, Radiohead, and more recently Panda Bear have been influences in the music I'm creating under the name of Gideon Wolf.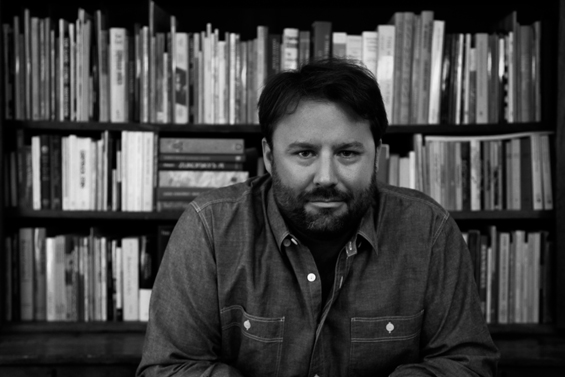 HALLOCK HILL
Who: Tom Lecky. I've lived in and around New York City my entire adult life but my roots are still in northern New York where I was born on Hallock Hill Rd. The majority of my childhood was spent in the Adirondacks and on Lake Champlain, and I get back there as often as I can. My grandmother bought me a $30 nylon-string guitar when I was eight years old. I became fascinated with it and after a few lessons switched to the electric and ventured off on my own, first in jazz ensembles at school and later in rock bands. I listened to music constantly, traded up for better guitars incessantly, and had a ton of disparate influences. These included two great teachers: my sixth-grade jazz instructor who turned me on to the instrumental works of Frank Zappa (about as far out as you could get in a small town), and a classical instructor whose advice has stayed with me to this day.
I stuck with the electric until I shelved all of my guitars around 1990. In retrospect, I think trying (and failing) to adapt myself to other people's music brought me to that end. But moving away from the guitar was easy because I was focusing so intently on literature then. Even now I have to admit I'm much more interested in literary than musical structure because of this background. Herman Melville, William Carlos Williams, Gertrude Stein, Charles Olson, Robert Creeley, Louis Zukofsky, Edward Dahlberg, Paul Blackburn, and my teacher Gilbert Sorrentino paved the way for me to re-imagine how art can be created, regardless of the language or tools employed. It wasn't until about 2003 that I really began listening to music again; I had started taking the train into the city every day for work, and had time to listen in a new way. Those commutes not only made me rethink my entire approach to music but pushed me to start playing the guitar again.
What: Although I tend to favour a "composed" feel to my pieces, they are all wholly improvised, either by playing or via studio manipulation of effects. I work within structures I've created that generate effects—primarily manipulated delays—and improvise around open, "found" tunings. My basic process is to retune the guitar by ear—generally into a tuning that I've never used before—acclimatize to it briefly and then record a track. Further tracks are overdubbed in sequence: I listen to the previous track (or tracks if I am on to the third, fourth, etc.) for the first time and react to them. Although people tend to see me in the "guitar soli" tradition, very few of my pieces contain a single track, and cannot be replicated live. I consider myself more of a studio improvisor.
The Union, my first album, contained four electric and five acoustic pieces that, with the exception of "Pencil Spin," built thick layers upon themselves in stacked improvisations. My second album, There He Unforeseen, was darker and more fragmented, and added piano, percussion, and banjo to its palette of sounds. A cut-up method in the studio was also used for the first time. When I recorded my most recent album, A Hem of Evening, I returned to the ideas of those central pieces on The Union, but reduced them further. There is a bare, quiet space to these.
When: Transitioning my recorded sound to a live setting has proved difficult, if not impossible. But I have devised some ways to replicate some of the structures with delays and effects I use in the studio. I've started to play live again after a break of over twenty years. A recent set for WFMU's Airborne Event, hosted by Dan Bodah, can be heard in their archive: http://www.wfmu.org/playlists/shows/46640. On August 11 I will open for Marissa Nadler and Bunwinkies at the 1794 Meeting House in New Salem, MA, and in October I'll be in Chicago for the tenth installment of the Adventures in Modern Music festival hosted by The Empty Bottle and The Wire magazine.
Currently: MIE Music is reissuing on August 20 The Union on vinyl as a double LP with A Hem of Evening, along with my book of prose poems and photographs that relate to that album. I've been pretty focused on working on my live set-up this spring and summer so haven't been recording much guitar lately, but I have recorded a number of short piano pieces.
Musical Philosophy: I feel it is best to let others try to unlock the music. I make it and am inside it when I am doing so, and then it is done and it exists outside, for me as well as everyone else. But key concepts for me are time, space, thought, architecture, memory, conversation, genealogy, and geometry. If anything, my aesthetic is one more aligned with the literary and plastic arts than with the musical. If I only I could have been a sculptor.
Influence and Inspirations: The literary figures I mentioned above weigh heavily. The sculptor John Chamberlain has meant a lot to me, and I am very interested in his use of appropriation and perspective. Musically, I am very much the product of pop music in the late '70s and '80s, and the jazz records my father played at home. I listened to Coltrane and Monk endlessly as a young boy. Monk's Himself might be my favorite album of all time. Hendrix was the basis for everything on the guitar early on for me, followed by the double-guitar attack of Iron Maiden's Dave Murray and Adrian Smith, Ritchie Blackmore, Johnny Marr, Andy Summers, Al Di Meola, and Bob Mould. Zappa was the first guitarist I'd heard who seemed to experience the fretboard as more than a geography of patterns—it was his wide interval leaps that enthralled me, and Allan Holdsworth showed me that they could go even farther. Two ECM guitarists, Terje Rypdal and Steve Tibbetts, strongly influenced the way I heard melody and space, as well as dynamics. Baroque music became a mainstay throughout the '90s, and I was really transformed by the works of Sainte-Colombe. Jordi Savall's performances of Sainte-Colombe's pieces on the soundtrack to Tous les matins du monde captured the power of loss in a new way for me. John Cage also had a big role during these years, with his mixture of spoken and musical languages perfectly suiting my interests at the time.
I listened to very few acoustic guitarists over the years, until I started really digging into bluegrass and old-time music about ten years ago under the influence of a close friend. Doc Watson, Clarence White, Norman Blake, Tony Rice, and David Grier rejuvenated my interest in picking up the guitar again. I bought my first steel-string acoustic guitar around 2000 and worked on bluegrass and old-time flatpicking before I found my own mix of flat- and finger-picking with open tunings as result, oddly enough, of transcribing Bon Iver's "Re: Stacks." The big change came when I was exposed to the works of Richard Skelton and Jon Mueller—two composers and musicians whom I hold in the highest regard and without whom I'd not have made the leap into my current style. Since working on The Union my main musical inspiration has been Tim Noble of The Lowland Hundred—he's shepherded me through many musical valleys and taught me a tremendous amount about how to bring what I do into focus.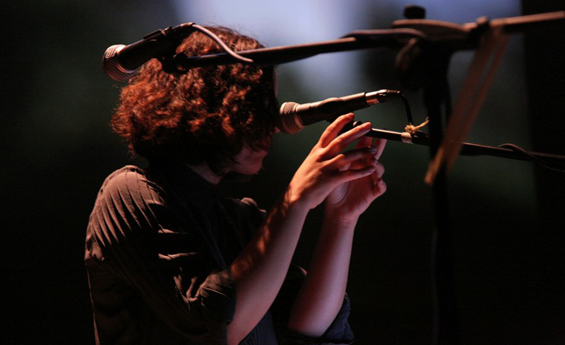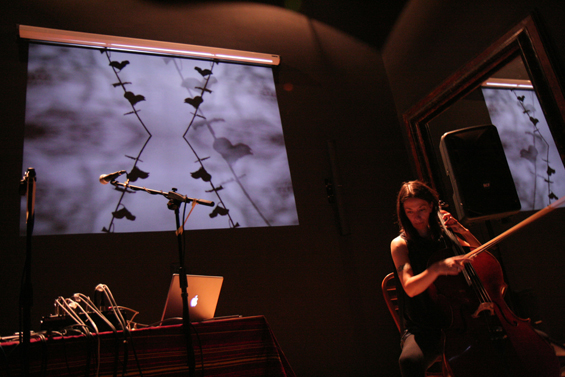 photos: Lucio Carbonelli
PARALLEL 41
Who: Julia Kent. I was born in Vancouver and reside in New York City. I studied cello at Indiana University but shortly after graduating fled the classical world and have subsequently played with a wide variety of artists and ensembles. I've released two full-length records and an EP as a solo artist, utilizing multi-tracked cello, field recordings,electronics, and found sounds, and I scored the recent NFB-produced documentary The Boxing Girls of Kabul. I've been collaborating with Barbara De Dominicis and Davide Lonardi in Parallel41 since (I believe) 2009.
Barbara De Dominicis. I reside in Rome at the moment; despite its thorough beauty, this city can be utterly brutal and hard to live in. I was born and raised in Naples, Italy and spent a few extended periods of time between Europe and the US. I have been studying philosophy and natural science for a couple of years. I guess I can consider myself something of a self-taught musician, even though as a kid I had been almost forced to take piano lessons for several years, and as a young lady I attended vocal techniques workshops and music theory classes.
What: The music that we create as Parallel 41 is entirely improvised; in addition, the music on the Baskaru album was recorded in a number of unique spaces. We tried, while recording, to react to the acoustic and physical characteristics of the spaces and the ambient sounds, which created a very particular atmosphere.
When: Barbara: In the very near future I hope to complete my new solo album. Plus there a few recordings coming out this fall I've been lucky enough to have participated in; among them I'd like to mention the work of Nicolas Bernier, of whose sonic investigations I am particularly fond, and Elio Martusciello's acousmatic explorations (one of the most interesting Italian experimental music composers, in my opinion). I am truly honoured to be among the guests on their next albums. In September I will also be running a series of podcasts titled The Cat Cinderella endorsed by GIRRL [girrlsound : digitalgirrl], an Australia-based organization working in the sonic and digital arts in support of female artists and run by sound artist Majena Mafe.
Julia: I have upcoming solo shows in the fall in Geneva, in Barcelona at the LEM festival, and in Kingston, Ontario, at the Tone Deaf festival, and I'm planning doing more European touring later in the year.
Currently: Julia: I've just completed a third full-length solo record that I'm hoping to release later in 2012 and am currently working on a score for a short documentary film.
Barbara: Besides the tremendous privilege and joy of having released Parallel 41 with such a stunning and sensitive artist as Julia Kent, and filtered through Davide Lonardi's silent and attentive camera (he is the author and producer of the project's DVD) and endorsed by Baskaru-Eric Besnard's special and generous gaze and lovingly supported by Marco Stangherlin (parallel 41's booking agent), I am at the moment also involved in a few other projects and collaborations: first, Exquisite What, a web-based project born from the idea to create an audio/visual collage that follows the surrealist method of Exquisite Corpse. It's a venture that has been slowly taking shape thanks to the enthusiasm and generosity of all the wonderful artists involved (almost forty, including sound-video.and photo artists). We are thinking about publishing a CD/DVD at the end of the first series of our "web" encounters. Secondly, Quasi.Memory, a solo work based on both personal and collective (lost) memories where words, thoughts, and sounds meet to reveal a lost and half-forgotten microcosm, to disclose a fractured narrative. Plus I hope to soon give shape to a series of collaborations started in these last years with artists whose work I truly admire (such as the Portuguese sound artist Leonardo Rosado, Welsh electronic musician Mark Walters, electroacoustic composer Andrea Serrapiglio, and with the artists @ AIPS).
Musical philosophy: Barbara: I am more and more interested in music constructed in such a way that it combines live instrumentation with field recordings, voice with found sounds: fragments pieced together to portray a narrative, a character or just a sensation, a memory, a state; an imagined or real place.
Julia: Making music, for me, is a way of communicating and of expressing otherwise inexpressible emotions; I feel privileged to have the opportunity to do it.
Influences and inspirations: Julia: Well, it's always a great inspiration to work with Barbara! She is an enormous talent and a generous and beautiful spirit. In general, I have been inspired and educated by all the artists with whom I have been lucky enough to work. And, like many other cellists, I'm sure, I venerate a number of cello-playing composers, most notably Arthur Russell, Ernst Reijseger, and Tom Cora. For me they've all expanded and deepened the expressive possibilities of the instrument in utterly personal ways.
Barbara: In general I guess we are so over-exposed to impulses that ordinary life draws around us that it is quite hard to trace boundaries and decide where inspirations and influences lie. I must admit I'm often under the spell of visual realms: music-less Bresson movies, for instance, are in themselves a voyage in a garden of imperceptible or imagined sounds; a walk through the city can be all by itself a nourished emporium of sounds, visions, humanities; each step, each face, each word no matter how thin, how loud…playing an essential role in the construction of a larger aural picture. Coming strictly to music, of course, there are several figures I am fond of, from Chubby Wolf to Billie Holiday, from Iva Bittova to Luc Ferrari, from Einstuerzende Neubauten to Alvin Curran, from Chris Watson to Lawrence English, and, of course, Julia! She is a sublime musician, whose devotion to music is deeply touching; she surely represents a fertile source of inspiration from which to draw.
PARALLEL41
BARBARA DE DOMINICIS
JULIA KENT
DAVIDE LONARDI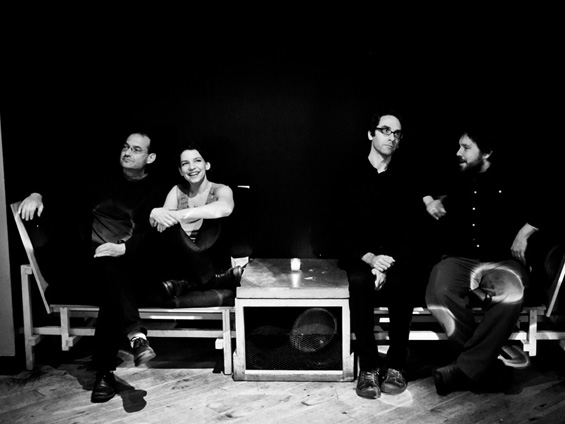 Tin Hat (l to r: Ben Goldberg, Carla Kihlstedt, Rob Reich, Mark Orton) (photo: Peter Gannushkin)
TIN HAT
CARLA KIHLSTEDT (TIN HAT)
Who: Carla Kihlstedt. I grew up in Lancaster, PA. My great Aunt Elsie put a violin in my hands when I was five and, for the foreseeable future, I was well on my way to being a classical violinist... until I wasn't. Though a classical attention to detail is still arguably the biggest root in my overgrown musical tree, I needed to let my mind wander more than I was allowed. I went to Oberlin Conservatory for undergrad and then moved to the SF Bay Area for seventeen years where I played in a dizzying cocktail of musical projects with Tin Hat at one end of the musical spectrum and Sleepytime Gorilla Museum at the other. I now live in a tiny bay-side town on Cape Cod with my husband Matthias Bossi and our daughter, Tallulah, and I teach in the Contemporary Improvisation Department of the New England Conservatory.
What: I'd answer that question differently depending on which project we're talking about, so I'll focus on Tin Hat here: we play acoustic instruments (violin, guitar, dobro, accordion, piano, clarinet, and contra alto clarinet, to name a few), and we squeeze every colour and texture we can out of them. Melody is always central. I suppose we have a lot in common with various kinds of folk music that use a similar instrumentation, but we're admirers of The Carter Family and of Elliott Carter in equal measure, and no amount of hummable melody can hide it. We're a composers collective with four extremely different writers, but the sound is always identifiable. The whole is much more than the sum of the parts... a kind of musical baker's dozen.
When: I used to be a road warrior, shoving myself into various wheeled and winged vessels for nine to ten months a year. Motherhood reigned that in a bit, though not entirely:
• This fall, my song-writing duo with my husband Matthias Bossi (Rabbit Rabbit) is playing a handful of shows on the East Coast and in Europe which will be posted on our website.
• Tin Hat will be playing shows around this e.e. cummings project in March and April, 2013 across the U.S., which we'll post on our website shortly.
• I'm working on a song cycle about dreams called At Night We Walk and Circles and Are Consumed by Fire with the International Contemporary Ensemble, which premieres in NYC in January at the Ecstatic Music Festival and with subsequent shows in Chicago and in D.C.
• I'm playing with the Rova Saxophone Quartet in their Electric Ascension Project (a realization of John Coltrane's Ascension) at the Guelph Festival (Rabbit Rabbit is also performing there.)
Currently: Of course I'm really excited about Tin Hat's the rain is a handsome animal.
Beyond that, this year, Rabbit Rabbit has created a whole new scenario for releasing our music called Rabbit Rabbit Radio. On the first day of every month we release a new song to RRR subscribers along with films, photos, lyrics, our own personal notes about the song, ... and much more. September is month eight, and the feedback has been really encouraging. It's the most holistic and satisfying way I've ever released music, by far.
In the next eight months, I'm working on getting a few other projects ready for release:
• a piece I wrote for the ROVA Saxophone Quartet plus two narrators and foley called Pandæmonium.
• a song cycle called Necessary Monsters that I wrote with poet Rafael Osés based on Jorge Luis Borges' Book of Imaginary Beings.
• the posthumous album and film by my erstwhile band, Sleepytime Gorilla Museum, called Sleepytime Gorilla Museum of the Last Human Being.
Musical philosophy: All of my projects are based around friendships and not around an aesthetic agenda. In an egregiously over-simplified nutshell: music is conversation. The challenge of conversation is to really follow it where it wants to go, which is, of course, different in every circumstance and with every person or group of people. Great conversation is the most powerful tool we have to change ourselves and the world.
Influences and inspirations: A few of what is an endless and constantly evolving list:
• Lhasa de Sela for channelling a voice much older and deeper than her young years would imply
• Gyorgi Ligeti for being as playful as he is serious
• Fred Frith for his infectious melodies and discerning yet omniverous musical output
• Bela Bartok for being equal parts purist and innovator, and for looking backwards and forwards in seamless juxtaposition
• John Jacob Niles for being the ultimate troubadour
• Nina Simone for singing every song as if it were written on her very soul, and for her amazing piano playing
• Sofia Gubaidulina for embracing sound as sculpture (check out Offertorium)
• Björk for the unbridled physicality of her voice
• Samuel Beckett for his economy of language
• Gabriel Orozcos for his ability to see art everywhere
• Eduardo Galeano for finding stories everywhere
• Claire Chase for making contemporary music irresistibly engaging and for being a total bad-ass all the while
• Susan Sontag for being so intellectually hungry
• Reggie Watts for being unbelievably smart and amazing while making you laugh so hard you pee
• Studs Terkel for having such genuine compassion and curiosity for people every-and-anywhere
• e.e. cummings for his incredibly sophisticated innocence
• Mark Orton for his unrelentingly rigorous inner ear
• Ben Goldberg for looking at things from every angle until the simple becomes kaleidoscopic and the impenetrable becomes clear as air
• Rob Reich for being so musically graceful and generous with not an iota of pretension
Oh my, I could go on...
MARK ORTON (TIN HAT)
Who: Mark Orton, guitarist/composer/founding father/band member of Tin Hat. My father's a conductor, and I've played music in one way or another all my life. I started studying music composition in high school with continuing studies at The Peabody Conservatory and The Hartt School of Music. I worked for several years at NY's Knitting Factory as a live-sound and recording engineer before relocating to San Francisco with the other members of Tin Hat in the mid-'90s. My "other life" as engineer enabled me to work and tour with some of my favorite artists: Bill Frisell, John Lurie and the Lounge Lizards, John Zorn, and Mr. Bungle among many others. I'm now living in The Great Pacific Northwest with a wife and child where I compose/play/record/produce/arrange music and log sustainably.
What: I produce North American Acoustica. I collect antique instruments and try to coax sounds from them that I'd like to think have been hidden these 150 years. This is my beginning palette for film, theater, and dance scores—my starting place even if the eventual work becomes a more standard orchestral or chamber work. I play all manner of keyboards, percussion, plucked/strummed strings, and hurdy-gurdy (league of its ear-splitting own) including things like marxophone, bass harmonica, fretless gut-strung baritone banjo, tremoloa, just-intoned harmonium, and waterphone along with more traditional instruments like guitar, dobro, piano (though more often strummed or bowed).
All of that said even at my most experimental (compositionally or in terms of instrumentation) I never shy from simple melody.
When: I don't spend a lot of time performing anymore; most of my work is in film. On that front I compose original scores, along with the revamping of existing tunes (recorded to picture) and repurposing of licensed music. Current and upcoming projects include Fernando Meirelles' (director of City of God and The Constant Gardener) new feature 360 (in theaters now), the documentary The Revisionaries (in theaters next month), Amber Waves and Checkered Flags, Flat Daddy, A Tangled Tale, and CPR (all making their way through film festivals), and the upcoming documentary Felix Austria (my first score employing a Balkan brass band—hopefully not my last).
I am also finishing a record for my lap steel trio (our first: lap steel, contra alto clarinet, and drums with orchestral strings and brass). I have a series of short solo records (truly solo—one instrument at a time with no studio trickery) entitled battle hymns that should be out in time for the coldest part of the coming winter.
Musical philosophy: I don't really have one. In terms of a philosophy of art I would side with John Cage in believing art to be the placing of one's attention.
Influences and inspirations: In some ways I find this an impossible question—or too long a response for the modern attention span—what to include, what to leave out:
Rafael Oses, Bruno Schulz, Sinatra and Jobim, John Cage, e.e.cummings, Elizabeth Bishop, Adrienne Rich, Robert Lowell, Ezra Pound, T.S. Eliot, Joseph Cornell, Alberto Giacometti, Man Ray, Marcel Duchamp, Francis Bacon, Calder, Rothko, specifically Magritte's Empire of Light, Ezra Pound's Cantos, Eliot's 4 Quartets, Duchamp's ready-mades, Stein's The Making of Americans, Ben Johnston's string quartets, Ligeti's choral music, everything Bartok but especially the brass writing in Concerto for Orchestra and the choral writing in 27 a cappella choruses, Gershwin, Copland, Harry Partch (want to be reincarnated as one of the resonators of his bass marimba), Stravinsky, Ornette, Steve Lacy, Piazolla, Satie, Monk, Ellington, Xenakis, Zeppelin, Stones (this is my Rolling Stones summer in case I didn't mention it—been grilling in the back yard with "Beast or Burden" blaring—drinking beers out of cans—life has finally taken a positive turn), Gould, Merce Cunningham, Beckett, Aretha, Verdi (this summer's operas), Orlando Gibbons and William Byrd (as a couple/couplet), Ingrid Bergman, Lauren Bacall, Rita Hayworth, Enrico Caruso, Orson Welles, Lovecraft, Starewicz, The Quay Brothers, Guy Maddin, Fiona Apple and Billy Joel (guilty on both counts).
Last, but certainly not least, my wife's sexy figure...
BEN GOLDBERG (TIN HAT)
Who: Ben Goldberg. Grew up in Denver, Colorado. Undergraduate music degree from the University of California, Santa Cruz and Master of Arts in Composition from Mills College. Student of the eminent clarinetist Rosario Mazzeo, and studied with Steve Lacy and Joe Lovano. Currently living in Berkeley, California.
What: Always aiming for a big juicy helping—don't always hit it but when I do, you know it. Not interested in what separates my music from others because to me music is for bringing people together.
Currently: Other than the Tin Hat record, three new records getting ready for release:
• Unfold Ordinary Mind: I'm the bass player on this record (on the contra alto clarinet). Nels Cline on guitar, Ellery Eskelin and Rob Sudduth, tenor saxophones, and Ches Smith on drums (send me your e-mail address, and I will give you access to a track from this one).
• Subatomic Particle Homesick Blues: F eaturing Joshua Redman and Ron Miles. Recorded four years ago and just about to be released.
• Time Is The New Space: my new group, Ben Goldberg School. Rob Reich plays in this one.
Musical philosophy: Music is a way of bringing people together so they can learn to recognize each other and themselves.
Influences and inspirations: Music that has helped me in life includes work by The Beatles, Thelonious Monk, Bob Dylan, Steve Lacy, Elliott Smith, Gustav Mahler, Leon Russell, Graham Connah, Ellery Eskelin. Artwork by Molly Barker, Mark Rothko, and Pablo Picasso has been central. The poems of Tony Hoagland, Susan Stewart, e.e. cummings, Allen Grossman, and John Berryman have been important to me.
ROB REICH (TIN HAT)
Who: Rob Reich. I grew up in Long Island, New York, studying piano from age three. After graduating with a degree in Music Composition from Oberlin Conservatory of Music in 2000, I moved to the San Francisco Bay Area, where I currently reside.
What: I make music informed by the dual nature of being a improviser/composer. As an improviser, I let my ears guide me through a natural sonic interaction with my environment. As a composer, I value form, structure, and development. It is at the intersection of these mindsets I base my musical voice. I use specific styles and genres of music (e.g., jazz, classical, pop music) as ingredients which I blend to my personal taste, cooking it down and refining it, trying to find the essence of a composition. My music often has a strong melodic sensibility, as well as a subversive irreverence.
When: Tin Hat's new CD, the rain is a handsome animal, is coming out on New Amsterdam Records on August 28, 2012. This album features seventeen new songs written by the members of Tin Hat based on the poetry of e.e.cummings. I perform frequently in the San Francisco Bay Area, including a long-standing Wednesday night at Amnesia with the band Gaucho.
Currently: Aside from the new Tin Hat album, I have had a number of recordings come out in the past couple of years:
• Circus Bella All Star Band: my album of original circus music, arranged for a ten-piece band.
• Nice Guy Trio + Strings: a CD featuring a suite of my original music for the unusual instrumentation of trumpet, accordion, bass, and string quartet.
• Gaucho: San Francisco's gypsy jazz band recently released a new CD that features my accordion and piano playing.
Musical philosophy: Play what you hear, but surprise yourself. Work the mistakes in. Write music that makes the people who are playing it sound good. Learn from history but don't fall slave to it.
Influences and inspirations: J.S. Bach, for creating works on the level of nature. Igor Stravinsky, for constantly defying the expected. Duke Ellington, for capturing the jazz spirit in the totality of his work. Louis Armstrong, for playing directly from the heart.
TIN HAT
BEN GOLDBERG
MARK ORTON
RABBIT RABBIT RADIO
ROB REICH
September 2012