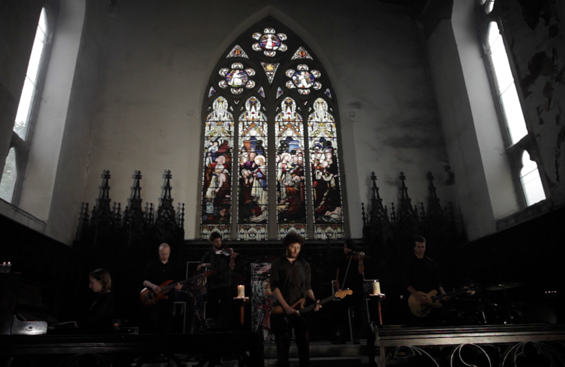 SPOTLIGHT 12: LILIES ON MARS, PAPIR, TOMORROW WE SAIL
textura is thrilled to feature three exceptional artists in its twelfth Spotlight: Lilies On Mars, Papir, and Tomorrow We Sail, all of whom recently have released exceptional albums: Lilies On Mars' Dot To Dot, Papir's IIII, and Tomorrow We Sail's For Those Who Caught the Sun in Flight. We sincerely thank all of the artists for contributing so generously to this month's article.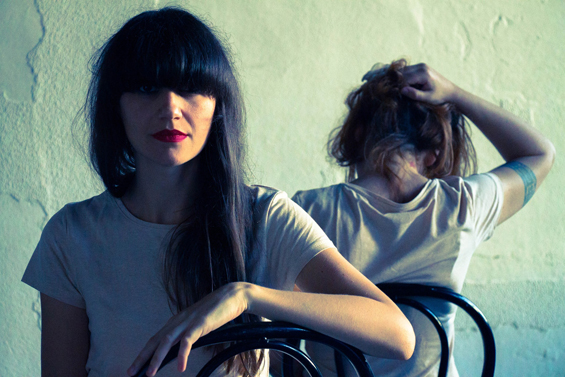 LILIES ON MARS
Who: We are Lisa Masia and Marina Cristofalo from Sant'Antioco and Carbonia near Cagliari in Sardinia, two small small villages surrounded by the beauty of the sea and the magical stories of our island. We moved to London fourteen years ago although in this past year we have been based between England and Sardinia.
I (Lisa) had private lessons in classical music theory, played piano and guitar when I was a kid, and always had a big passion for classical Italian opera. Marina taught herself to play guitar. She learned a bunch of Nirvana songs and already had a sort of noise pop orientation when she was just twelve! I got into that phase a bit later. At one point I felt captured by noises creating sounds and vice-versa. Maybe it doesn't make much sense—in fact I don't know how to explain this with words or even when this happened exactly but suddenly even the sound of the wind began to seem like a possible melody.
Lilies On Mars: "Dream of Bees" (Dot To Dot, Saint Marie Records)
What: We just play with music. The genre is quite hard to describe as we don't really know, we can't even think about it! We do believe it's dreamy, as this is one of the strong feelings we have while composing our music. It feels like being trapped in an intriguing and intense vivid dream, and is a wonderful journey for us. There is certainly a pop element to it. I think that's because we try to communicate our experience and share our feelings with people. So probably it's right to call our genre dreampop…even though we believe it can be much more than that sometimes!
Currently: Our new album Dot To Dot will be released by Saint Marie Records on the 11th of February. We are going to hit the road with Fanfarlo from the 8th of February until the end of April in EU/UK and US! Can't wait!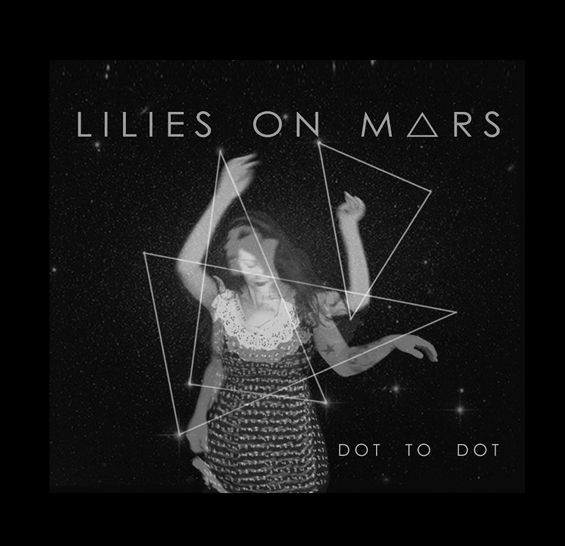 Musical philosophy: We play music looking up! We are connected and incredibly inspired bythe sound from above! And this is not a religious statement: it's about the sound from the universe!
Influential figures: We are constantly influenced by so many things, and we do play all of them. It could be a book, a movie, an image or an emotion, happy or sad, we do capture everything we feel or we see into our sounds. Then we create music with it; every single note can be a story to tell.
Web site: LILIES ON MARS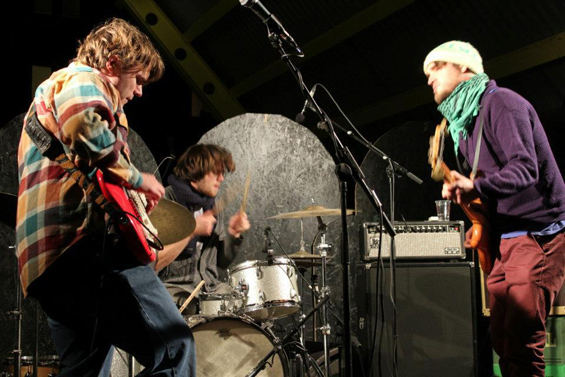 PAPIR
Who: Christian Becher Clausen (bass), who works as a high school teacher, and studied biology and music at university; Christoffer Brøchmann Christensen (drummer), who studies Architecture; and Nicklas Sørensen (guitarist), who works at a library.
We all grew up in the suburbs of Copenhagen. These days Christian and Christoffer live in Copenhagen, and Nicklas has just moved back to the suburbs after living in Copenhagen for the last four years.
Papir at Jazzhouse, Copenhagen (March 17, 2013)
What: Some kind of energetic instrumental rock. Imagine yourself as a human cannonball being fired into the stratosphere with a big smile on your face.
Currently: Our new record IIII is out on February 11th! We also did a recording with the German band Electric Moon that was released in October 2013 called the Papermoon Sessions. Kind of a long jam session, from which we picked out the best parts and mixed them together for an album.
Musical philosophy: We've always jammed a lot. The process of jamming is actually quite important to us, since the final compositions are almost always developed through the process of jamming. But we don't really have a musical philosophy.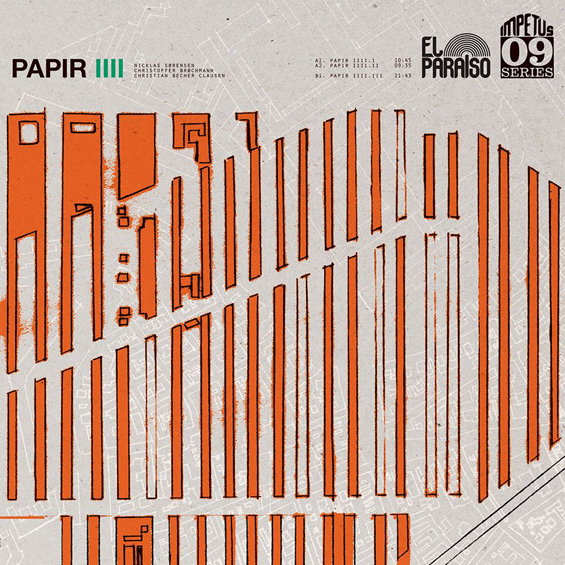 Influential figures: The experimental part of the whole krautrock movement is probably quite important to us, from the funky and intense grooves of Can to the pastoral psychedelicisms and ambient dronescapes of Neu! and Harmonia to the more freaked-out jams of bands like Ash Ra Temple and Guru Guru. Plus there is the electric Miles Davis period, as well as proto-post-rock groups such as Talk Talk and Dif Juz. But we also really dig all-time classic rock groups like The Doors and The Rolling Stones.
Influential works: Here are some influental albums we've listened to a lot:
Ash Ra Temple: Join Inn
Cocteau Twins: Heaven or Las Vegas
Talk Talk: Spirit of Eden
Harmonia: Live 74
Can: Future Days and Soundtracks
Tortoise: Millions living now will never die , TNT
Fleetwood Mac: Tango in the Night
Neu!: Neu I
Jimi Hendrix: Band of Gypsys , Live in Stockholm 1969 , Live at Woodstock
Roedelius : Selbsportrait
Do Make Say Think: & Yet & Yet
Eno and Fripp: Evening Star
Brian Eno: Another Green World , Music for Airports , On Land , Apollo
Jah Wobble, The Edge and Holger Czukay: Snakecharmer
Led Zeppelin: II and IIII
Dire Straits: Love Over Gold
Influential event: When the last lead vocalist left the band and we decided to become an all instrumental band!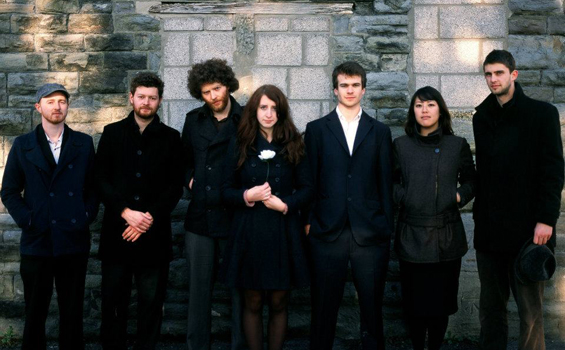 TOMORROW WE SAIL
Who: We all played in a broad spectrum of bands before Tomorrow We Sail, ranging from trip-hop and math rock to string quartets and trad folk. We all came together through a series of happy accidents in Leeds.
Ella May Blake (vocals, guitar, keyboards): I'm originally from the Welsh border but am now living in Leeds, and am currently in my final year of studying Japanese at Leeds University. My family are music lovers, and I grew up surrounded by folk and bluegrass music.
Angela Chan (viola, violin, cello, keyboards, vocals): I's from Lancashire and did my music degree in Leeds. I'm an amateur professional crisp eater and habitual fiddler.
Tim Hay (vocals, guitar): Al (drummer Alistair Hay) and I are originally from Leeds, but grew up in rural Mid-Wales. We've both found ourselves back in Yorkshire after coming here for university.
Matt Clarke (guitar, keyboards, vocals): I'm from Winchester but have been in Yorkshire long enough to be an honorary Northerner. I studied electronic engineering and music tech at York University where I met Tom.
Tom Ilett (bass, vocals): My background is in computers and geeky things. I'm originally from Nottingham, went to York University, and now live in Leeds.
David Ramsay (violin, accordion, keyboards, vocals): I studied music in Leeds, am from Bolton, currently teach and perform. I do a mean bit of Bollywood fiddling with a side of bluegrass.
Tomorrow We Sail: "The Well & The Tide" (For Those Who Caught the Sun in Flight, Gizeh Records)
What: Our music has been described as 'ambient folk post-rock,' which is a bit of a mouthful but sums us up quite well. We combine the reverb-soaked ambience and moving dynamics of post-rock with folk-influenced songwriting. Our music moves around from ethereal soundscapes to heavy driven guitars and big group vocals. At heart, we see ourselves more as a folk band than anything else, especially as the most important thing for us is writing great songs, songs that can be stripped down to just a piano or an acoustic guitar with vocals and still tell a story and have an impact on the listener.
Currently: Our debut album For Those Who Caught the Sun in Flight is out on Gizeh Records on 10th February. It's the end product of many years work, and we're incredibly proud of the finished album. We've already had some very kind words said about it and are looking forward to touring the album in April.
We've got a couple of videos due out over the next few months too, so keep an eye out for those! Our album launch show will be on 22nd Februry at Wharf Chambers in Leeds. It'll be a free show, too, so do come along!
Musical philosophy: We really value spending time together as a group and making music that we all love.We don't set out to intentionally write music that will fit into a certain genre or appeal to certain audiences. As a band, we draw a lot on the DIY ethos, and this has had a strong influence on the making of our album; we all have a bunch of skills and experiences to share and contribute, from studio and live engineering to string arrangements and tour booking and promotion. The album, as with our previous releases, was produced and recorded at home. In the past, we have self-released our recordings, and hand-made the packaging. Being a part of every step of the process is something we enjoy and find equally as rewarding as the music we write.Our collective love of good strong brews (hot and caffeinated, or cold and alcoholic) and good food has also been a big part of us. There's nothing better to get us prepared for a weekend practice than a good old fried breakfast.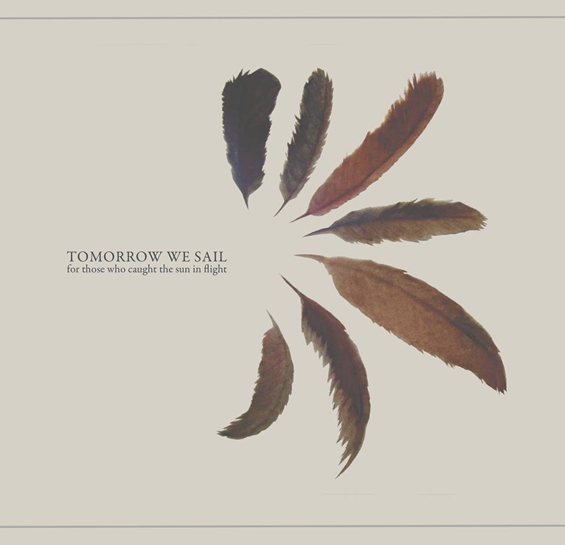 Influential figures: Al: Many and differing. We're all big fans of bands like Godspeed You! Black Emperor, Mogwai, Sigur Ros, 65 Days of Static, Low. From the folk world we have the likes of Laura Marling, and The Unthanks. We've all been involved in other musical projects over the years so we have lots of influences to bring together.
Matt: As a child, listening to my dad playing the likes of The Doors, Bowie, and Led Zeppelin in the morning when I got up. More recently, Cinematic Orchestra, Jon Hopkins, Mark Lanegan.
Tom: Thee Silver Mount Zion, Godspeed You! Black Emperor, Kyuss, Andy Murray
Angela: Arcade Fire, Kronos Quartet, Portishead, Penguin Cafe Orchestra, Yndi Halda, creative and musical friends
Ella: Vocally I am strongly influenced by folk artists such as Damien Rice and Lisa Hannigan, Joni Mitchell, and Sandy Denny.
Ramsay: My influences range from Eastern European folk to '90s grunge, late-Romantic classical to American roots music.
Tim: The work of producers such as Rich Costey, Ken Thomas, and Flood has always had a huge influence on me, and their work was at the forefront of my mind when we were producing the album.
Influential works: Al: In many respects I think I'm often more influenced by works of art or literature than I am by other music. Vera Brittain's autobiography A Testament to Youth was a huge influence on the album and inspired the central trilogy of songs on the album: "Never Goodbye," "December," and "Testament." And equally there's a little-known book called Do The Birds Still Sing In Hell by Horace Greasley that inspired the closing track on the album "For Rosa."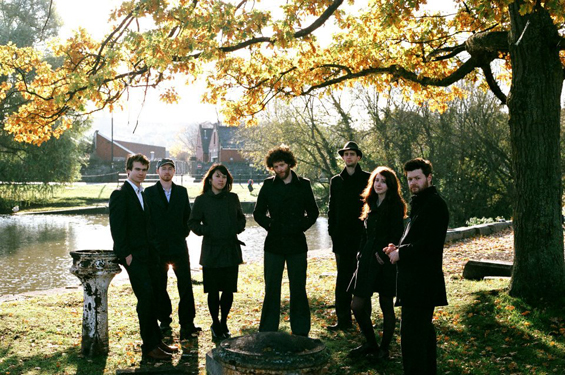 Influential events: Our songs are influenced by real-life events but not usually of ourselves. There have been so many fascinating people and events that have happened over the years, and are still happening, that inspire our songwriting. Other things that have inspired us…. breakfast pie, fine whiskey,…
Tim: I think growing up in the middle of nowhere has had a big influence on me. In particular there is a place in mid-Wales called the Elan Valley, which I've always found hugely inspiring.
Ella: I'm definitely influenced by the massive shortcomings of the current government!
Tom: NYE 2013/14 (I think), WWI, WWII, Cameron's election, London riots, new Royal baby (I cried)
Angela: The introduction of Chinese hotpot to the band, the evelation of effects pedals, and NYE were pretty emotional.
February 2014